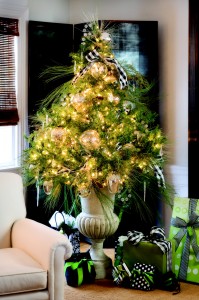 Decorating my Christmas tree is the most magical moment of the holiday season for me. There is something so exciting about taking a plain pine and turning it into a shining star, the visual and emotional epicenter of your home's hymn to the holidays. Want to take your Christmas tree to new heights? Here's how: 
Try Something Bold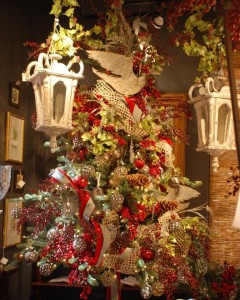 Every holiday season at Nell Hill's, we have fun coming up with new ways to dress the many trees that fill our stores. Our goal is to inspire our customers to experiment with their own creativity to create trees that are unique expressions of their lives and decorating styles. This year, our visual team has knocked it out of the park by featuring unexpected, unusual items in the center of the tree.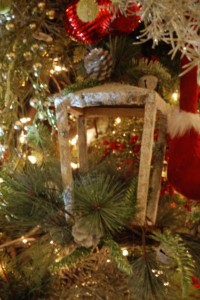 It's been fun to watch Bruce, the head of our visual display team at Nell Hill's Briarcliff, and Bev, our seasonal designer, in a creative huddle, brainstorming non-Christmasy items to spotlight in a tree. Here's what they've come up with: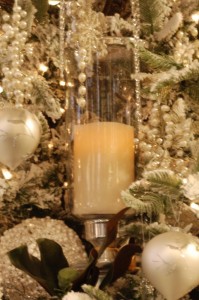 The key to using large and breakable objects as tree ornaments is to secure them well. We used lots of big zip ties on ours. To make the hurricanes glow, insert a battery operated, remote controlled candle so you can turn them on in a flash.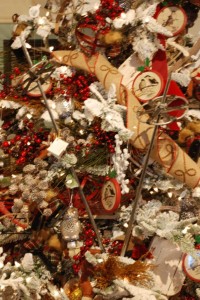 Place mementos that make your heart swell with love in the branches of your tree. These vintage ski poles were Bruce's dad's. What could you feature in your own tree? Family photos? Great Grandpa's spectacles? Grandma's fan? Kid art?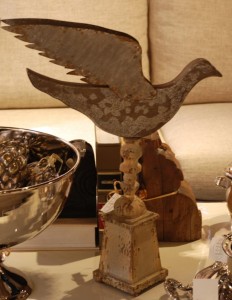 Weathered wood finials or any other rustic garden goodies lend themselves perfectly as tree eye candy.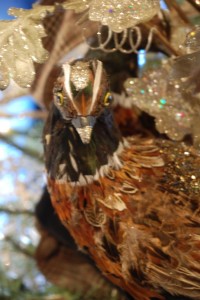 Whether it's a large whimsical reindeer or a faux pheasant, why not showcase an iconic animal in your tree?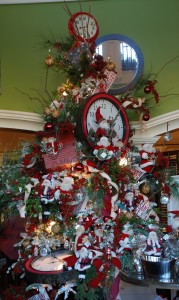 To celebrate Christmas time, we inserted a few large red clocks in the center of this showcase tree in the entry of our Briarcliff store.
Follow the Nell Hill's Perfect Tree Checklist
Want your tree to look as beautiful as those in our stores? You can! Just follow our tree trimming checklist: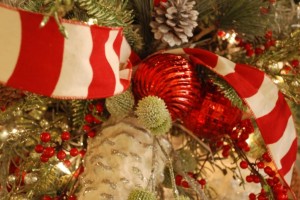 Step 1: Create the Base
Fill the tree with lots of lights, evenly distributed.
Pick a show stopping topper, the crowned jewel of your tree.
Weave in garland or ribbon throughout the boughs.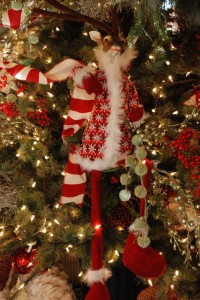 Step 2: Use a Mix of Ornaments
A great tree includes a mixture of large, medium and smaller ornaments.
We like to add our largest, high-impact ornaments at the center of the tree.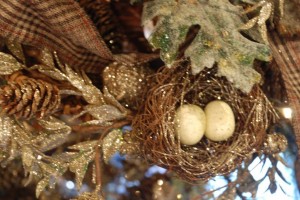 Step 3: Dress up the Bottom
For a fuller, more intricate look, insert a few fallen sticks or picks at the bottom of the tree.
Dangle ornaments below the tree line.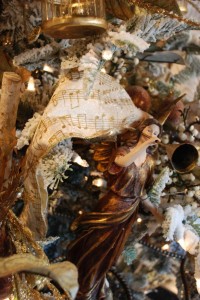 Step 4: Fill the Middle
Give your tree depth and color by placing intriguing elements in the center of the tree branches.
This is a great place to put the ornaments that you like but don't love, so they add to the visual mosaic but don't stand out.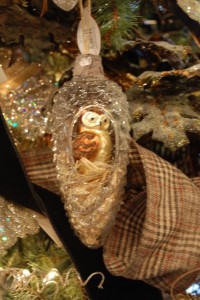 Step 5: The Fun Finish
Finish with a bang by hanging your most visually dramatic ornaments on the outer tips of the branches.
Place ornaments of special sentiment here, or those that carry out the theme of your tree.
Next Week … Got a second? Decorate your front door for the season.