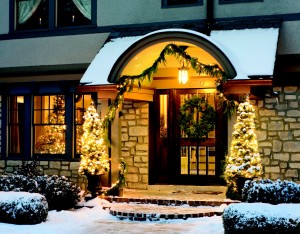 Depending upon my schedule and energy level, some holiday seasons I am all about creating a huge holiday statement on my front door. Other years, not so much. If you're pinched for time this year, or would just rather spend your decorating energy making magic with your indoor décor, call on the power of the wreath to give your front door a festive air in a flash. Wreaths have come of age. No matter what your bliss, you'll find a wreath that helps you express your style this holiday season. Here are a few of my favorite looks: 
Berry Happy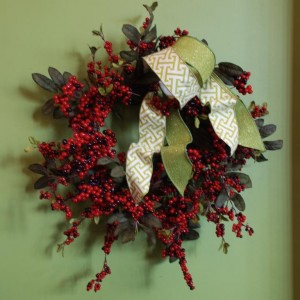 For years, traditional holiday red and green were passé. Not now. This unbeatable Christmas duo is showing as strong as ever this season. And this cheerful red-berry-festooned green wreath is a standing ovation to these longstanding stars of Christmas. I like to mix lots of shades of greens together, just like Mother Nature does. So we spiced up this wreath with a simple double loop of chartreus ribbons in a stylized Greek key pattern and a solid.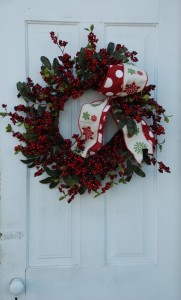 If you want more color and pattern on your wreath, pick a playful combination of ribbons, like we did here. My favorite place to tie the ribbon is somewhere between the twelve o'clock and three o'clock positions.
Geometric Gems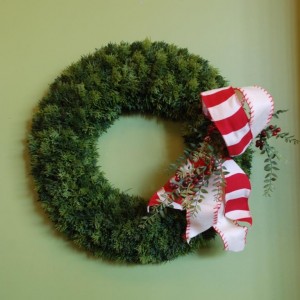 You love cedar shrubs in your landscaping. Now spotlight cedar – or you greens of choice – or your door. A dense and delicious bright green wreath will pop on just about any door. And, this geometric gem is neutral enough to work for any style of home, from traditional to contemporary.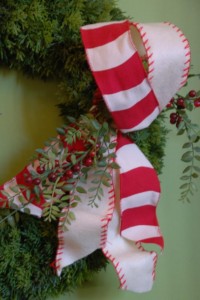 When you pick a wreath with a solid or narrow color palette, it's like a "little black dress" – the perfect backdrop for any accessories. Your ribbons are like the scarf or jewelry you put with the dress to give it sizzle and style. We paired this red and white candy cane ribbon combo with a little sprig of holiday greenery. Sweet!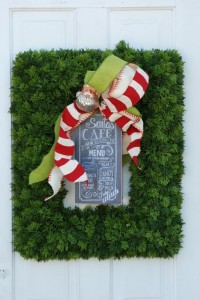 Wreaths don't have to be round. In fact, I'm crazy about all the rectangle and square wreaths available today. We jazzed up this beauty with a cute-as- a-button Christmas look just by looping together three contrasting ribbons, a little Santa ornament and a fun sign, hung so it fills the center of the wreath, almost like a picture in a frame.
Pine Cones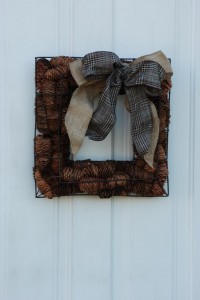 Bruce, the head of our visual display team at Nell Hill's Briarcliff, really likes this unique wreath because it's a bit more masculine. The rich, natural colors and textures of the pine cones make a nice contrast to the industrial look of the metal cage they fill. The pine cones on the inside of the wire structure is an interesting "inside out" approach you don't see too often. We finished it off with a double bow of burlap and plaid ribbon.
First Frost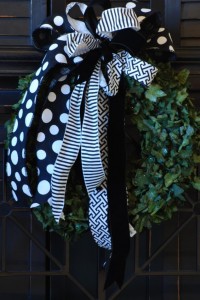 When I buy holiday décor at market every year, I'm always drawn to the greenery that looks like it's misted in frost. It conjures the feeling of the first true snap of winter, when everything is kissed by ice. This beautiful ivy wreath is lush and rich, a perfect backdrop for a killer display of ribbons. Here we pulled together a riot of black and white patterns, polka dot, Greek key, black velvet and stripes.
Winter Forest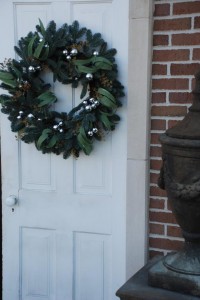 Nature gives us so many intriguing shades of greens to work with. And don't even get me started on all the different kinds of greens and berries and sticks and everything else we can work into one beautiful masterpiece of a wreath. I think this lovely wreath says it all, with its interesting combination of textures and colors. The silver balls give it a delightful holiday finish. If you wanted to, you could take it up yet another notch by adding a few ribbons or even an ornament or two wired in.
Next Week …I'm mad about plaid! I'll show you have to work this traditional pattern into your home décor this winter.