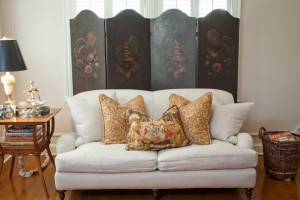 I caught screen fever at an early age. I was just a little kid, playing at my friend's house, when I happened into her dining room and spotted the most amazing floor screen standing behind the buffet. The large screen was beautiful, stretching almost to the ceiling, and it sucked me in with a force stronger than gravity. Years later, when I was furnishing my own home, I knew I had to use a few screens in my decor, not only because they are stylish but also because they can be used to solve a host of decorating dilemmas.
Screens are truly amazing decorating tools. They can singlehandedly ground a room without eating up much space or making the area feel cluttered. No matter what style you like, you'll find a screen that will make your heart flutter and bring your room alive. How about a simple wooden screen featuring louvered shutters? A regal screen in an Oriental motif? One that sports rustic leather veneer or tarnished mirrors? Once you find a screen you adore – or two, or three or maybe even four, like I have – you'll discover a million ways to use it in your home. Here are a few suggestions to get you started:
Create a Beautiful Backdrop
Like the dramatic curtains in a majestic old theater, screens make perfect backdrops against which you can stage a fabulous room. In your dining room, put a screen behind a buffet, like my friend's mom did. In a living room, stand one behind a furniture grouping to pull all the pieces together, like we did in the photo above.  Or you can use two matching screens to flank a sofa, placing an end table or side chair in front of each one. I also like to put shorter screens that measure just 4 or 5 feet tall on top of buffets, fireplace mantels or bookcases to serve as oversized pieces of artwork.
Divide and Conquer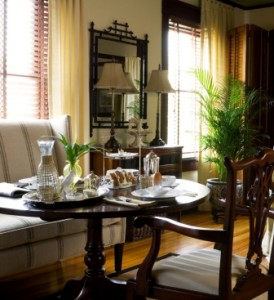 Screens are masters at separating different spaces in your home. If your home has large rooms, like a loft condo, or rooms that flow into one another with no natural break, use a screen or two to define and separate spaces. In the photo above, the Nell Hill's team had the challenge of decorating this large room, using half for a bedroom and half for a dining room. The screen, which you'll see in the background, saved the day. Screens are also great tools in bathrooms that have a floor plan that's more open than you'd like. You can use a screen to partition off the bathtub or stool, or to create a private dressing area.
You can also use a screen to conceal less attractive features in your home. For example, a friend of mine placed a screen in front of her washer and dryer so her laundry room looked more inviting, less utilitarian when it wasn't in use. Then, on wash day, she just folded back the screen and got to work.
Add Dazzle to a Dull Spot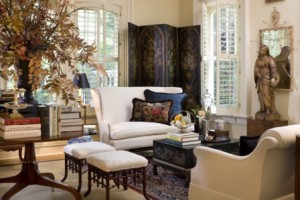 Do you have a stagnant spot in your home that just needs something to spice it up? Maybe it's a dark corner or a blank wall that is longing for some kind of spark. In my home, it was an awkward corner in my living room, a spot sandwiched between two windows. Nothing seemed to look right there, until I tried a hand-painted screen. The instant I put the screen in that do-nothing corner, the seating arrangement felt more intimate and cozy. Check it out in the photo above.
Another spot that bothered me was the oversized landing on my staircase. The spot was too small to hold a piece of furniture but too big to stand empty. When I placed a screen on the landing to see how it looked, I was thrilled – it made the spot look cozy, filled with character and charm.
Frame a Window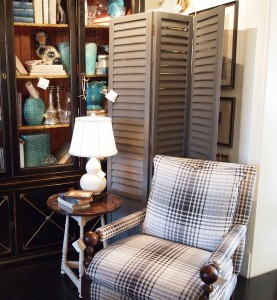 You can also use screens as window treatments. Put a pair of tall, matching screens on either side of a window, unfolding them just a bit so they cover a few inches on each side of the window, just like drapery panels. They do a great job of framing the window without blocking out the light. Or, put a screen between a piece of furniture and a particularly sunny window to help filter out some light and protect your textiles from fading.
Next Week … Is your bathroom as beautiful as it can be? I'll have some tips for turning it into an oasis.