After a long, hard day at work, for me, there is no better therapy than stepping into a steaming hot bath and letting the stress of life float away. Whether or not your bathroom is the place you go to relax and rejuvenate, make this all important space lovely and inviting. Here's how.
Make Practical Stuff Look Pretty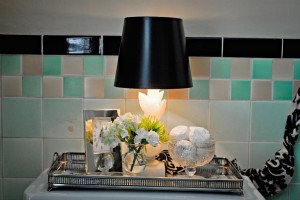 From shampoo to mouthwash to bath salts, we all have lots of toiletries to work around when we decorate our bathrooms. Instead of hiding them away in a cabinet, why not create displays that make your toiletries so beautiful, they look like something from a decorating magazine? It's surprisingly easy to do – all you need is an assortment of lovely containers. For instance, put your bubble bath and lotions in pretty decanters, and pour your bath salts into apothecary jars. Fill a sorbet cup with pretty soaps. Place them atop a lovely silver tray. Then fill in with a few more great accents, like a candelabra, fresh flowers or an urn.
Update Your Linens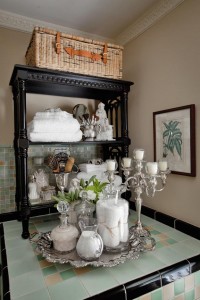 Every year, I look over my bath linens to see if they need to be freshened up, especially if they are in my guest bath or downstairs powder room. My favorite bath linens are bright white, plush cotton towels because they look so clean and inviting. Once your linens meet your approval, use them in a display in your bathroom. My friend turned a strange built-in landing in the bathroom of her historic home into a stage for this jaw-dropping display. Notice the stack of white towels on the shelf of the bookcase that stands atop the ledge? They are just within the reach of someone coming out of the shower.
Use a Show-Stealing Shower Curtain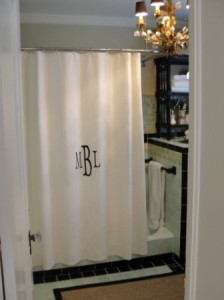 In many bathrooms, the shower curtain is the focal point of the room. So why not make it look sensational? Right now I'm crazy about monograms because they add distinction and style to everything. One of my favorite things to trick up with a monogram is a plain white shower curtain. Have a monogrammed shower curtain custom made out of sensational decorator fabric. Or pick up an inexpensive shower curtain and have it monogrammed.
Fit in Some Furniture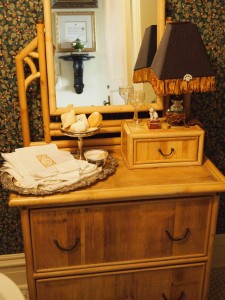 The best way to approach decorating bathrooms is to treat them like you would any other room in your home, filled with great furniture and fabulous accents. If space allows, put interesting furniture in the room, finding unique pieces that are as functional as they are decorative. The photo above is of the tiny powder room built in under the steps of my historic home. Even though the space is small, I managed to squeeze in this killer bamboo cabinet to hold some accents and provide much-needed storage. To my surprise, guests who have toured my home have commented that this is one of their favorite spots in my house.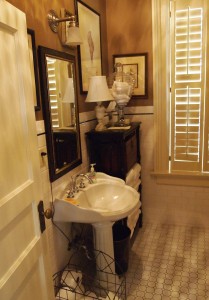 I used to have a guest house in Atchison that I opened up to friends and customers who came to visit. To make the bathroom visitor friendly, I placed a large hutch against the one open wall, then decorated it with the items my visitors might need during their stay, like lovely jars holding small bars of soap and stacks of fresh towels. I've done something similar in the guest bath in my home, pictured above. It's a tiny space, so I only had room to squeeze in a bookcase between the sink and the wall. I've had fun filling the shelves with guest necessities, artfully displayed.
Be Adventurous with Artwork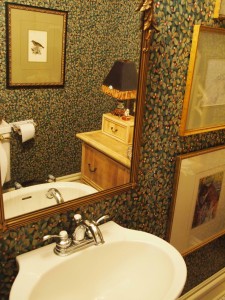 I like to use lots of artwork in bathrooms because I think it elevates the look of the room. Plus, it's so unexpected – it will catch your guests off guard. I've fit in as many pieces of fabulous art as I can in my tiny downstairs powder room, pictured above.
Mirror, Mirror on the Wall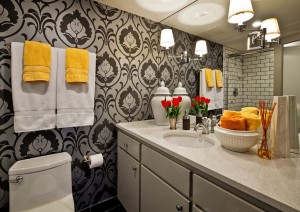 Take a good look at the mirror in your bathroom. If it's a little boring or lackluster, spice it up a bit. If possible, replace it with a new mirror in a fabulous frame. The bathroom in my friend Rich's condo features a wall-to-wall mirror. It wasn't easy to replace, so Rich spiced things up a bit by installing wall sconces on top of the mirror, pictured above. This small addition changed the mirror from ho-hum to sensational. Here's another trick: Hang a framed mirror on top of a large built-in mirror, treating the larger mirror just like any other wall space. You'll get a fabulous layered effect.
While you're at it, take a hard look at the light fixtures in your bathroom. My belief is that the light fixtures in your bath should be as interesting as those in the more public spaces of your home, so if you can, change out that generic builder-grade fixture with something that grabs your heart.
Add "Wow" with Wallpaper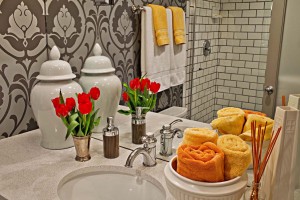 I'm crazy about great wallpaper in smaller bathrooms. And it doesn't get much better than the gray on gray damask print paper in Rich's bath. This wall covering fits perfectly with his clean, colorful, edited style, and I love how it infuses the room with personality and energy, but doesn't take over.
Next Week … While the Nell Hill's look is constantly changing and evolving, there are a few tried-and- true decorating tools we use over and again to make magic in a room. Next week, I'll show you lots of ways to use one of my favorites: urns.