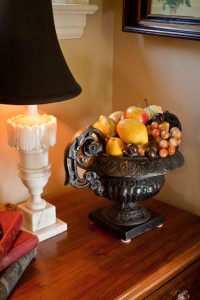 When you look through your closet, searching for something to wear, chances are you have a few go-to pieces that you select over and again, like those jeans that are as comfy as jammies or that shirt that brings out the color of your eyes. Similarly, when I decorate my home, I have a few favorite accents I use repeatedly to create great displays. At the top of the list? Urns! I adore urns in every size, shape and style because they are as lovely as they are versatile. Want to use urns to add spark and style to your home? Here are five ideas to get you started.
1. Fill Urns with Fruits and Veggies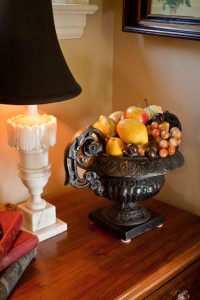 If you're looking for a tool that will help you create great tabletop displays in a snap, try an urn. Just scout for an urn with an attractive shape and fill it with something interesting. Try this idea: Dig through the produce drawer in your refrigerator, pull out some great looking fruit or veggies, arrange them in a small urn, and place it at the center of your kitchen table, kitchen island, buffet or side table. Done!
If you're like me and forget to frequently check the freshness status of the real produce you use in displays, I'd recommend going with artificial produce. Once I decorated with fresh pears and left them in the container until they turned into an icky, gooey mess. Now I opt for fakes, which look so lifelike they fool Dan (who now knows to check every apple, pear and grape he sees sitting out in a bowl before he takes a bite).
2. Spotlight Seasonal Treasures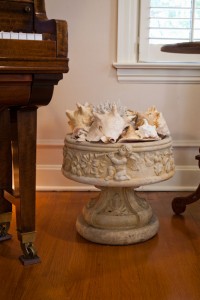 One of my favorite ways to decorate for each new season is to showcase the season's iconic images in my décor. All you need is a great urn, and you're half way there. The amazing concrete urn in the photo above is a great pick because it's big enough to stand alone on the floor, filling in empty spots in your furniture arrangement, yet small enough to be placed atop a sturdy tabletop or counter, like a kitchen island. In the winter you could fill a big, hefty urn like this with huge pinecones, or with kindling wood for your fireplace. In the spring, fill it with pots of tulips or daffodils. In summer, pile it with seashells. And in the fall, it would look lovely filled with a tumble of colorful gourds.
3. Add an Urn to a Great Display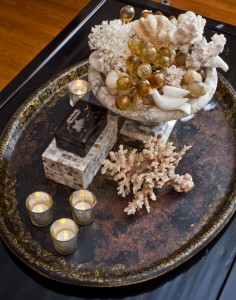 A frequent mistake I see people make when they design displays for their coffee tables is to use lots of small and low-profile pieces. For displays to be dramatic, they need to include a few tall, visually bulky items. An urn is an excellent choice. Leave the urn empty, or fill it with something interesting. Try a look we're loving at Nell Hill's right now: Roll up a few bundles of pages from an old book and stick them in an urn. Or, try one of our perennial favorites: perch a bird's nest on top of an urn. In the photo above, we filled the little stone urn with seashells and glass grapes. The subtle blend of colors and textures in this display is magnificent. Yet, it was super easy to create, thanks to the urn.
4. Get Natural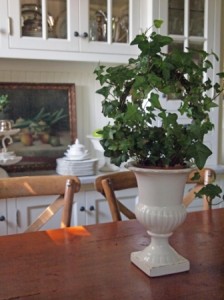 I really like to decorate with live topiaries in the spring. Even I can keep a healthy house plant alive for a few months! To create a quick and easy decoration for spring, just slip a fern or topiary into an urn, then tuck it in someplace in your home that could use a bit of color. How about on your kitchen windowsill? Or at the center of your kitchen table? In a bathroom? Or next to your bed?
Right now, we are carrying some truly unique urns made out of wire. These unusual decorating pieces stand about 6-feet tall and you can see right through them. This spring, I can't wait to put one in my garden. You could anchor one in a garden bed as a focal point or a trellis for climbing flowers. Or, for even more visual impact, you could insert one into a large cast iron garden urn. Just line the bowl of the wire urn with moss and fill in with a live plant or an accent, like a gazing ball.
5. Use Urns to Cool Beverages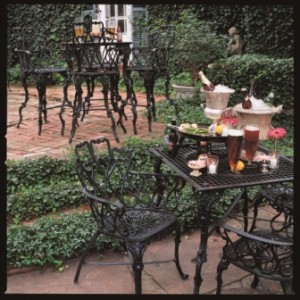 My mantra when entertaining is "presentation over preparation." You can make even the simplest of fare look amazing if you present it in a dramatic way. Urns are great tools if drama is your goal. When I entertain in the summer, I like to fill big garden urns with ice and use them to cool beverages. A small urn makes a great ice bucket for a bottle of white wine. For a twist on this idea, line a garden urn with a bowl filled with ice. Use it to serve chilled appetizers, like shrimp.
Next Week … Do you collect anything special? Next week, I'll share some tips for using personal treasures to add character to your décor.