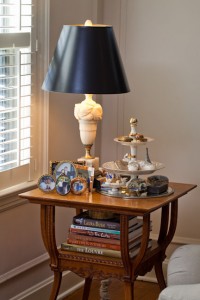 It all started in 5th grade, when a friend gave me a little decorative box as a gift. That present ignited a love affair with boxes that is still burning bright. Through the years, I've had fun creating a collection of boxes that includes everything from prized porcelain boxes from France to simple wooden boxes I spied at flea markets. As you walk through my home, you'll see these boxes threaded throughout my displays, helping to make my home a reflection of me and what I hold dear.
If you're a collector, why not do the same? Here are three tips for using your collections in your everyday decorating to give your home even more personality.
1. Start by Collecting Something You Love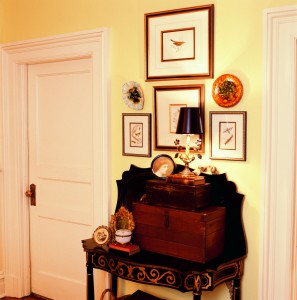 Some collections are inspired by a thoughtful gift, like my box collection was. Other times, you inherit them from family members, like your mom's collection of teapots or your grandmother's old lace hankies. Often, you see an item that captivates you, like an interesting salt cellar, lovely hand mirror or a botanical print, and you have to have it. Before you know it, you're on the prowl for additional pieces to go with it. Poof: A collection if born!
I have a number of collections, but one of my favorites is vintage and antique frames. Dan and I are the family archivists, the keepers of historic family photos. So when a friend gave me a darling little antique picture frame a few years ago, I knew we had a match made in heaven. Now I snatch up attractive or unusual old frames when I am on shopping expeditions, then fill them with family photos old and new. You'll see them sprinkled throughout my home, a few grouped here and there on a side table, bookcase or counter.
In the photo above, you'll see how I combined two of my collections to create an interesting display on a table in my upstairs landing: old wooden boxes and antique picture frames.
2. Display Your Collections in an Interesting Fashion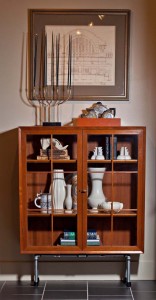 One of the most effective ways to display your collection is to dot pieces throughout your décor. That's what I've done with my picture frames. You won't find a huge group of framed photos together in one location, like people used to do on their grand pianos. Instead, you'll see them scattered throughout my home, sometimes in very unusual places. For instance, on the shelf above the stove in my kitchen, you'll spy a framed snapshot of Cinnamon, the world's most ornery golden retriever, who is, sadly, no longer with us. Every time I see his furry face, full of mischief, I appreciate our new dog, who never causes the havoc Cinnamon did on a daily basis.
Try working one piece of your collection into a display of other accents. Or group several pieces with a few other dissimilar accents. The key is to seamlessly interlace just a few collectibles into your interior décor so they aren't overwhelming.
In the photo above, my friend Rich did a fabulous job showing off his collection of white pottery. Instead of packing the cabinet full of pottery, he selected just a few items that look great together then filled in with other intriguing accents. As you walk through Rich's home, you'll see this approach echoed throughout, with clusters of white pottery showing up in well-crafted displays in his living room and kitchen.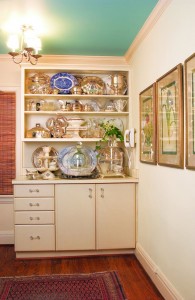 Another great way to display a collection is to mass a number of items together to create a jaw-dropping presentation. That's what my friend Cynthia did in the photo above. Cynthia wasn't thrilled with the lackluster appearance of her utility room, so she decided to make it look more like a Georgian butler's pantry. She took her enviable collection of silver serving pieces and mixed it with china and crystal to create this beautiful presentation. By massing all these lovely items together, the display is more powerful.
In the photo at the beginning of the blog, my friend Marsee used a tiered dessert server to display several pieces of her own collection of little boxes. I have done the same thing in my home. I like the effect of pooling together these little pieces because alone, they can get lost. Together, they capture attention.
3. Edit for Effect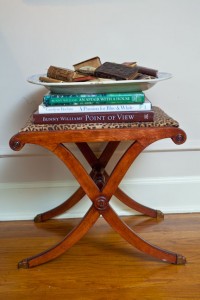 One of the most important skills to master when you decorate with your collections is knowing when to stop. Don't ever let a collection dominate your décor. No one should walk into your home and say, "I see you collect tea pots" because everywhere they turn, there are lines of tea pots sitting out on display. When you have too much of a good thing, your home begins to look more like a store or a museum.
Pick a few key spots in your home where you will display your collections. In the photo above, Marsee came up with an ingenious way to spotlight her collection of tiny antique books. This little stool in her front hallway holds a platter filled with these precious volumes. But you won't find them anywhere else in her home.
If your collection is particularly large, pick a few pieces to display at a time then rotate. Every few months, when you decorate your home for the upcoming season, pull a few new items from your collection to replace those already on display. If you can, use these treasured pieces to add charm to your seasonal displays. For example, if you collect vases, this spring line vases in different sizes and shapes across your mantel. Then, insert one or two daffodils or tulips in each one.
Next Week …Winter is a great time to redecorate a bedroom. I'll have ideas and inspiration for making your bedroom something to dream about.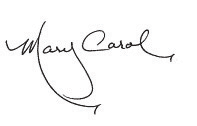 P.S. Don't miss a bit of Nell Hill's news – stay up to day on my favorite finds, new arrivals at the stores and all our special events by checking the Nell Hill's Facebook page every day. You don't have to have a Facebook page yourself to look in on the fun, but if you're already on Facebook, "like" us today!