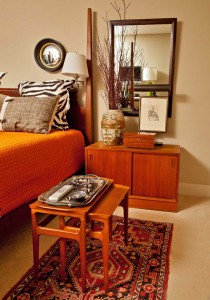 When it comes to prioritizing decorating projects, I'm surprised by how many people put their bedroom last on the list because it's a room no one else sees. I've found that when you begin and end your day in a room that's lovely and comfortable, and that feeds your senses and fills your mental, physical and emotional tank, life just goes better.  So if your bedroom is suffering from decorating neglect, try these three easy steps for turning it into the restful retreat you deserve.
Step One: Select Functional but Attractive Furniture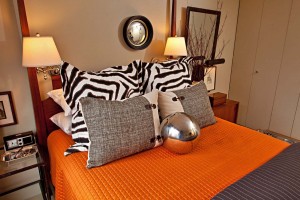 Before you think about fun stuff like colors and fabrics, you have to first make sure your bedroom is fully functional. Start by drawing up a floor plan that works for your daily life. For instance, if two people are going to share the bed, you don't want one side of the bed pushed up against a wall, making it difficult for the person on the inside to get out of bed easily.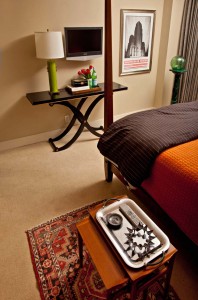 As you think through your floor plan, determine which existing pieces of furniture will stay, which will go and what you need to add to make the room work better. If your room feels tight and cramped, consider paring down your furnishings. For example, if you have a TV in your bedroom that's housed in a large cabinet, replace the cabinet with a console table that eats up less room, like my friend Rich did in the photo above.
If your room is large and lofty, you might need to add a few larger pieces of furniture to ground the space. Many new homes have lots of built-in storage in the closets to hold clothing, minimizing the need for dressers in the bedroom. But I still encourage customers with large spaces to fill to add a dresser, armoire or bookcase to give your room some visual appeal and balance.
After 12 years, I'm redoing my bedroom, so I'm going through the same process myself. The doors and windows in my room are configured in such a way that there is really only one place I can put my bed – right in front of the window. Since I can't have a large headboard because it will cover up the window, I'm going to anchor my bed in an unusual way. I'm going to place a mirrored screen on either side of my bed, then put my bedside tables in front of the screens. Can't wait to see how it turns out!
Step Two: Bring on the Textiles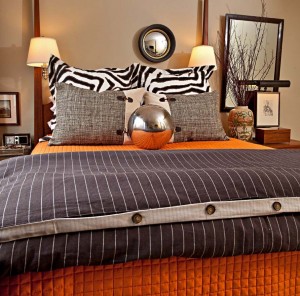 I think that picking out textiles, like bedding, window coverings and upholstered furnishings, is one of the most fun parts of redesigning a bedroom. And fun is the optimal word when you're talking about the color palette in Rich's bedroom. You can't bask in the tangerine glow of his bedding ensemble and not smile. Rich is a master at designing with bold colors and pattern. He intuitively knows how much bright color and strong pattern will fill a room with energy but not overwhelm the senses.
The secret of success for his knockout bedding combination is pairing the bright orange quilt and zebra pattern Euro shams with more sophisticated and sedate men's wear fabrics, like the gray chalk stripe duvet folded at the foot of the bed. I love the toggles on the shams – so unexpected and so unique. But the true show stealer on this bed is the silver gazing ball nestled in front of the pillows. It's completely unexpected – who puts a gazing ball on his bed? – and that's what makes it so powerful.
In my bedroom redo, the window panels will be made out of a linen fabric that sports a muted animal print in shades of camel and cream. The bedding will take its cue from the drapery panels and will be a soft, textural mix of different shades of cream and camel.
When you pick your color palette for your bedroom, make sure it's something that warms your heart. Whether you pair contrasting colors and patterns, like Rich did in his bedding, or blend similar shades and textures like I'm doing in my bedroom, your bedding has to speak to you.
There is no better resource for designing beautiful bedding than the team at Nell Hill's Briarcliff. The girls upstairs will help you create a lovely ensemble using custom bedding, ready made bedding or a combination of both. Our fabric room is overflowing with gorgeous decorator fabrics in styles ranging from old English documented patterns to peppy contemporary graphic prints. Plus, a wide variety of our decorator fabric and custom accent pillows will be available through Nell Hill's Online very soon!
Step Three: Finish off with Interesting Art and Accents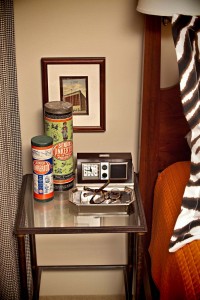 Once you have the right furniture in the right places, and your bedding and window coverings are magnificent, it's time to finish off the space with interesting art and accents. I love the approach Rich took in his room, filling his bedside table with kitschy mementos from the '50s, from the canisters of Tinker Toys to the retro alarm clock to the horn rim glasses. This engaging tableau tells you a lot about Rich, doesn't it?
Try doing the same in your bedroom. If you have a collection, feature a few choice pieces on your bedside table or dresser top. Or work in a few special family heirlooms. How about some snapshots of family and friends? Use your treasures to create motifs that tell a story, like Rich's night stand does.
In my newly redecorated bedroom, I'm going to feature a montage of tasteful nudes, mixing classic styles with pieces that are more contemporary. I've been collecting the art through the years; now I'll have a place to hang the works all together in one dramatic grouping.
Next Week … Whether you work from home full time or just use your home office to pay bills, it's essential that this important space be attractive and efficient.  I'll give you some tips you can put to work immediately to make your work space welcoming.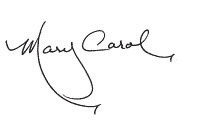 P.S. Don't miss a bit of Nell Hill's news – stay up to date on my favorite finds, new arrivals at the stores and all our special events by checking the Nell Hill's Facebook page every day. You don't have to have a Facebook page yourself to look in on the fun, but if you're already on Facebook, "like" us today!