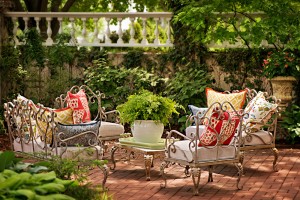 I admit it: I'm a homebody. While I enjoy traveling to new places, I am always thrilled to be back home again, reconnected with the people and places I love. One of the spots that fills my soul is my garden, and on a beautiful June afternoon, there's no place I'd rather be.
Do you have an outdoor space that revives and inspires you? If not, here are three tips for turning your garden into an oasis.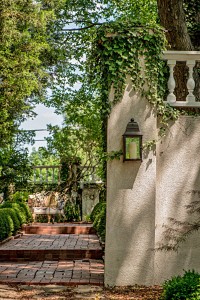 I am not a gardener. (In fact, plants shake in horror when they come through my door, knowing their days are numbered.) But I love, love, love beautiful gardens. So I was thrilled when two very dear friends of mine took pity on me several years ago and turned the patch of weeds that surrounded my home into Eden. Through the years, Gloria and Lynda, who are master gardeners, have taught me a lot about creating lovely and livable outdoor spaces. Thanks to their guidance, I've learned that every garden needs three things:
1. Plantings Suited to Your Space and Skills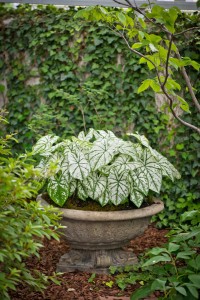 I'm in the slow learning class when it comes to landscaping, so it took me a while to learn that for the plants in your garden to flourish, they have to like the physical conditions of the space and be OK with the level of care you will give them. The key to success is to know your space and know yourself, then create a garden that suits both.
For my garden, that meant giving up on fussy, finicky plants that need a lot of care and opting for shade lovers that have an irrepressible desire to live, despite all odds. Lynda and Gloria have rimmed my beds with shrubs that give me four-season color, then under planted them with hearty perennials like hostas.
And, they convinced me to invest in a sprinkler system so my plants would be watered on a regular basis, something I could never remember to do on my own. Thanks to the miracle of water, my plants have not only survived, they have actually thrived, and now my garden looks prettier every year.
The only annuals you'll find in my garden are contained to a few intriguing pots and urns. I used to plant a dizzying array of flower-filled pots and put them all over my porch. Unfortunately, I felt like a slave to those things, and by July, they looked awful. Gloria and Lynda have zeroed in on a few kinds of annuals that like my yard and that I don't kill, and we've stuck with them. I am thrilled that my garden is now beautiful and carefree.
2. A Place to Rest and Reflect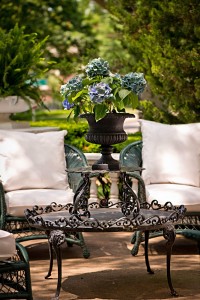 What good is a garden if you can't go out there and enjoy it? After a long day at work, I can't wait to flop into a comfy chair in my garden, put my feet up and let myself unwind. That's why I've made sure my garden includes a few seating areas. To add a little drama to this peaceful grouping that stands on my front patio, I stacked a wrought iron side table on top of a wrought iron coffee table to create a two-tiered structure. The top level is a perfect spot to put an iron urn filled with a gorgeous hydrangea. (For more on creating a beautiful outdoor room, check out my April 16, 2012, blog, "Style Attractive & Easy-Care Outdoor Rooms.")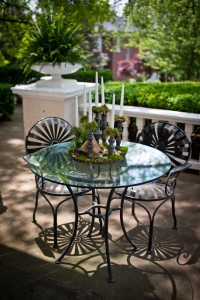 Dan and I also really like to entertain outdoors during the summer, so I made a spot for this super cute table and chairs on our front porch. It's a perfect place to drink our morning coffee or enjoy a glass of wine after work. When we entertain bigger groups, we take the party out back, where I have a large, round concrete table at the center of the courtyard patio.
3. Intriguing Focal Points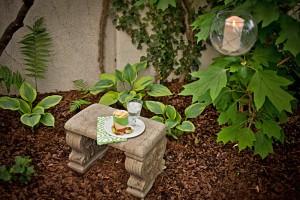 Just as with your indoor spaces, your outdoor rooms must have a few arresting focal points. These well-chosen treasures will give your garden beds character and provide a place for your eye to rest as you drink in the whole scene. In my garden, I've used a host of different types of artwork. One of my favorites is concrete statuary, like the bench in the photo above. I nestled this petite seat right into the bed, providing a hideaway under the green canopy where I could sneak away and enjoy a quiet lunch during a hectic day. I'm also crazy about iron urns, birdbaths, trellises and fountains.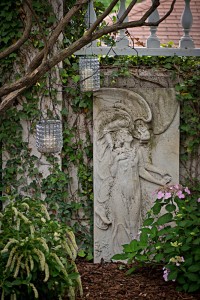 The old adage "less is more" is definitely true when it comes to decorating with outdoor art. It's essential to keep the number of pieces you feature in your garden to a bare minimum. Otherwise, your garden runs the risk of looking like a graveyard or an amusement park. Pick just a few pieces that capture your heart, then subtly weave them into your landscape so they are hidden treasures awaiting the observant guest, like I did with this religious carving from a convent in Europe. I have it tucked back into a corner of my garden, surrounded by plants, an intimate spot for rest and reflection.
Next Week … Want a fresh summer arrangement for your mantel? I'll have three great looks to inspire you.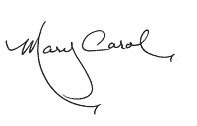 P.S. Don't miss a bit of Nell Hill's news – stay up to date on my favorite finds, new arrivals at the stores and all our special events by checking the Nell Hill's Facebook page every day. You don't have to have a Facebook page yourself to look in on the fun, but if you're already on Facebook, "like" us today!