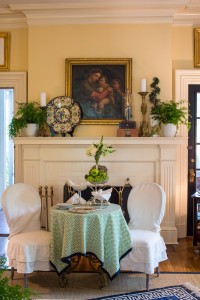 As the unrivaled focal point in a room, your fireplace mantel is the star of the show. So it's fun to give this all-important spot a new look every so often. I asked one of our designers at Nell Hill's to create three very different but equally as dramatic summer mantel treatments to inspire you. Look what Bruce came up with – I love them all!
Here's Our Blank Slate …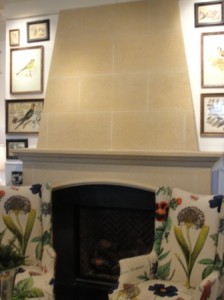 We cleared off a fireplace mantel at Nell Hill's Briarcliff and gave Bruce free rein to come up with three very different looks for summer. Here they are, complete with steps you can follow to recreate a similar look in your home. (Our entire design team at Nell Hill's is amazing at decorating mantels – and every spot in your home. Come on in to any of the stores and put them to the test!)
Look One: Contemporary Color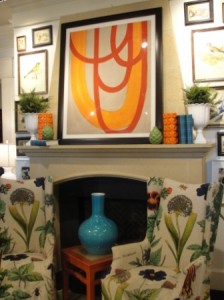 This sunny mantel display just seems to radiate all the joy of the season, doesn't it? And it shows how you can integrate some of the brights that are so big right now into your more traditional décor.  Here's how we pulled it together:
Step 1 – Arresting Art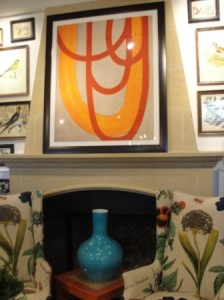 This high-octane design takes its cue from this amazing piece of art. I was overwhelmed by the great selection of artwork at market this year and purchased a number of more contemporary pieces like this one. I will never give up my love and devotion to traditional furnishings and artwork, but I'm really enjoying adding these rays of sunshine into my own home and those of friends and customers.
Step 2 – Foundational Accents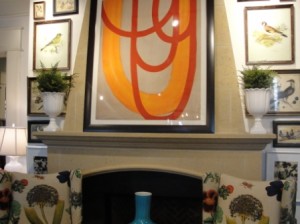 Since the artwork for this look is so bold, we wanted to select accents that didn't compete too much. We started with a pair of tall, white ceramic urns holding faux ferns. The lines on the urns are classic, so the overall display will tie in well with the traditional artwork that surrounds the mantel.
Step 3 – Complementary Color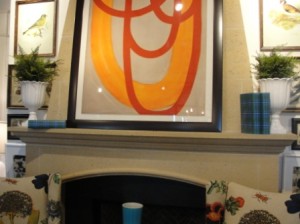 We've long used books as decorative elements in our designs at Nell Hill's. But in the past year or so, we've had fun wrapping some of them in interesting paper. The bright turquoise plaid paper on the books in our mantel design adds a pop of complementary color and softens a few of the hard edges in the display.
Step 4 – Cool Pottery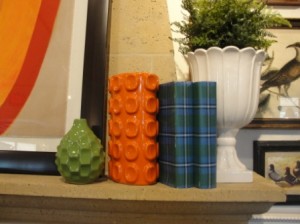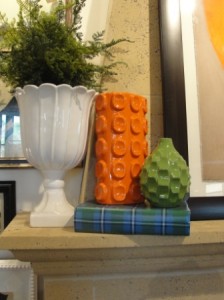 Just when I thought the brightly colored pottery the designers are showing now couldn't get any better, I discovered these marvelous pieces. I'm crazy about the retro colors and the groovy shapes. While they come in a host of colors, we picked a few pots that tied in the colors in our artwork and the paper-covered books.
Finished … and Fabulous!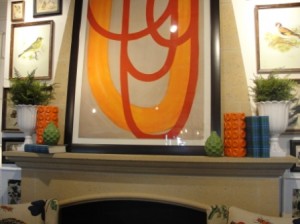 I love the look of this bright and happy mantel! It pulls in elements of contemporary and traditional styles for a truly transitional look that would work in most homes.
Look Two: Light and Breezy French Country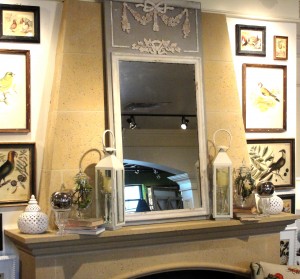 For our second look, Bruce wanted to create a mantel display that was soft on the senses, steeped in tradition and a bit romantic. He scored with this light and breezy French country display.  Here's how he did it:
Step 1 – Icons of a More Romantic Era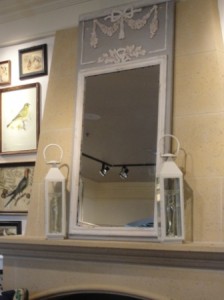 Isn't this tall, stately French mirror terrific? When I design mantel displays for friends and customers, I frequently use mirrors because I like how they bounce light back into the room. With its soft colors, this replica is a perfect partner for a host of different color palettes. Bruce flanked the mirror with a pair of matching lanterns because their traditional lines made him think of the lanterns that used to hang on the sides of carriages. Each lantern holds a sparkling glass candlestick topped with a pillar candle. Bruce liked how the clear glass candlesticks allowed light into the display.
Step 2 – Tantalizing Texture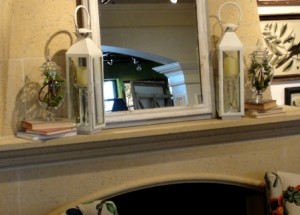 Working high to low, Bruce added a slightly shorter decorative grouping next to each lantern: a short stack of old books topped with lidded apothecary jars.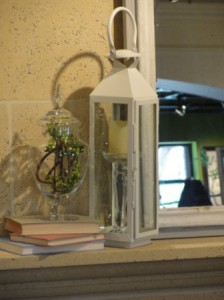 Since glass tends to look flat and empty when it's displayed on mantels, Bruce took two picks of faux greenery and bent them into loose circles, then inserted them into the apothecary jars. Isn't it amazing how much this little pop of color and texture does for this monochromatic display?
Step 3 – Objects of Interest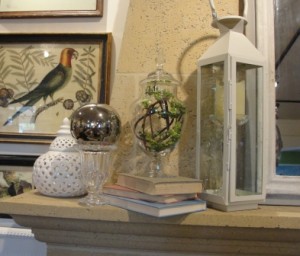 Bruce finished out with the very shortest accents – a jar holding a mirrored ball and a piece of latticework pottery.
Tres Chic!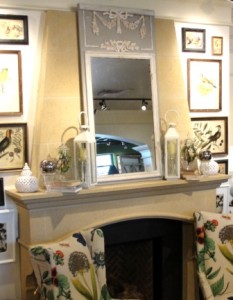 Look Three: Earthy Elegance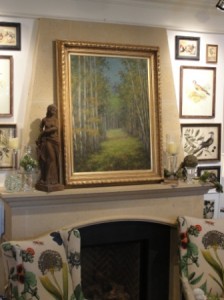 This unique asymmetrical display artfully weds together rustic elements found in nature with more elegant treasures. The end result is restful and refined, yet earthy and organic. Here's how Bruce pulled it together:
Step 1 – Start with a Statue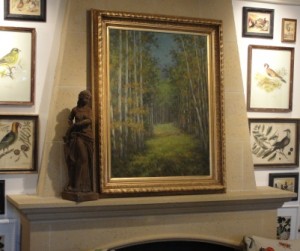 The dramatic oil painting Bruce picked as the inspiration for this evocative display celebrates the beauty of nature. So his design needed to do the same. Working high to low, he selected his tallest, most dramatic design piece first: a garden statue of a woman, finished in a rusty patina. Her form is willowy, echoing the lines of the trees in the painting.
Step 2 – Work in a Flash of Glass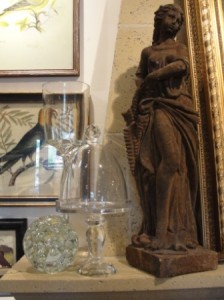 Instead of working on both sides of the mantel display at the same time, as he did in the symmetrical displays pictured above, Bruce approached this asymmetrical design by composing the tallest side, the left side, first. He started by working in some clear glass elements. Notice how flat and dull they look when they are empty.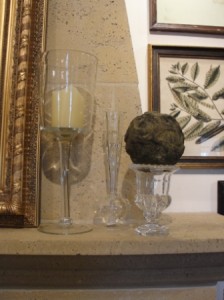 The glass pieces he used on the right side of the mantel are similar to those in the left side, only a bit shorter.
Step 3 – Accent with Greenery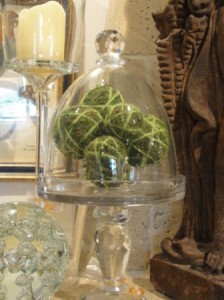 When Bruce added these plucky little moss balls to the lidded glass riser on the left side of the display, the motif came alive.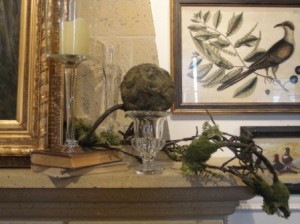 On the right side, he helped the eye follow its downward journey across the overall display by trailing the faux moss covered branch over the edge of the mantel. Genius!
Nature, in All Her Beauty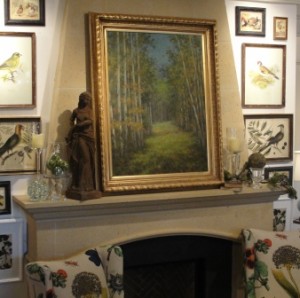 Regal, yet rustic, Bruce's finished product is the perfect pairing of the wild and the refined.
Next Week … Do you ever wish some things in life were more black and white? They can be, when you combine these two moody, clean and powerful colors in your décor. Come see what we've done with black and white at Nell Hill's.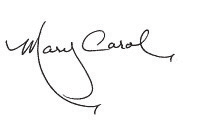 P.S. Don't miss a bit of Nell Hill's news – stay up to date on my favorite finds, new arrivals at the stores and all our special events by checking the Nell Hill's Facebook page every day. You don't have to have a Facebook page yourself to look in on the fun, but if you're already on Facebook, "like" us today!