There are some things in life I will never, ever grow tired of, like a really good chicken salad sandwich, shopping trips with my girlfriends and the classic color combination of black and white. These knockout neutrals are great on their own, but when they are combined, they are like a keg of dynamite. Want to turn yours into a black and white world? Here are two ways to thread this timeless twosome into your décor.
Black and White and Full of Drama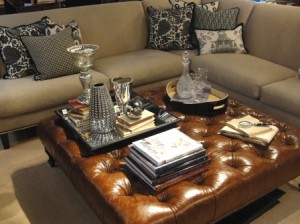 To showcase the magical power of black and white, we dedicated an entire gallery to this dynamic duo at our Nell Hill's Briarcliff store. My design goal was to create a visually powerful, yet warm, clean and fresh living room setting.
We started by painting the walls Abbey Steps, one of the newest and most popular colors in my Mary Carol Artisan Paints custom paint line (available right now through Nell Hills Online). Gray is big, big, big right now, and this moody shade gave us a rich backdrop against which to play with our black and white palette.
We started our living room grouping by placing this sensational cream colored sectional sofa right in the center of things. Sectionals are bigger than ever now because they give a room casual elegance and serve as a great hub of family life. You can entertain a group of friends on this broad sofa, gather the family for a game night or stretch out for a nap.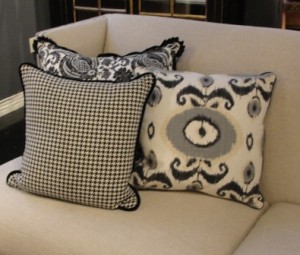 I'm partial to using white upholstered furnishings in my designs because it gives you so much flexibility when it comes to accessorizing your room. The upholstered furniture in my own living room is cream colored, which enables me to change the look of the room in a snap just by bringing in new accent pillows and accessories. We dressed up the sofa in our display room with three groupings of pillows, all done in different black and white fabric. When your color scheme is two neutrals, you can go wild with the patterns in your fabrics, mixing plaids, toiles, stripes, checks, florals – anything – together without worrying that it will be too busy. We just added our custom pillows to Nell Hill's Online. Come check them out!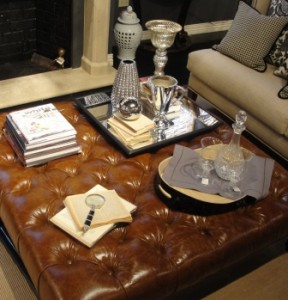 Instead of a traditional coffee table, we used this large, tufted leather ottoman. I'm partial to coffee table ottomans because they give you so much flexibility. In a pinch, they can serve as extra seating. You can put your feet up on them without feeling guilty. And they offer a great deal of surface area so you can fill them with an eye-catching display and still have plenty of room left over.
One approach to decorating your coffee table ottoman is to divide the space into quadrants. Be sure to reserve one of the quadrants for a killer display of doo-dads, like you'll see in the snapshot above. You could use the second quadrant to hold a drink service and the third to house a stack of books. Leave the fourth empty so you have a place to toss the book you're reading.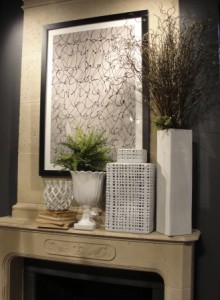 One of the beauties of decorating with a black and white color scheme is that it works with every decorating style, from very traditional to very modern. In our showroom at Nell Hill's Braircliff, we wanted a transitional look that was a delightful mix of modern and traditional. So we topped the traditional cast-stone fireplace surround with a modern display consisting of a sensational black and white painting and sleek white pottery. The stack of antique books, used as a riser, is not only a tribute to the past, it provides warm texture to soften the hard, shiny surfaces. The faux fern and branches add a much-needed nod to nature.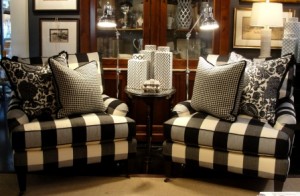 On one side of our gallery, we created this wonderful seating arrangement with two of our most popular chair styles. Covered in a classic black and white buffalo check, these chairs are relaxed and timeless, something you could keep for generations. The hound's tooth and contemporary floral pillows make the seats even more sink-into-soft and appealing. Notice that even though we mixed three very bold patterns, they work wonderfully together because of the limited color palette. Pillows in leather, linen and chenille would also look lovely on these chairs.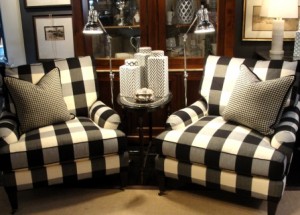 If you're not big on lots and lots of pillows, pick just one that allows you to interpret the black and white palette.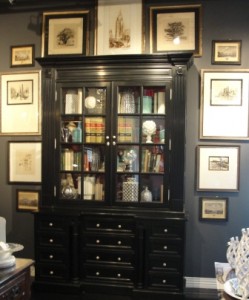 When I design living rooms, I like to include a large chest against one of the walls because these dramatic pieces help ground the room and give you a place to spotlight the books and accents that will make the room reflect your unique style. Notice the fabulous artwork display that surrounds this hutch? Even though our color palette is very limited, these pieces are anything but boring when massed together is this powerful display.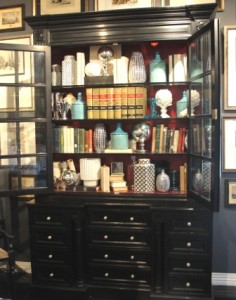 Think of the inside of a large chest as a stage on which to tell your story. Fill it with the treasures you love, like snapshots from your vacation, pottery, books, artwork and ferns.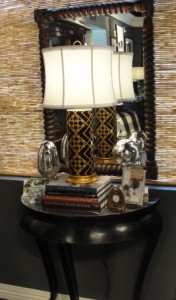 Black and white can be so very glamorous when you mix in a bit of gold, silver or bronze. This beautiful lamp, decorated with gold details, takes this side table to a whole new level. You may think it's strange to hang a mirror over a window, but it's a look I fell in love with when I did just that in my home. Finally, notice how we propped the lamp on a stack of books so it stood in the center of the mirror, allowing the mirror to frame the lamp.
Black and White and Full of Fun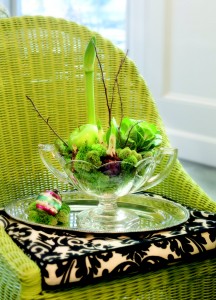 All it takes to switch our black and white color combo from dark and moody to playful and fun is inserting a pop of color. That's what my dear friend Ann did in her home. One year she went to market with me and saw a display room done entirely in black and white, and she fell head over heels in love. She went home and painted every room in her home white, then, step by step, began to fill each room with black and white furnishings and accents. She never grew tired of her monochromatic color palette because she tricked it up periodically with a pop of bright color, like apple green or Tiffany blue. Tragically, we lost Ann to cancer not too long ago, and the hole in my heart is still raw and gaping. But every time I see a room done delightfully in black and white, pepped up with a touch of merry color, I can't help but smile because it reminds me of Ann and the bright ray of sunshine she was in the lives of so many.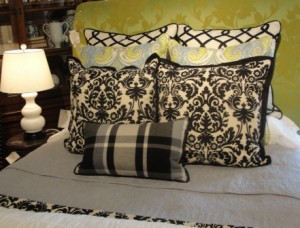 If you'd like to experiment with decorating with black and white and another accent color, but don't want to commit a whole room to this palette, a great place to start is with a bedding ensemble. We are expanding our line of home decorator fabric at Nell Hill's Briarcliff, and our textile design team is having lots of fun using all these colors, patterns and styles to design beds that are second to none. Check out all the fabric by the yard just now available through Nell Hill's Online!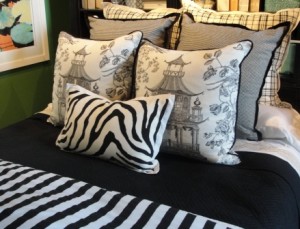 A great way to get lots of mileage out of a custom bed treatment is to mix a few pillows covered in classic fabrics with a few pillows that showcase today's hottest styles. The bedding will look fresh and new, yet sophisticated and timeless. Check out what we've done with this bedding ensemble. We've mixed plaid and toile fabrics with a contemporary zebra print for fun.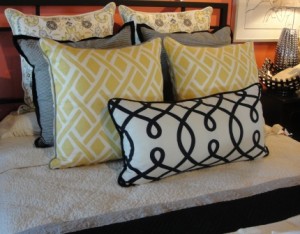 This new bedding ensemble weaves together classic and contemporary black and white fabrics with stunning pillows featuring the popular color combination of gray and yellow. If you were to grow tired of the trendier colors, you could easily recover the pillows and get an entirely different look.
Next Week …I threw a baby shower at my home the other day, and I had so much fun decorating for this celebration that I just have to share the photos with you! I hope it will inspire you to make your family's celebrations truly memorable.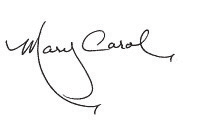 P.S. Don't miss a bit of Nell Hill's news – stay up to date on my favorite finds, new arrivals at the stores and all our special events by checking the Nell Hill's Facebook page every day. You don't have to have a Facebook page yourself to look in on the fun, but if you're already on Facebook, "like" us today!