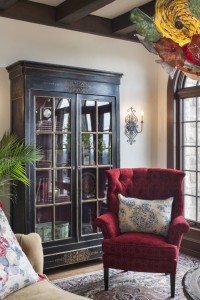 Every room needs some drama, don't you think? Something powerful that singlehandedly escalates the space above the ordinary. My pick? A big, beautiful, wooden cabinet. Whether it's a bookcase that spans the expanse of the wall or a hutch that kisses the ceiling, the visual impact of these large-scale chests is bigger than life and takes the look of interior spaces to the next level.  Here are the top four reasons I include them in every interior design plan: 
1. Big wood cabinets are at home everywhere.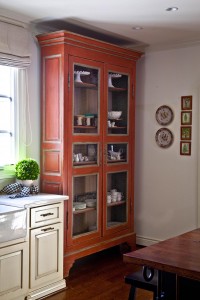 I can't think of a room in the house where a big wood cabinet would not be a great addition. They somehow magically expand the walls of small rooms, making them seem spacious. Just as amazingly, they make big, cavernous rooms feel more intimate. They work in very formal spaces and in casual rooms, are great just for show but can also work hard, storing everything under the sun.
Here are the top places I like to put huge cabinets:
Kitchens. Built-in cabinets are wonderful, but sometimes it's fun to mix up the storage in a kitchen by adding a large, free-standing hutch in a contrasting style or color. It's unexpected and provocative.
Bathrooms. Is it possible to have too much storage space in a bathroom, seriously? Of course, I have a historic home with tiny baths, so I am always hungry for a place to put towels, toiletries – everything. Big cabinets do the trick. Fill them with fluffy white towels rolled up in beautiful swirls. Grab a silver tray and a variety of glass jars and decorate them with tableaux of toiletries. Heaven!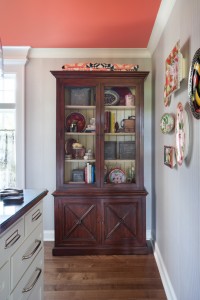 Laundry rooms. I have the world's scariest laundry room down in my creepy dungeon like basement.  But in my dreams, I have a laundry room like Julie's, pictured above. This fabulous cabinet, added to the other perfect touches in the room, like artwork, wall covering and window treatments, makes this workroom every bit as beautiful as any other room in the house. Notice how Julie filled the chest with decorative accents, another unexpected spark for a laundry room. But it could just as easily hold laundry essentials, like soaps in pretty jars or baskets hiding soiled stuff ready to dump in the machine.
Play room. Have little kids or grandkids that have a gazillion toys? Place a big cabinet in their play room and fill it up with books, toys, games and music. When playtime is over and the toys are stored away, the room will look polished and stylish. (For safety, be sure to secure the cabinet to the wall.)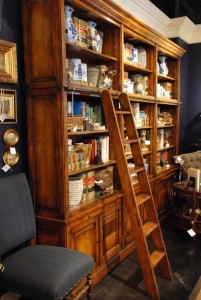 Library or study. There is nothing more lovely than a huge bookcase stuffed full of books. When you're married to an avid reader, like I am, it's a necessity.
Dining room. We dish addicts always need extra spots to store dishes. How about filling a wall in your dining room with a large cabinet to hold your serving pieces and extra sets?
Living room. There is no better spot for an artful bookcase display than in your living room or family room. Flank your fireplace with a matched set of cabinets, or put a really large cabinet on the opposite wall for visual balance. Then, decorate!
2. You can fill them with goodies.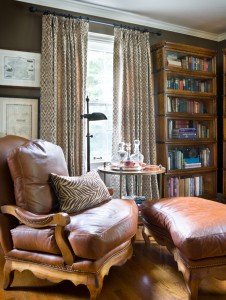 My idea of heaven? Miles and miles of open shelves just waiting to be filled with artfully arranged accents. Are you getting a feel for another reason I love big old cabinets? They give you lots and lots of room to decorate. What can you put in a large chest? The short answer: Anything, everything.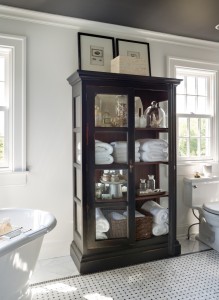 Use your cabinet to hold spare dishes and serving pieces that are too beautiful to hide away. Show off small pieces of artwork. Showcase a collection that looks more powerful when it's massed together.
Fill it with linens, like pretty quilts. Books, books and more books. Or, do a combination of all of the above. This is a chance to let your creativity and your storage needs combine to create something that is lovely and functional.
3. They come in a million different styles.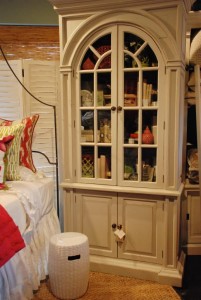 No matter what style of home you have, or what size rooms you want to fill, there are lots and lots of lovely large cabinets for you to choose from. To help you narrow down your search, consider: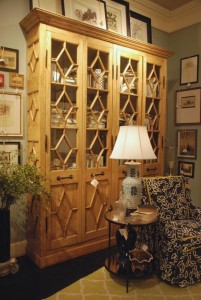 What size works for your wall? How large of a wall do you have to fill? The biggest mistake people make when they purchase bookcases is to go too small, putting a smaller scale piece on a large wall, so it looks dwarfed, like a little postage stamp. Go as large as your wall can handle. Don't be afraid to let the cabinet squeeze to the edge of the wall or touch the ceiling. We've had customers trim down the tippy top of the crown or shorten the legs of piece they love so it will fit. One thing to look out for if you're covering the wall: Make sure any doors on the cabinet have enough room to swing open.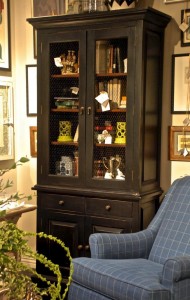 How do you want to use the cabinet? Do you want doors to cover the displays inside or do you want the shelves exposed? If you want doors, would you prefer they be made of solid wood or glass? Do you want drawers to hold things like silverware or DVDs? Are kids going to be using the cabinet? If so, be careful that you don't pick a piece with doors they can swing on. Instead, opt for an open chest or sliding doors.
4. They are 20% off at Nell Hill's through March 15.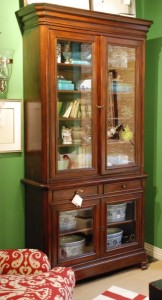 During our popular Wood Furniture Sale at Nell Hill's Briarcliff and Nell Hill's Atchison, all wood furniture, including cabinets, is 20% off. The sale runs Feb. 15-March 15 and is the perfect time to snatch one of these gorgeous investment pieces at a discount.
Next Week … Pop open a can of paint and feel the power. Paint is an amazing tool for creating a magnificent interior. I'll share tips on how a little paint can transform the look of your home.