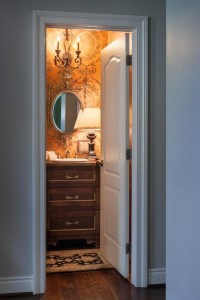 Where would you score your home's bathrooms, on a scale of Boring to Beautiful? If your master bath, guest bath or powder room is hovering at the Boring-But-Functional end of the scale, it's time transform it into a space that is so beautiful, you'll say yes to that extra cup of coffee just so you can visit it more often! Remaking the look and feel of your bathrooms is a lot easier and less expensive than you may think when you use these six surefire tricks:  
1. Opt for an arresting color scheme.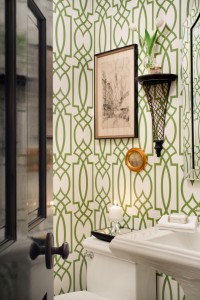 Take a hard look at the walls in your bath. Are they unremarkable? You can make them powerful with a few rolls of wallpaper or a fresh coat of paint. You might think that using a bright, bold wallpaper in a small powder room would be overwhelming, but one peek inside the gorgeous room in the photo above and you'll become a believer. It doesn't get much better than this peppy green and white trellis pattern, which infuses this bathroom with energy. Even though it's a bit on the contemporary side, it looks marvelous with the traditional artwork.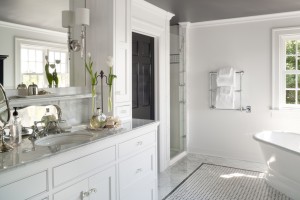 Paint is an inexpensive and easy way to transform a bath. Check out how this subdued combination of black, white and gray creates jaw-dropping drama. If you have older oak cabinets you want to freshen up, try this trick: Cover them in a high gloss whitewash and add new nobs. Then create some magic with contrasting colors on the door and ceiling. I love how the brooding gray ceiling pulls out the gray threads in the marble on the vanity and floor.
2. Dress the walls with fabulous art.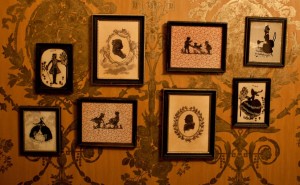 I like to use lots of artwork in bathrooms because I think it elevates the look of the room. Plus, it's so unexpected – it will catch your guests off guard. Bathroom walls are a prime spot to create a gallery that features your favorite collectibles. My friend Anne hung this set of old silhouettes in this glorious bathroom off her main entry (It's the one pictured at the start of the blog).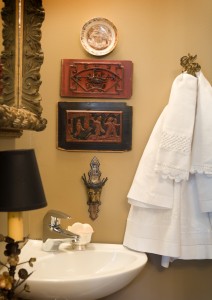 Check out what my friend Marsee has done in the tiny bathroom right off her kitchen. This space is no bigger than a closet, yet it's packed full of art, enlivening every inch from floor to ceiling. I'm having a blast employing this technique as I decorate the bathrooms in my lake house redo. I took a postage-stamp-sized bathroom and painted it Twilight blue then covered one wall with a mix of plates and antlers, and the other wall with a grid of turn-of-the-century portrait engravings.  Right now, that little bathroom is my favorite room in the whole house!
3. Add interesting arrangements of accessories.
No one accessorizes bathrooms like Marsee. She could lead a college course in how to making the everyday extraordinary, and to rethink functional objects and make them fabulous. When I'm at her home, I always make a trip to the ladies room so I can take in all that luxurious loveliness, like this beautiful tableaux she created on an unusual ledge in an upstairs bathroom, pictured above.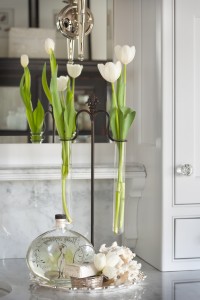 How can you do the same thing in your bathroom? From shampoo to mouthwash to bath salts, we all have lots of toiletries to work around when we decorate our bathrooms. Instead of hiding them away in a cabinet, why not create displays that make your toiletries beautiful? All you need is an assortment of lovely containers. For instance, put your bubble bath and lotions in pretty decanters and pour your bath salts into apothecary jars. Place them atop a silver tray. Then fill in with a few more accents, like a candelabra or an urn.
4. Finish out with furniture.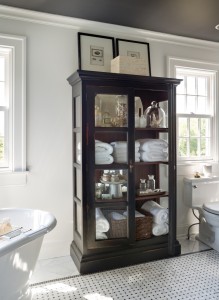 I love to use "real" furniture in bathrooms, even small ones, because it gives these often-forgotten rooms the same stature as the more public spaces in our home. If you are redoing your vanity, consider using a piece of furniture to hold the sink, instead of a generic hardware store cabinet. In our lake house, I took a well-worn chest that had been in Dan's family, gave it new life with a coat of gray paint, and had the carpenters fit it for the sink. In a slightly larger bathroom, I used a dining room buffet as a vanity.
Another favorite trick of mine is to put a large chest in a bathroom, like my friend Julie did in her master bath above. Not only does the chest visually balance out the cabinetry on the other side of the room, it provides another spot for storage. The glass doors allow you to make artful displays with towels and toiletries.  If you have enough room in your bath, consider adding an upholstered chair to use for dressing. It's another touch of luxury that will make your bath inviting.
5. Create a mood with ambient light.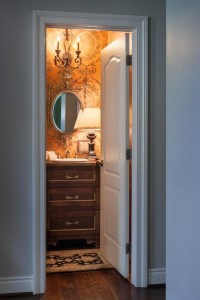 Whenever possible, I use ambient lighting to illuminate a room instead of overhead lights. I just prefer the soft glow they provide. The little black lamp sitting on the vanity in Anne's powder room makes the room feel so warm and inviting.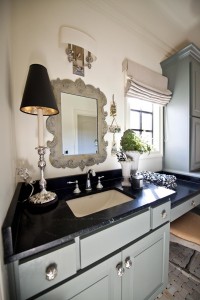 I also love the way lamps break up the cold, hard plain of a bathroom counter top. Anne picked the perfect lamp to add interest to her master bath vanity.
6. Make practical pieces pretty.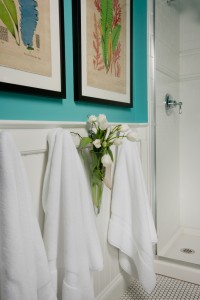 As much as I love creating baths that are a bastion of beauty and luxury, they also have to be practical. So outfit your new bath with tools that make daily life easier, yet are loaded with style. In my home, that meant saying goodbye to towel bars and hello to towel hooks. For some reason, my family members were unable to hang wet towels on bars, preferring to drop them on the floor. Sigh. I solved the dilemma by installing pretty hooks, so all they have to do is toss the towel. Problem solved.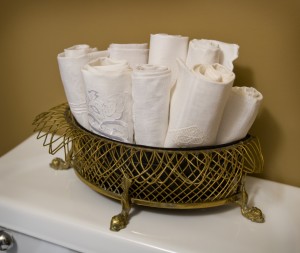 Check out how Marsee displayed the hand towels in her powder room. They are easy for guests to find in this simple wire basket on the back of the stool and they look gorgeous.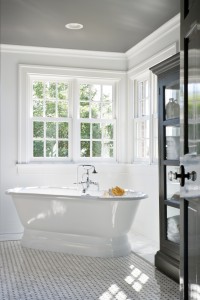 The tub is the most sacred space in my bathroom. I love to soak in a hot, steaming bath after a long day. Julie did an artful job of making bath essentials pretty and accessible for her big tub. The yellow loofa serves as an unexpected focal point in this room, adding an arresting pop of color and organic texture.
Next Week … I'll show you how to use large wooden cabinets to add drama to your home.