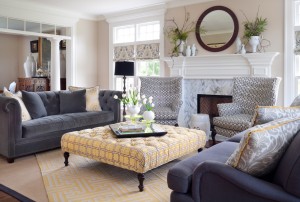 Do you have an emotional response to a particular color? I do, with the color yellow. Yellow makes me think of my mom.  All through my growing up years, Mom had a beautiful yellow bedroom, with soft yellow walls and yellow floral drapes. There is nothing like crawling into your mom's bed, feeling safe and secure and loved. That's how I feel when I see a yellow room, all warm and fuzzy inside.
Maybe that's why I got so excited about my friends Julie and Marc's vision for their home, one accentuated throughout with pops and splashes of yellow. Whether you prefer a shade that's soft and buttery, or one that is as brilliant as the summer sun, this warm, happy color is an ideal accent color. Here are three tips for welcoming yellow into your home.
Create the Perfect Pairing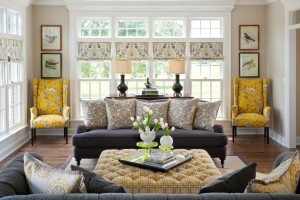 Yellow is a very amiable tone that makes a perfect partner for lots of different colors, from cool to warm hues. Right now, we are loving yellow paired with shades of gray, from gun metal to a dove. Julie gravitated toward a perky canary yellow. Since her tone was bright and bold, she knew she would need to focus it in a few high-impact spots throughout her home, bundling it with quieter shades of gray, cream and white. Even though yellow just makes a few appearances, saved for smaller pieces of furniture, trims and accents, it really steals the show in this room.
Gray not your thing? Yellow is also blissful with blue and grayed brown.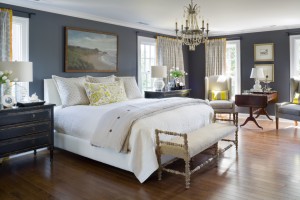 Yellow plays an even smaller, but just as important, role in Julie and Marc's bedroom. Although they are few, these dollops of yellow on the bed, windows and chairs snap, crackle and pop in this serene gray and white room.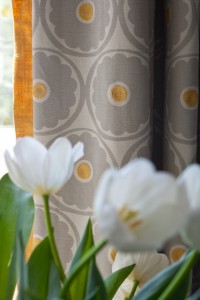 The drapes are to-die-for, with this crisp and clean medallion print that artfully straddles traditional and contemporary styling. I'm all about trim on drapes – it's what makes custom window coverings second to none.  This little flat flange in sunny yellow linen is like a ray piercing through the storm clouds.
Find an Inspiration Piece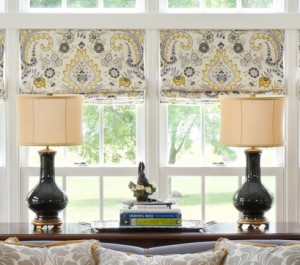 If you're not sure where to start when introducing yellow into your home, look for an inspiration piece. Maybe it's a painting you love, a rug, or a fabric pattern. For Julie, inspiration for this lovely room came from this killer yellow, gray and cream fabric. She used it for the Roman shades that grace the floor-to-ceiling windows so you get a glimpse of it everywhere you turn. Once she lost her heart to this inspiration fabric, the room naturally evolved from there as she selected companion fabrics and furnishings.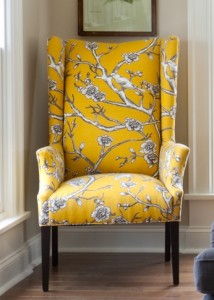 As we started pulling together additional fabric that wove in our theme colors of yellow, gray and cream, Julie knew she had to have something in the kicky pattern above, in smaller doses, to create a visual spotlight on a few key pieces of furniture. It's perfect on these matched wing backs, which transform the plain old corners of the room into arresting focal points. When the room isn't in use, the chairs are like artwork. When she entertains, Julie can pull the chairs forward into the intimate conversation area surrounding the fireplace.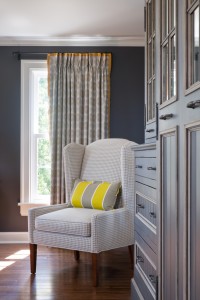 We picked up a few more exclamation points of yellow through this yellow, gray and white striped lumbar pillow on the gray and cream hound's-tooth upholstered wing chairs in Julie and Marc's bedroom. On their bed, a gorgeous re-envisioned floral with a sprinkling of yellow adds a little zip to this snowy white, blissful ensemble.
Create Layers of Tones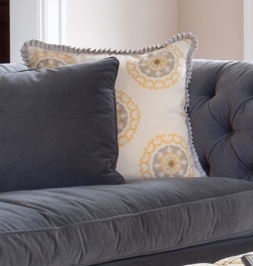 I'm not a very matchy-matchy person, so I really enjoy layering different shades of colors. Yellow comes in such a wonderful assortment, it's a natural. Don't be afraid to mix together tones that span the spectrum, from chartreuse to gold.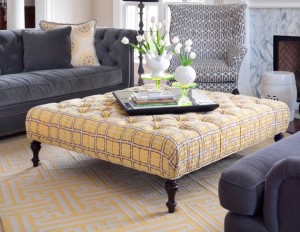 One of my favorite places to introduce a bold pattern and color is on an upholstered ottoman, like this smartly tailored tufted ottoman that serves as a coffee table and, in a pinch, added seating. Transitional fabrics like this edgy plaid are an ideal way to keep traditional décor fresh and new. It reimagines a timeless classic for today.
Another great way to bring in an accent color is through an inexpensive flat weave area rug. One of our tricks at Nell Hill's is to layer a smaller, bolder rug on top of a larger natural fiber rug. It stretches the decorating dollars farther: The larger natural fiber rug is a great buy and allows you to get a smaller size in the accent rug.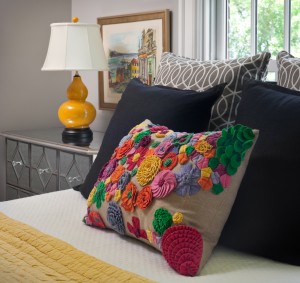 In this cheerful bedroom, a yellow quilt mixes in with the cheerful bedding ensemble to add brilliance that doesn't overwhelm. The yellow ceramic accent lamp, with its clean lines and full-throttle tone, doesn't have to be turned on to make the bedside table brilliant. Lamps offer another excellent opportunity to introduce strong colors to your room.
Next Week … Don't overlook your bathroom when styling your home. Make this small but important space every bit as beautiful as the rest of your home.