During the dark days of winter, don't climb the walls – decorate them! There is no better time to evaluate and enliven your artwork displays than right now, when your seasonal decor is at a minimum and you can fully focus on this key component of interior design. Good artwork displays finish a room like nothing else, transforming empty wall space into intriguing story boards that tell others about you.  While there are no hard-and-fast rules when it comes to designing artwork displays, here are the five guiding principles we follow when arranging art at Nell Hill's. 
Pick Artwork You Love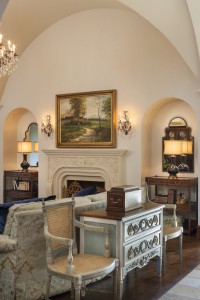 What kind of art is right for your home? Anything you love, love, love. Selecting artwork is a very personal experience, and you should never, ever, ever buy a piece of art that doesn't make your heart sing. Don't select a painting just because it matches the colors in your sofa or is the right size for an empty space you want to fill. Your face needs to break out in an ear-to-ear smile every time you see this piece.  Don't compromise.
Mix Up the Subject Matter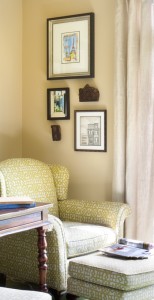 Wouldn't the world be a boring place if all of us wore the same clothing every day? The same principle holds true for your walls. The antidote for monotony is to mix up the subject matter of the pieces hanging in your art collection. Swirl together landscapes, portraits, architectural drawings, mirrors – you name it.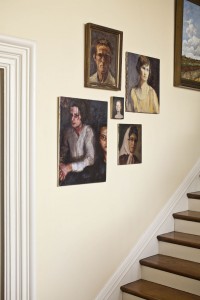 You can also mix up the style of your art. For example, if you have mostly traditional artwork in your home, try adding in a few modern pieces to stir things up a bit. In my own home, I have laced my decidedly traditional décor with a few pop-up surprises of more modern art, like this cluster of oil portraits in my foyer. Conversely, if your home is modern, add in a traditional painting or two to shake things up.
Vary the Size, Shape and Style of Frames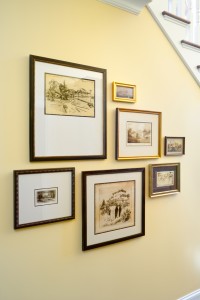 Even when we are going for a very uniform look in an art display at Nell Hill's, maybe hanging together similarly styled black and white landscapes, we still like to weave in an element of surprise by featuring different frame sizes, styles and colors. The grouping above is so effective because the art pieces are distinct, with different frames and finishes, yet they blend together beautifully to create one voice. Weave together frames that are wood and metal, painted and stained, thick and thin, gilded and minimalist.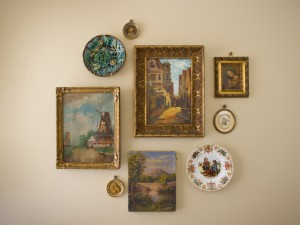 I love to create galleries that showcase a garden of sizes, pulling together pieces that are round, square, rectangle, oblong – you name it – because I find them to be very interesting. Want more drama in your displays? Take the size differential to a greater extreme, adding tiny dollops of smaller-scaled pieces in with medium and large sized pictures.
Alter the Arrangements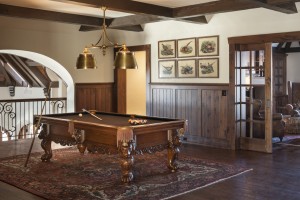 Well done grids of art are very powerful. When you group a mass of similar pieces of artwork in straight lines and columns, you blend the voice of each piece into a visual symphony. But don't let every display of art in your home be a grid. You need to let each wall be unique. If one is kicked up by a strong grid, let another feature a meandering mosaic of art.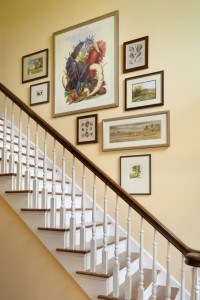 When creating a montage of art, a good rule of thumb is to start by hanging your focal point piece at eye level. Then let the display spread up and down and across the wall. In my home, montage displays cover the better part of a wall, reaching up toward the ceiling and down toward the floor, sometimes crawling up and over a bank of windows or the doorway.
Blend Several Mediums
Most likely, your clothes closet is a mix of pieces that are distinctly different, but beloved by you. There are the comfy jeans for Saturday, the suit for work and the little black dress for going out. All these pieces define you. Similarly, strive for artwork displays that blend a host of mediums to create a gallery that reflects your singular style. For example, hang together dissimilar pieces like an original oil, a plate and some antlers. Bring in photography, drawings and vintage postcards. Pull in a sconce, a shelf or corbel. The more you mix it up, the more intriguing your display will be.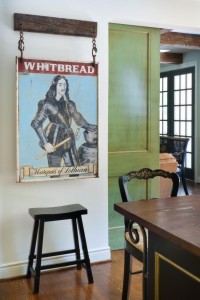 Refuse to limit yourself in what you call "art." An old rusty sign, hanging from a chain mounted to a block of weathered wood is art, just like a painting. How about textiles? Plates, platters and trays? Masterpieces created by your children or grandchildren? A photo you took on vacation? A map of your favorite city? Pull it together in a visually pleasing way on your walls, and every time you walk past, you'll fill your emotional tank.
Next Week … Ready for the summer sun? While Mother Nature blankets us in winter, we can make our homes warm by decorating with the color yellow.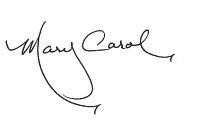 PS Our Special Order Upholstered Furniture Sale is going strong at Nell Hill's Briarcliff. Our gorgeous sofas, chairs and ottomans are 20% off now through Feb. 15. Don't miss this chance to get distinctive Nell Hill's pieces at a discount!