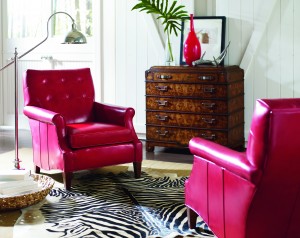 When you love to create home interior spaces that delight your eyes and refresh your senses as much as we all do, you know that a chair is so much more than just a place to sit. It's an expression of your unique style. In the next few weeks, as the Special Order Upholstered Furniture Sale is going on at Nell Hill's Briarcliff, I will get to help customers pick upholstered chairs that will make their rooms singularly beautiful. That's a lot of pressure to put on a chair, isn't it? You bet it is! That's why it's important to have a good feel for what you're looking for in a chair before you begin to shop. Here is the checklist I go through with my customers to help them pick the perfect chair for their home. 
1. How will you use the chair?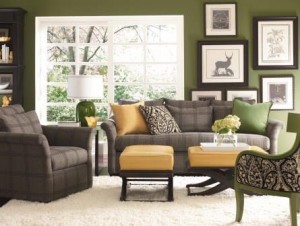 This is perhaps the most important question you can ask yourself, because everything else will stem from your answer. Will this be a chair that stands in a little-used formal room, or your favorite place to sit and watch TV or read? If this is a chair you want to relax in every day, comfort and durability are king. If the chair is more for show, you can go with a style that's a little less sink-into-comfy and a fabric that is a bit fussier.
2. What is your style?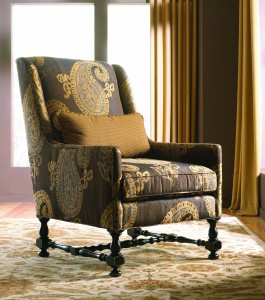 There are a million styles of chairs out there. Which one is right for you? Formal? Traditional? Causal? Contemporary? Funky? There are even wonderful pieces that blur the lines between all these standard style categories. For example, designers today are reimagining the classic wing back chair, reinterpreting this timeless classic by making the silhouette cleaner, the upholstery bolder, the legs sexier.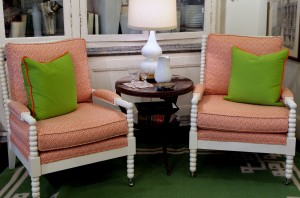 We carry some wonderful wooden spool chairs at Nell Hill's that can span the gamut from traditional to boho based on how you have the wood finished – stained or painted. You can order the wood on this and other chairs we carry painted in a rainbow of shades, from go-with-everything black, white or cream, to statement colors like apple green or coral.
You can further add to the chair's personality through the upholstery fabric you pick, from classic solid to an edgy geometric.  Not sure what style lights your fire? Flip through decorating books and magazines, or start a board on Pinterest (look for our Nell Hill's boards!), and mark the photos of chairs you love. Your style will surface quickly.
3. How high should the back and arms of the chair be?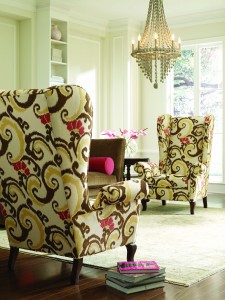 Once you know where you will place the chair, this question will be easier to answer. If your chair is going to sit next to an end table, make sure the arms of the chair are either a few inches above or below the tabletop. When I design rooms, I frequently put higher backed chairs, like a wing back, against a wall or flanking the fireplace instead of in the middle of the room so they don't obstruct the visual flow of the space. Another dimension to be concerned about is the height of the seat if you plan to use the chair as extra seating at your dining room table or as a chair for a desk. Most chairs are too low to allow you to reach the tabletop comfortably, so you'll want one with a higher seat.
4. What kind of cushions do you like?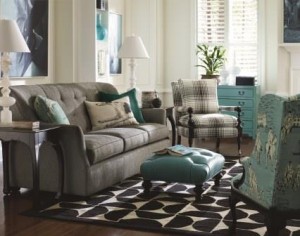 First you have to decide whether you want the chair to have a loose back cushion, which looks more inviting to some people, or a tight back, which offers a cleaner silhouette. Then, you have to decide what kind of seat cushion grabs you. Do you like a firmer seat or one that is super soft? The best way to decide is to give the chair the sit test.
5. What kind of arm do you prefer?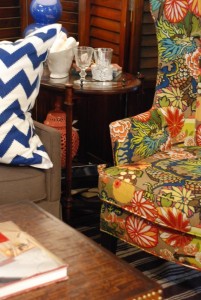 Do you want the arm to show some wood or be padded? Thick or thin? If you want an arm style that will never go out of vogue, consider an English rolled arm. You'll see this centuries old classic spotlighted in decorating magazines decade after decade because it stands the test of time.
6. Do you want a skirt?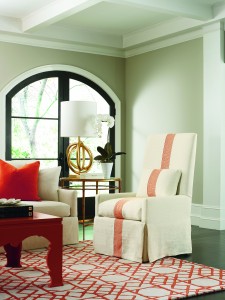 Skirts on chairs are still popular, though the height and depth of the skirt changes now and then. If you have pets, you might want to think twice about a skirt. If your cat or dog likes to rest against the chair when it sleeps, the oils in its skin and shedding hair can make the skirt dingy. Dirty shoes can be a problem too.
7. What kind of upholstery do you want?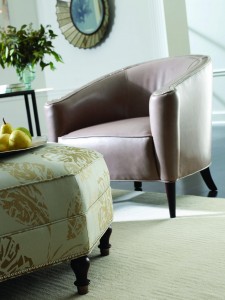 Do you need fabric that is durable enough for pets and kids? Consider covering your furniture with fabulous outdoor fabrics. We're doing this more and more at Nell Hill's, and our customers are thrilled because they can choose from great patterns and colors, but don't have to worry about daily wear and tear.  Do you want a solid or a pattern? A dark or light? To help our customers decide, we take them to our fabric room, filled with hundreds of swatches of upholstery fabric. It doesn't take them long to zero in on the color and pattern that makes them smile.
8. What is your budget?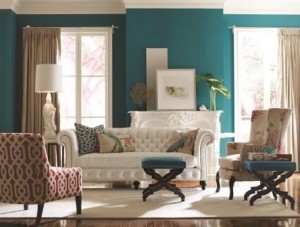 I'm a big believer in cheater pieces if you are able to get the same look for less money. But when it comes to upholstered furniture, you need to invest in high quality pieces. Less expensive chairs, made with inferior materials and slipshod workmanship, don't stand the test of time. They will look good for a few years, then they will begin to lose their shape, pill up and fall apart. In contrast, when you invest in a well-made chair that uses top quality materials and expert craftsmanship, you'll get a piece that you will have for generations, one you can recover over and again.  My recommendation is to get the highest quality chair you can afford, knowing it's an investment piece you will have for years to come.
Don't miss the Nell Hill's sale!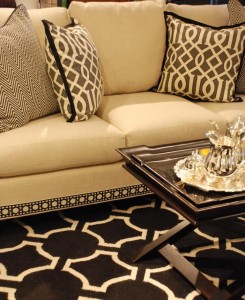 Between Jan. 15 and Feb. 15, all the upholstered furniture – including chairs – will be 20% off at Nell Hill's Briarcliff. I love this sale, which only comes around twice a year, because our design team gets to work with customers to help them custom design the chairs, sofas and ottomans of their dreams. And, it's a rare opportunity to get expertly crafted chairs of this kind at a big discount. I hope I see you there!
Next Week … Winter is the ideal time to turn your attention to adding style and personality to your rooms using artwork. I'll have tips for creating artwork displays that finish your spaces perfectly.