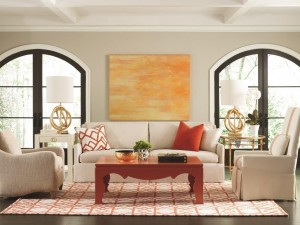 Be still my beating heart. A new year, full of fabulous new interior design looks, is upon us. I'll be hopping a plane in a few days to hit the huge home furnishings market in Atlanta where I will take in the freshest looks in home decor and buy, buy, buy for Nell Hill's. Before I see what's new at market, I had to first check in with one of my favorite trend-makers, Holly Blalock, the vice president of merchandise and marketing for CR Laine, and see what she's loving in 2014. Here's what Holly says is going to be h-o-t: 
Cobalt blue dazzles decor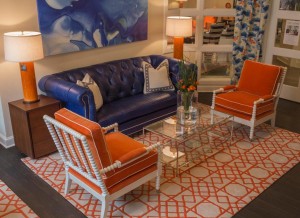 Every year, Pantone picks its color of the year, and for 2014, it's "orchid." Yow! No disrespect Pantone, but Holly and I agree that you've called it wrong this year. I love the use of strong colors and unique shades, but based on what we see at Nell Hill's as we help people style their homes, I predict that very few will be getting excited about orchid this coming year. Holly put it well: "Orchid is too specific and flashy and (in my opinion) should only be used for accents when it comes to home decor."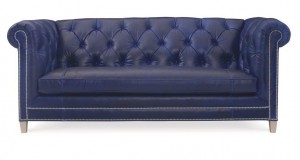 So Holly has picked her own color of the year for 2014: cobalt blue. Yes, yes, yes! I agree! If you know me, you know I've lost my heart to every shade of blue out there, from a deep black-navy to pale ice blue. Every iteration and interpretation of blue makes my heart skip a beat. Cobalt caught my fancy this year too, and I picked this sassy shade for my outdoor cushions, edging them in citrine. Love it!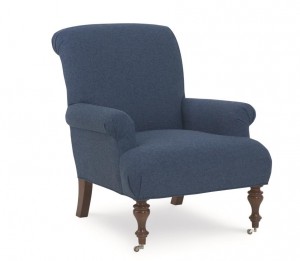 Holly says this about her 2014 color crush: "From Ming dynasty porcelain to Dutch delftware, cobalt blue has been fired into décor for centuries. Recently, the vibrant color (a brighter, slightly luminous version of the classic navy) has reignited on the runways. It dazzled at Valentino's fall/winter show during Paris Fashion Week."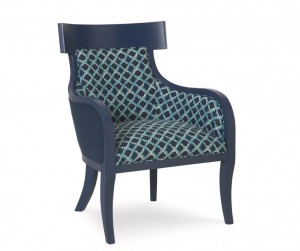 This season, she says, "Watch for the brilliant blue to brighten home design, particularly when paired with saturated orange tones and tailored white accents [check out the CR Laine room shot above to see what she's talking about]. Intense and full of life, this is one hue that won't flame out."
Music serves as a muse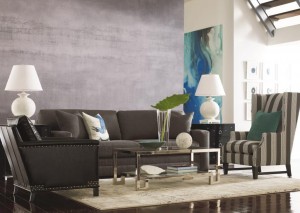 Remember Punk rock? Holly's predicting the edgy fashion inspired by the thumping strains of bands like the Clash, the Ramones and the Dead Kennedys will be making its way into interior design this year. She says: "Having gained acceptance inside the mainstream, Punk will add must-have accents to decor. Once the domain of young rebels, Punk has moved off the streets and into high-end fashion and furniture. And, as evidenced in the Metropolitan Museum of Art's exhibit, Punk: Chaos to Couture, the trend's raw creativity has grown more refined with age, but it hasn't lost its edge."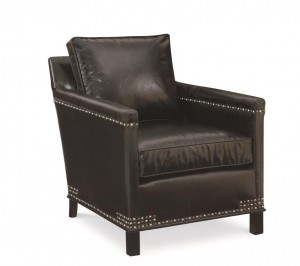 How do you add a punch of Punk to your home? Here's Holly's vision: "Reminiscent of a studded leather jacket, our black leather chair is adorned with alternating nickel and pewter nails, a detail that feels more polished than rough."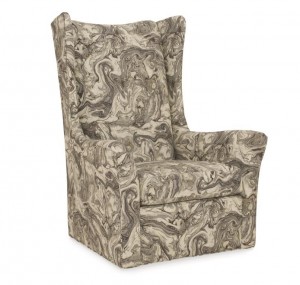 "Replicating marble's intricate, swirling patterns, Alexander Wang put an earthier spin on the rock theme with his collection for Balenciaga," Holly says. "CR Laine brought this same sculpted sophistication to their upholstery, making for some seriously statuesque chairs."  Other ways to bring your inner rocker to life in your home? Holly suggests adding starburst mirrors, and gold and silver gilded art frames.
Pastels and metallics steal the spotlight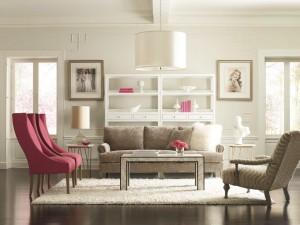 For the past few years at Nell Hill's, we've had a blast helping customers who are crazy about bold, bright, saturated color bring these invigorating hues into their homes. Now, those who prefer a softer, more muted palette get to see their design style in the spotlight. In 2014, Holly says pastels will be intertwined with the luxurious luminescence of bronze and platinum.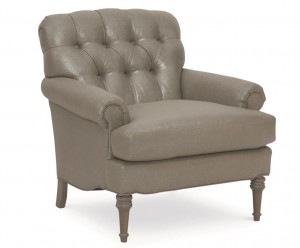 "Bronze and platinum are imbuing furniture design with an elegant shine — from glazed linen and mottled velvet fabrics to shimmering finishes and nail trims," she says. "Like light reflecting off a coastline, platinum can be icy white or a warm shade of cocoa; and bronze ranges from copper to patina. Mixed and matched hues, like bangles stacked together, give metals a soft touch with posh appeal. Soft color doesn't mean boring … personality is sparked by the addition of a color counterpoint."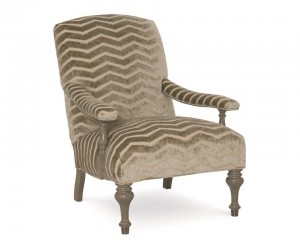 I'm with Holly – this is a sensuous, sensational look for those who want quiet glamour in their homes.
A parting word: trends are fun, but stay true to your style
It's always a blast to thumb through the fashion magazines and see the new styles designers are touting. But that doesn't mean we toss out our closet full of beautiful clothes each season and refill it with all the trendy pieces, right? The same is true when it comes to interior design trends. I can see five new looks and love them all, but that doesn't mean they are necessarily right for me and my home. When it comes to embracing interior design trends, here's my advice: If a new look makes your heart sing, embrace it. If you like your existing décor but want it to stay fresh and new, weave in bits and pieces of a new style you like. If a look leaves you cold, pass it by. Stay true to yourself in all you do.
Next Week … A new chair can be a great way to reinvigorate a room. I'll share my checklist for picking the perfect one for your home.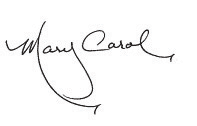 PS Our popular semi-annual Special Order Upholstered Furniture Sale begins at Nell Hill's Briarcliff on Jan. 15. All our gorgeous upholstered furniture will be 20% off until Feb. 15. Come let us help you design the sofa, chair or ottoman of your dreams, or pick one from our showroom floor. This is your chance to save big and get a piece of high quality furniture that will last for decades.