Welcome to the warm embrace of autumn at Nell Hill's! As the heatwave dies down, the air turns crisp and the leaves begin to paint the landscape in warm hues, we invite you to step into our enchanting world of fall decor. I do admit that it can sometimes be a little bizarre walking into a shop fully decked for fall when the weather is scorching outside, but I'm always so excited for the seasonal change. Along with that change comes a time for new beginnings (and new décor)!
It's certainly an exciting time around the shop. Don't miss our Fall Open House on September 8-9, where you could win a stunning fall bar cart that will elevate your seasonal celebrations! Fall has arrived early at Nell Hill's, and we're ready to welcome you with open arms and a glass of bubbly in hand.
This season, we're celebrating the splendor of autumn to the fullest. You will find gorgeous earth tones and a plethora of textures during your dance around the shop. From natural looking pumpkins and gourds that mimic wicker to leaves blown into glass hurricanes, our designs embrace both the rustic and the refined. Join us on a journey through the rich, earthy colors of fall textiles, tons of seasonal decor, and the cozy elegance of fall pillows scattered throughout our spaces.  
A Grand Invitation: Fall Elegance at the Threshold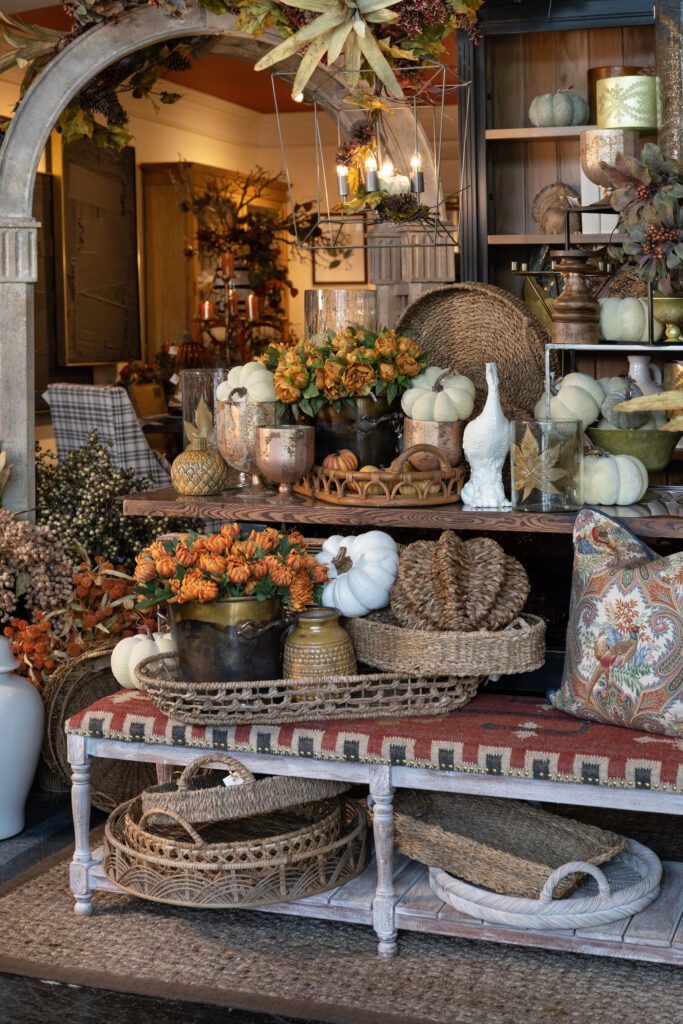 Step inside Nell Hill's, and you'll be immediately swept away by the enchanting autumnal symphony that greets you at the entryway. Our fall shop tour begins here, where we've orchestrated a captivating display that's nothing short of a celebration of the season. In our own Nell Hill's style, we've taken the classic fall colors of brown and green and elevated them with the subtle gleam of faded metallic accents. It's a palette that effortlessly combines the familiar with the extraordinary.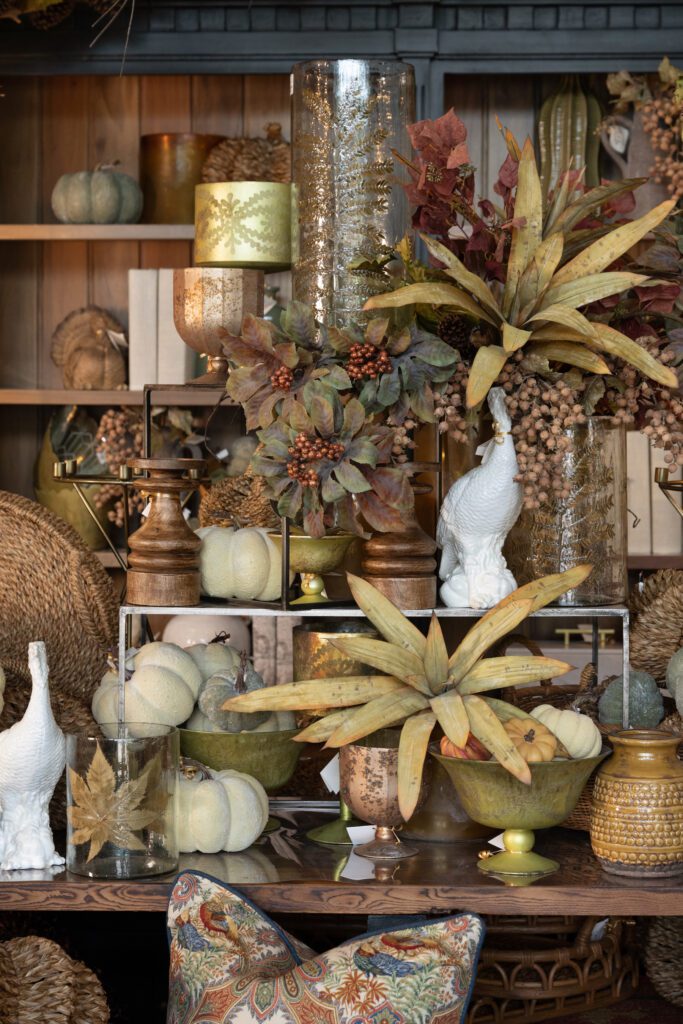 Pumpkins, both big and small, are playfully scattered across the tabletop, creating a delightful dance of shapes and sizes. Sprays of autumnal blooms in rich hues of red, orange, and cream weave their way through the display, adding a touch of natural elegance. Above, leafy vines entwine gracefully, forming an array of verdant beauty. On either side, arched trellises reach for the heavens, their curves echoing the sweeping lines of the season. And, of course, no fall display would be complete without a few turkeys standing proudly at attention.
But here at Nell Hill's, we believe that fall decor can be so much more than just the rustic and the traditional. To prove this, we've seamlessly blended in elements of cut glass, infusing a sense of refinement into our entryway display. Dusty greens, rich browns, and gleaming coppers harmonize together, resulting in an atmosphere that exudes elegance. This isn't your typical farmhouse-style fall; it's a timeless and sophisticated tribute to the season, and we can't wait to share every corner of it with you.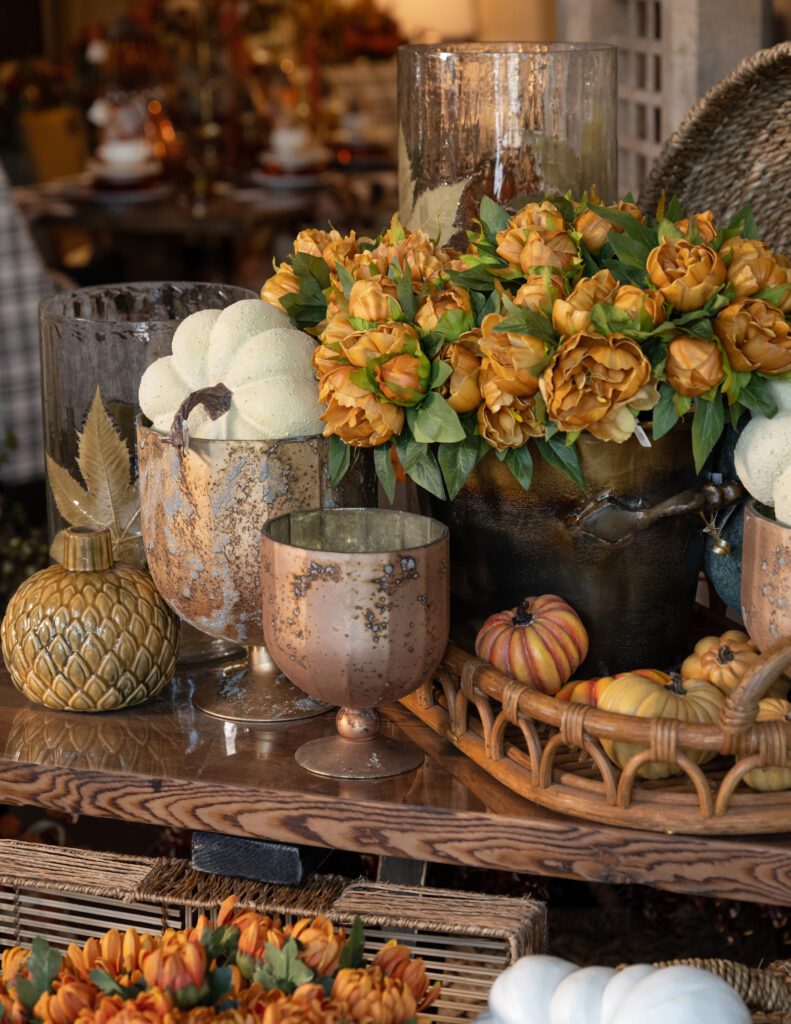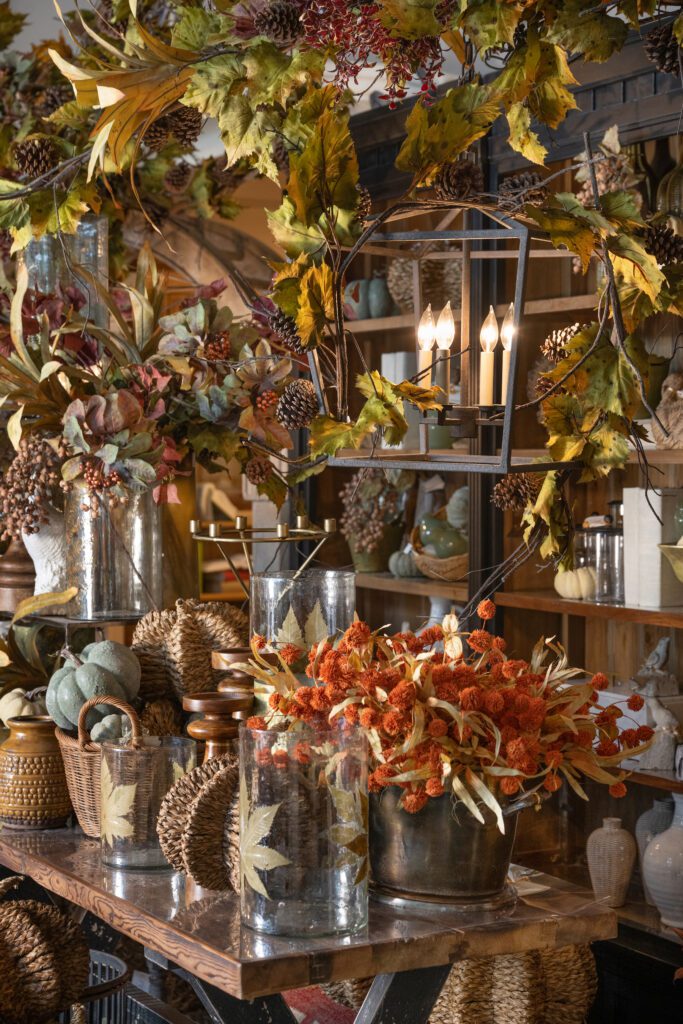 Decorating for the season isn't just about sprinkling pumpkins and leaves here and there. It's an art, especially when transitioning from one area of your house to another. If your home doesn't naturally boast the warm, earthy tones that fall is known for, fret not. The secret to harmonizing your space is to select a cohesive palette or texture that can flow effortlessly from room to room. This way, as you journey through your home, you're greeted by a seamless symphony of autumnal colors and textures, making the entire experience feel like a warm embrace from the season itself. So, whether it's deep russet tones, cozy plaid textures, or the subtle gleam of metallic accents, choose your theme wisely, and let it carry you through this magical season of change.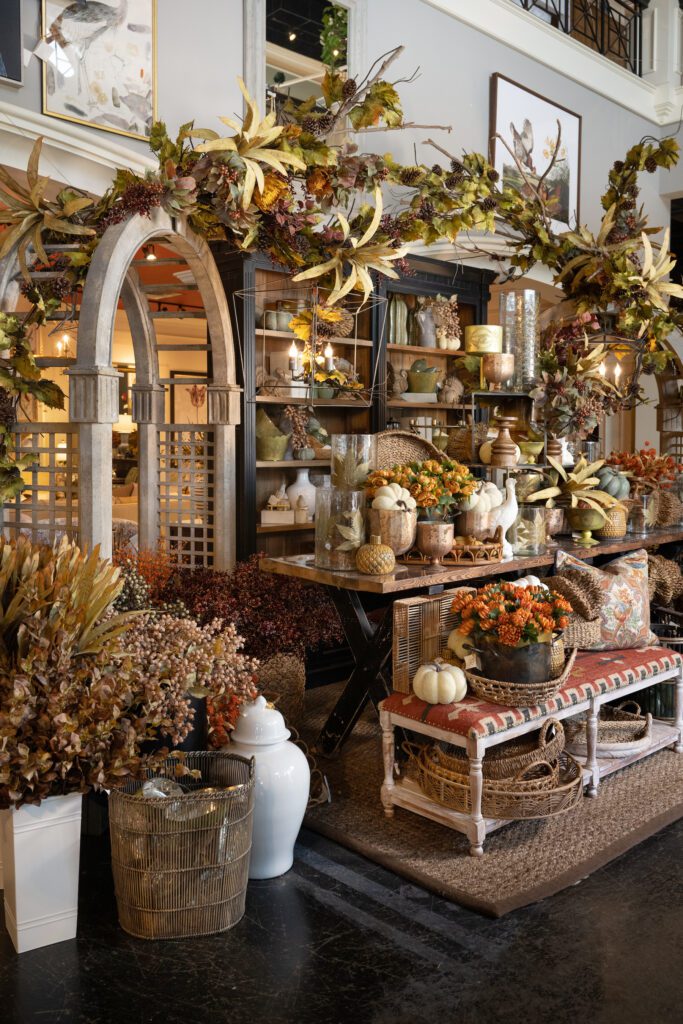 Subdued Splendor: The Allure of a Neutral Table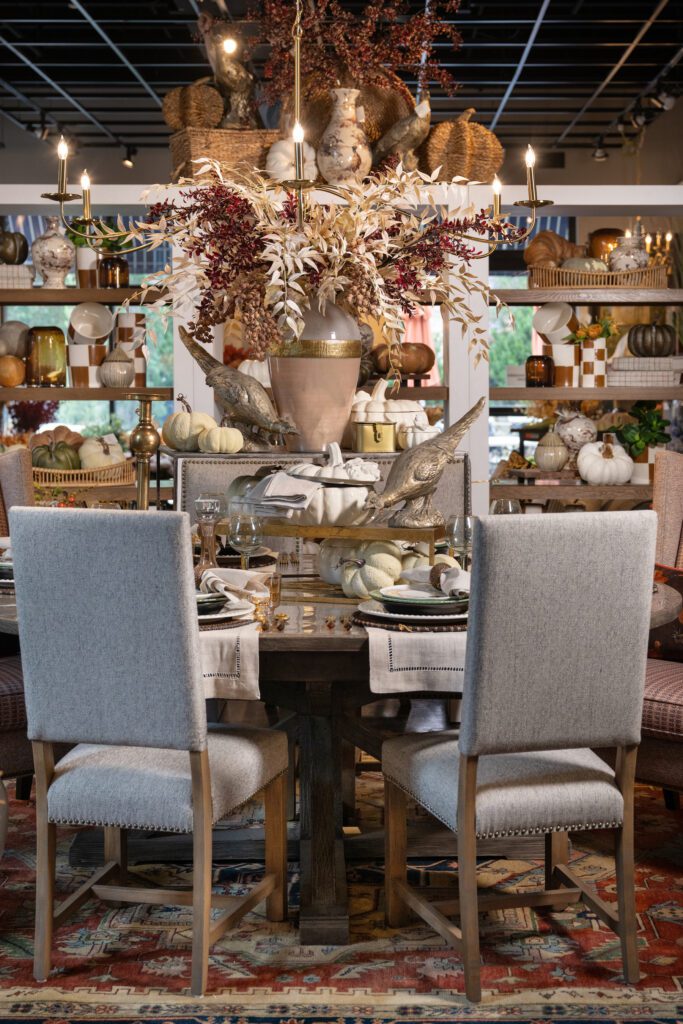 For this sophisticated autumnal design, we decided to play with a palette of reds, taupes, and creams, embracing a more neutral approach to fall decor. And what better way to celebrate this season's charm than by introducing our favorite feathered friend, the pheasant, into the mix? Pheasants add a touch of whimsy and autumnal elegance without feeling overdone, and they've become a delightful theme in our textiles too.
Our journey to create this beautiful neutral fall table started with the selection of three key colors for our bouquet, seamlessly incorporating metallic accents to elevate the earthy tones. What emerged was a design that effortlessly combines the rustic charm of fall with a subtle touch of glam. It's a delicate balance that allows us to appreciate the season's beauty in a new, more refined light.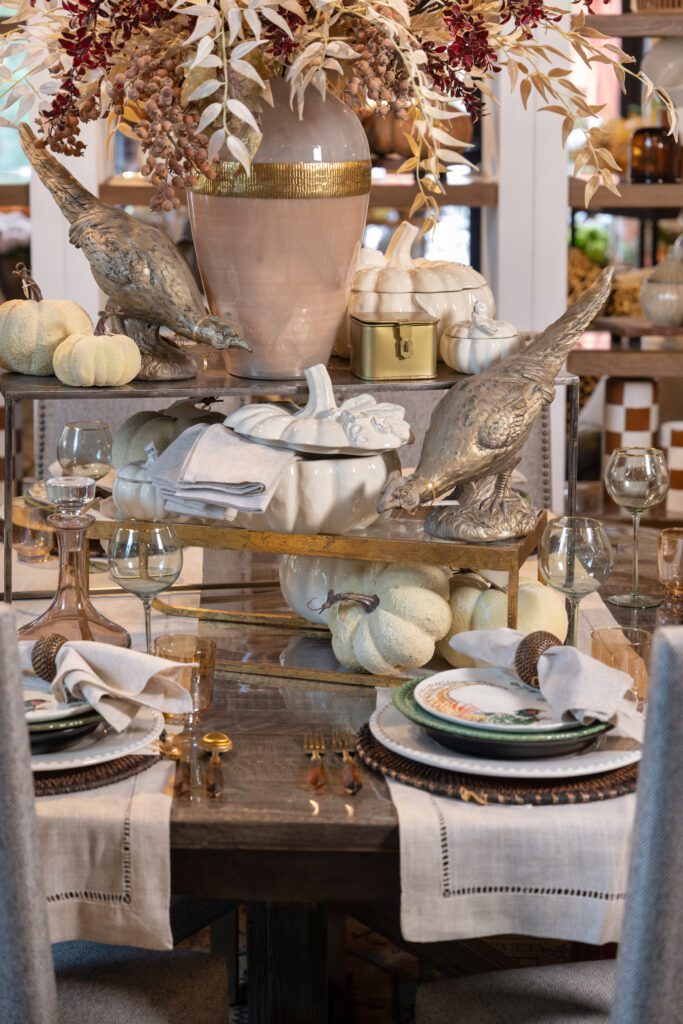 When you look at this table up close, the first thing that catches your eye is the place settings. Teals and oranges, reminiscent of a pheasant's iridescent tail feathers, grace the plates, infusing the design with vibrant pops of color. Even the flatware, with its neutral tones, contributes to the table's elegance. The tortoise shell handles add depth and sophistication to each place setting, tying the entire table together.
When it comes to creating your own fall tablescape, remember that inspiration can come from anywhere. Start with a single element that speaks to you, be it a color, a theme, or even a cherished piece of decor, and build your design from there. The result will be a unique and beautiful expression of the season's splendor, just like our neutral fall table.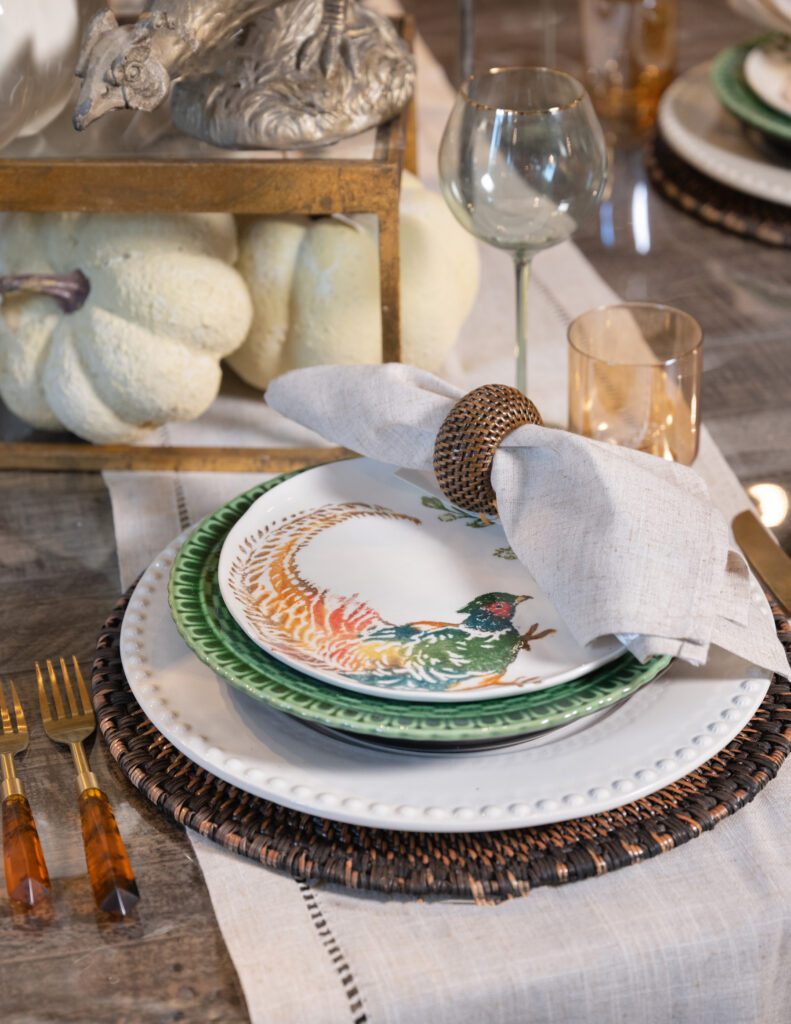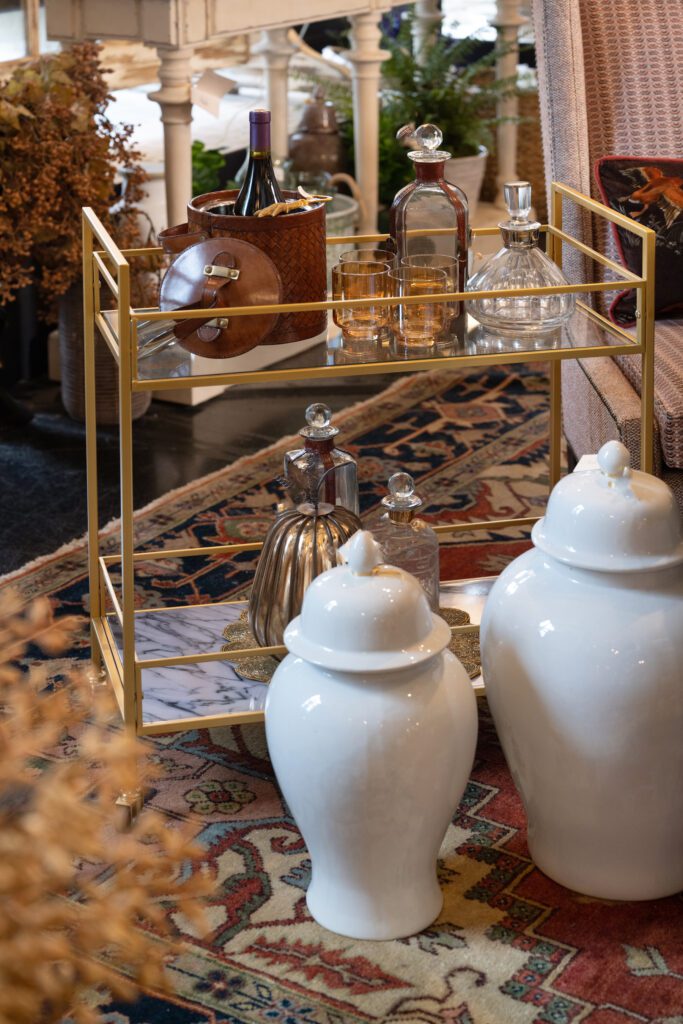 Mulberry Drive: A Visual Symphony of Seasonal Charm 
Stepping into the Mulberry Drive room, and you'll find yourself enveloped in the warm embrace of autumn. Here, we've continued to celebrate the beauty of browns but have taken a delightful detour by adding rich yellows and oranges to the mix. It's a color palette that embodies the essence of fall, and we've channeled it into every facet of this space.
Turning your gaze toward the mantle, you'll discover an asymmetrical design that feels both earthy and elevated. We've incorporated varying heights on one side, creating a look that feels artfully collected rather than staged. To enhance cohesion within the space, we've repeated  elements from the table design.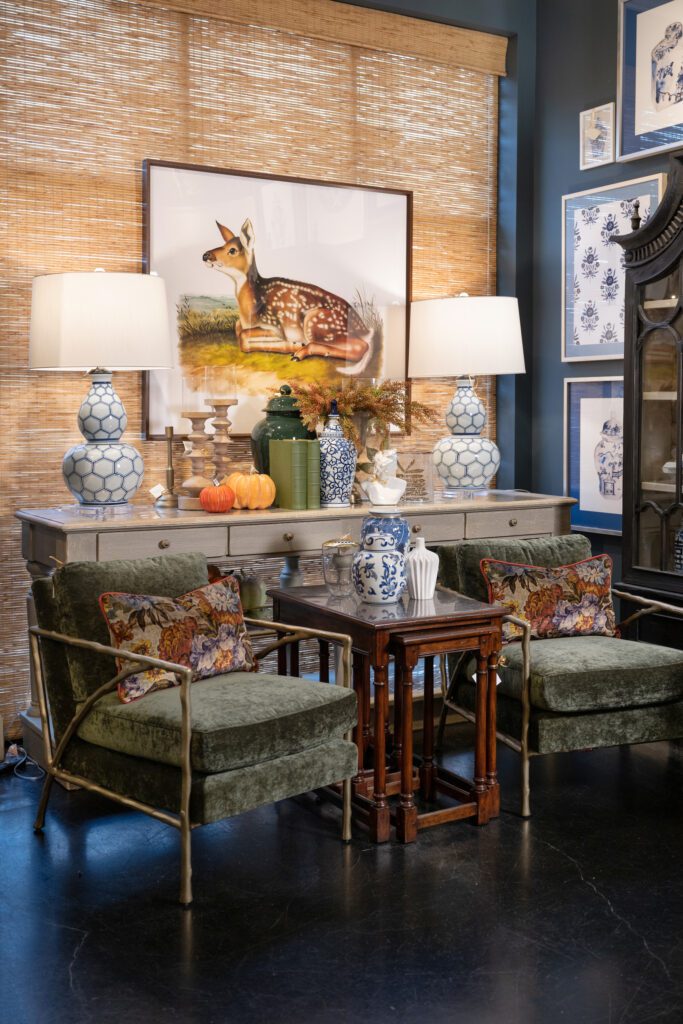 A cozy sitting area awaits you with its own fall-inspired vignette displayed on a handsome sideboard. Above it, a painting of a deer adds a natural touch and serves as a beautiful focal point. Two green chairs, adorned with twiggy accents, beckon you to unwind and savor the season's beauty.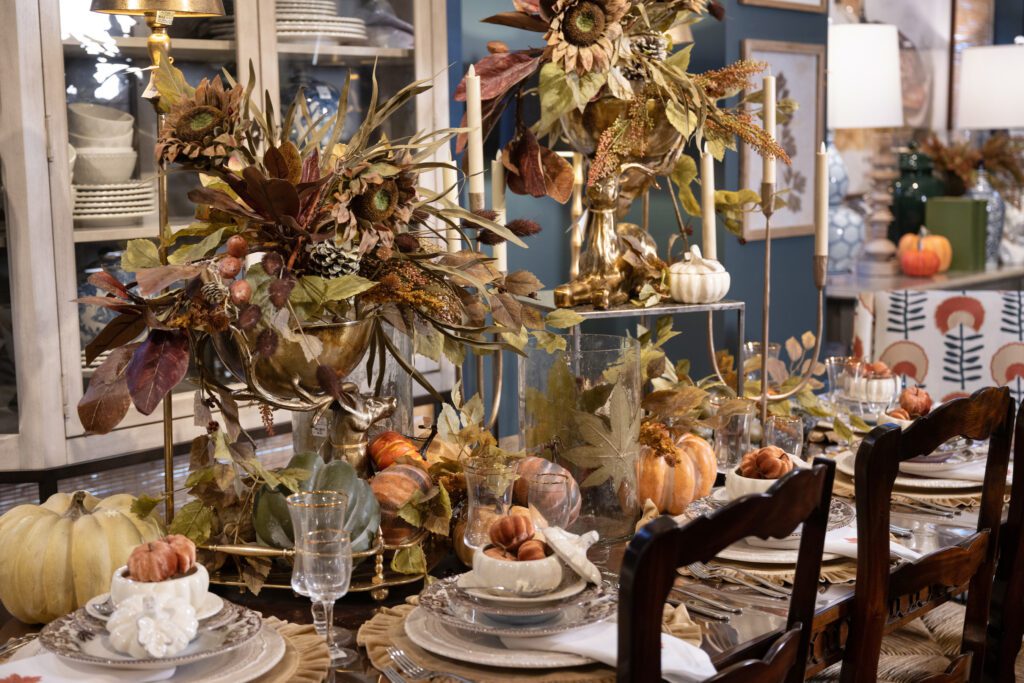 The table in this room exudes woodland elegance, and is a little more 'on the nose' for a Thanksgiving gathering. Two striking bouquets take center stage, with one thoughtfully placed on a riser to introduce height and dimension to the design. Completing the look are two candelabras, their flickering flames casting a warm, inviting glow over the festivities. Each place setting is a charming nod to the season, featuring ceramic pumpkin soup tureens cradling adorable little velvet pumpkins.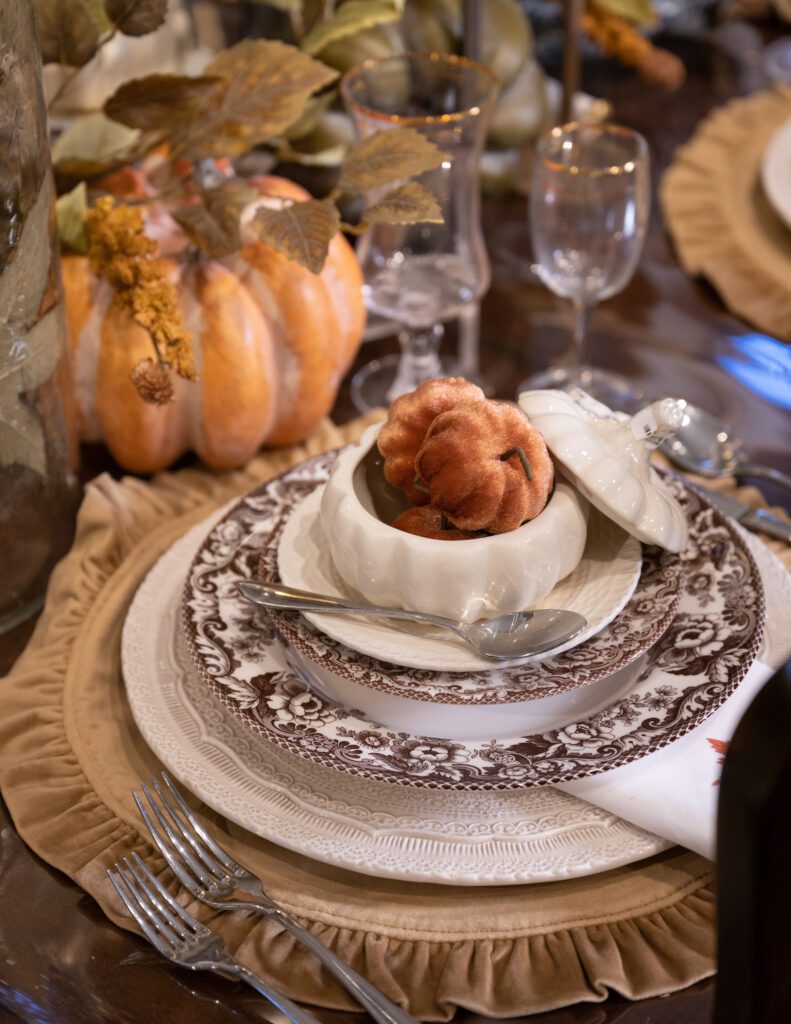 As a final touch, I'd like to share a little entertaining tip: consider adding a bar cart to your decor. Not only is it a practical addition for hosting gatherings, but it also adds an air of sophistication to your space. A small bar cart can effortlessly hold a signature cocktail or a selection of delectable nibbles, ensuring your guests feel pampered during the entertaining season. Plus, once the festivities are over, it can be easily tucked away until the next celebration if you don't decide to leave it out year round.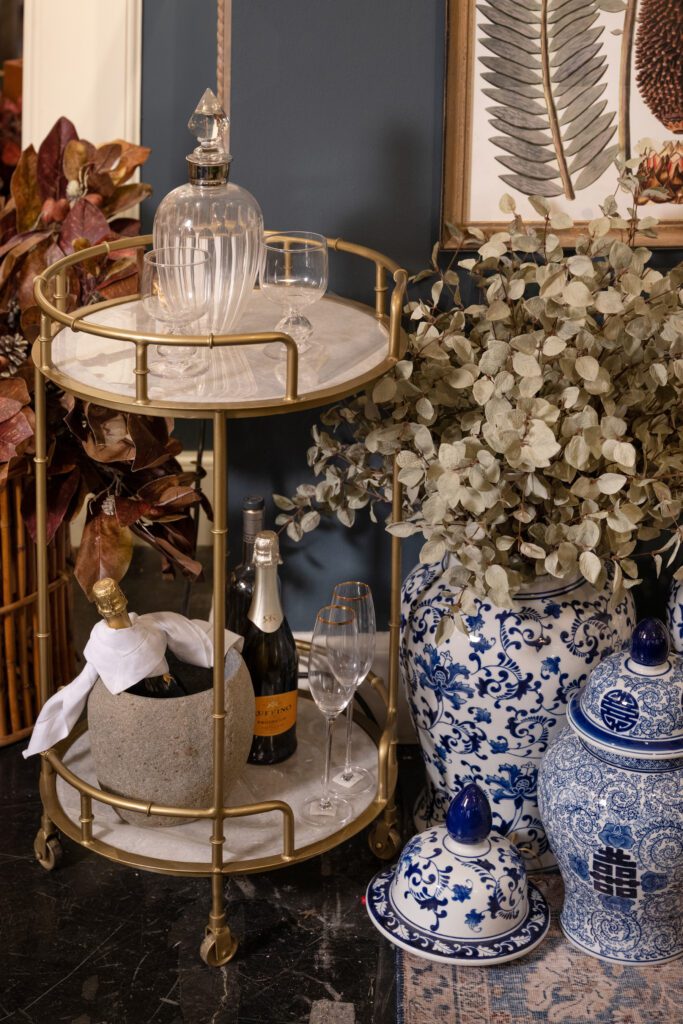 Autumn's Radiance: Transforming the Heart of Nell Hill's with Fall Decor 
For those who appreciate the beauty of fall but prefer a softer color palette, we've curated a stunning seasonal display at the heart of our shop that captures the essence of autumn in a more understated way. Here, we've gathered the traditional yellows and oranges, opting instead for a timeless combination of neutrals that exudes sophistication.
One of the remarkable aspects of this display is its harmonious blend of greenery with white and cream tones. We've shown that you don't have to bid farewell to all your beloved greens just because fall has arrived. In fact, when artfully incorporated, green can seamlessly coexist with neutral hues, creating an aesthetic that feels fresh and timeless.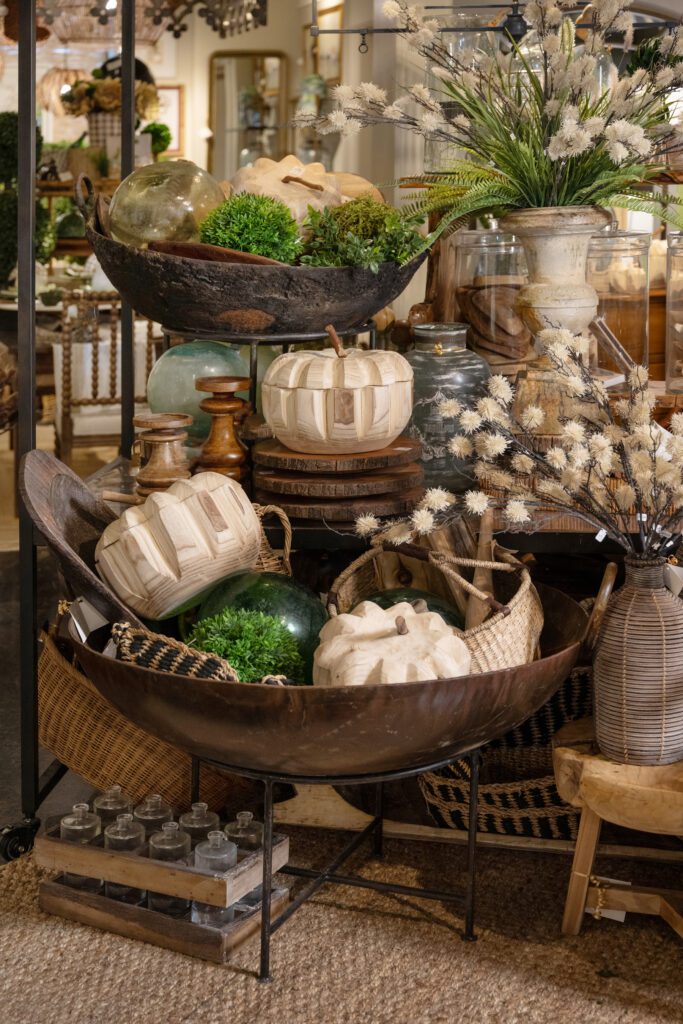 Texture takes center stage in this arrangement. The choice of materials leans towards rustic chic or maybe a touch industrial, while still evoking a sense of warmth and elegance. A metal frame creates a captivating focal point from which this design takes flight. It's adorned with an abundance of creamy blooms and stems, wooden pumpkins, weathered bowls and vessels, and charming wood and glass accents.
This display is a testament to the versatility of fall decor. By embracing a neutral color scheme and layering in rich textures, you can create a space that exudes the elegance of the season while staying true to your own unique style. It's an invitation to celebrate fall in a way that feels genuinely you.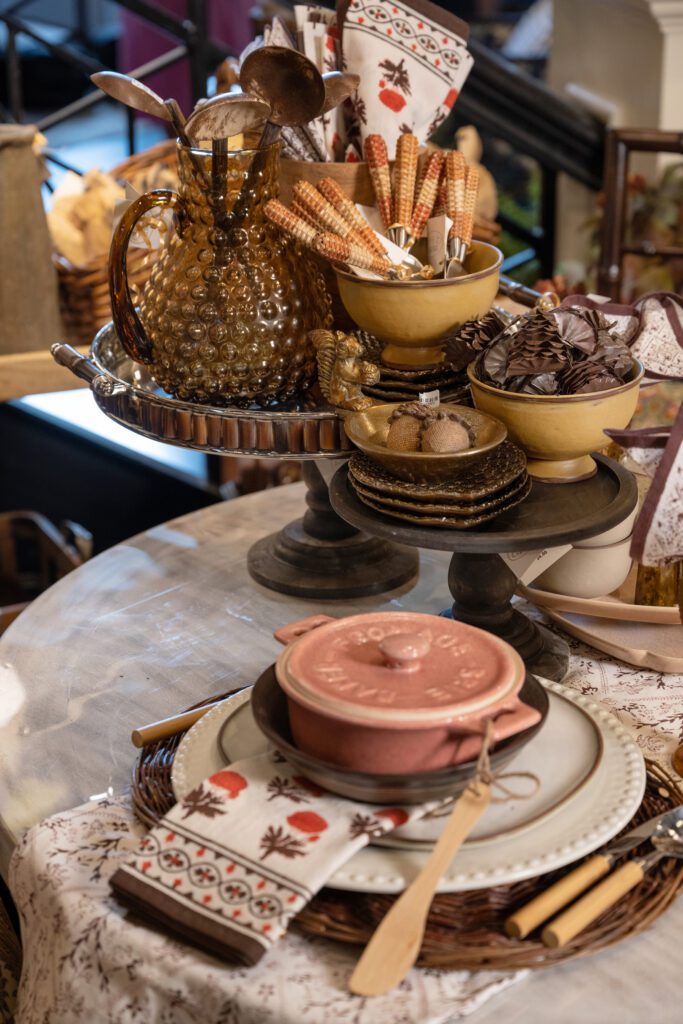 At the heart of our shop, nestled amidst the whirlwind of fall decor, you'll discover a small table, perfect for two. It's a cherished nod to the moments Mary Carol often shared about, the times when she and Dan would enjoy a quiet meal together. In the hustle and bustle of the holiday season, it's all too easy to become consumed by the festivities. But I've found that there's something truly magical about carving out a little space for myself and my husband, even if it's just for a quiet dinner à deux. In those precious moments, we take the opportunity to set the table with care and attention, creating an intimate ambiance that makes our time together feel extra special. Because after all, the most memorable and meaningful celebrations are the ones shared with the ones we love most.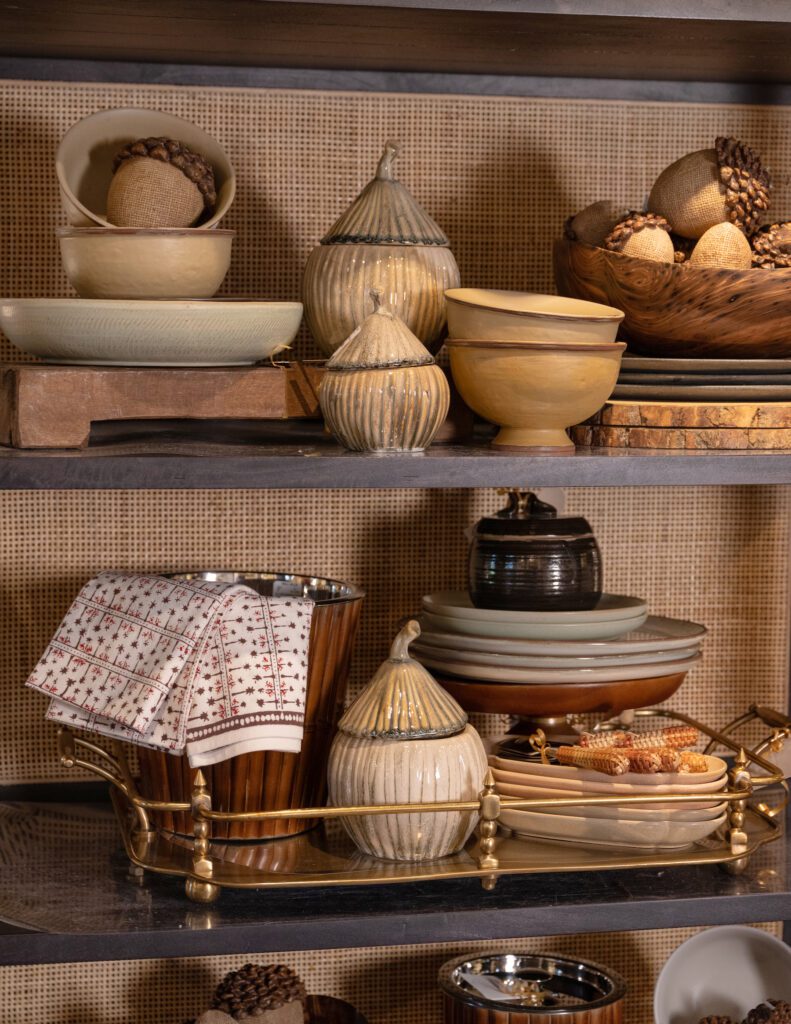 As we conclude our fall shop tour at Nell Hill's, we hope you've been inspired by the beauty and elegance of autumn that fills every corner of our space. From the warm and inviting entryway, where earthy tones and metallic accents blend seamlessly, to the cozy charm of the Mulberry Drive room, dressed in rich browns and splashes of autumnal hues, and to the heart of our shop, where neutral tones and rustic chic textures take center stage, there's a world of fall inspiration waiting for you. We encourage you to embrace the season, to explore the endless possibilities of fall decor, and to create your own moments of warmth, joy, and togetherness. Thank you for joining us on this tour, and we look forward to celebrating the beauty of the seasons with you, year after year. From our Nell Hill's family to yours, may your autumn be filled with love, laughter, and unforgettable memories. Until next time – happy decorating!