When we think of seasonal decorating at Nell Hill's, we often think of over the top florals and elaborate table settings. But what about our shelves? Shelves are such a great spot to tuck in elements of the season. Whether you prefer the over the top look for your room or are looking for a more subdued approach to seasonal decorating, seasonal shelves are a great way to do just that.  
The Art of Juxtaposition: A Contemporary Traditional Shelfie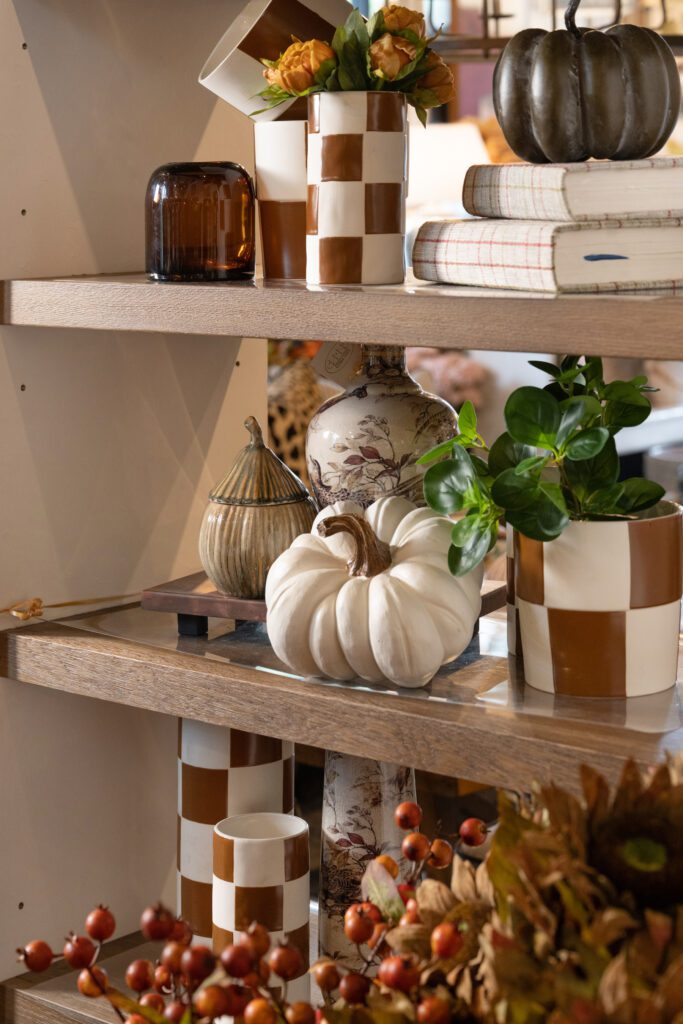 In the world of autumnal shelves, the first look we're exploring is a delightful fusion of modernity and tradition, primarily centered around a captivating color palette of brown and white. Brown, known for its earthy and grounding essence, takes the lead, while a soft white provides a crisp and elegant backdrop to the design. What really steals the show in this setup are the checkerboard vases that introduce a dash of contemporary flair. These vases are riding the wave of a checkerboard moment that's been making waves in the design world.
A clever touch in this shelf vignette is the inclusion of fabric covered books, echoing the color scheme and aiding in the seamless integration of textiles throughout the space. However, my true favorite piece in the larger composition is the pastoral vase adorned with a quail motif. This piece masterfully combines traditional charm with contemporary aesthetics, resulting in a delightful juxtaposition that sparks interest and conversation. This shelf is another great example of that.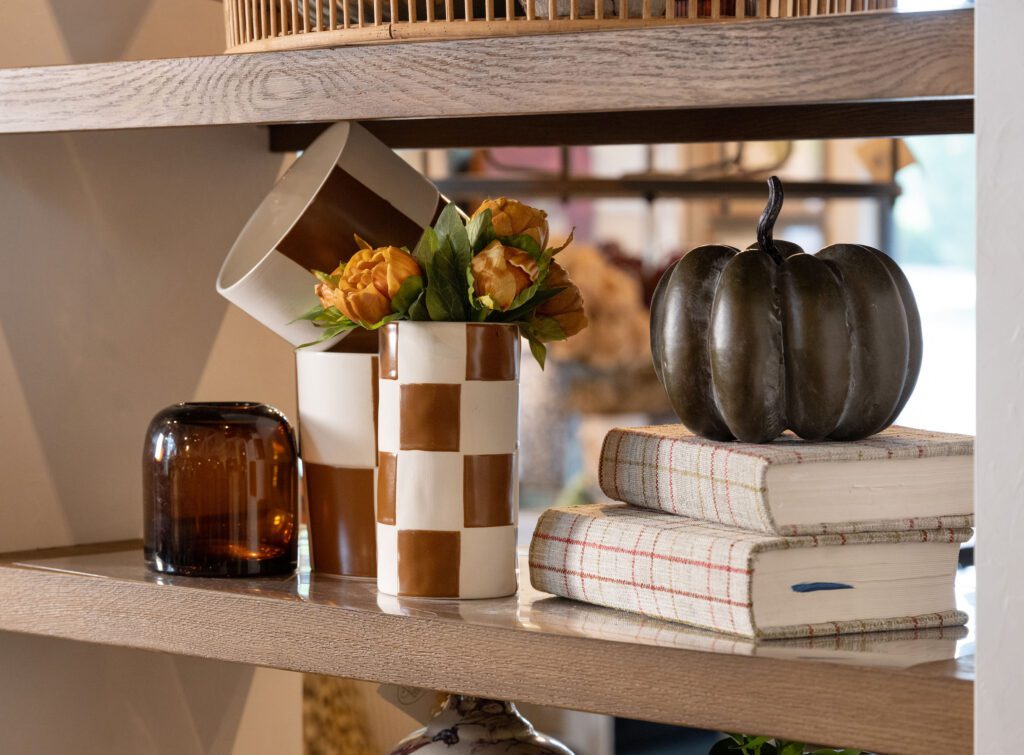 What makes this shelfie particularly intriguing is how it demonstrates the power of seasonal decor. It's a fantastic way to dip your toes into a new design aesthetic without making a full commitment. With just a few carefully chosen pieces, you can transform your living space and see if the style resonates with you. It's a flexible and exciting way to play with the look and feel of your home, especially during the enchanting season of autumn. 
A Touch of Provence: Rustic Charm on Every Shelf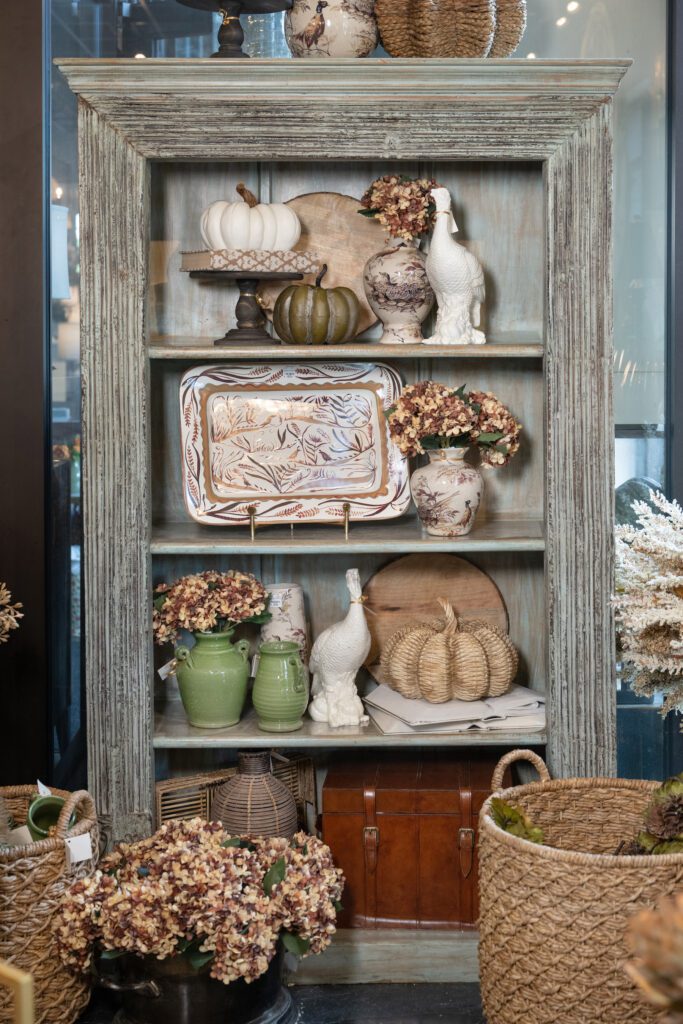 In this next autumnal shelfie, a French-country-inspired bookcase takes center stage, offering a picturesque canvas for seasonal delights. Shelf after shelf is adorned with charming turkeys, plump pumpkins, and carefully crafted floral arrangements. A piece of serveware graces one of the shelves, while a rustic leather trunk anchors the ensemble at the bottom.
My favorite aspect of the design is the rectangular folksy serving piece. I very nearly scooped one up for my own home before they made it onto the shop floor, originally intended for one of my walls, although it does look equally as lovely here on the shelf. It serves as a wonderful reminder that such pieces can transcend their functional origins and become striking display elements.
To enhance visual continuity and flow, dried hydrangeas were thoughtfully tucked into various corners of the bookcase. The final result is a set of shelves that masterfully plays with scale, resulting in a unique and eye-catching autumnal display. 
Resplendent Repetition: Seasonal Shelf Styling with Minimal Motifs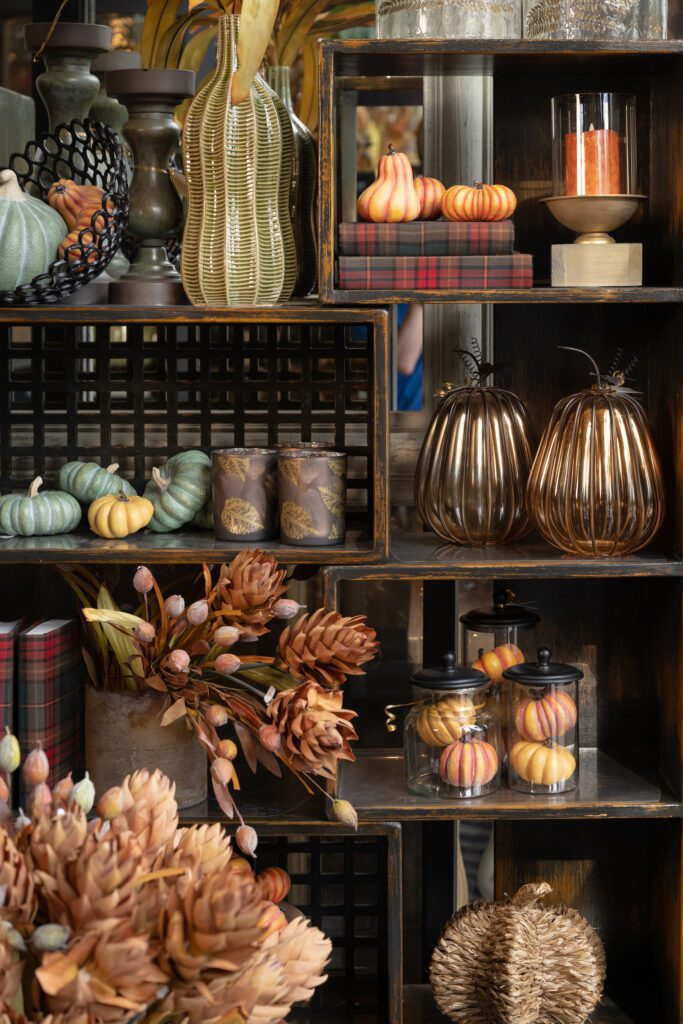 In the enchanting Nell Hill's entryway, autumn comes alive with a display that beckons the season like no other. Here, the shelves are transformed into a captivating harvest of pumpkins, ranging in shapes, sizes, and textures. Repetition becomes a powerful design element, demonstrating that a grand visual impact can be achieved with just a few styles of items when they are generously represented. The assortment includes a delightful variety of pumpkins, creating a playful yet sophisticated seasonal theme that gracefully transitions from fall to Thanksgiving.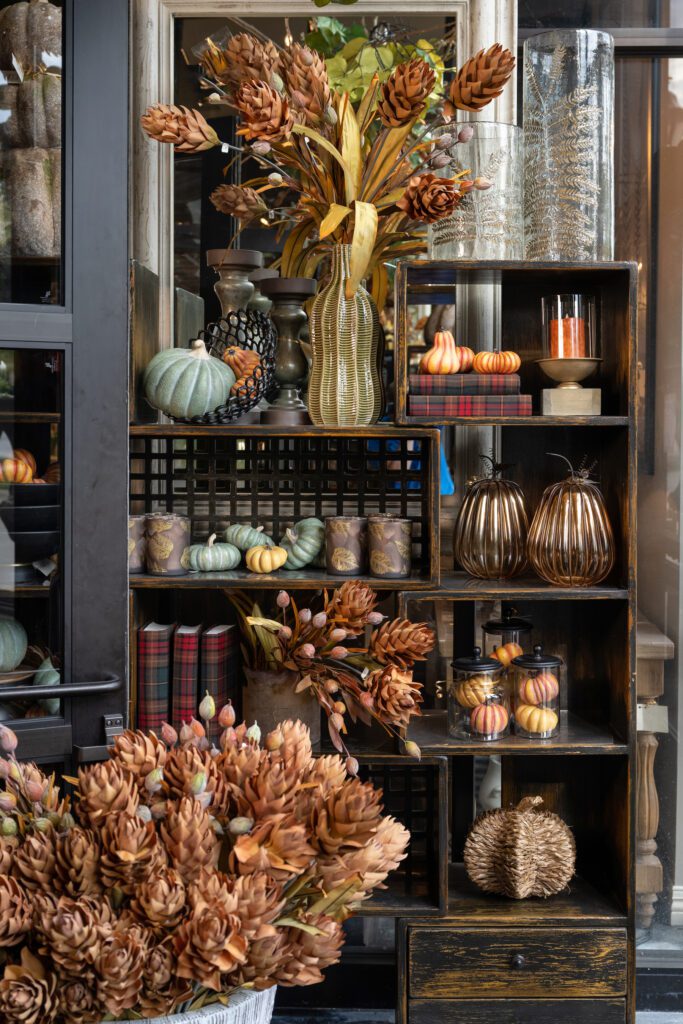 Texture takes center stage here, and the rhythmic repetition of the pumpkin motif proves to be an impactful design strategy. The color palette harmonizes with deep autumnal shades of browns and oranges, accented by the cheerful presence of green gourds. The entryway shelves at Nell Hill's welcome visitors to step into a world where the essence of fall is exquisitely captured and warmly celebrated. 
Autumnal Kitchen Shelfie: Practical Pieces, Elevated Design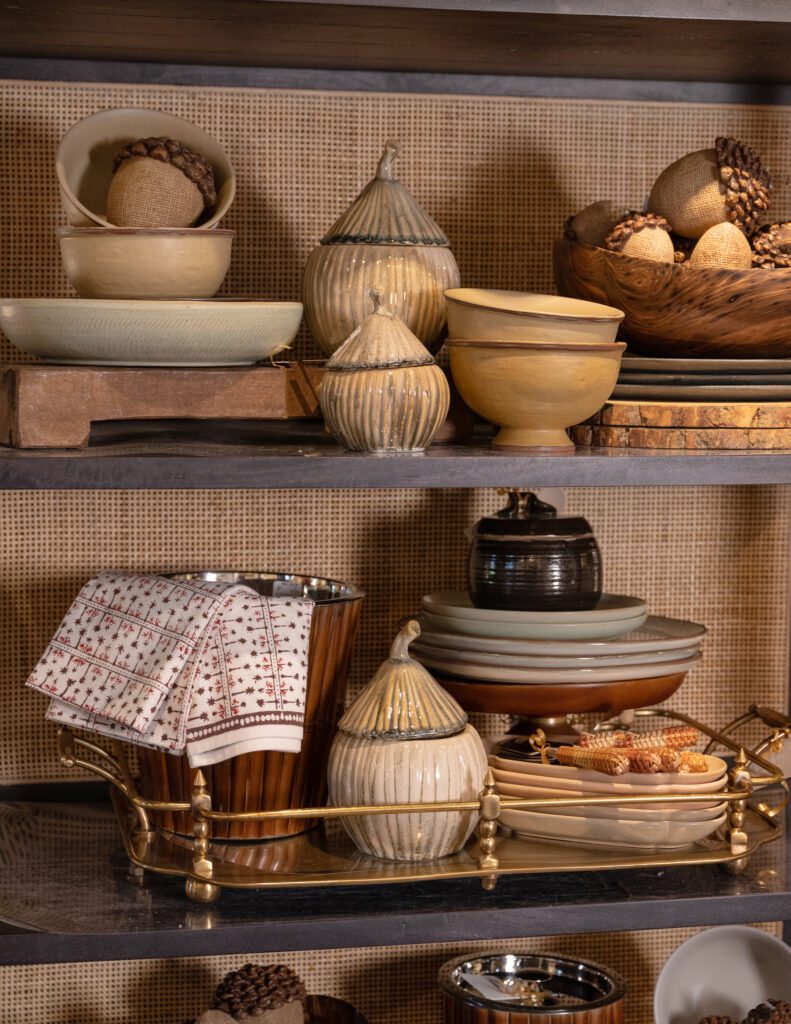 In this shelfie, we're diving into the heart of the home, the kitchen. It's a gentle reminder that you don't need to tuck away your everyday kitchenware. Whether it's open shelving or a carefully curated tray on your countertop, your practical items can double as decor. Here, the art of stacking and layering takes center stage. The earthy color palette provides a sense of continuity, blending seamlessly with the functional pieces. Texture plays a significant role, with the shelf's textured backdrop adding depth to the design. This look perfectly balances earthiness with an elevated touch, making your kitchen a warm and inviting space for the autumn season.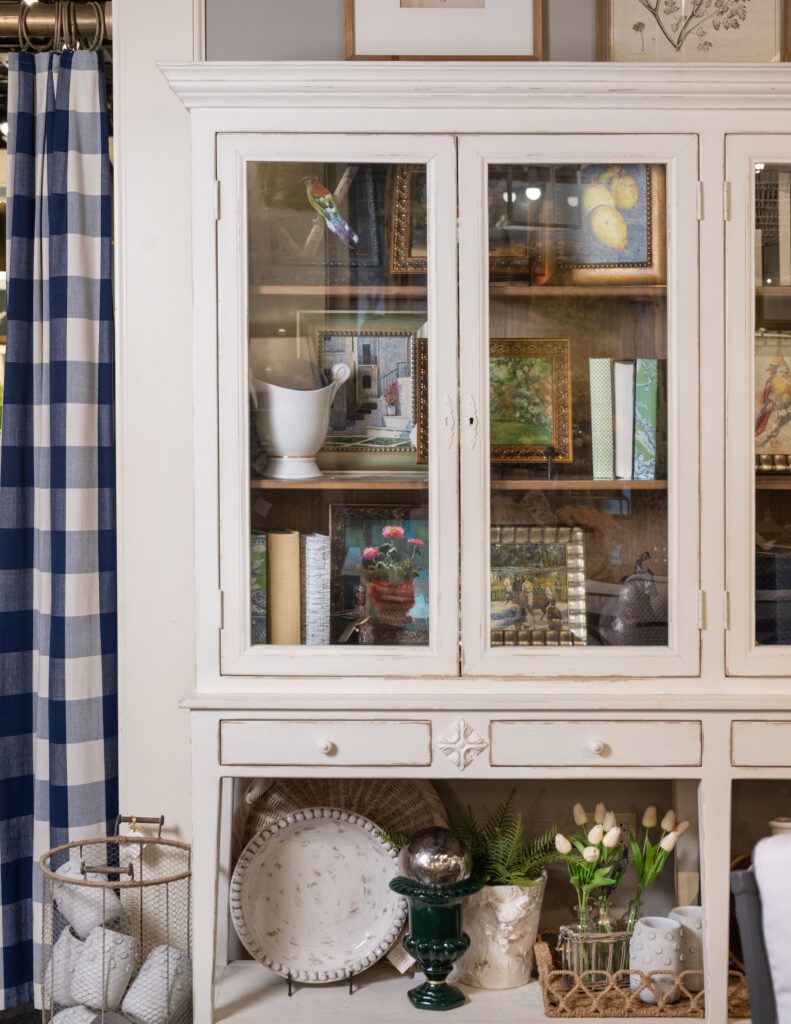 Where do you put your everyday decor when you swap out for more seasonal pieces? Take a spot that normally doesn't see a lot of seasonal rotation and make it a home for your favorite tried and true every day things. It's a great (free) way to freshen up a space even if you aren't transforming it into a seasonal oasis.
Incorporating seasonal elements into your shelves can be a delightful way to celebrate the season through your decor, whether you add subtle touches or go all out. As we've explored various styles and designs, it's evident that the possibilities are endless when it comes to infusing the spirit of the season into your living spaces. Whether you opt for a contemporary-meets-traditional blend, a French-country-inspired display, or an entryway brimming with pumpkins, these inspired shelves offer creative avenues to express your personal style and embrace the beauty of fall. Remember, even the simplest of changes can bring warmth and charm to your home during this special time of year. So, go ahead, experiment, and let your shelves tell the story of autumn's splendor. And don't forget to snap a shelfie and send it my way when you're finished! 😉 Until next time – happy decorating!