If you were at the shop during our latest Fall Open House, or any other time during the season, we welcome you to the Pumpkin Paradise at Nell Hill's! As the seasons change and the air turns crisp, our shop undergoes a magical transformation, one that involves a symphony of fall's favorite gourd in all their glorious shapes, sizes, and textures. This year, our pumpkin theme is all about embracing the tactile beauty of these autumn icons. We're thrilled to invite you into our world of fall decor, where pumpkins take center stage in a captivating dance of design.
Recently Carlie, our design manager, had a fun pumpkin day at the shop and brought in lots of treats for us to try and to keep our spirits (and our blood sugar) up during the days leading up to our Fall Open House! And, because we love all things pumpkin, we couldn't resist sharing some delightful pumpkin recipes from our own kitchens that will warm your heart and home.
So, grab your pumpkin spice latte, cozy up, and let's embark on a journey through the enchanting world of fall, Nell Hill's style!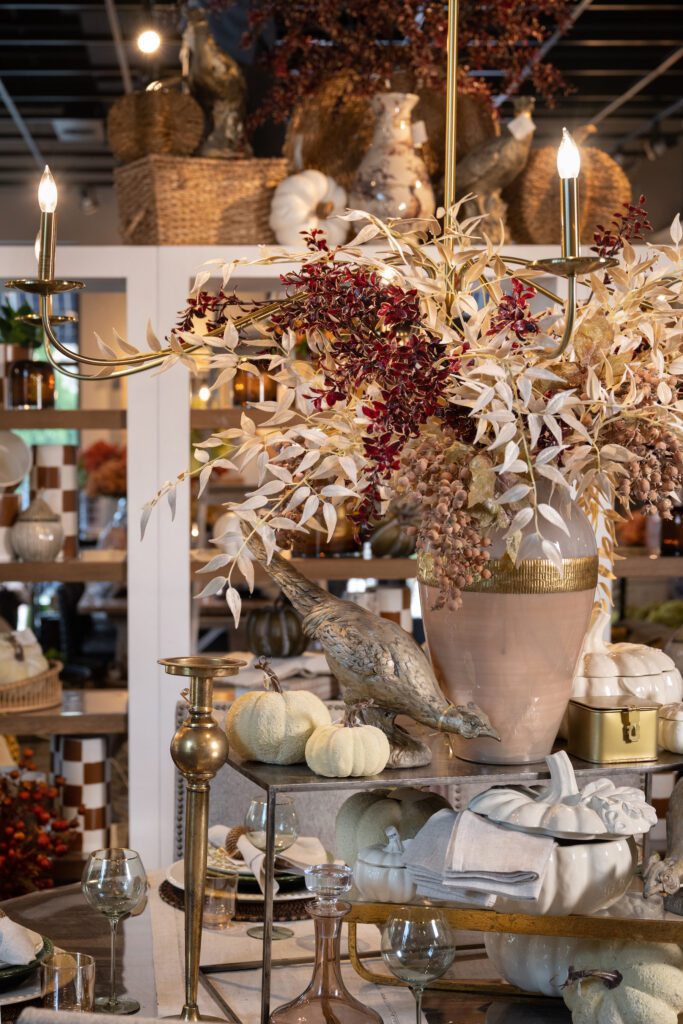 Ever since this tablescape was brought to life in the front of the shop I've been drawn to the soft elegance of the colors and many textures at play. Height was an important consideration in this arrangement. Our favorite gourd catches your eye throughout each level, and is central to the theme in this vignette. A large lidded vessel, we think a great soup tureen, dresses up any table with its perfectly ripe appearance and beautiful creamy porcelain finish.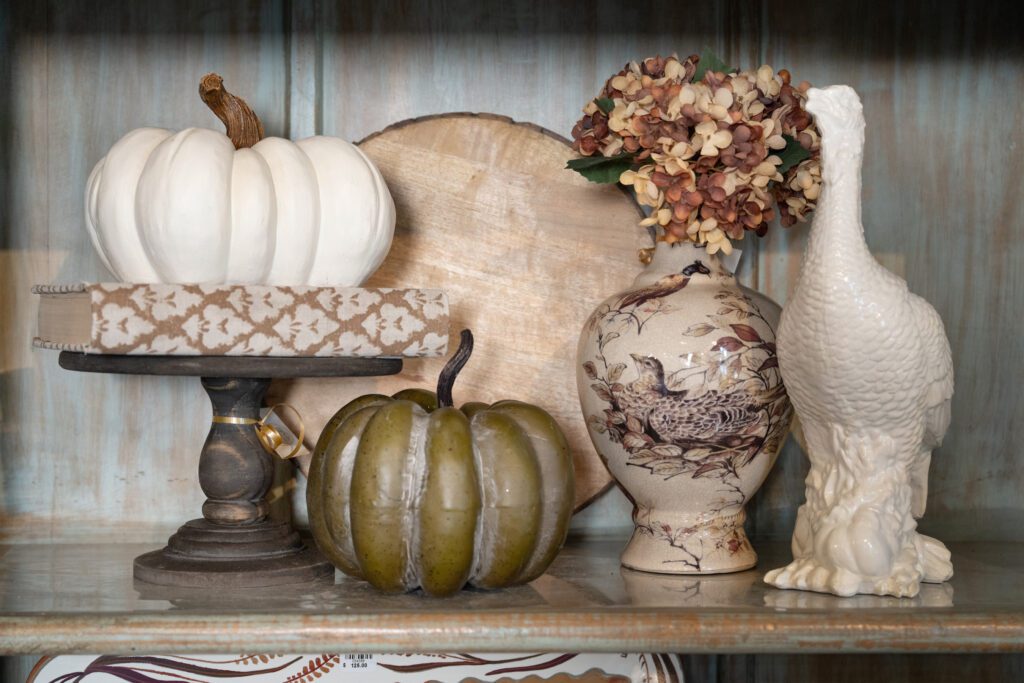 If you've shopped with us over the weekend, you might have been greeted by Karen, who works on the first floor of the showroom. She has a three ingredient cookie recipe that is as delicious as it is easy!
Karen's Chocolate Chip Pumpkin Cookies
1 can of pumpkin (15 oz.)
1 box of carrot cake or spice cake mix (dry)
1 cup mini chocolate chips
Mix ingredients together. Batter will be sticky. Bake at 350 degrees for 10-12 minutes. Will make about 48 cookies.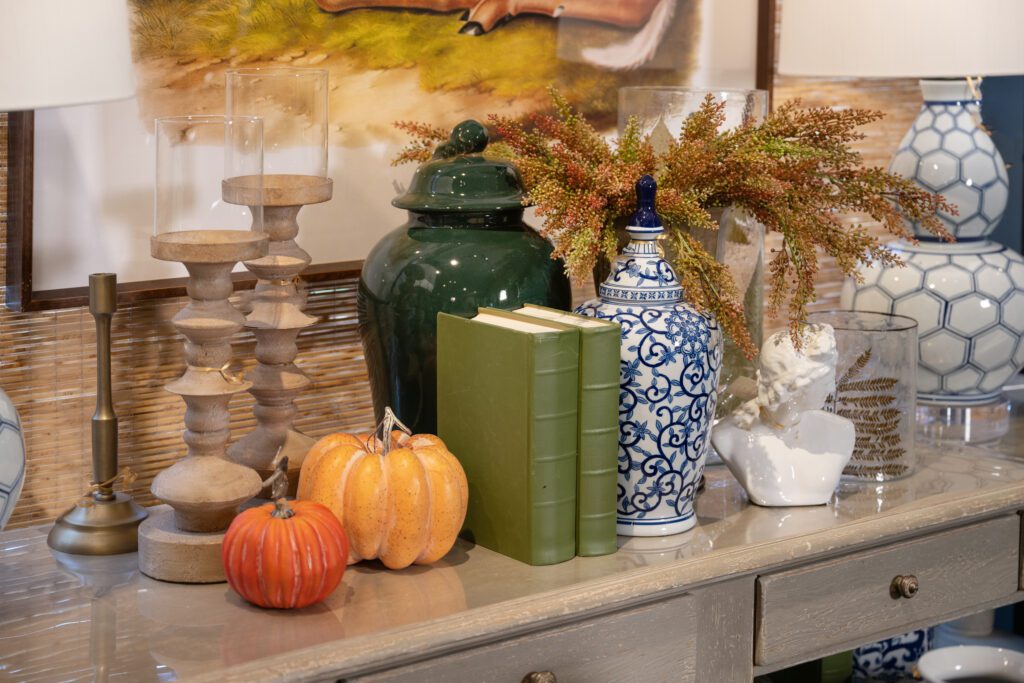 Nell Hill's Designer Liz shared a tried and true favorite recipe that is requested at nearly every holiday gathering in her family. It's a spin on a Midwest-favorite and St. Louis-famous sweet treat!
Liz's Pumpkin Ooey Gooey Butter Cake
Cake
1 (18 1/4 ounce) package yellow cake mix
1 egg
8 tablespoons butter, melted
Filling
1 (8 ounce) package cream cheese, softened
1 (15 ounce) can pumpkin
3 eggs
1 teaspoon vanilla
8 tablespoons butter, melted
1 (16 ounce) box powdered sugar
1 teaspoon cinnamon
1 teaspoon nutmeg
Preheat oven to 350.
To make the cake: Combine all of the ingredients and mix well. Pat batter into a lightly greased 13×9-inch baking pan with hands into an even layer. Prepare filling. To make the filling: In a large bowl, beat the cream cheese and pumpkin until smooth. Add the eggs, vanilla, and butter, and beat together. Next, add the powdered sugar, cinnamon, nutmeg, and mix well. Spread pumpkin mixture over cake batter and bake for 40 to 50 minutes. Make sure not to over bake as the center should be a little gooey. Serve with fresh whipped cream or cinnamon-flavored ice cream.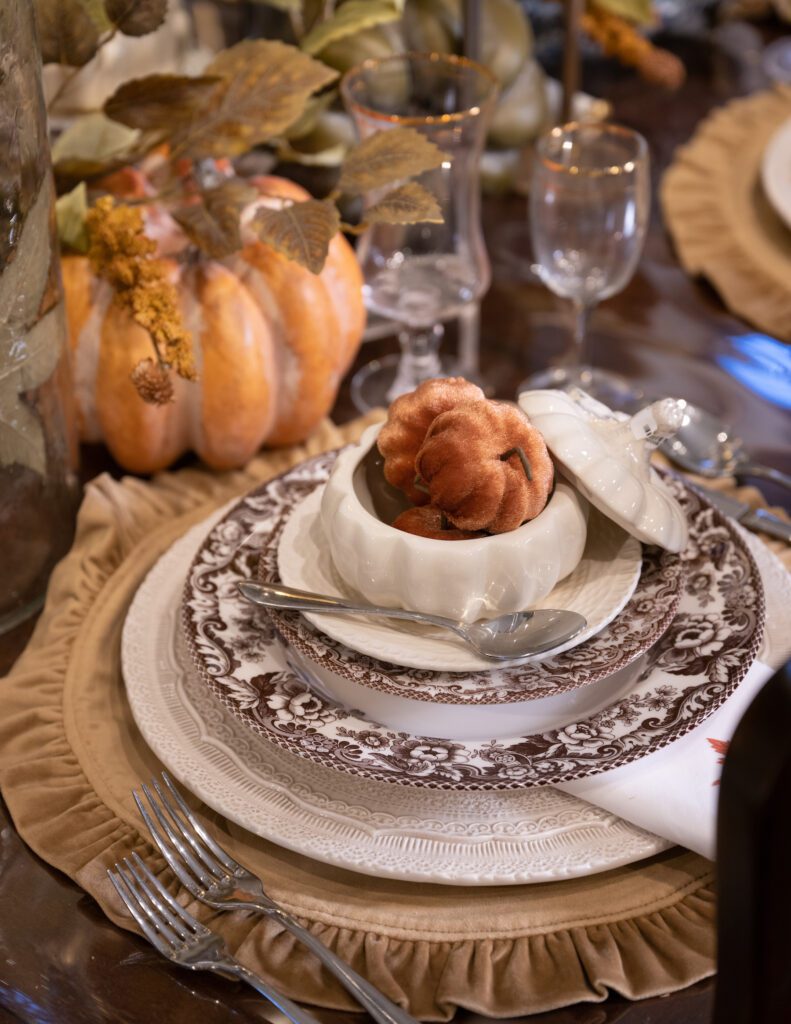 I love to have hearty vegetarian options available to mix into our routine every now and again, and this is one I've kept coming back to throughout the years. I first found the recipe on the blog The Glowing Fridge and tweaked it for a bit more kick. I often make a double batch and just double the numbers below to do so.
Katie's Favorite Vegetarian Pumpkin Chili
1/2 cup vegetable broth (or 1 tablespoon olive oil; for sautéing)
1 large white onion, chopped
8-10 cloves garlic, minced (original recipe calls for 2)
2 bell peppers, chopped (red, yellow or orange)
1 28-ounce can of diced tomatoes
1 15-ounce can black beans, drained and rinsed
1 15-ounce can pinto beans, drained and rinsed
1 15-ounce can pumpkin purée (NOT pumpkin pie filling)
2 cups vegetable broth
2 tablespoons chili powder
2 teaspoons cumin
2 tablespoon paprika
1 teaspoon salt
1 teaspoon cinnamon
A few dashes of cayenne pepper or red pepper flakes (optional)
juice from 1 lime (or more)
toppings: cilantro, avocado, jalapeños, sriracha, crushed tortilla chips (I like cilantro and avocado)
Head to The Glowing Fridge for instructions on creating this delicious meat-free meal at home!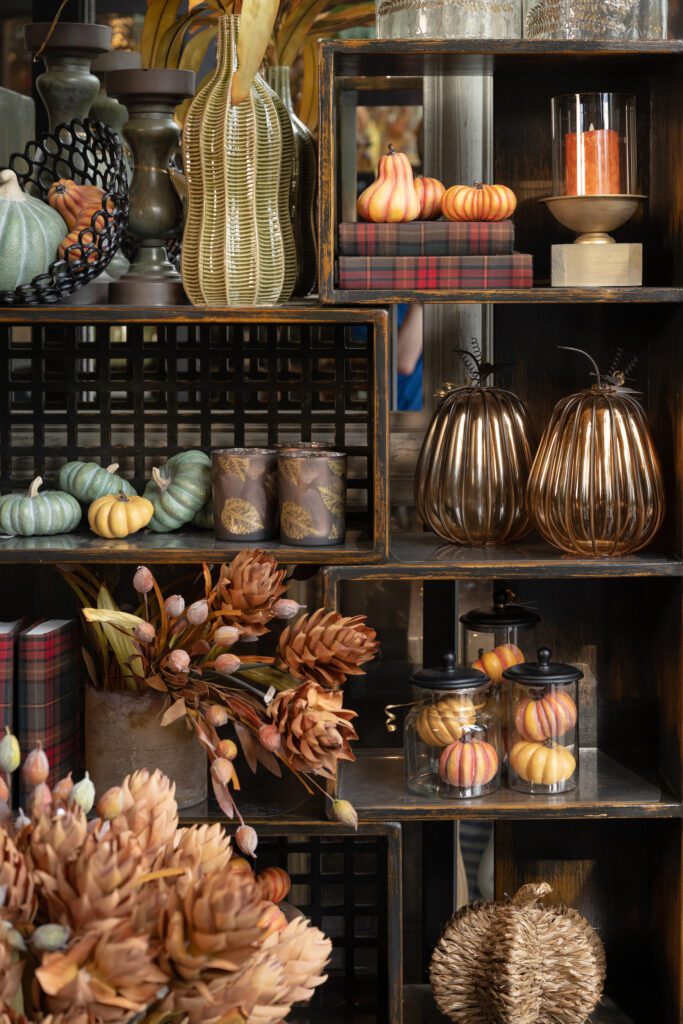 You might remember Nell Hill's Designer, Anne, when we featured her delightfully preppy Prairie Village home on the blog this spring. Just as she's known for finding the perfect detail to complete her designs, the butterscotch chips in this recipe she shared takes these muffins over the top.
Anne's Pumpkin Butterscotch Muffins
1 ¾ cup AP flour
½ cup brown sugar
½ cup sugar
1 tsp cinnamon
½ tsp ground ginger
½ tsp ground nutmeg
1 tsp baking soda
¼ tsp baking powder
½ tsp salt
2 eggs
½ cup butter, melted
1 cup canned pumpkin
1 6 oz. bag of butterscotch chips (tossed in flour)
Preheat oven to 350 degrees. Line muffin tin with cupcake liners. In a large bowl, sift together flour, brown sugar, white sugar, cinnamon, ginger, nutmeg, baking soda, baking powder and salt. In another bowl, whisk together eggs, butter and pumpkin and add to the dry ingredients. Toss butterscotch chips in a little flour to keep from sinking to the bottom. Fold in the butterscotch chips and then scoop into muffin liners to about ¾ full. Bake for 20-24 minutes. Test with toothpick to make sure it's done.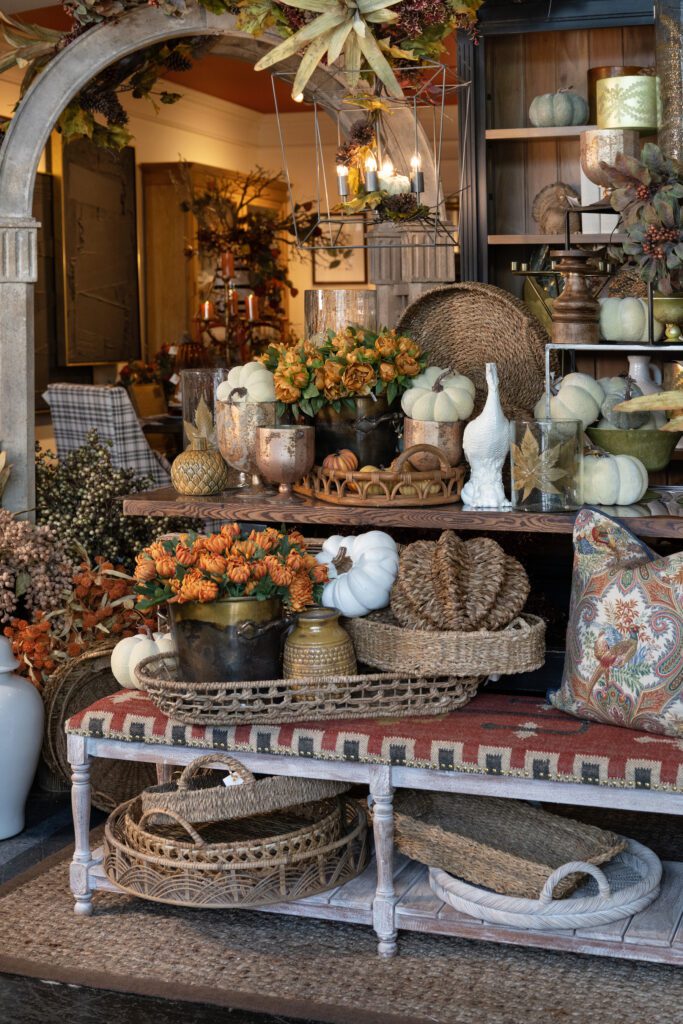 At the front of the shop, a grand autumnal display welcomes you with open arms. This large tableau features a substantial table and bench, both adorned with an artful assembly of seasonal decor. Pumpkins take center stage, gracefully woven throughout the entire composition, guiding your gaze through the rich tapestry of autumnal delights. Abundant and vibrant blooms add to the warm, inviting ambiance, infusing the space with a kaleidoscope of colors. A captivating variety of pumpkins, each offering a unique texture, is on display. Among them, woven rattan pumpkins catch the eye, alongside the beloved cream and white varieties that Nell Hill's customers have been loving this season. Squat green pumpkins and perfectly round orange gems add a touch of whimsy to this bountiful fall spectacle.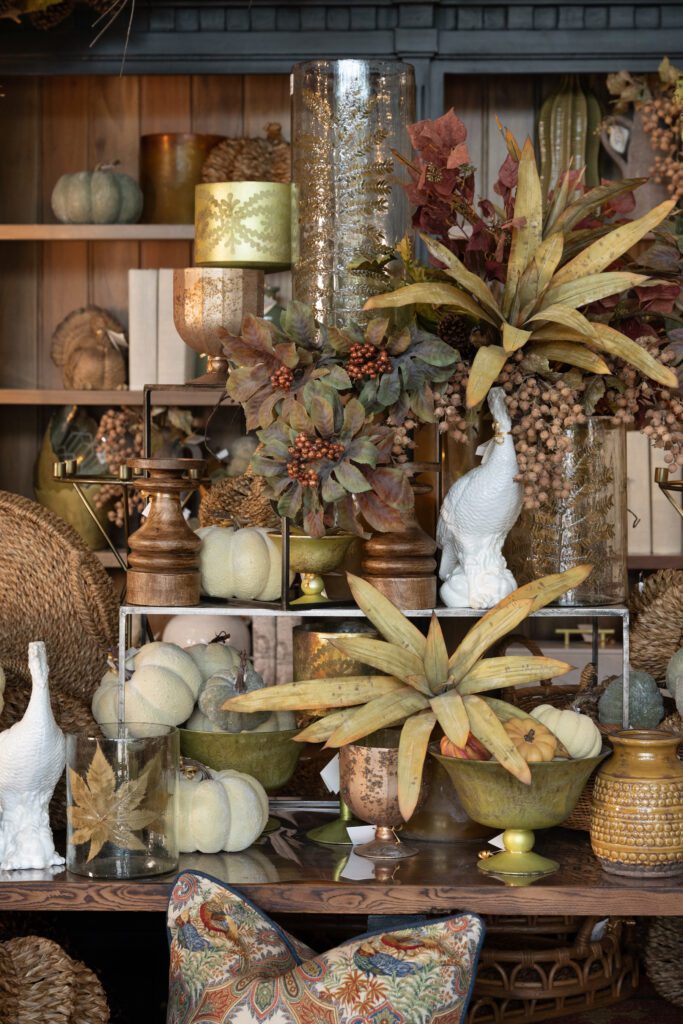 As our Pumpkin Paradise celebration comes to a close, we hope you've been inspired to embrace the magic of pumpkins in your fall décor (and on your kitchen table) this season. These humble gourds have an incredible ability to infuse warmth, texture, and a touch of whimsy into your home. Whether you opt for traditional orange pumpkins, elegant white ones, or get creative with unique varieties, remember that decorating for fall is a wonderful opportunity to express your style and celebrate the changing seasons.
And speaking of celebration, I've also delighted in sharing some of the team's mouthwatering pumpkin recipes with you, because what's fall without indulging in the cozy flavors of the season? As always, we're here at Nell Hill's to help you transform your home into a haven of autumnal beauty. Until next time – may your home be filled with the essence of pumpkin spice and everything nice.