At Nell Hill's, we believe in celebrating the magic of Christmas all year round. So, who's ready for Christmas in October? We are! Now, I know what you might be thinking – it's far too early. But in the ever-exciting and ever-evolving world of retail, we're right on time. Our journey to create the enchanting Christmas wonderland you'll soon experience began all the way back in January, when we first went to market to source the products that become the final looks. It's a meticulous process of curating holiday collections piece by piece, filled with long, tiring days, but it definitely has its fun moments too! Slowly throughout the year, then, seemingly all at once, we watch as the pieces arrive, filling our warehouse with the promise of holiday cheer.
By launching these designs on the showroom floor earlier in the season, we offer our cherished customers more than just décor; we provide the gift of time. Time to craft the cohesive holiday looks of their dreams, time to relish in the art of decorating, all without the rush and frenzy of the holiday season itself. Welcome to the magic of Christmas at Nell Hill's, where we turn dreams into reality, even in October! 😉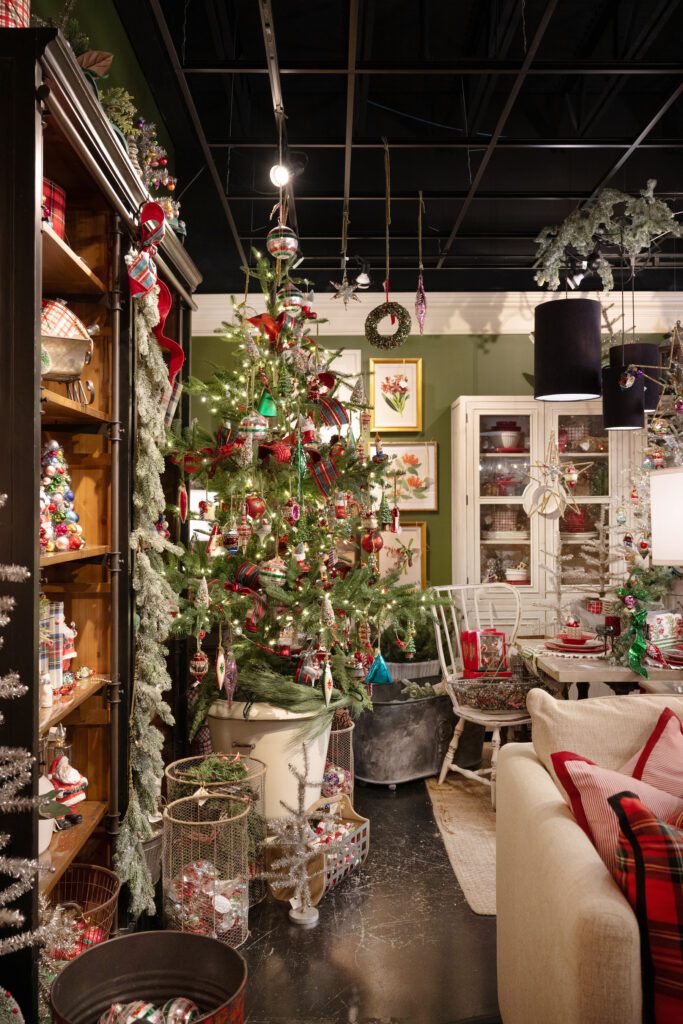 Tinsel Tidings, our inaugural Christmas look for 2023, has found its enchanting home in our Flint Hills room, where the rich and verdant green of the walls provides the perfect backdrop. This year, we've embraced the essence of tradition and nostalgia, placing ornaments at the heart of the design. Our holiday wonderland is built on a tapestry of various bulbs and vintage silhouettes, each one brimming with memories and charm. As you enter this room, you'll be greeted by a grand table adorned with a breathtaking display that captures the spirit of the season. But it's the little details that make the magic truly come alive – tucked into every shelf and vignette, they're like cherished memories waiting to be rediscovered. The entire space has undergone a magnificent transformation, leaving no corner untouched by the holiday spirit. Stepping into this room feels like a heartwarming journey back to the cherished holidays spent at my grandparents' house, where the scent of gingerbread cookies wafts through the air, and every ornament has a story to tell. 
Capturing Nostalgia: Vintage Silhouettes on the Tree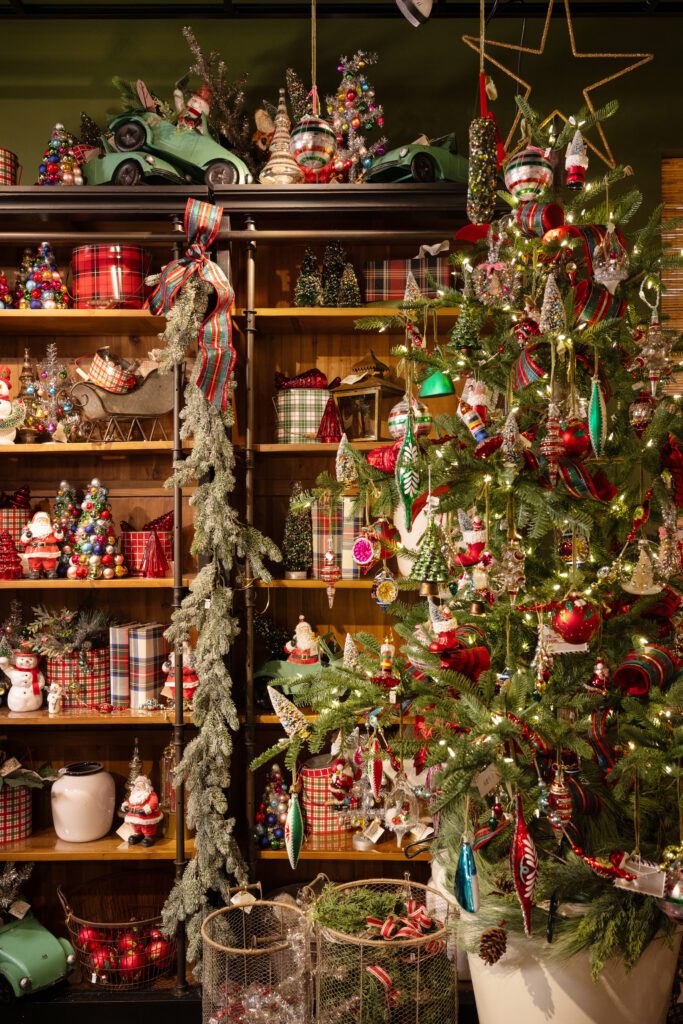 This Christmas tree is a sight to behold, embodying the essence of a bright, shiny, and classic kitschy Christmas look. It strikes the perfect balance of being over the top without feeling overwhelming. What sets this tree apart from many of our previous designs is the deliberate choice to reduce the use of picks and instead emphasize the ornaments.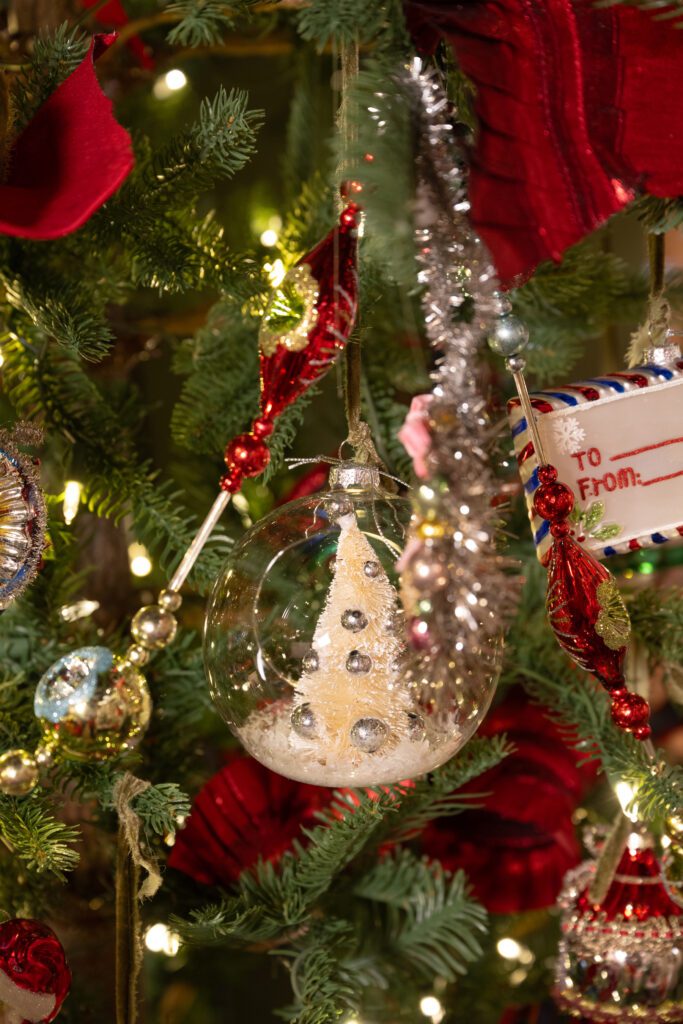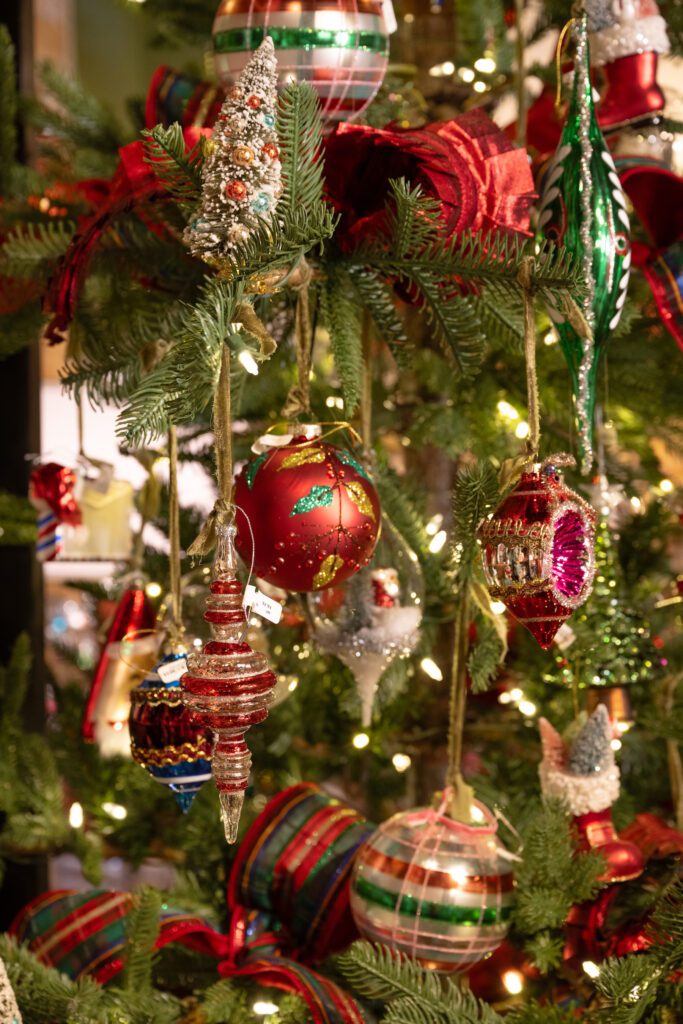 We expertly placed some of the ornaments using a beautiful velvet ribbon, while others were hung more traditionally close to the branch. This strategic approach allows your eye to wander throughout the tree, creating captivating visual layers. The ornaments themselves are a delightful mix, including charming clip-on candles, twinkling light-up trees, vintage postage accents, and baubles of various shapes and sizes. With our "more is more" attitude, we wanted to incorporate as many vintage-inspired ornaments into this tree as we could. We weren't worried about repetition – this is a look that calls for a variety of ornament shapes, sizes, and colors and the more the merrier. Unified by their bright but slightly dusty tones and reds and greens throughout, the ornaments look thoughtfully collected.
To add a touch of tradition, a glittery plaid ribbon mingles with a two-tone red ribbon adorned with pleated details.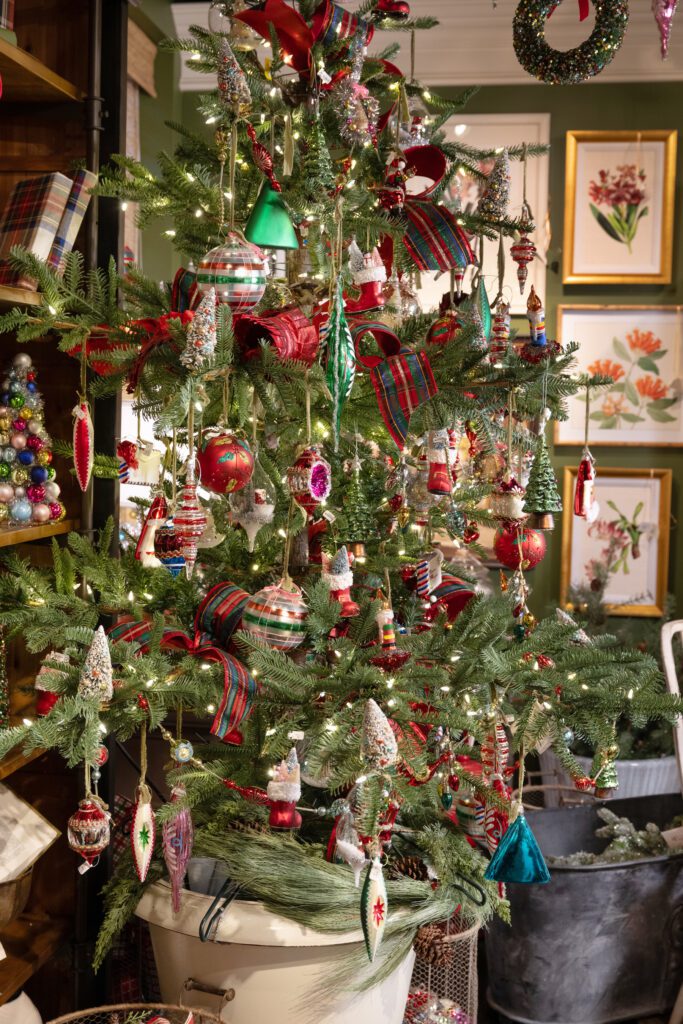 Mantel Magic: A Closer Look at Tinsel Tidings' Festive Mantelpiece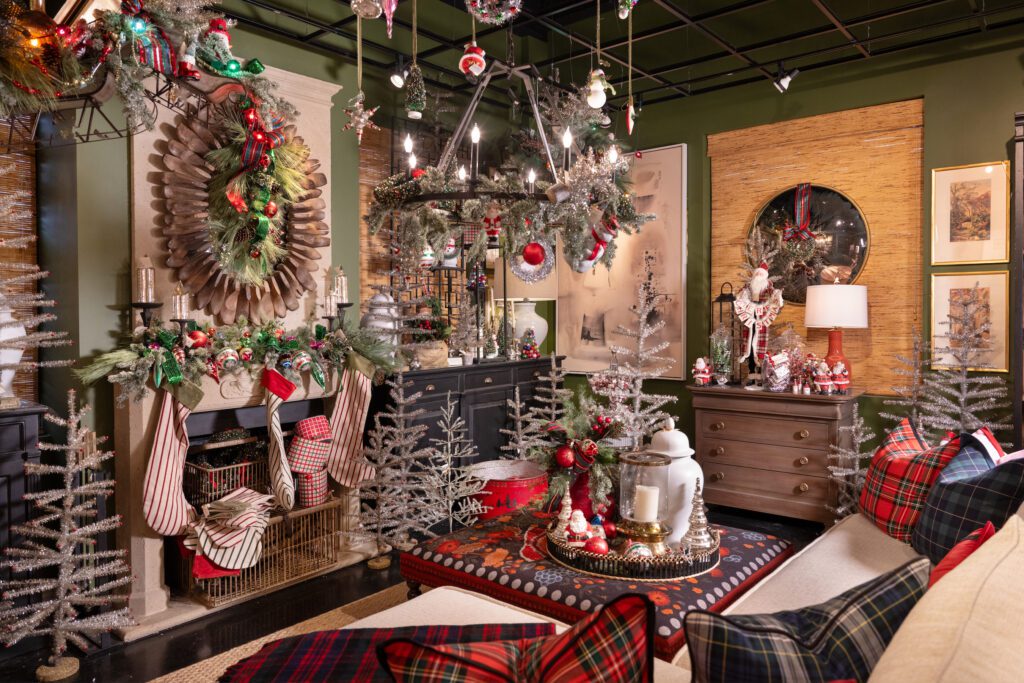 Above the mantel, a festive swag, a short section of garland, gracefully adorns the mirror. It's cleverly anchored to the mirror's frame with a tasteful assortment of ornaments and ribbon. This elegant touch adds a holiday spirit without the hassle of removing the mirror. Flanking the mirror, a pair of symmetrical candlesticks stand tall, their heights and metallic finishes offering a delightful dimension to the overall design.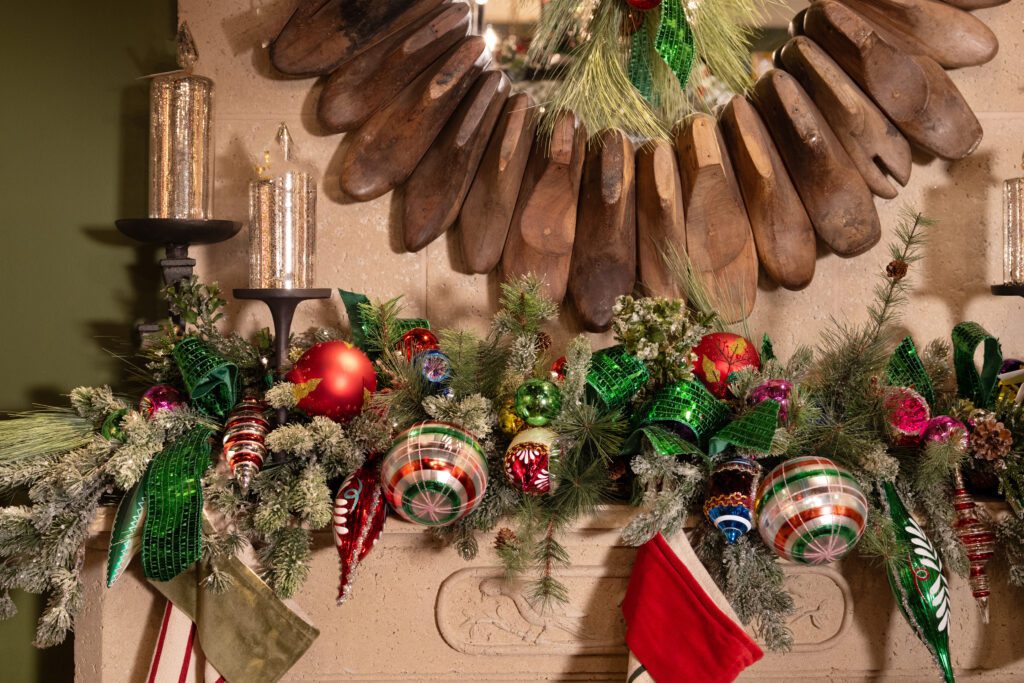 On the mantel itself, holiday magic comes alive. Two lush garlands gracefully drape, adorned with charming pine picks, each sporting delicate jingle bells. But what truly makes this mantel design special is the collection of diverse ornaments lovingly incorporated. These ornaments offer a canvas for personal expression, allowing homeowners to infuse their unique personality into their holiday decor. These ornaments echo the playful theme seen above on the mirror, beautifully tying the design together. Woven throughout the garlands is a vibrant green ribbon, adding a playful pop of color.
Beneath the mantel, vintage-inspired oversized green and red striped stockings hang in joyful anticipation of the season's festivities. A whimsical collection of baskets and Christmas tins adorn the fireplace, completing this heartwarming holiday scene. 
A Feast for the Senses: Explore the Richly Layered Christmas Table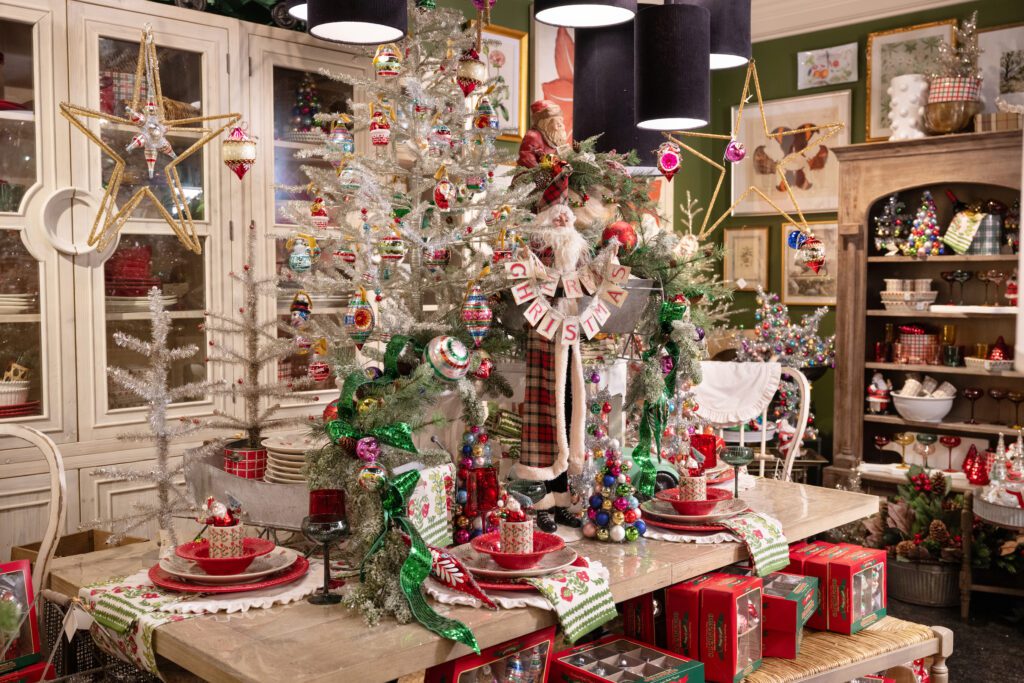 This tabletop is truly a spectacle, designed to capture the essence of a festive Christmas celebration. However, it's essential to note that this lavish display can be easily adapted to fit a more intimate home setting. By selectively removing some of the layers and opting for a less towering arrangement, you can create a toned-down version that still exudes holiday cheer. Consider retaining a prominent element in the space, like the tall Santa figurine, but moving it out of the line of sight to maintain a sense of balance and scale within your room.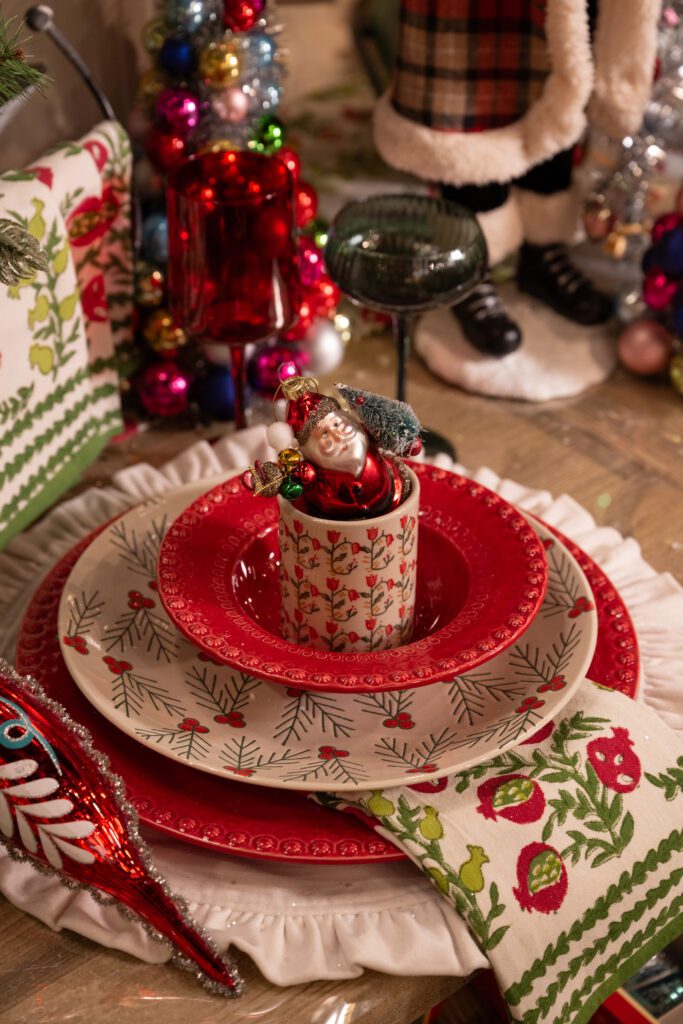 Each place setting on this ornate tabletop tells a story of bright and joyous holiday traditions. The plates are carefully stacked to create texture and pattern diversity, invoking a nostalgic vintage Christmas ambiance. At every setting, a charming ornament captures Santa in the midst of holiday revelry, adding a whimsical touch to the overall design. The red coup glasses, with their classic and elegant appeal, (a personal favorite of mine) makes them a perfect choice for any festive gathering or party.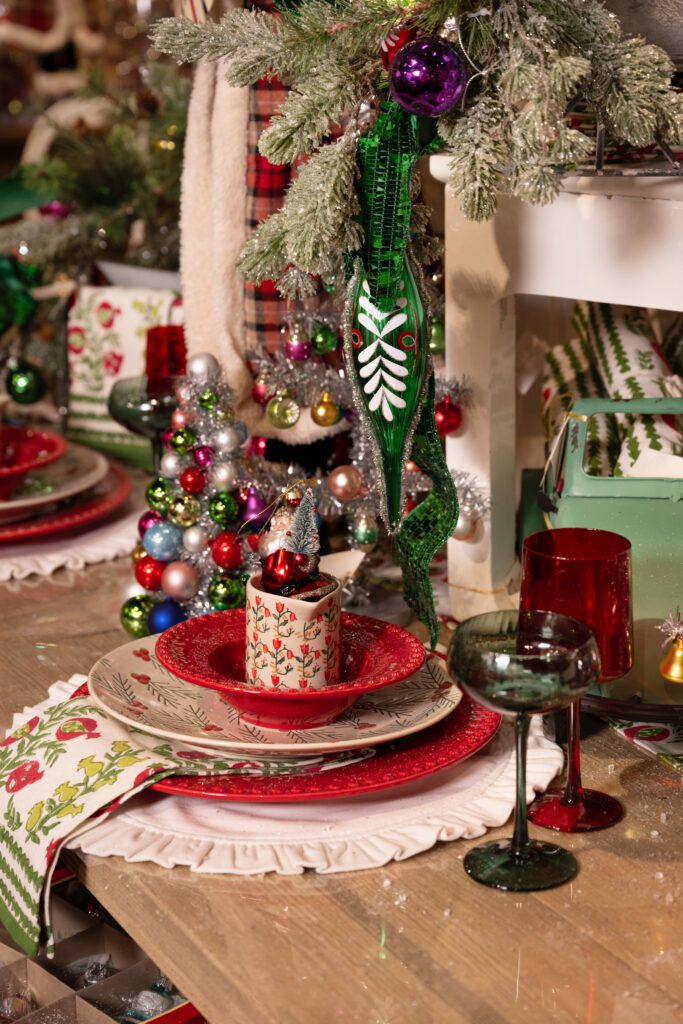 Decking the Halls from Top to Bottom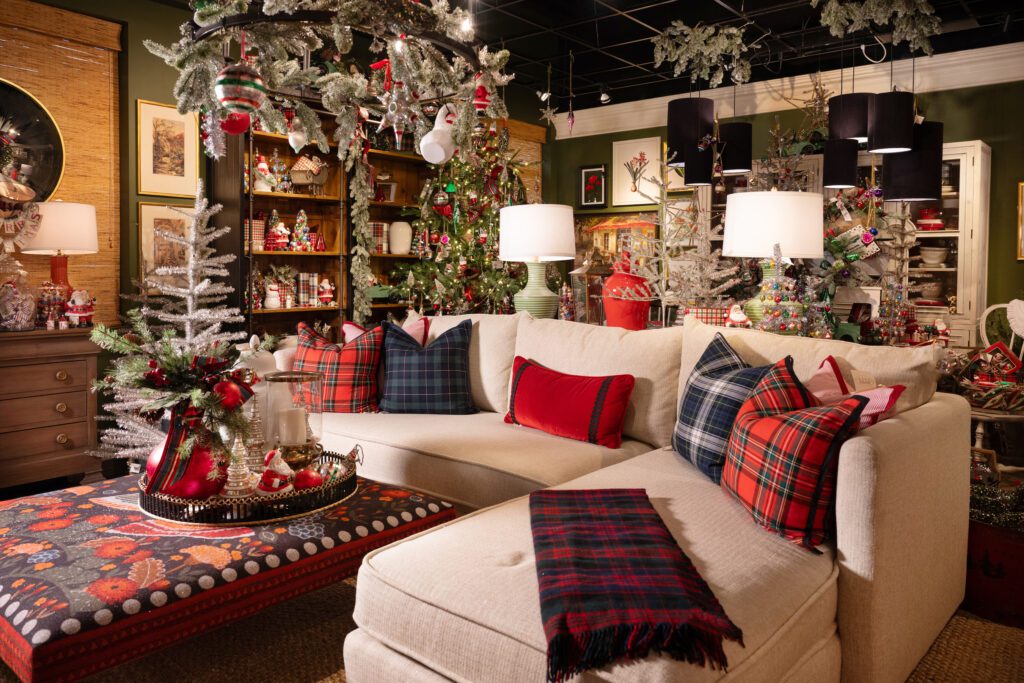 In our retail space, we embraced a joyful excess of Christmas cheer with Tinsel Tidings, creating a scene that might be considered too extravagant for a home but absolutely perfect for setting a festive mood. It's all about celebrating the season to the fullest.
Garlands and Ornaments Everywhere
As you step into this Christmas wonderland, your eyes are drawn to the shelves filled with an array of Santas, snowmen, and twinkling ornament trees. Draped garlands cascade from the bookcases, adding an inviting touch of homespun charm. The layering of different elements creates a visually rich and inviting environment that's sure to make anyone smile.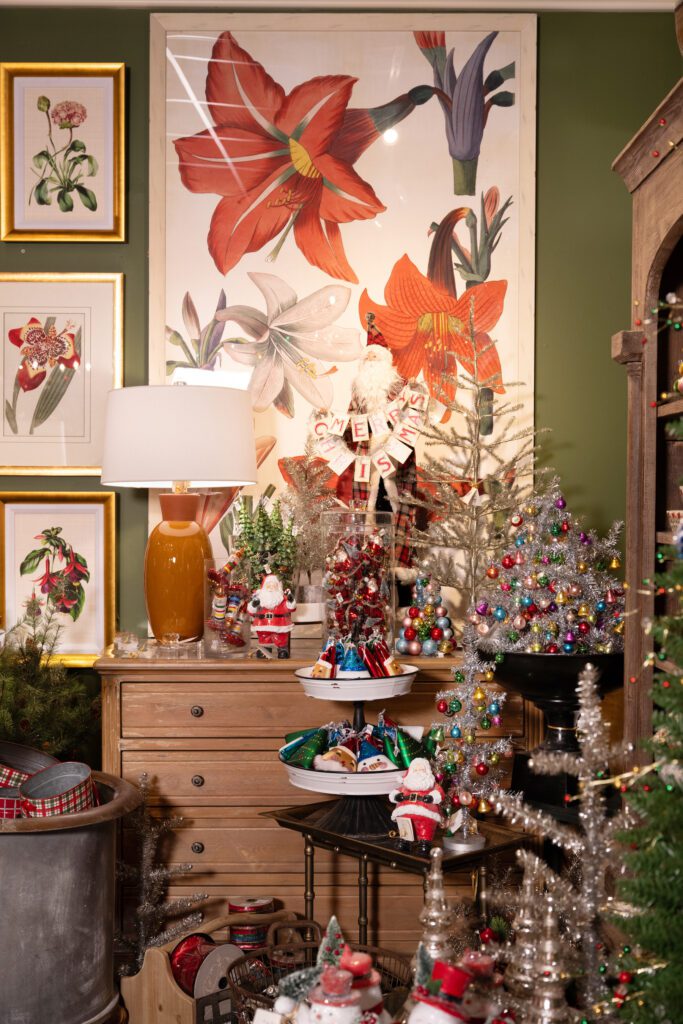 Pencil Trees for Impact
Flanking the entry into the room are two slender pencil trees, a great choice for smaller spaces or when you want to make a big impact without overwhelming the room. These trees are adorned with a mix of traditional Christmas lights and vintage-shaped bulbs, infusing a dash of color while maintaining a classic feel. Delicate beaded garlands wrap around them, providing a delightful finishing touch.
Suspended Sleighs and Ceiling Delights
Look up, and you'll discover an enchanting surprise overhead. Three suspended sleighs are filled to the brim with Christmas delights, adding a whimsical element to the room's decor. But that's not all; we didn't forget the "fifth wall." The light fixture in this space is adorned with garlands and ornaments, all suspended from beautiful ribbons at varying heights. It's a reminder that when you're going for an over-the-top look at home, incorporating the ceiling into your design plan is a clever way to add depth and truly immerse yourself in the holiday spirit.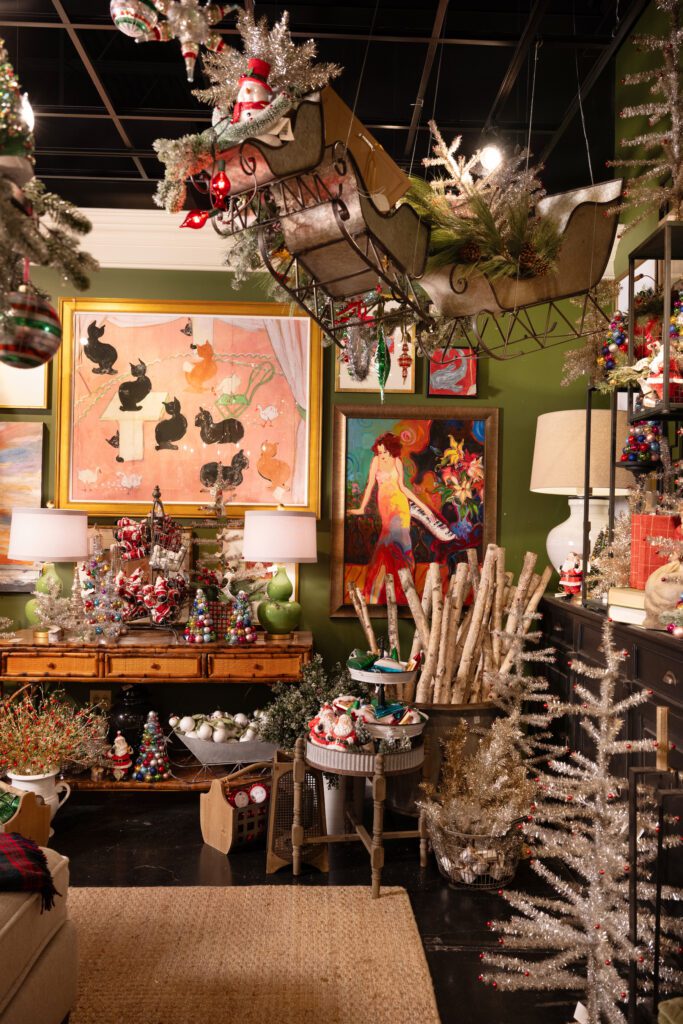 I'm glad you joined us for this early glimpse of Christmas magic with Tinsel Tidings, our first look for the 2023 holiday season. I'm thrilled to have shared this enchanting design with you, but the festivities have truly just begun. Stay tuned as we unveil more spellbinding themes like Gilded Traditional, Woodland Whimsy, and Southern Charm, each offering its unique enchantment to transform your home. May Tinsel Tidings have filled you with inspiration for the holiday season ahead, and we can't wait to continue this festive journey with you. Until next time – happy decorating and may your holidays be brimming with warmth and joy!