While our first Christmas look of 2023, Tinsel Tidings, has a fun kitschy nostalgic aesthetic, this second design, which we have dubbed Gilded Traditional, is a true classic, and it's nestled in the heart of our Mulberry Drive room. While its color palette remains elegantly simplified with whites, creams, golds, and natural greens, it's the sheer variety of finishes and textures that make this design utterly extraordinary.
Picture smooth, reflective silver alongside old-world gold, delicate pearl accents complemented by burnished gold and pristine whites. It's a little bit of glam pared down with earthy greens, pine trees, and magnolia leaves. The burnished gold elements extend seamlessly into the greenery, creating a harmonious blend. Against the backdrop of Mulberry Drive's dark paint color, this design truly shines, with subtle touches of green and blue for a modern twist. Step into a world that fuses old-world glam with timeless tradition, and let the magic of Gilded Traditional transport you to a holiday wonderland.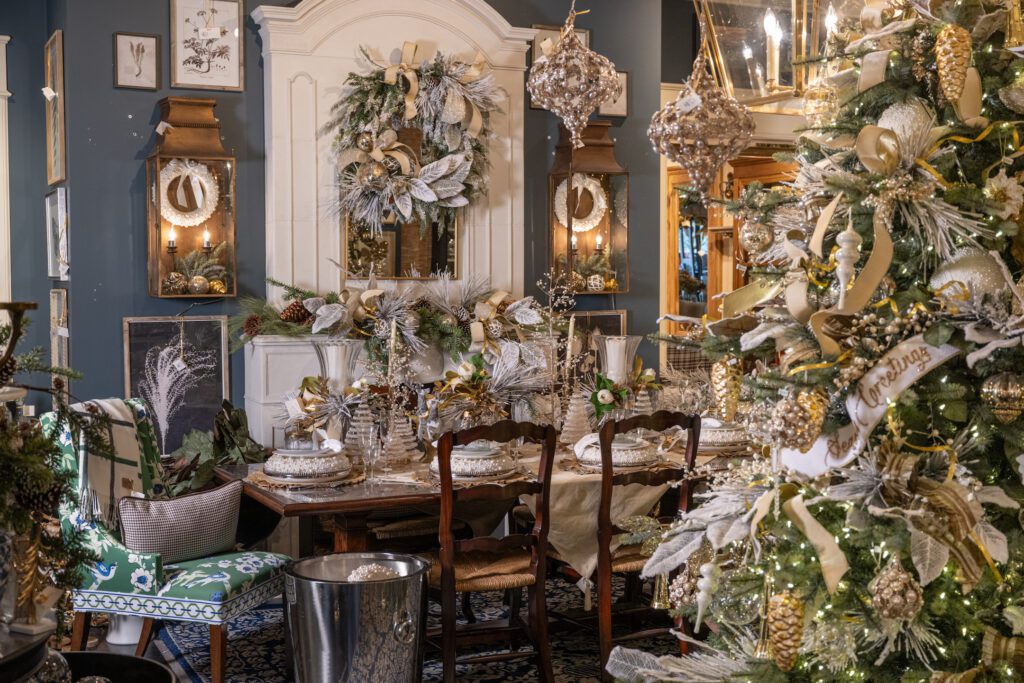 A Glorious Gilded Tree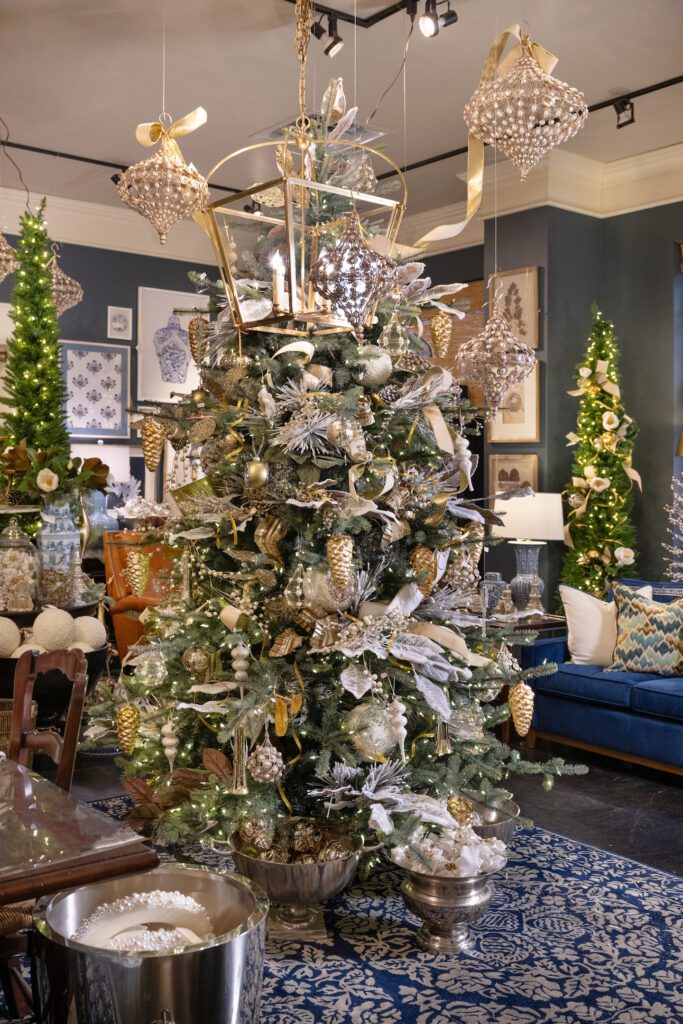 Behold, the centerpiece of our Gilded Traditional Christmas look – a majestic tree that exudes timeless elegance. This grand evergreen stands tall, adorned with captivating details that beckon the eye to explore its gilded treasures. Imagine large, resplendent pinecones harmonizing with teardrop glass baubles, pearls that shimmer like a winter's morning, and sparkly leaf stems that capture the essence of nature's winter splendor. A delicate jewel garland cascades gracefully, adding a touch of opulence.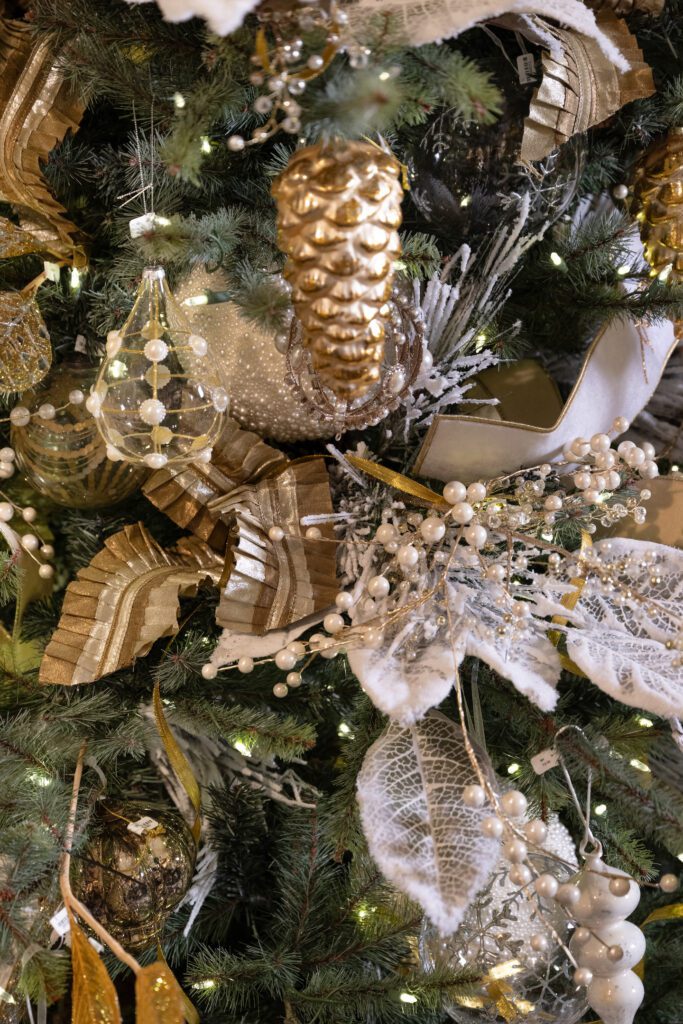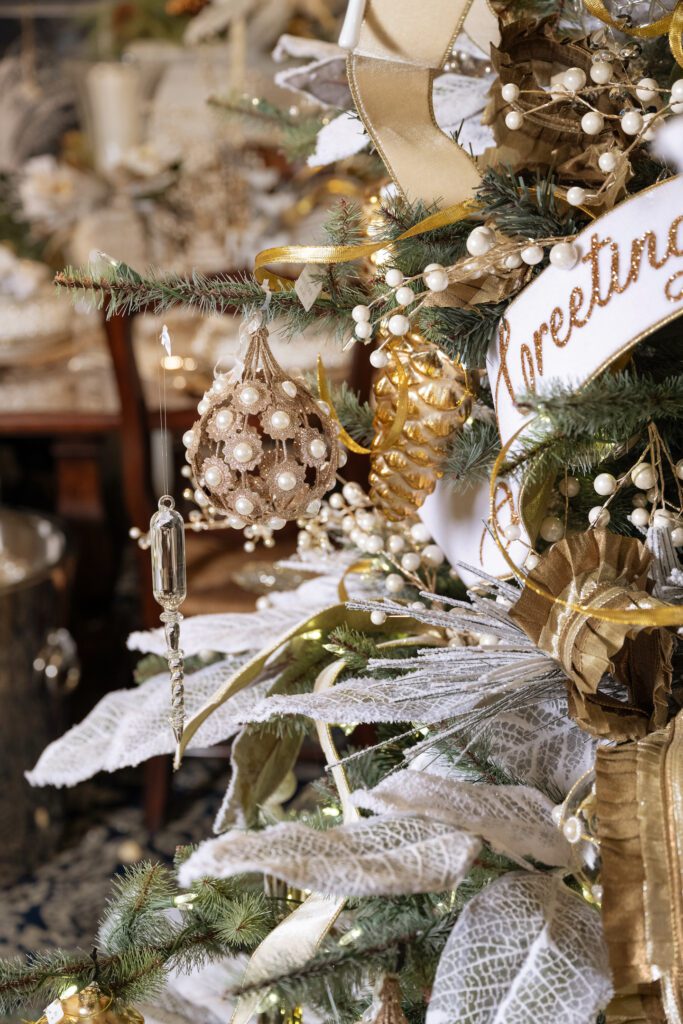 What sets this tree apart are the flocked picks, or stems, strategically placed to introduce a soft, snowy allure, even though the tree itself remains untouched by frost. This clever touch seamlessly ties in the whites found in some of the ornaments. Throughout the branches, pearl balls in various sizes add depth and continuity to the design. To crown this majestic masterpiece, beautifully gilded "onion" shaped finials descend gracefully from above, a final touch of regal charm. I couldn't help but think of the visitor who recently dropped by the shop, in search of pieces for a tree inspired her jewelry and crystal ornament collection. She was able to find a number of elements in this room to help bring her vision to life.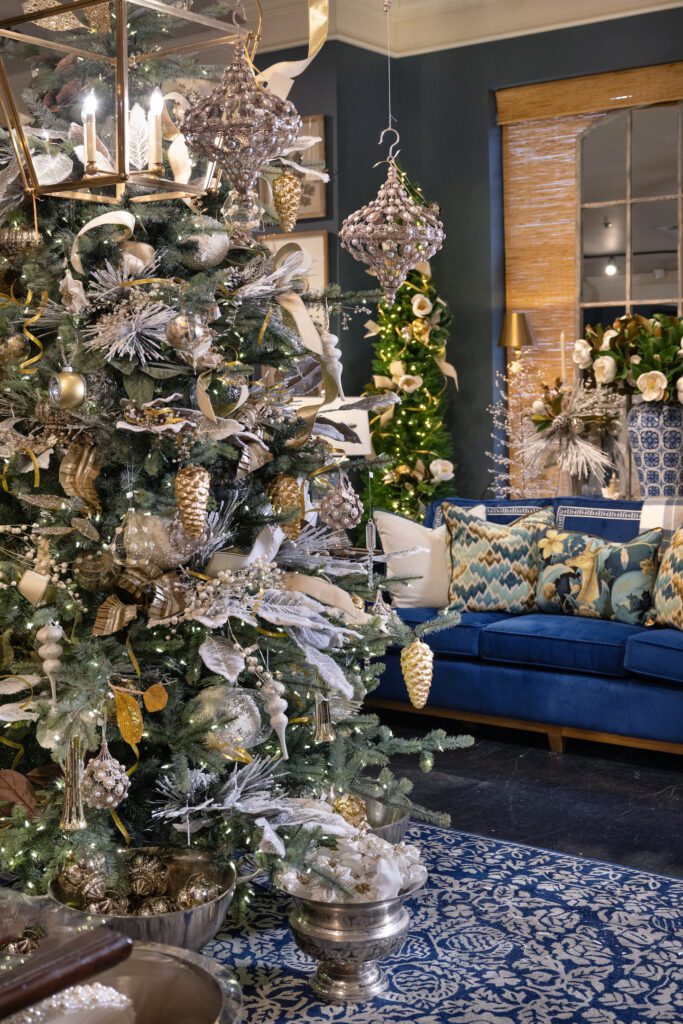 An Elegant Evening Tablescape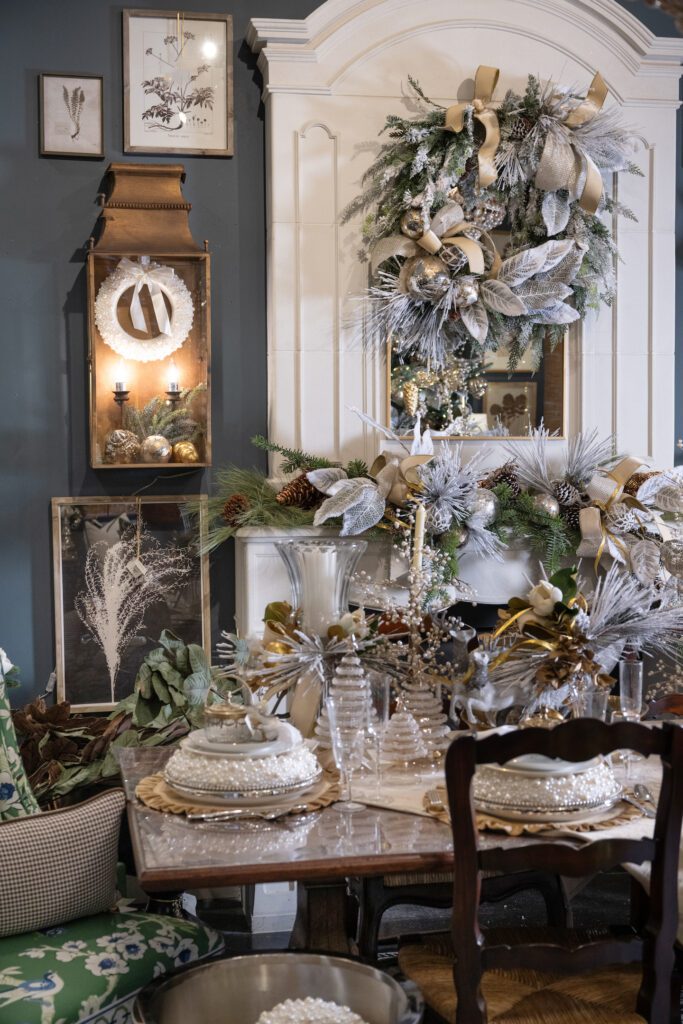 Embrace the allure of timeless glamour with our Gilded Traditional holiday tablescape. Here, every detail is a testament to opulence and sophistication. Pearl wreaths, available in various sizes, are versatile adornments that could grace the back of chairs, enhance place settings, or find their place in a cozy window nook. Here they exquisitely elevate an already elegant stack of plates. Each place setting boasts a sumptuous blend of metallics, with gold and silver, both shiny and matte, creating a dazzling tapestry of tones. The plate stacks are crowned with vintage-inspired accessories, adding an extra layer of old-world charm to the ensemble.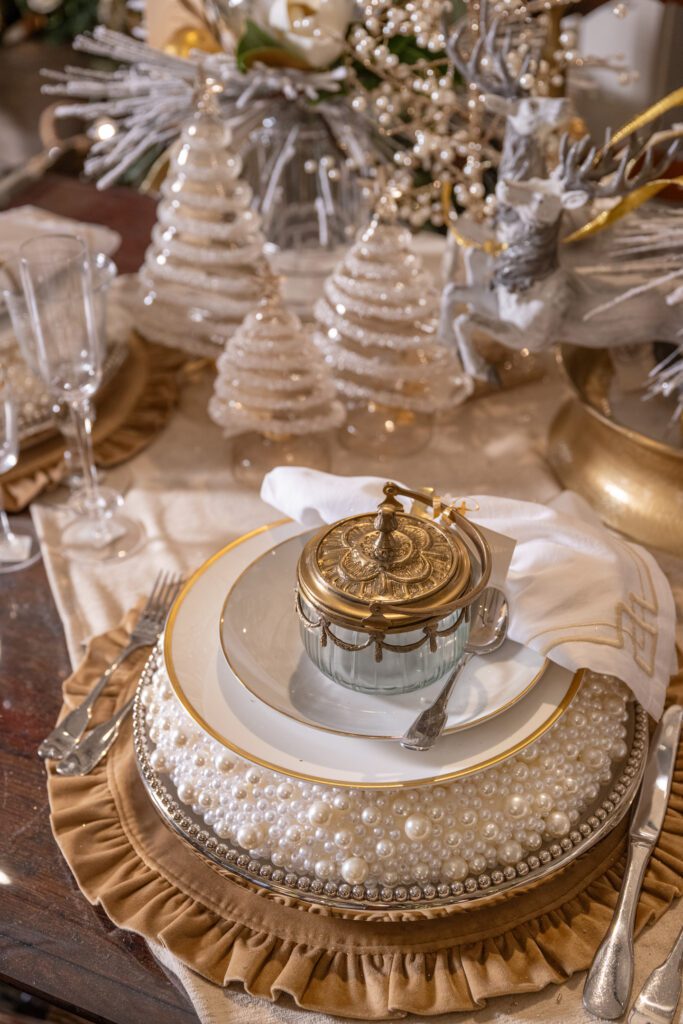 At the heart of the table, classic hurricanes and petite pearl trees make a stunning statement. This arrangement captures the essence of tradition while exuding polished glamor. In the center, two graceful reindeer seem poised for a majestic takeoff, adding an enchanting touch. This setting is perfect for a holiday gathering, be it an upscale affair or a formal Christmas Eve dinner. It seamlessly transitions into a glamorous New Year's soiree, making every moment of the season truly unforgettable.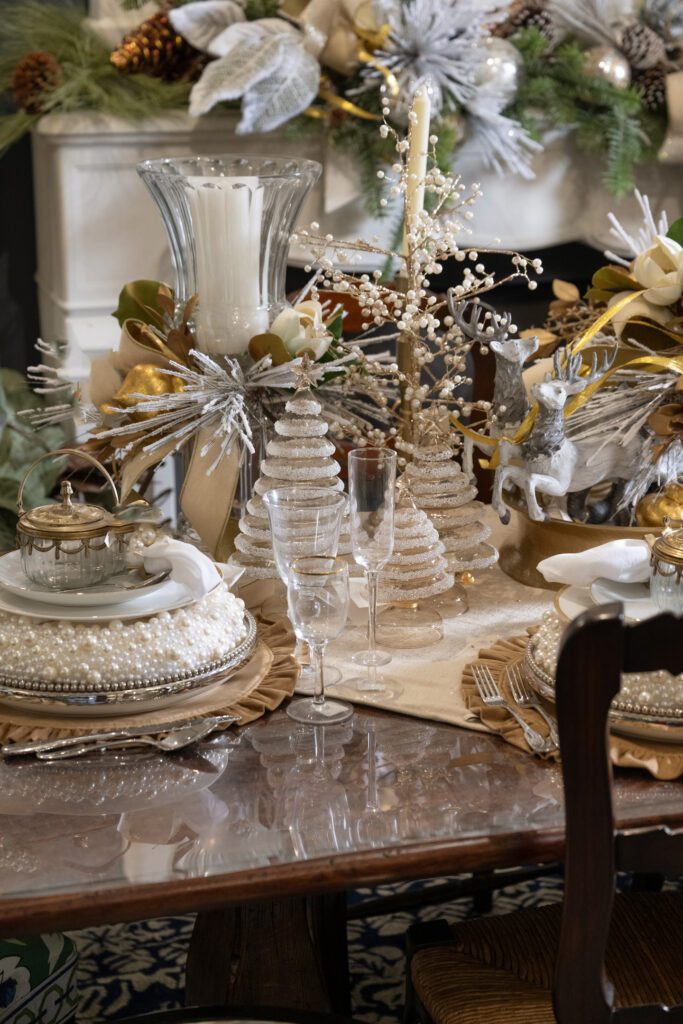 Glamour and Grace on the Mantel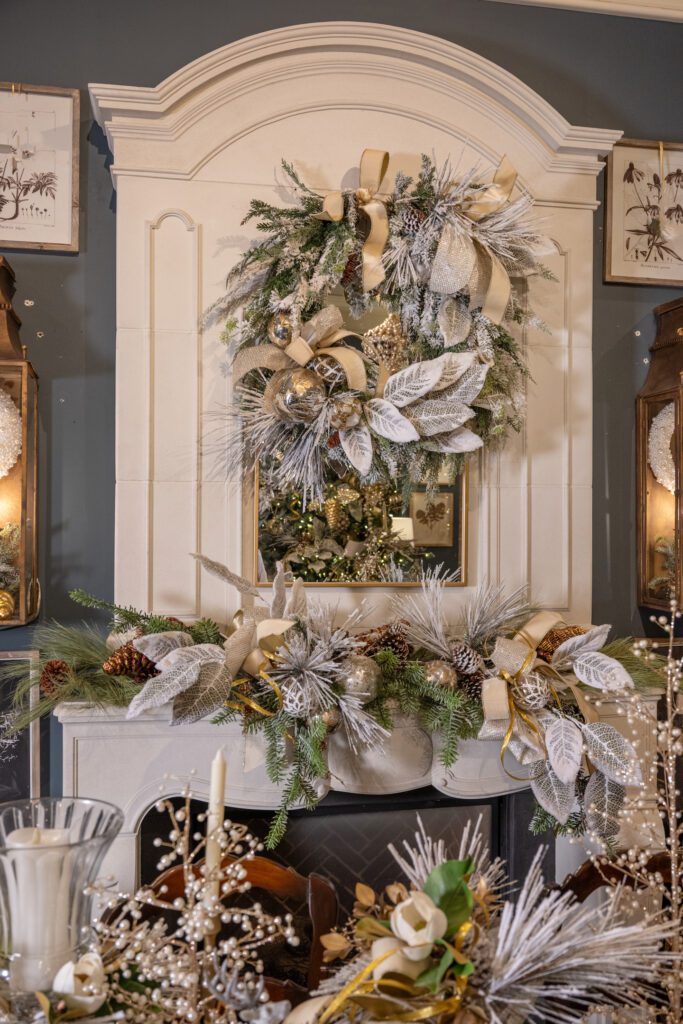 Elegance meets tradition in our Gilded Traditional holiday mantel design. The center focal point is an ornate wreath gracing the mirror, beautifully adorned with an array of ornaments, ribbons, and picks. A subtle touch of flocking ties in the graceful white accents scattered throughout the room, adding a sense of cohesiveness to the design.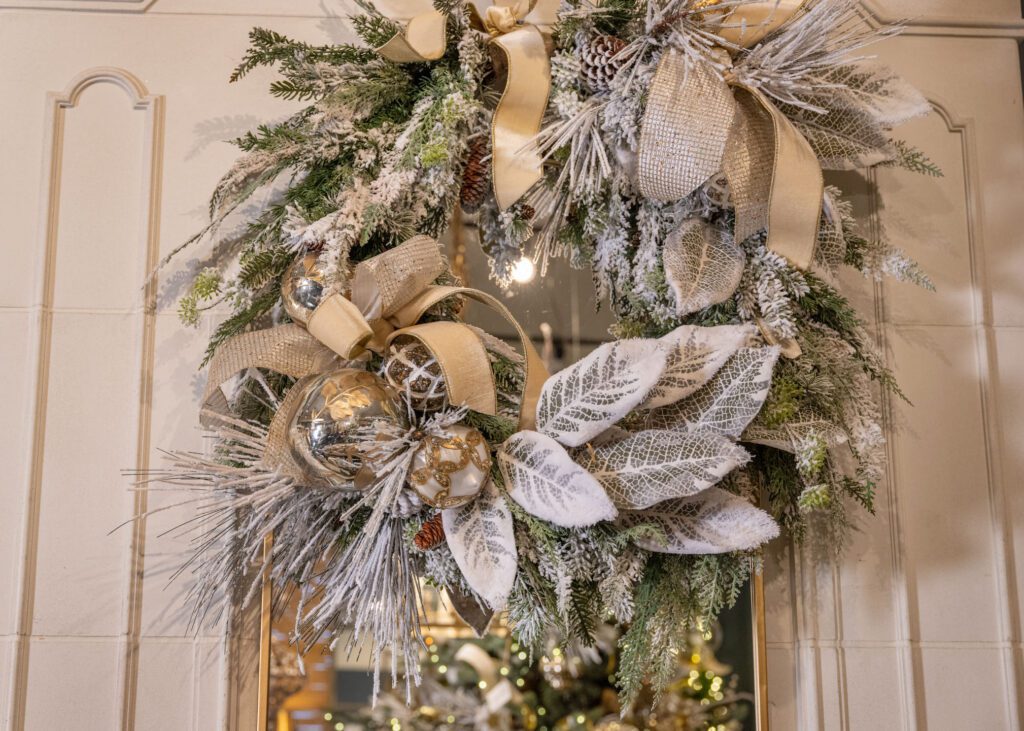 The mantelpiece itself is a masterpiece of our classic garland, dressed with meticulous care. Here, ribbons, picks, and ornaments come together to create a harmonious symphony of holiday charm. To frame this central masterpiece, we've chosen lanterns on either side of the mantel, each embellished with their own wreaths, picks, and ornaments. The result is a mantel display that radiates warmth, sophistication, and timeless allure.  
Magic in the Details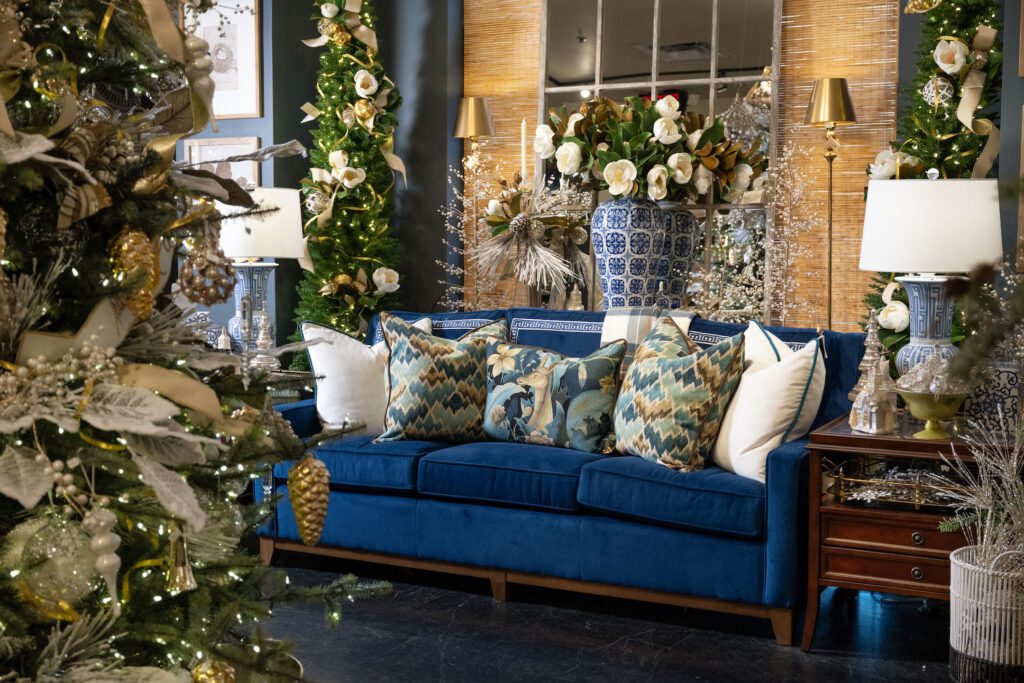 Every nook and cranny of the Gilded Traditional room is brimming with holiday enchantment. Pencil trees, dressed in resplendent gilded ornaments, stand like regal sentinels, adding an air of majesty to the space. Baskets overflowing with ornaments of all shapes, sizes, and materials glisten with the allure of jewels, baubles, and beads. It's a celebration of pure glitz and glamour, where everyday elements are magically transformed beneath the swaths of luxurious neutrals and radiant metallics. This room is a testament to the power of holiday decor, turning the ordinary into the extraordinary and making every corner a source of wonder and delight.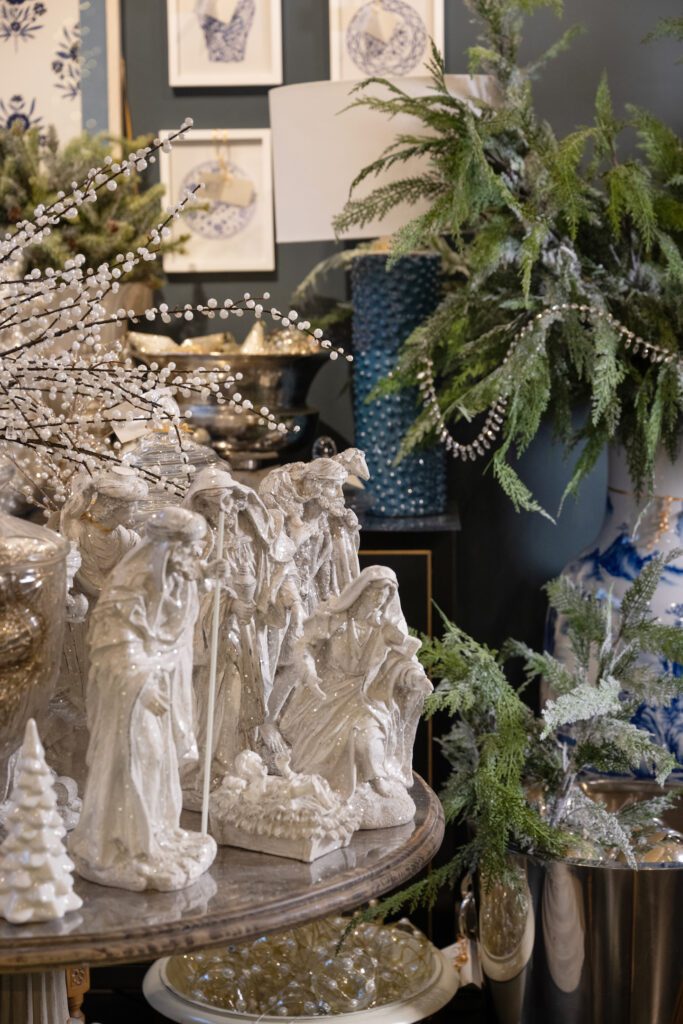 Tucked away in a corner of the Gilded Traditional room at Nell Hill's, a serene and captivating Nativity Scene takes center stage. The figures, sculpted in creamy white and adorned with a delicate dusting of enchanting sparkles, exude an aura of elegance and grace. At market this year, we discovered several exquisite styles to bring back to the shop, but this particular Nativity Scene holds a special place in our hearts. As it nestles amongst the lush greenery, it elevates the entire corner of the room, serving as a poignant reminder of the true meaning of the holiday season. This symbol of hope and wonder captures the essence of Christmas and adds a touch of timeless beauty to our festive decor.
This look is all about the thoughtful details. Two stately green chairs sit regally on either side of a charming bar cart, providing a perfect setup for holiday gatherings. A large buffet takes center stage, elegantly adorned with festive decor, creating a captivating focal point in the room. But it's the tower on the tabletop that steals the show, poised as a statement piece that can grace an entryway or corner. Whether welcoming guests near the front door or serving as a stylish bar element, it's a versatile addition. Flanked by two traditional lamps for added height and allure, this tower is wrapped in garland that features gilded and green magnolia leaves, expertly mixed with seasonal greenery. And for a touch of classic charm, we've incorporated hints of blue and white, ensuring that this Gilded Traditional look seamlessly complements a wide range of decor styles.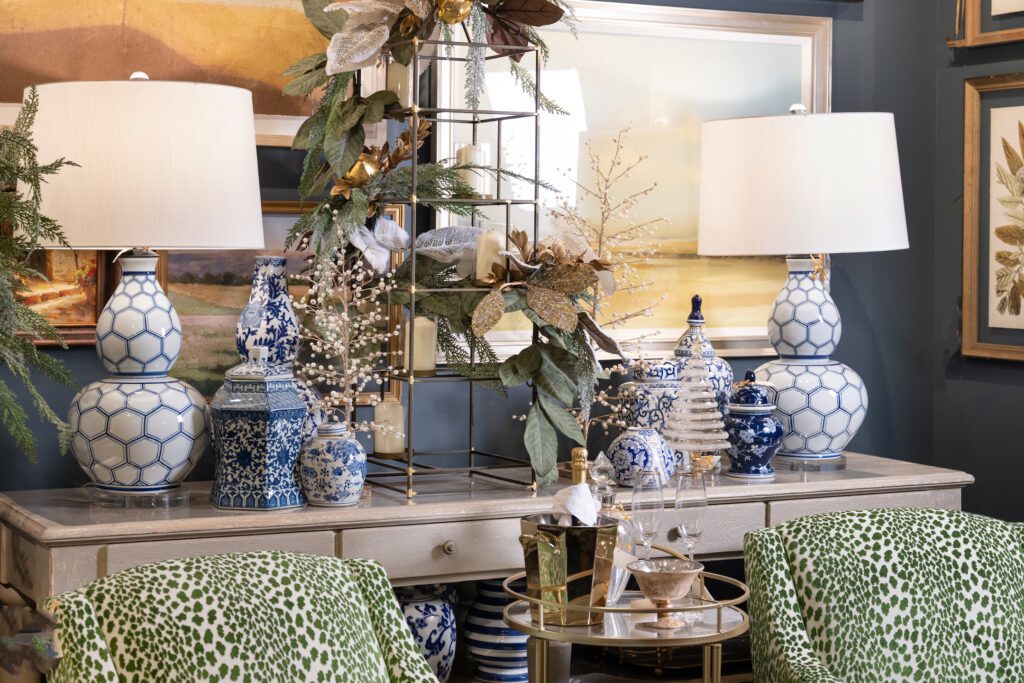 As we bid adieu to our enchanting Gilded Traditional room, we hope you've been inspired by the classic beauty and timeless elegance of this holiday design. This look, steeped in tradition yet sprinkled with modern charm, celebrates the magic of the season with every carefully chosen ornament and exquisite detail. From the resplendent tree adorned in gilded splendor to the sumptuous table settings and the captivating Nativity Scene, every element of this design invites you to create your own moments of joy and togetherness this holiday season. Stay tuned for more holiday inspirations as we continue to unveil our festive collections. Until next time, may your holidays be filled with warmth, love, and the magic of Christmas. Happy Decorating!