Step into the Molasses room at Nell Hill's, where a Cozy Cabin Christmas unfolds against a backdrop of rich brown paint. This shade, reminiscent of warm sugar and spice, provides the perfect base for a back-to-basics neutral look, allowing mixed collections of furnishings and accessories to shine. This room often plays host to a traditionally masculine or organic style, given the moody and dramatic qualities of its brown hue. Our third Christmas design this year seamlessly fits this theme.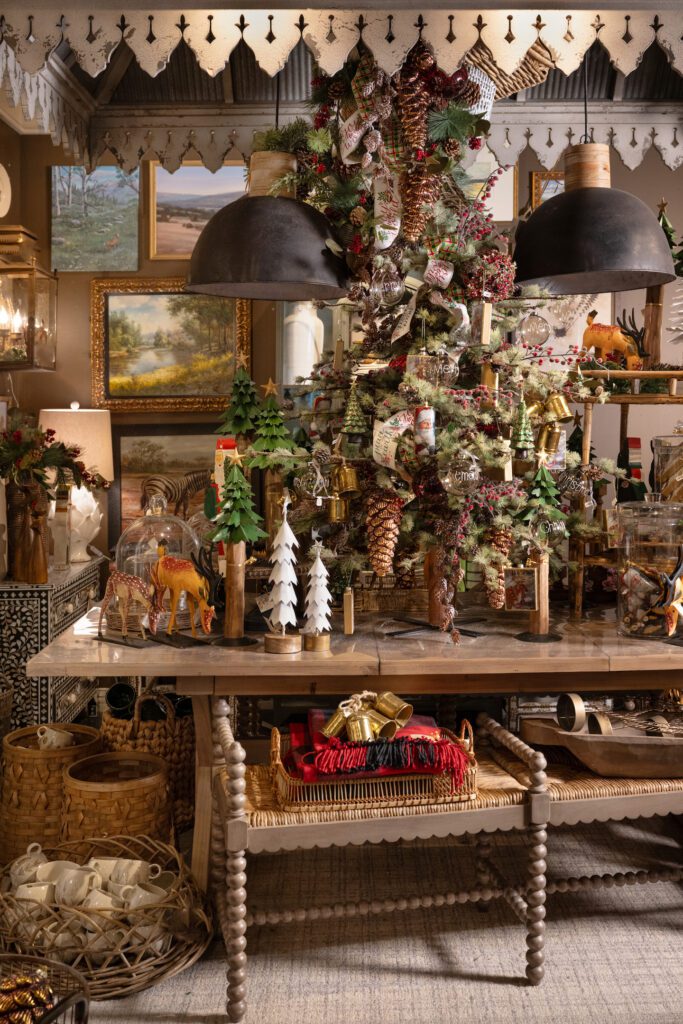 Picture a room immersed in leathers, plaids, and natural elements, all coming together to set the stage for a cozy cabin Christmas. The essence of this look lies in metal and wood accents, which anchor the design in a lodge-inspired aesthetic. You'll discover groves of metal reindeer and trees thoughtfully placed throughout the space. Charming, retro-looking carved wood figurines of snowmen and Santa add whimsy to every available surface. The Christmas tree, overflowing with red ornaments and berry sprigs, creates a focal point from the tabletop of the Molasses room. These traditionally masculine finishes beautifully capture the chalet vibe, providing a warm and inviting space to celebrate the holiday season.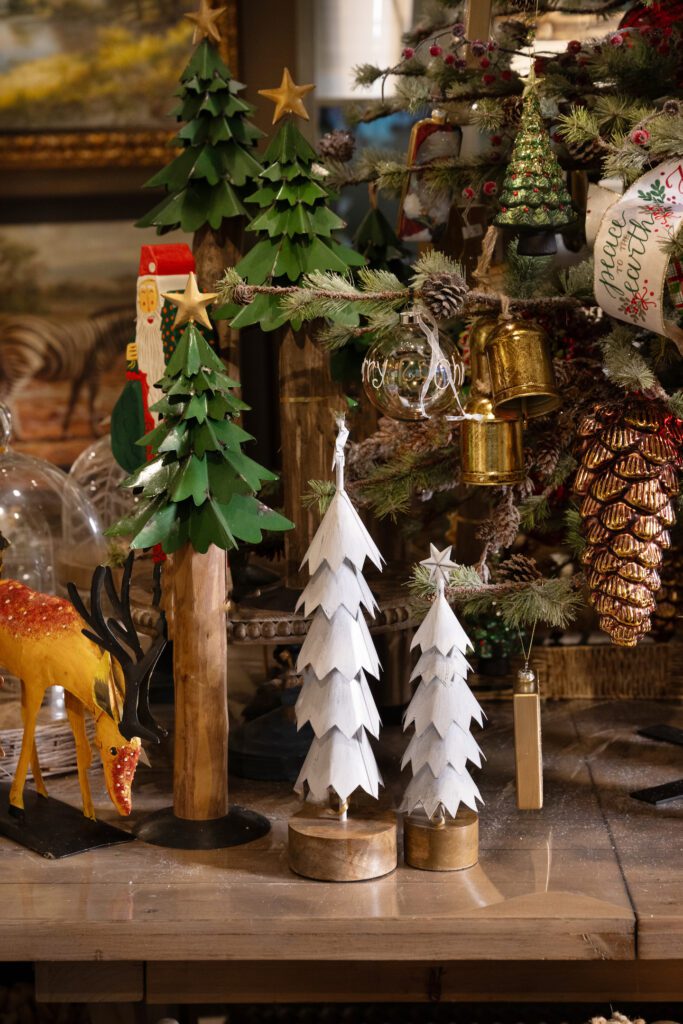 The Makings of a Cozy Cabin Christmas Tree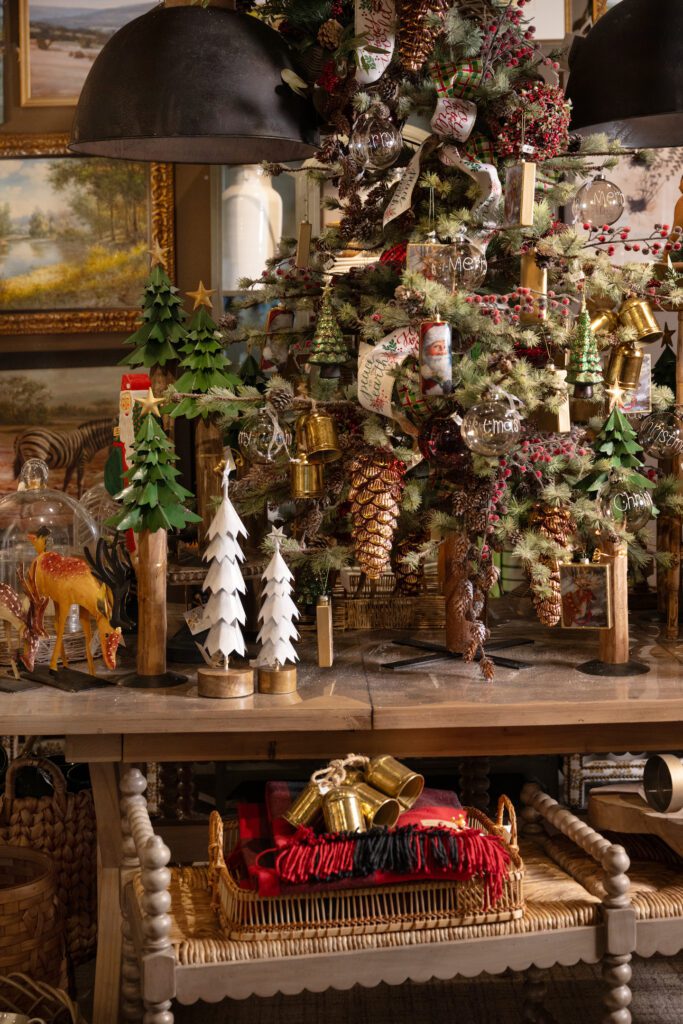 Within the Cozy Cabin Christmas space, the tree stands as a true centerpiece of seasonal charm. A show-stopping addition to the tabletop in this room, this tree weaves together the essence of a classic cabin Christmas with a hint of enchantment. Delicate, droopy pinecone picks are sprinkled throughout the tree, introducing an organic and woodsy touch. Alongside these, gleaming pinecone ornaments shimmer with a touch of rustic elegance. The tree also features rectangular ornaments adorned with portraits of Santa and heartwarming Christmas scenes, adding a nostalgic element to the design. A ribbon gracefully winding through the branches bears the message, "Peace to the Earth," imparting a sense of serenity and goodwill. This design leans into classic greens, foregoing heavy flocking, and pairs pine greenery with festive touches of red. Santa and his reindeer make appearances throughout, completing the cozy cabin Christmas theme with joy and cheer.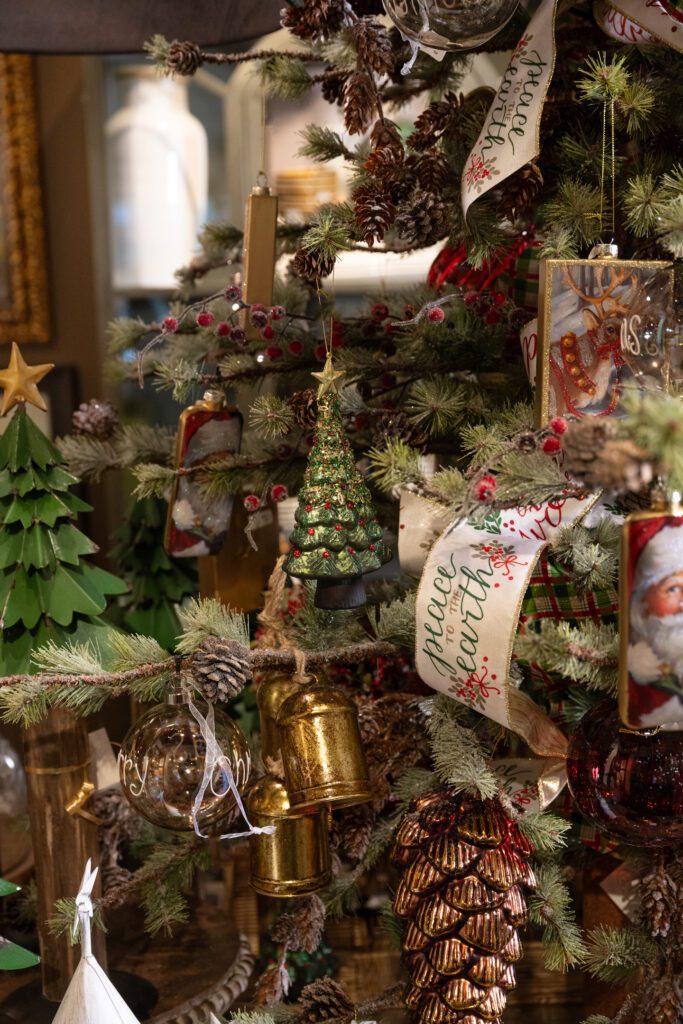 Lodge-Inspired Accents: Bringing the Cozy Cabin Look to Life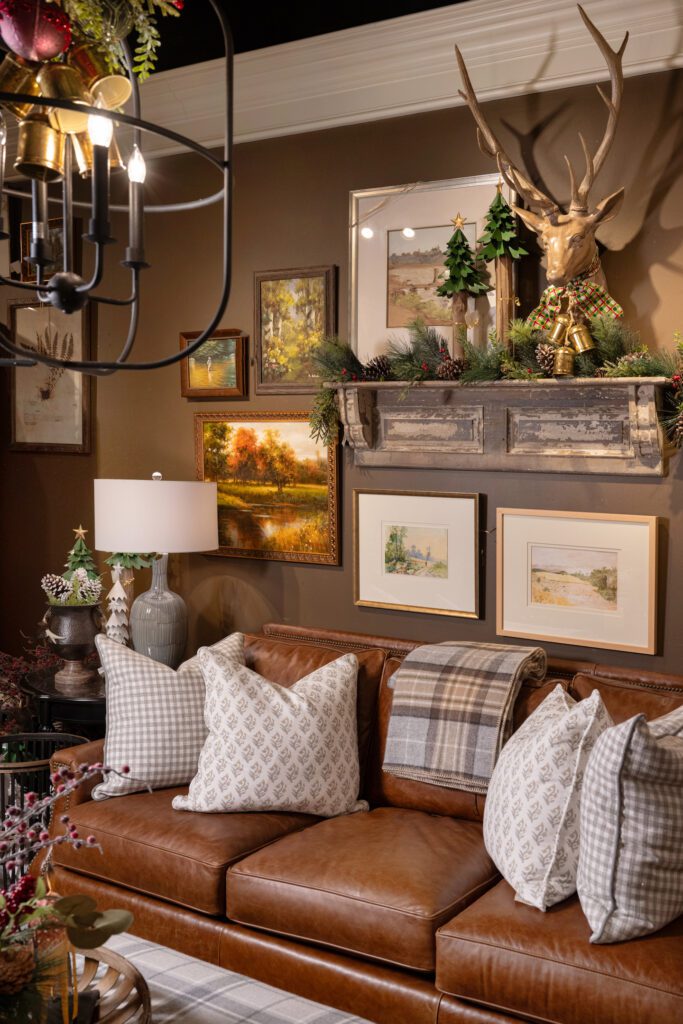 In the Molasses room's Cozy Cabin Christmas design, every space is brimming with holiday spirit. One creative and eye-catching touch is the treatment given to the light fixture. We adorned it with a lush garland and added glimmering gold bells and ornaments. This transformation brings a delightful weight and impressive charm to the room, elevating it for the holiday season. Decorating light fixtures like this adds a unique sense of cohesion to your design, as it allows you to incorporate festive elements that tie the room together. It's a fantastic way to make your holiday décor feel complete and full, infusing each corner with the magic of the season.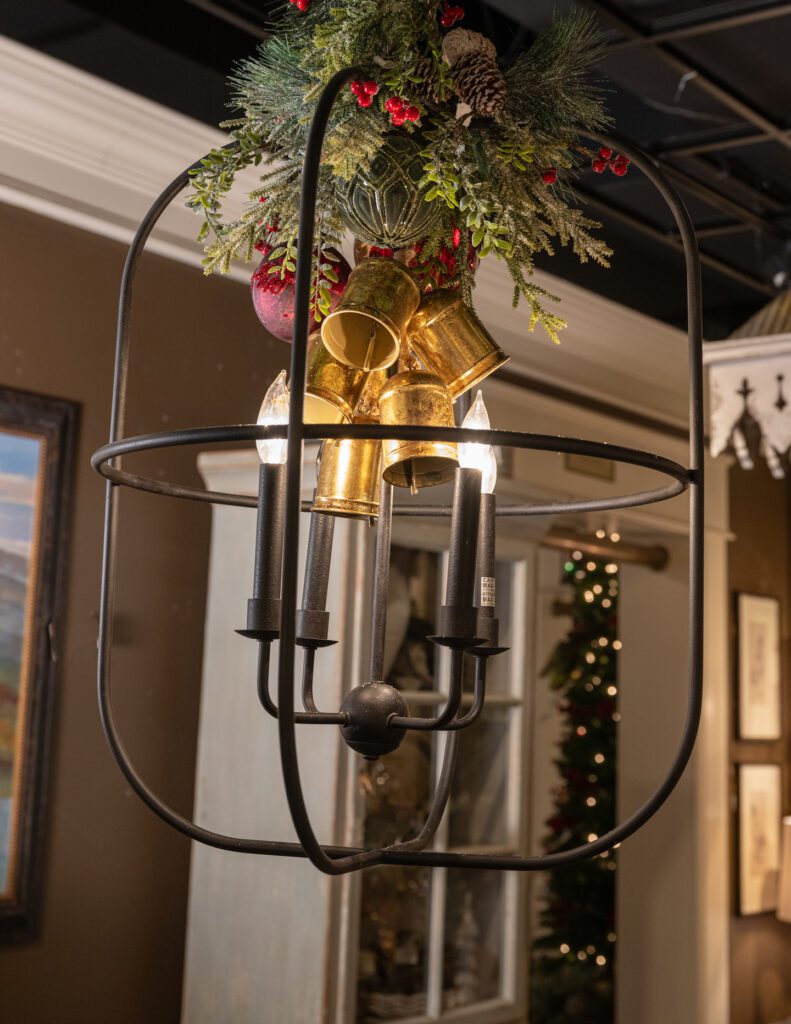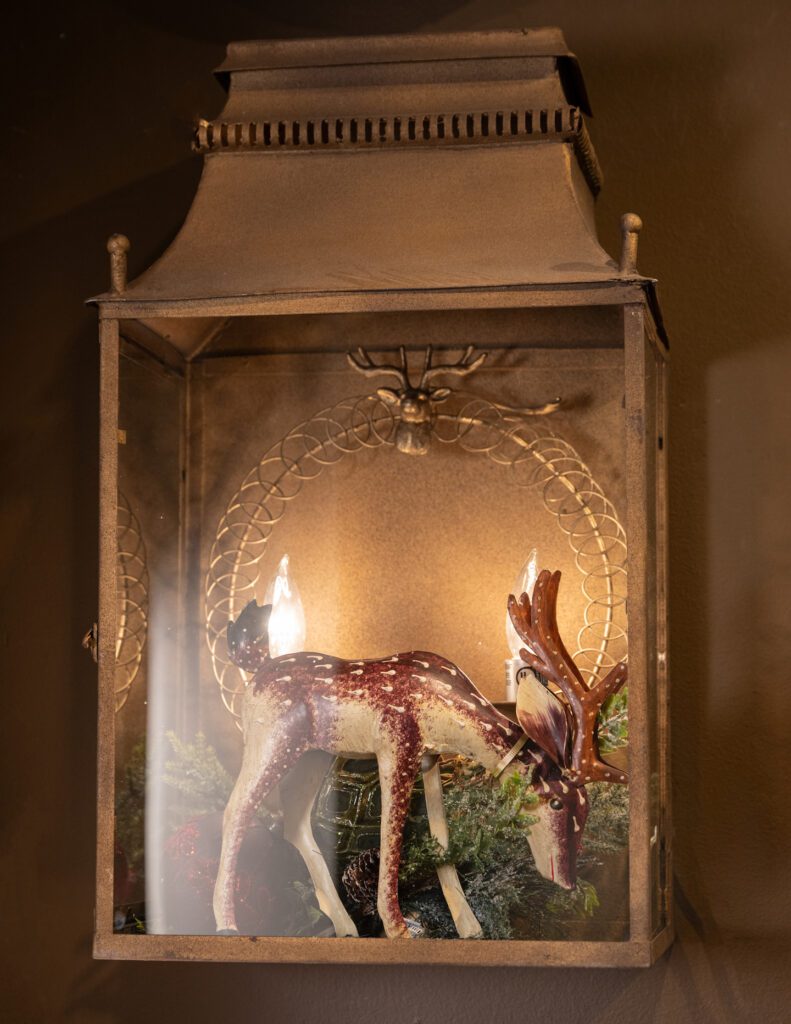 Lanterns serve as versatile canvases for holiday creativity as well! Here, we've taken a lantern and added a card wreath, a charming metal deer figurine, and a touch of greenery with a festive pick. This composition breathes new life into the stately gold light fixture. It's a fun and thoughtful way to elevate your seasonal decorating with minimal effort. These lanterns, with their warm and welcoming glow, quickly became quiet focal points that add a touch of magic to the holiday design. 
The details in our Cozy Cabin Christmas design are what truly set the scene. It's all about the hand-finished, rustic appeal that makes this look so charming and inviting. Throughout this space, the warm and earthy textures of wood and metal harmonize beautifully, creating an atmosphere that exudes warmth and welcome. We've carefully placed small seasonal vignettes in various corners of the room, each contributing its unique charm, and together, they form a tapestry of holiday spirit that manages to make a significant statement even in this compact space. These intricacies are the heart of the Cozy Cabin Christmas look, where every element brings the essence of the holidays to life.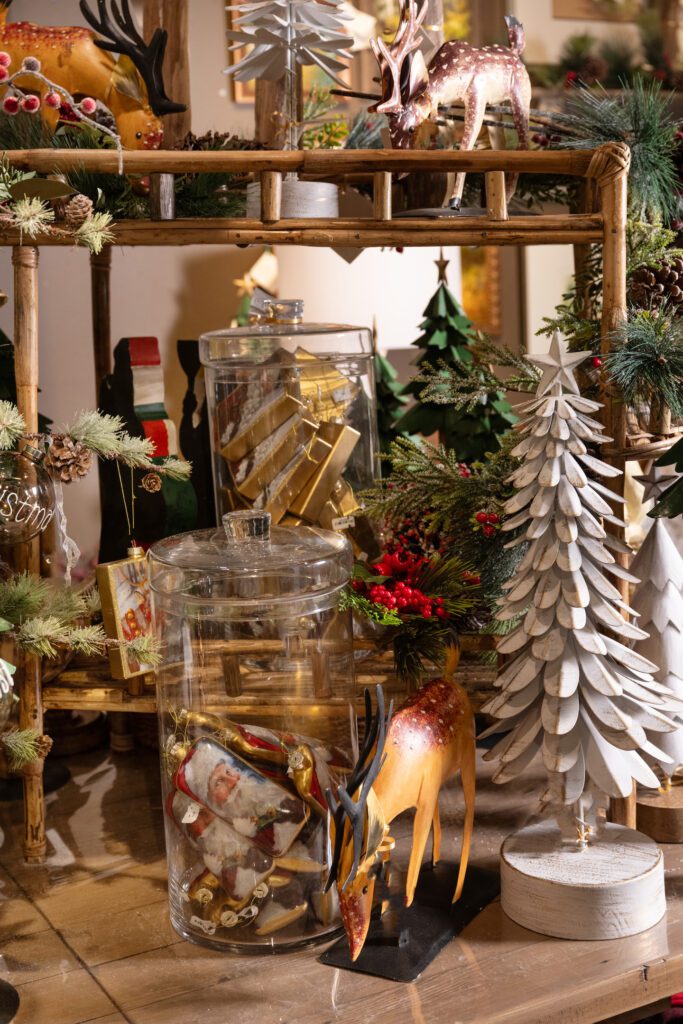 I hope this Cozy Cabin Christmas look has filled you with inspiration for your own holiday home decor. The fun of this design is all about creating a warm and inviting atmosphere, a place where you can cozy up by the fire and enjoy the festive season. In this look, the rich brown tones, rustic accents, and a touch of nostalgic charm blend together to create a cabin-like retreat. Embrace the warmth of traditional holiday colors, from classic greens to festive reds, and add a sprinkle of glittering gold to bring a sense of magic to your space. So, gather 'round the tree, decorate your lanterns and light fixtures, and let this Cozy Cabin Christmas design from Nell Hill's help you craft the perfect holiday retreat. Until next time – happy decorating!