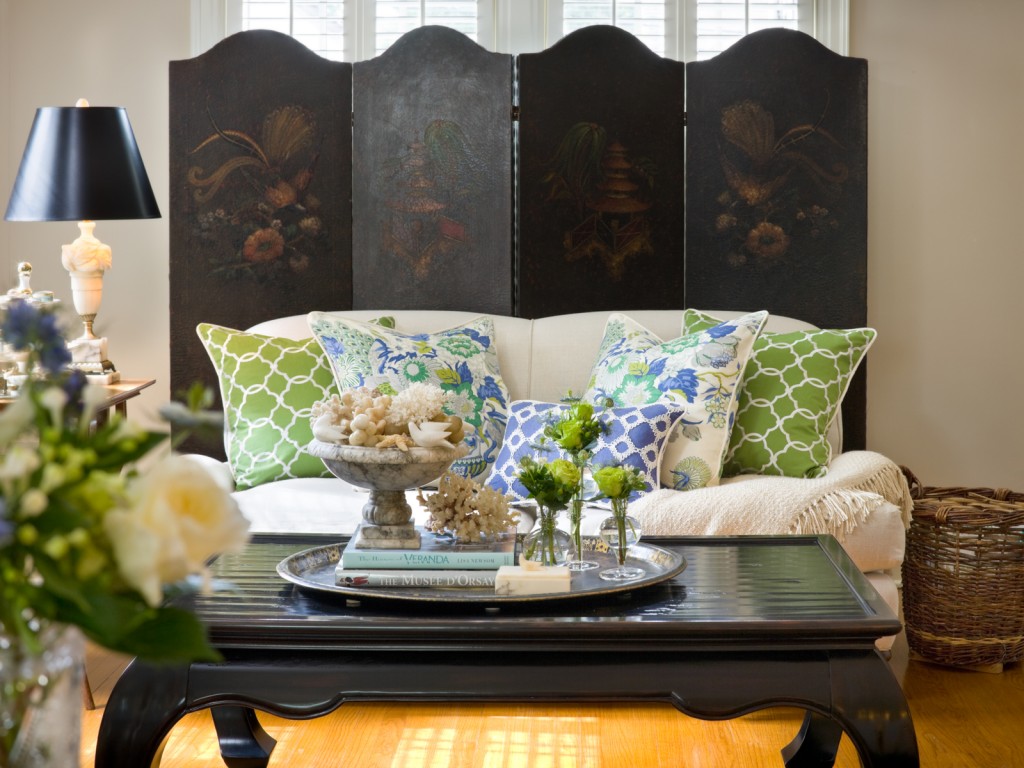 Don't think I'm a dark person, but in my opinion, every room needs some black. This powerful neutral fuels a room with drama, offering both a strong presence and much-needed negative space. Here are seven places you can introduce some black magic into your décor: 
Furnishings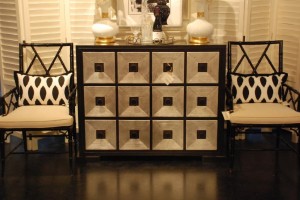 My love affair with black and white furniture goes way, way back, and it's only grown stronger through the years. I'm in the throes of rehabbing a little lake house, and I've imagined it done up in lots of different colors. But in the end, I went back to my first love: black and cream. I started by covering a few chairs in the living room in a subtle black and white ticking. The cozy room is now filled with powerful touches of this non-color.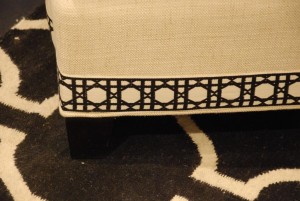 Black can act like the lines in a coloring book, defining the silhouette of upholstered furniture. In the photo above, taken at Nell Hill's Briarcliff, we trimmed this gorgeous cream sofa with a geometric black tape. The black edging took this sophisticated but sedate piece of furniture and raised its drama quotient.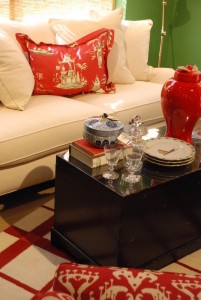 Whether it's a bookcase, hutch, coffee table or chair, be sure to add a piece of black furniture to your room. This simple black box coffee table is the visual hub of this beautiful furniture arrangement at Nell Hill's Briarcliff. The beauty of painted black wood furniture is that it will always look hip, never dated, making it a safe investment.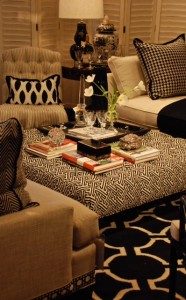 All you need is a provocative mix of patterns to make a black and white grouping vibrant. In this arrangement at Nell Hill's Briarcliff, the mood is set by this coffee table ottoman covered in an edgy geometric pattern. The constellation of furnishings and accents that surround it continues the magic.
Accent Pillows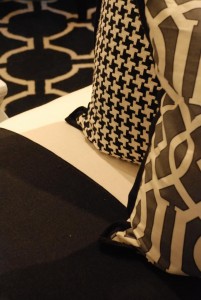 If you want to decorate with today's bold patterns but aren't a fan of the saturated colors that are so hot right now, add a geometric pattern in black. We tossed this dynamic duo on a white sofa at Nell Hill's Briarcliff and were amazed by how it looks both contemporary and traditional at the same time. Black and cream accent pillows can buddy up to every other color in your room, from pastels to  bright bolds.
Bedding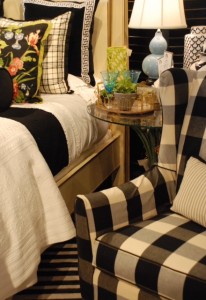 Custom bedding transforms a bed from a place you crash at night to a work of art. This beautiful bed decked in black and cream, popped up with a sprinkling of green, blue and coral, is fresh but timeless.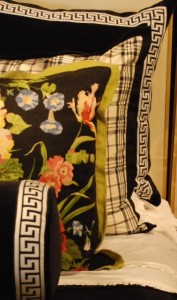 The pillow combination on this bed is a great illustration of how you can take decidedly traditional fabric patterns and give them a contemporary feel. The pattern is a little bolder and the colors a little cleaner.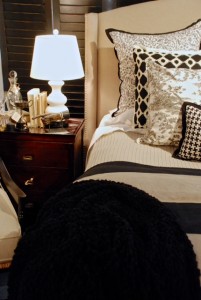 This black and white bedding ensemble is the stuff of dreams. The snuggly black throw finishes off a bedscape that proves a narrow color palette can be over-the-top on drama.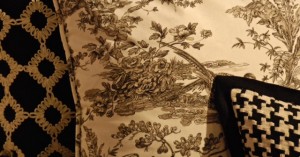 The pillow mix is a blend of old and new, with this gorgeous toile pillow sandwiched between restyled hound's tooth check and embroidered pillows. I love this just the way it is, but if you want to add a splash of color to a black and white bed, anything goes.
Artwork and Accessories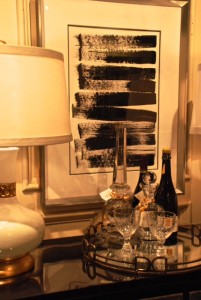 Artwork that relies solely on the interplay between black and white is some of my favorite. Whether it's a black etching, black and white photography or a modern painting like this one, mix some black and white art into your home's galleries to provide a nice contrast.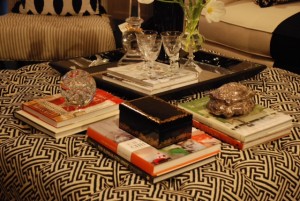 Black accents are a perfect pick for any room. The simple touch of this black backed mirrored tray, a little black wooden box and a few black coffee table books are all this picture-perfect coffee table display needed.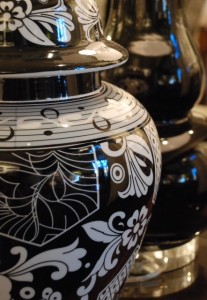 Be still my beating heart! I've flipped for this black and white temple jar. Place a pair on your fireplace mantel, at the center of your dining table or in a bookcase. They are divine! Notice the black ceramic lamp in the background of the photo above? Black lamps are also a marvelous accent for a room.
Rugs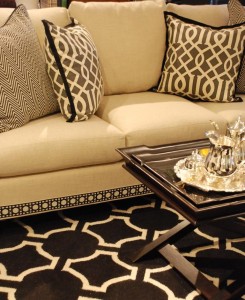 In my lake house redo, I tossed a black and white striped flat weave rug on the floor to pull the conversation area together, similarly to how we used this rug in a showroom at Nell Hill's Briarcliff.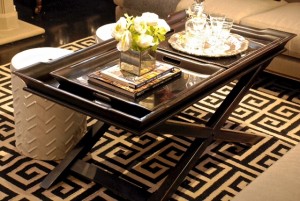 We are adding black and white geometric rugs to lots and lots of rooms now at Nell Hill's and our customers love how they ground their furniture groupings. I love the over sized hound's tooth pattern and the Greek key.
Dishes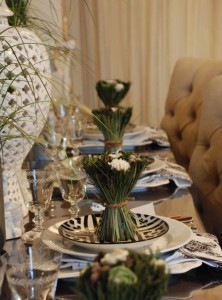 Whether you want a tablescape that is casual or formal, dishes and linens that feature black are the perfect pick. The table above, from Nell Hill's Briarcliff, shows off the power of a black and white palette. Add in clear glass goblets and white pottery in the centerpiece and the table steps up its style.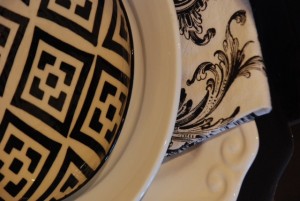 If you don't have a set of basic white dishes, get one. This close up photo illustrates how you can constantly reinvent your table by starting with white dishes then adding an accent plate or two.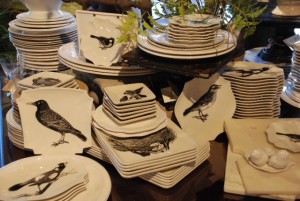 I had to show off these wonderful dishes we just got in at Nell Hill's. These are so lovely you could hang them as artwork, or prop one on an easel and use it as a backdrop for a display on your mantel or in a bookcase.
Paint
Every January, we repaint at Nell Hill's, treating the store's walls as a color lab where we can experiment with different color combinations. When Rich, one of the talented interior designers at Nell Hill's, suggested we paint the main gallery at Nell Hill's Briarcliff black, I was game. He had just painted a client's dining room black and couldn't quit raving about how amazing it looked. He was right! The black paint melted into the background and called attention to everything else in the room. Light and dark furnishings looked equally as magnificent against the black walls, as did the artwork. It's a very sophisticated look and I'm so glad we stepped out and tried it.
Next Week … Spring is around the corner! I'll show you how to welcome the colors of the season into your home through accent pillows.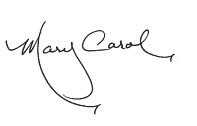 P.S. Please join me for our Spring Open House March 14-15 at Nell Hill's Atchison and Nell Hill's Briarcliff! The stores will be packed with gorgeous spring decor and we'll have stations set up throughout where you can learn new decorating techniques and gain inspiration for transforming your home for spring. Bring your friends and your camera, and come have fun with us as we welcome spring!