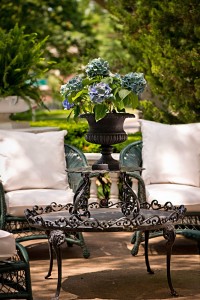 I can almost smell the hyacinths, feel the sun on my face and see the bright emerald of the tender shoots reemerging in my garden. Oh my goodness, but I am so ready for spring this year. In fact, all of us at Nell Hill's have raging cases of spring fever, and we are excited to pass this seasonal disorder, with all its joy and energy, on to you! If you have the bug, there are two cures: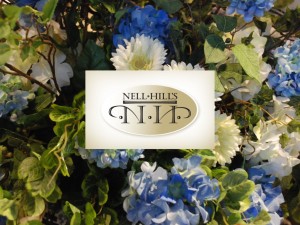 First, come have a blast with us at our first-ever in store Spring Open House at Nell Hill's Atchison and Nell Hill's Briarcliff on March 14-15, during regular store hours. If you thought we did the holidays and fall decorating up big, just wait till you get a load of how we transform the stores for spring.We have all this in store for you, and more:
Elegant and whimsical spring tablescapes
Spring door decorating ideas
Amazing new window displays
Gorgeous gifts for your home and garden
Can't make it to the spring open house?  Cure your spring fever with these four fun steps:
1. Fill Your Table with Wonder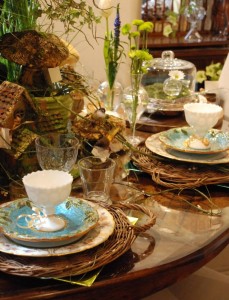 For an instant pick me up, set your dining tables for spring. Pack each place setting with lots and lots of whimsy, like we did on this magical tablescape at Nell Hill's. Start with an interesting base, like this wicker charger. Then layer up with a mix of plates, perhaps a basic white dinner plate topped by a spring salad plate, the finished with a sorbet cup.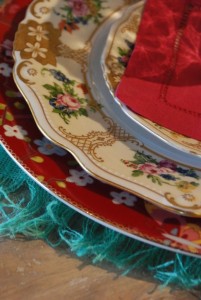 We used old fashioned floral plates in this example to show you how you can re-imagine old patterns, making them feel fresh and new. (If your old dishes are now leaving you cold, bring a plate to Nell Hill's and let us help you give them a new lease on life.)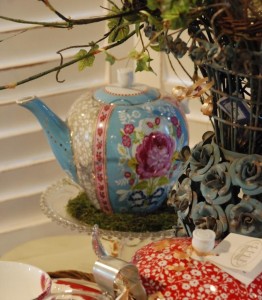 Clear glass is a great addition to a spring table, whether it's your stem wear or serving pieces, like this simple glass cake plate that serves as a riser for this cute-as-a-button tea pot. This romantic pattern, done in pinks, blues and reds, has been wildly popular at Nell Hill's. It has a vintage feel thanks to its floral motifs, yet feels so young and fun.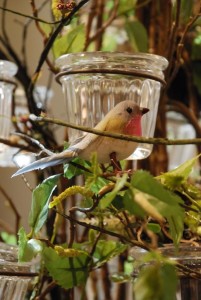 Have fun with your spring centerpieces. Start with wonderful containers to hold grasses or flowers or succulents, live or artificial. Then add in accents like little votive candles. We filled this centerpiece with glass votive cups held aloft on stakes. The little clip-on birds perched here and there throughout the arrangement reward the careful observer.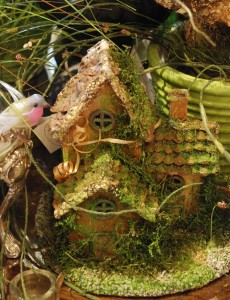 This woodland house is a charming addition at the base of the centerpiece. Looks like home for a gnome, and peering in the tiny windows will delight your inner child.
2. Dress Up Your Door with Spring Greens
Your front door décor tells everyone what to expect inside. But that doesn't mean you have to spend a lot of time on a look that grabs attention.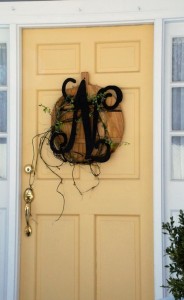 Have just a second? Hang your monogram on the door, entwined with a few twists of spring greens. For the stunning but simple look above, we hung one of our wooden paddles (used as a tray or serving piece usually) from the door knocker. Then we mounted a metal monogram. These were a HUGE hit at Nell Hill's over the holidays and can be used year round in your décor. Don't like black? Spray paint the letter white or a playful spring color like magenta, tangerine or apple green. Finish off this door treatment with strands of spring greens or ribbons.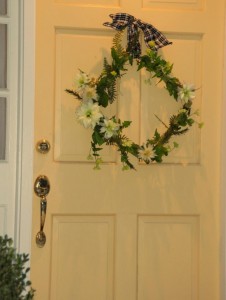 If you love the simplicity of a front door wreath, less is more this season. The wreath above is sparse and simple but full of cheer.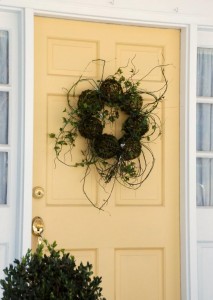 If you can't find a wreath you like, make your own like we did by connecting seven inexpensive moss balls from Nell Hill's. Stop there or give the wreath added movement by weaving in faux spring vines, like ivies and honeysuckle. You could thread in a spring ribbon, too.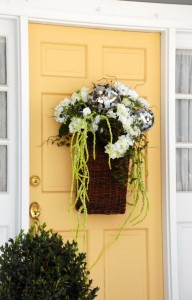 I am over the moon about these inexpensive wicker wall baskets. Hook them to your door knocker or an "s" hook hung over the door, jam-pack them with flowers, and it's spring. We tucked in a few moss balls and silver orbs for visual interest. You could sub those for little birds' nests – cute!
3. Liven Things Up with Spring Linens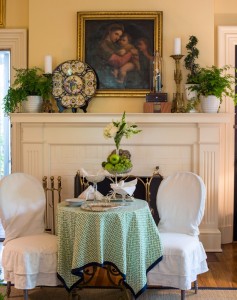 All it takes is a few yards of spring fabric to give your home new energy. One of my favorite tricks is to take a yard of fabric, hem it on all sides, and use it as a table topper. Turned on the diagonal on my dining table, it sets the stage for seasonal magic.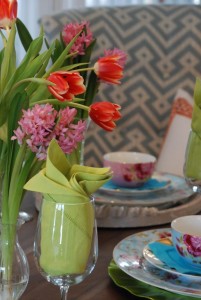 Perk up your place settings with spring napkins and placemats. It doesn't take much to add some sparkle to your table.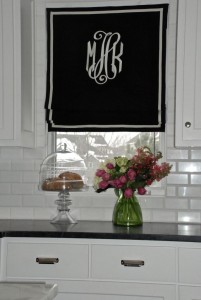 This is also the perfect time of year to get going on those window treatments you've been putting off. Everything outside your window is going to start getting pretty, so frame your windows with a great treatment. My favorite looks are Roman shades or panels, jazzed up with interesting finishes. Check out how amazing the monogram looks on my friends Kristin and Matt's kitchen Roman shades!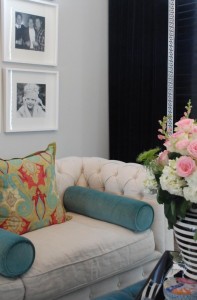 Another simple but gorgeous finish for shades and drapes is to outline the sides and bottom with a Greek key tape.
4. Wake Up the Garden with Goodies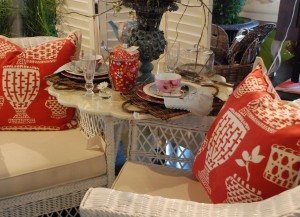 I don't have a lick of ability when it comes to planting or tending a garden. But I do love to accessorize them! Dot your beds with interesting focal points like a bird's bath, a trellis, a garden statue or an urn holding a shrub or flowers. Remember, when it comes to garden décor, less is more.  Just a touch here and there is all you need.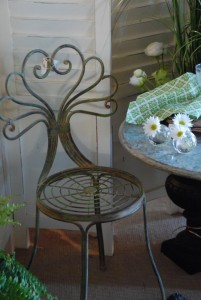 On your patio or porch, focus your attention on creating comfortable and attractive seating areas. I love this little metal garden chair we just got in at Nell Hill's. Other favorites? Outdoor accent tables and ceramic garden stools. If you want to freshen up your weather-worn outdoor cushions and pillows, start now so you will be ready on the first warm day of spring.
Next Week … Another great way to invigorate your home for spring is with accent pillows, either tossed on your furniture or woven into your bedding ensembles. I'll show you the season's hottest looks.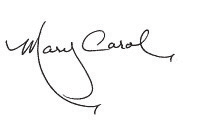 PS Hope to see you at the Spring Open House at Nell Hill's Briarcliff and Nell Hill's Atchison. For more information, visit www.nellhills.com.