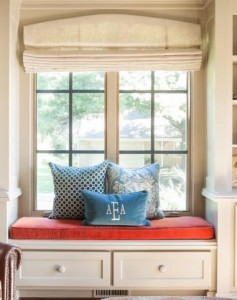 Every spring, as the first crocuses push their way through the frozen ground, I whirl through my home switching the heavy layers of my winter décor to the lighter, brighter colors and patterns of spring. One of the first spots I hit? My accent pillows. Adding a few spring pillows to your sofa or bedding is one of the fastest, easiest and most fun ways to hit the "refresh" button on your interior decorating. Here are three ways to spring forward with pillows:  
1. Embrace New Spring Colors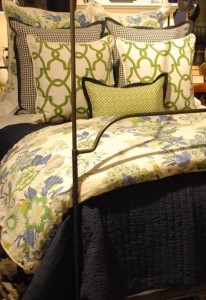 Emerald green, navy, white – they are big, big, big this season at Nell Hill's. There is something so springy, so crisp and clean about navy, and when it's paired with the brilliance of white and the vibrancy of emerald, it's magical. I'm doing a whole blog on spring bedding in a few weeks, but I couldn't resist showing you this bedding ensemble at Nell Hill's Briarcliff because it shows what you can do with this marvelous trio of spring tones.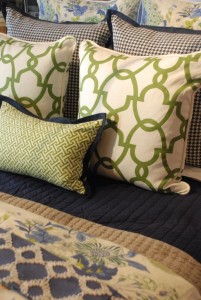 When you pull in the colors of the season, don't be afraid to mix up the shades. I toss together all pigments of greens and blues, just like Mother Nature does. I think it adds more depth.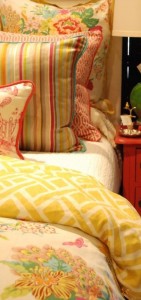 Another wildly popular spring color scheme is preppy pink and green. It's a classic combo, but looks brand new when re-envisioned using today's cleaner, more saturated patterns. Don't be afraid to layer up lots of bold colors, like lime green, fuchsia and goldenrod.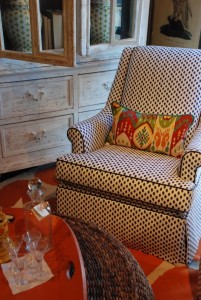 This pillow does it all, perfectly illustrating how much can be accomplished in your decorating by adding the right accent pillow on a piece of upholstered furniture. The creative interpretation of the classic Ikat pattern, brought to life with the popular palette of jewel tones, is the ideal addition for a seasonal redo.
2. Explore New Spring Patterns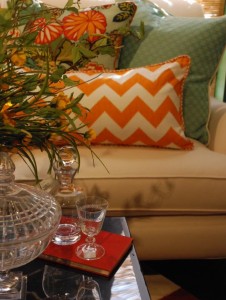 Some of this year's popular spring patterns are electrifying and make my heart thump with joy. At Nell Hill's, we pulled together three interesting patterns to create this high-octane cluster of pillows that transforms the off white sofa into an ode to spring. The bold chevron stripe in tangerine is balanced by the to-die-for chiang mai dragon pillow, and quieted just a bit by the textured blue solid. Talk about a "wow" statement!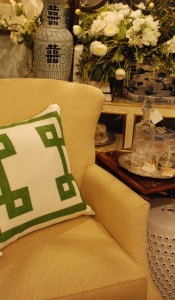 Spring patterns don't have to include a rainbow of peppy colors. This wonderful green and white pillow is the definition of fresh. Toss it on a chair, including your dining host and hostess seats, and you are ready for the season.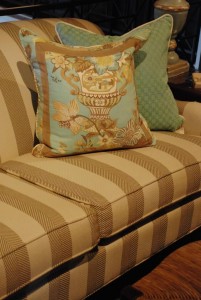 Spring is also the perfect time for quiet color palettes. The soft blues and tans in the pillows above are dreamy and light and serene, like a spring day.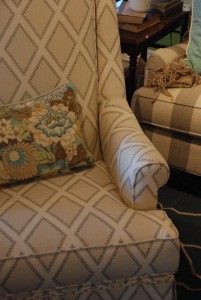 Florals have made a big comeback in the past few years. But today's flower power is cleaner, less busy, utilizing strong color blocks and empty space. We really like to use floral patterns for accent pillows at Nell Hill's because they offer up a bower of colors you can pull out for accompanying fabrics, wall paints and accents.  Even with the more serene color palette featured in the fetching pillow in the photo above, you can still go in lots of different directions, thanks to the bouquet of greens, blues and tans.
3. Experiment with New Pillow Shapes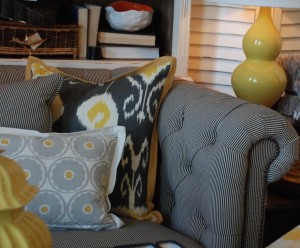 When you add your new spring pillows to your sofa, chairs or bedding, experiment with different shapes. Instead of just tossing matching square pillows on each corner of your sofa, incorporate three different sized pillows in a variety of shapes. For example, if your sofa came with two 18 inch square pillows, as a lot of them do, add in a larger sized set of pillows, from 21 to 24 to 27 inches square. On the sofa above at Nell Hill's Briarcliff, we paired two different sized squares with a 14 by 22 inch lumbar, blending an interesting mix of patterns.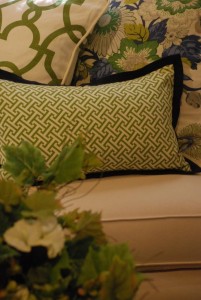 If you are tired of the upholstery on your sofa, or the pillows that came with your sofa are getting worn down, have a new pillow cover made to replace the old. You will be amazed by how this switch-a-roo instantly updates the look of your sofa. Then, strategically add a variety of pillow shapes to give your furniture that unbeatable custom look.
Next Week … Hallways are the most used spaces in our home, yet are frequently overlooked when it comes to decorating. Discover how to make your passageways some of the most beautiful areas of your home.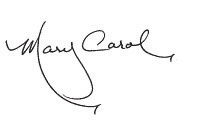 PS Join us for our in-store Spring Open House this weekend at both Nell Hill's locations!