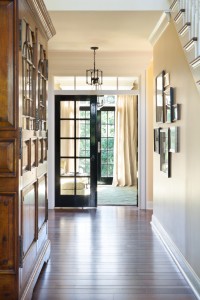 What rooms do you use most often in your home? Bet the hallways that connect every single space didn't even pop to mind, even though we pass through these corridors constantly. Most likely, your hallways are unmined decorating opportunities, just waiting to be given the same flare that fills the rest of your home. Here are four ways to turn these passages into some of the most beautiful areas of your home:  
1. Create a Gallery of Art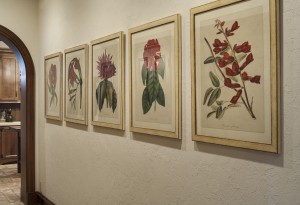 If you have a hallway that is long and narrow and doesn't leave much room for furnishings, it's the perfect spot for a breathtaking art gallery. There are so many directions you can go when hanging art in this wide open space. Create a line or grid of botanicals, as in the photo above.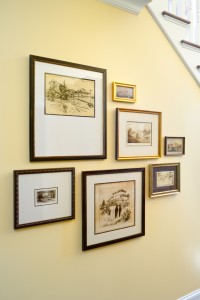 Or, design a montage of art mixing dissimilar pieces, like my friend did in her entryway hall in the photo above. Do you have a wonderful collection of family photos? Feature them in a hallway that connects the home's bedrooms.  For a more professional, classic look, use a generous amount of cream or white mat when you frame the photos. Here's a fun idea: create a family timeline with the photos, starting with baby pictures and working up (I heard a designer refer to this as the Wall of Shame because it includes photos of us at some of our most awkward phases in life). A customer I worked with at Nell Hill's recently took this idea one step farther by also framing old family letters and other mementos to hang with the photos.
2. Tuck in a Bench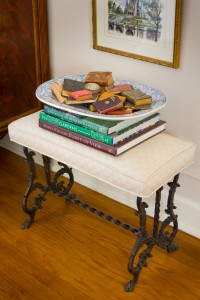 Benches are perfect additions to hallways. They are narrow and low profile, absorbing some of the empty blank space in the hall without eating up too much room. In the photo above, my friend Marsee didn't miss the opportunity to dress up the section of wall that connects her living room and kitchen. She tucked in this tiny footstool sized bench, then dressed it up with a stack of books, a beautiful china bowl and a tumble of tiny antique leather books. Every time you go through this passage, it warms your heart.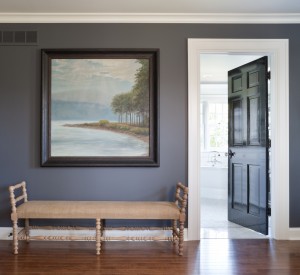 Most of us love to toss our stuff someplace until we have a chance to put it away, like our coat or purse or the day's mail. Benches in hallways are the perfect temporary catchall. They also offer an ideal spot to sit and put on your shoes before you head out the door.
3. Add a Table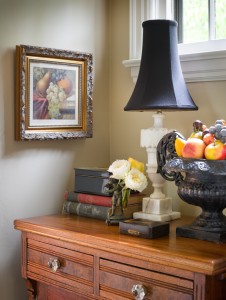 If you have hallways that are punctuated by lots of doors, leaving bits of open wall space in between, see if you can squeeze in a small table or chest of drawers. The photo above is of a little alcove that connects Marsee's kitchen and dining room. Instead of leaving it bare, Marsee warmed up the space by putting a little antique chest against the wall, decorating it with a beautiful tableau, including a stunning lamp that adds ambient lighting, making the passageway even more inviting.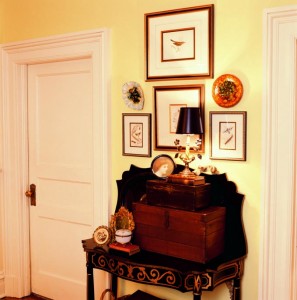 In my home all the upstairs bedrooms open into a central hallway that revolves around the open stairway. The space is crosshatched by doors and would feel so utilitarian and unremarkable is the spots between were unadorned.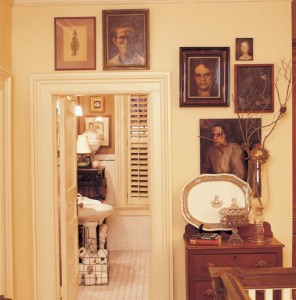 My favorite trick is to showcase a lovely antique or reproduction desk or chest, decorate it with favorite collectibles, then surround it with a halo of artwork, like I did in the two photos above.
If your hallway is too narrow to accommodate a chest of drawers, outfit it with a console table that's about 12 inches wide and 34 or 36 inches tall (taller than a 30 inch sofa table, which is too short to stand alone in a hallway). Top the console table with a buffet lamp and some interesting do-dads.
4. Showcase a Large Wood Cabinet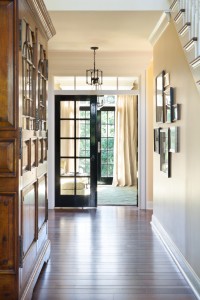 I just blogged about my love for large wooden cabinets and what a powerful addition they are for every room in the house, so you know how passionate I am about these gorgeous pieces of furniture. They also look absolutely amazing in hallways. If your hallway is in an open entry, like in the photo above, you can feature a large cabinet, which will instantly make this cavernous space feel grounded.
If your hallway is narrow, pick a wood cabinet that is about 12 inches wide, like a tall, thin bookcase. Want to go for it? Fill the hallway with wall-to-wall bookcases that reach to the ceiling. Fill the shelves with books, displays, framed snapshots of loved ones. If the hallway is by your bedrooms, use it to hold beautiful linens.
Next Week … Trays are one of the most powerful tools in my decorating arsenal. Come see how to use this perennial Nell Hill's favorite in your home.