If you went on a scavenger hunt for a tray in my home, you'd find one in every single room. In the 33 years I've worked in the world of interior design, some of the decorating foot soldiers I use to style my home have come and gone (anyone remember tassels?). But trays are here to stay. Here are my favorite ways to use trays in my home to keep my life organized and beautiful: 
Stage Beautiful Displays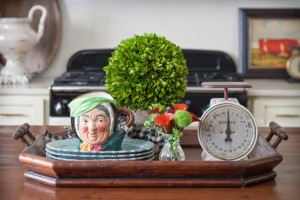 There is nothing more fun for me than dressing up bare tabletops with beautiful displays. Nine times out of ten, those displays are built on top of a tray.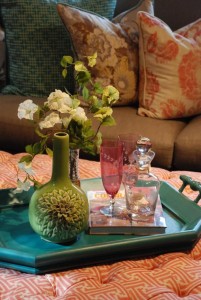 Trays make the perfect stage. Magically, when an odd assortment of accents is placed together on a tray, the individual items suddenly come together with one voice and have a powerful impact.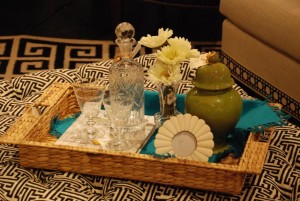 Trays also ground a cluster of accents, giving them a visual place to land in the expanse of a bare table. Have a collection you want to show off? Put a few choice pieces on a tray.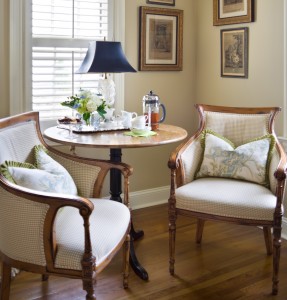 Here's another delicious example of how trays can be used for tabletop displays. This ornate silver tray holds an accent lamp and coffee makings in my friend Marsee's breakfast nook.  Somehow, using a tray turns mundane activities – like getting your morning cup of Joe – into an event.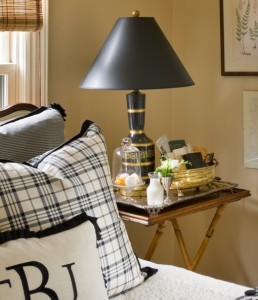 I like to use trays at tabletops. Sometimes, I'll top a stack of books with a tray to use as a table next to a reading chair. They also work wonderfully on top of urns or garden stools. By placing a tray on top of this bamboo bedside table, Marsee turned the tabletop into usable space that is also stunning.
Keep the Kitchen Organized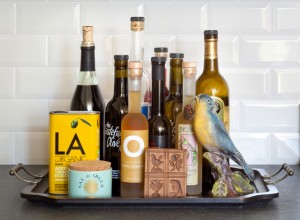 Since I'm not a cook, I am clueless about the differences in all the specialty oils and vinegar my husband uses when he crafts dinner for us. (But, I know I love the results!) Instead, I see all these lovely bottles as decorative items for the kitchen counter. All you need to do is place them together on a tray, like my friend Julie did in the photo above.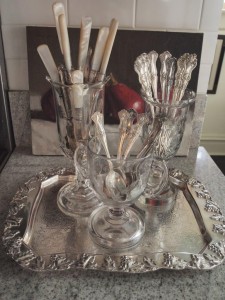 My kitchen is pretty small and storage space is at a premium, so I have to keep things out on my counter tops. That doesn't mean that the items on display shouldn't look nice, right? Case in point: I take a few place settings of silver straight from the dishwasher and put them in these lovely glass cups, collected on a tray that sits near our little kitchen table, ready for dinner.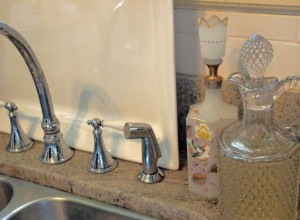 Try using a tray as a backsplash in your kitchen. I always keep a tray behind my sink to keep water from splashing on my kitchen window. Plus, I just love how they look layered on the counter.
Dress up a Bar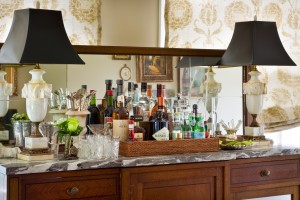 A beautifully set bar raises the spirits as much as the libations set upon it. A favorite trick of mine is to build a simple bar on top of a tray. Marsee created a bar on her sun porch that is so lovely, you just want to drink it in. This simple wicker tray is a perfect pick to hold the bottles and bar supplies. Notice how she used other versatile decorating tools to add to the ambiance, like the cast iron garden urn holding the serving pieces and the silver candy dish displaying the napkins.
Act as Artwork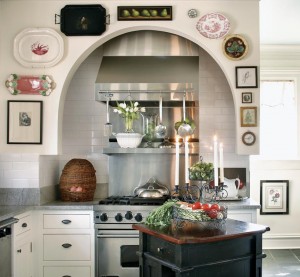 My definition of "artwork" is very broad, and stretches to include just about anything I find delightful and can somehow manage to hang on my wall. Trays definitely fit in this category. The above photo of my kitchen shows how a tray adds to the montage of curiosities I have hung on the arch that frames my stove. All you need is a large plate gripper and your tray is ready to hang.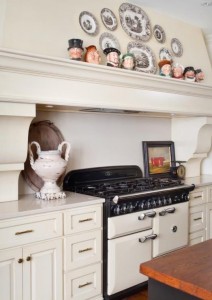 Another way to treat a tray as a piece of art is to use it as a backdrop for a tabletop display. My friend Anne placed this very simple tray against the wall next to her stove to frame the white jar. I like how the lines of the tray mimic those of the plates hung above the stove. Poetry!
Elegant Entertaining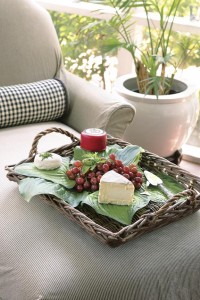 When you are entertaining guests or just want to make your daily life more beautiful, trays can be your best friend. Food is so much lovelier when presented on a tray …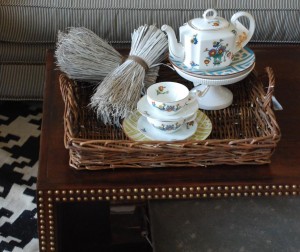 …so are drinks!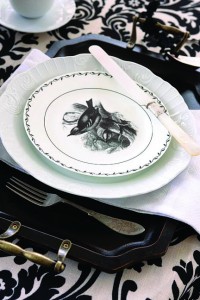 Trays are also great at anchoring place settings on your dining table, keeping individual elements like silverware and linens tucked up tight.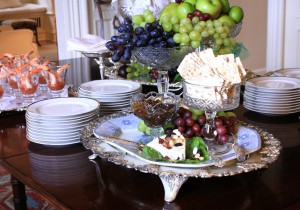 The shot above is my dining table set for a party, made magical by trays. A common mistake people make when setting up buffets is to place all the food on plates and platters that are the same height. It's functional, but not very fun. For a table service exploding with drama, use serving tools like these glass compotes that allow you to display food at a variety of different heights.
Next Week … If you want to make a statement with color in your home, check out turquoise. I'll show you ways to add punches of this powerful color to your décor.