Life is just more fun when you are treated to happy surprises, like an unexpected bouquet of flowers, a call from a long lost friend or an afternoon off on the first beautiful day of spring. I think our homes need some joyful surprises too, little touches here and there that make us pause and smile. The color turquoise is the perfect pick to give your home – and life – some verve. Here are a few ways to splash up your décor with turquoise: 
A Statement Piece of Furniture
One of my favorite approaches when designing a room with people who are up for a little adventure is to pull together a harmonious mix of furnishings, then, KA-POW!, throw in a decorative element that is completely unexpected. It shakes everything up a little and makes the space dynamic and exciting. Just about anything done in turquoise will get you there.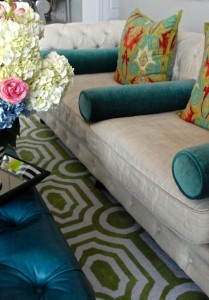 My friends Matt and Kristen came into Nell Hill's ready to infuse their new family home with their vibrant personalities. They have an eye for decorating and are fearless with color. So they turned to turquoise to add energy and excitement to their décor. The heart of their stylish living room is this edgy blue leather coffee table ottoman. Ottomans are a great place to start if you want to add a pop of bold color to your décor.
Toss in Some Pillows
To connect their spunky turquoise ottoman with the rest of the room's décor, Matt and Kristen tossed a garden of dissimilar accent pillows onto their sofas (two photos up). The mix of blue pillows on another one of their sofas, pictured above, helps thread turquoise throughout their home. I love how the pillows aren't matchy-matchy yet feel unified because they blend together variations of blues.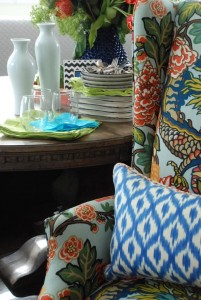 If bold color makes you a bit nervous, try it in small doses. You can get a lot of visual appeal by adding a pillow or two to a sofa or chair. That's what I do in my home. My white sofas and chairs serve as blank canvasses for an ever-changing library of seasonal pillows. I don't want lots of bold, saturated color in my home, but I love the spice I get from tossing a few peppy pillows here and there.
Create a Colorful Foundation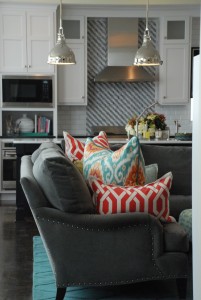 This swoon-worthy shot of Matt and Kristen's kitchen and adjoining family room is a great illustration of the power of an area rug to set the tone of a room. With its palette of white, black and gray, the space is soothing and sedate. The added pops of blue in the area rug and accent pillows makes sure the space scores a perfect 10. It's fun, fresh, youthful and alive, yet still plenty grown up for this young couple.
Add Sprinkles of Blue Accents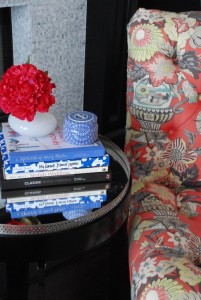 Since turquoise goes with just about every color and style under the sun, it's easy to celebrate this popular color in your home. Try this: Peruse your bookcase for a few books that feature turquoise in the cover. Stack the books on a side table or coffee table. Top them with a fun accent that also dots in some turquoise, like this little box at Matt and Kristen's home. You have an instant ode to blue!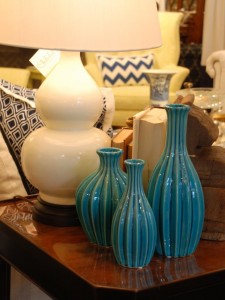 You don't have to read my blog for long to know I'm crazy about brightly colored pottery. It's super inexpensive, has wonderful lines and comes in just about every color imaginable, making it a great go-to pick if you want to pull together a killer display in a jiff.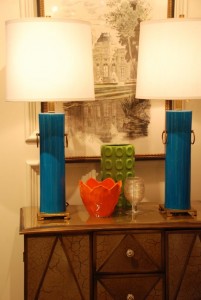 Arresting accent lamps are one of my many addictions. I think of lamps like artwork, an ideal way to add individual character to a space and make it feel "finished." Turquoise lamps don't even have to be on to brighten up a space.
Create Blue Rhapsody on the Table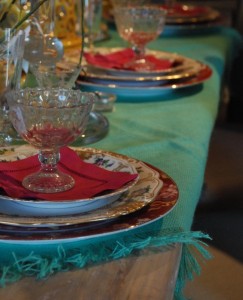 Turquoise is perfect for spring and summer entertaining because it radiates cheer like a cloudless sky. To make this lovely table a celebration of spring, we started with a blue table topper. It you look closely, the topper doesn't really match the dishes on our table, and that's OK. In fact, it's preferable, in my opinion. The red tones in the china explode next to the turquoise cloth.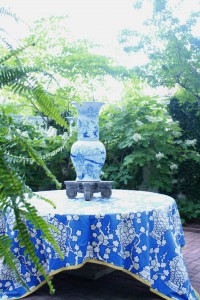 You can take things a step farther by covering your table in a stunning tablecloth like this one.  With its beautiful blend of colors and luxurious look, this custom cloth will set off anything you put on top.
Bed Time Blues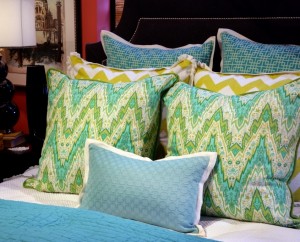 We have so many wonderful fabrics that feature turquoise at Nell Hill's Briarcliff this spring that we are using it again and again when we design our custom bedding ensembles.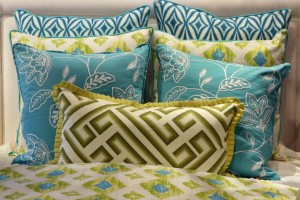 Because this flexible tone looks great with everything from brown, gray and yellow to coral and apple green, it is easy to add to your existing bedding to give it a new lease on life or to throw into the mix if you are designing a new bed.
Next Week … Ready to entertain this spring? I'll have some tablescapes to inspire you!