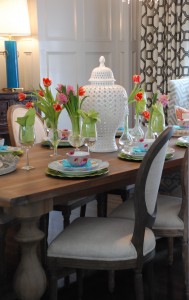 Light and breezy, super easy: it's a good motto when it comes to setting a stunning table for a spring soiree. The spring tablescapes that lift my heart are filled with intriguing layers and a beguiling combination of colors, yet feel airy and fresh. Here are five insider tips on how to achieve this delicate balance: 
1. Use vessels and vases in your centerpiece.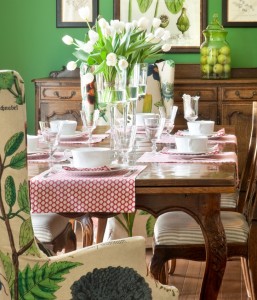 Your centerpiece can be a show stealer without taking lots of time to craft. How? Create drama in a jiff by using vases and vessels in creative ways. The centerpiece above is an ode to spring, and to keeping life simple. The phalanx of three glass compotes hold graceful tulip blooms (I grab inexpensive cash-and-carry bouquets at the florist or grocery store). Keep vessels like these at your table's center year round, so all you need to do is add a seasonal flourish right before guests arrive.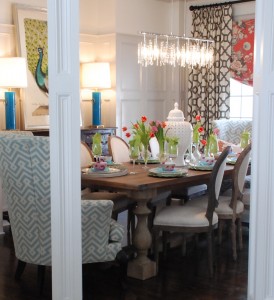 Here's the same idea, executed a little differently. The ceramic jar is a beautiful focal point for this table and gives the centerpiece lots of height. All that's needed is a constellation of small vases holding a single spring bloom. I love these small mouthed vases because no floral arranging skills are required to make them look lovely. If you don't have time to snatch flowers before your party, sub in a sprinkling of votives.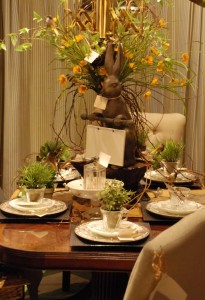 Have a few more minutes to build a centerpiece that will be the talk of your friends? How about this darling idea we hatched up at Nell Hill's, inspired by Beatrix Potter. The best part about this table? It looks complex, but was really fast and easy to pull together. Again, the secret is to have the right tools on hand.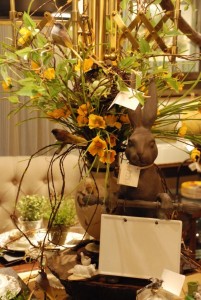 Start with a riser, a stage that will elevate the decorative elements so they are visible. Place an arresting collection of items on top, like our bunny holding a placard just waiting for a personal message from you, such as the menu or a greeting to party guests. The vertical space in the background is made brilliant by a lovely vase holding a spray of faux spring foliage.
2. Ground each place setting on a charger.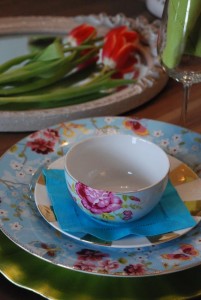 If you like to entertain, or just want a table that fills your senses as much as your stomach, I recommend investing in three sets of chargers. One should be a fun and inexpensive color burst that gives your table a jolt of energy, like these kicky green plastic chargers. We carry these beautiful, bargain chargers in a rainbow of fun colors at Nell Hill's, and they are one of my favorite ways to launch a place setting that makes people smile.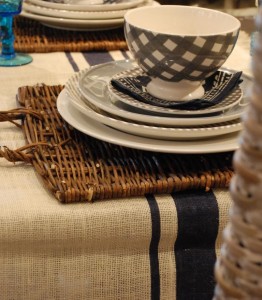 The second must-have set? Anything that features organic materials, like these wicker trays. Shockingly inexpensive, these are another go-to tool I use when I entertain. I love to pair these twiggy mats with fine china to shake things up.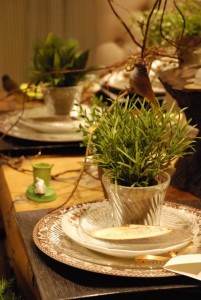 The third set? Something that goes with everything, like the wood chargers in the photo above. You can take these anywhere from ultra-formal to casual just by combining them with different dishes.
3. Make magic with your dishes.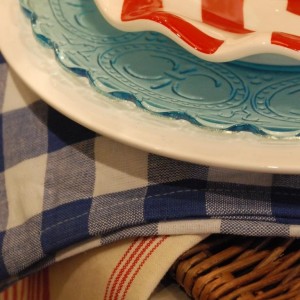 Some women can't have enough shoes. I'm that way when it comes to dishes. I have never seen a set I didn't want. Thankfully, the limited storage space in my home has kept my dish addiction in check. If you just have room for one set, I recommend a set of timeless white dishes, the go-with-anything essentials for any table. Then, as your budget and cupboard space allow, invest in accent dishes that allow you to completely transform the look of these chameleons.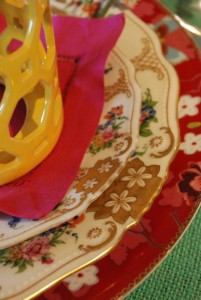 I love everything that's old or has a vintage feel. Dishes are no exception. If you are lucky enough to have dishes that have been passed down through your family, or you've collected pieces through the years like I have, mix them into your spring table. Even patterns that feel stuffy or dated can be reborn when paired with newer, fresher colors and designs. Not sure how to do this? Bring in a place setting of your dishes to Nell Hill's, and we will help you reinvent them.
4. Layer in seasonal linens.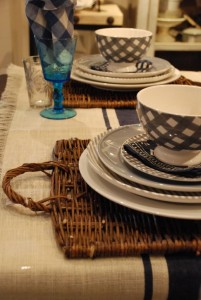 I keep a few interesting 52-inch square tablecloths in my linen drawer at home so I can create a few different looks on my table when I entertain. Turned on the diagonal at the center of my table, they break up the wood and add a shot of color, texture and pattern. The tablecloth above, from a tablescape at Nell Hill's Briarcliff, does the same thing.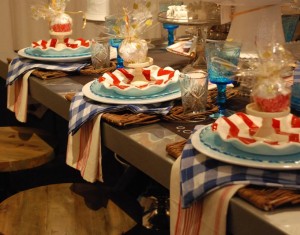 Pick a few sets of cloth napkins that go well with your table toppers. Stark white napkins have won my heart and loyalty because they look crisp and clean, like white sheets and white towels. Seasonal napkins are also the ideal way to add a bit of color and pattern to your table and create the multi-layered look we love at Nell Hill's.
5. Finish with complementary flatware and stemware.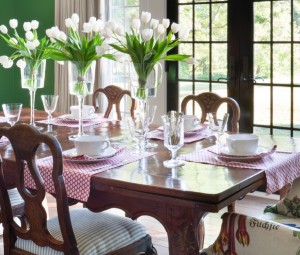 Because I entertain so much, I've collected a few sets of flatware that allow me to finish off my tablescapes with distinctive style. The most important set you can have is a go-with-everything basic. Then, as storage space and budget allow, add in a few extra looks, like a set with colorful porcelain handles or faux antlers or bamboo. How about an odd assortment of vintage silver or silver plate?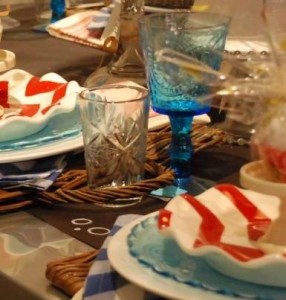 For a clean, crisp look, use an assortment of clear glass goblets on your table, perhaps working in pieces that have slightly different designs, like an etched pattern or a gold rim. Or, have some fun with colored stemware that pulls in the various colors featured in your tablescape.
Next Week … Freshen up your bedding for spring. I'll share the hottest looks of the season in spring and summer bedding at Nell Hill's.