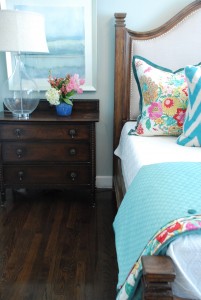 It's time to crawl out of that cozy cocoon of your winter bed and hit the "reset" button, lightening up your bedding for spring. I asked Rita, who is a wiz at creating to-die-for bedding at Nell Hill's Briarcliff, to tell us how. Here are her three suggestions for getting your bed ready for spring and summer snoozing: 
Start with a Clean Slate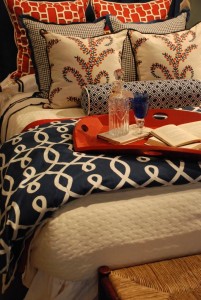 Sometimes it's difficult to imagine your bed in new ways when it's all made up as usual. So strip that baby! Pull off your bedding right down to the mattress pad. With your bed bare, take a look around the bedroom.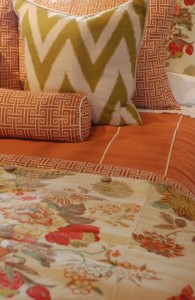 What colors do you want to add to your room? Are there colors in your artwork, window coverings or furniture you want to play up more? Are there patterns you might add to accent those in your room? If you need help seeing your room with new eyes, bring photos into Nell Hill's for some one-on-one dreaming. If you live far away, email them to us.  We love to help people see their spaces through new eyes and imagine what could be!
Evaluate Your Existing Bedding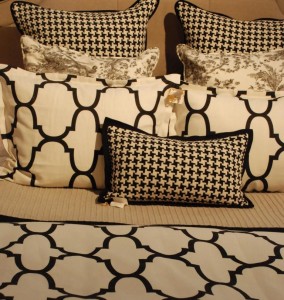 Once you have a vision for where you want to go with your bedding – and your bedroom –take a good hard look at each piece of your existing bedding ensemble. Anything looking threadbare and dated, faded and lackluster? What needs to be tossed into the wash or sent to the dry cleaner? Are there pieces, like pillows or throws or quilts, you are a bit tired of that you could rotate to a new room, like a guest room bed? Can you move a few accent pillows to your upholstered furniture to give them a brand new look?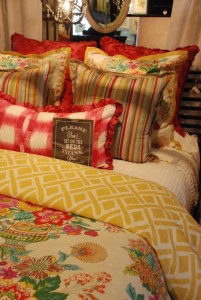 Now decide which pieces need to be stored away for summer. Fold up your winter weight blankets, like wool throws, and remove the forms from accents pillows that feature winter textiles and colors.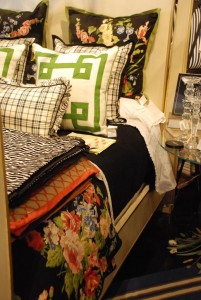 How can you use the pieces you have left to make your bed feel fresh and summery? One trick we use at Nell Hill's is to swap the position of our duvets and quilts with the changing of the season. When the weather is warmer, we take the lightweight mate lassie coverlet from the bottom of the bed and use it as a bedspread. The heavy duvets are then folded up and placed at the foot of the bed. Presto – the blankets are ready for the new season yet the bed stays as richly layered as it looked all winter. Another trick we love is to make our custom bedding two sided – one side featuring rich, yummy winter fabrics and the other light and bright summer weight fabrics. One flip of the duvet and accent pillows, and you have an entirely new bed!
Reinvigorate with New Additions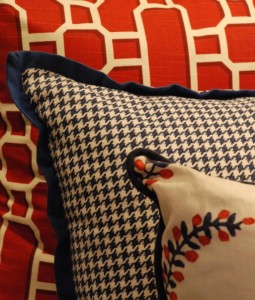 Now remake your bed with the pillows and blankets you want to keep there in spring and summer. What holes do you see? Are there ways you can fill in the gaps to infuse your bedding, and your entire room, with new energy? A new quilt, a few new accent pillows or duvet cover can update the room.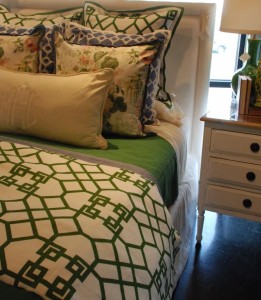 To create the unique bedding ensembles you see at Nell Hill's, we fearlessly mix a wide variety of colors and textures. What colors did you determine you wanted to add to your room? Now is your chance. Add in a quilt or a pillow or two that threads in a new, fresh tone. If your room is monochromatic, you can achieve the same effect by interjecting a pillow or duvet that features that color in a new pattern or texture.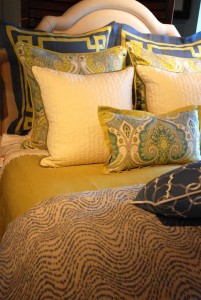 When we design beds at Nell Hill's, we always toss together a broad range of patterns, including stripes, florals, geometrics and solids. If you have a floral duvet, pick a color in the print you want to accentuate, then add a set of geometric pillows that feature that color. Work in a stripe, from a classic but subtle ticking to a sassy chevron zigzag. If your bed is formal and traditional, consider adding a pillow that packs a surprise, like an animal print or an Ikat. If your bed is contemporary, filled with bright, saturated colors, toss in a menswear pattern, like a plaid or check, or a floral.
Sweet dreams!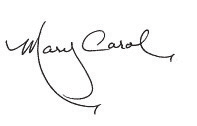 Next Week … Give your fireplace mantel a great new look for spring. I'll have four looks to inspire you.
MC