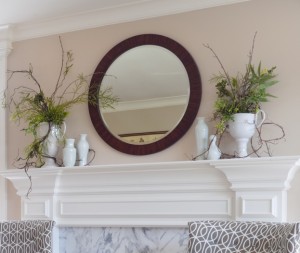 Ready to celebrate spring in your home? Make your fireplace mantel an ode to this season of new life. Here are four spring mantel treatments our designers crafted at Nell Hill's to inspire you. 
Dance of the Dishes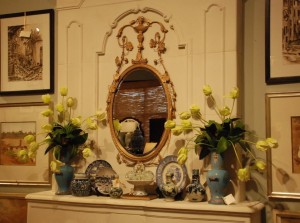 If you have an assortment of pretty dishes lolling about in your china hutch, bring them out, dust them off and showcase them on your mantle as part of a spring display. Since I'm crazy about blue and white dishes, we used those as our theme for this fresh treatment, but you could use a mix of plates and platters in any hues that make you think of spring. To get started, select an assortment of dishes and platters that are different enough to look interesting, yet still harmonious when grouped together, then prop them up in easels. We filled in with blue and white jars in a mix of sizes and styles. To shake things up a bit, the focal point at the center of our display is a little different: a cake plate holding a tumble of glass balls. You could put anything here that interrupts the flow just enough to capture interest.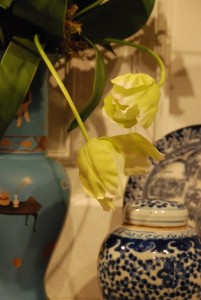 I like to bookend mantel displays to give the tableaux visual boundaries. These vintage looking vases did just the trick. They look perfect filled with a wild bouquet of faux tulips. For your display, find a matched set of vases, or pair together dissimilar vases that look smashing together. Fill them with flowers, or, if you are not into flower arranging, leave them empty.
Layers of Art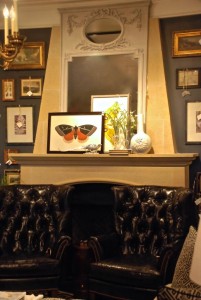 While I frequently rehang art in my home, moving pieces about like others move their furniture and accessories, I don't want to have to switch out the artwork over my mantel every season. So one of my favorite tricks is to create a collage of artwork on my mantel by leaning several pieces together against the wall.  It's especially easy, and effective, when you have a fabulous mirror hanging over your mantel, like this beauty. If you can, pick art that is connected by a common theme, like our butterflies, yet different in shape and size so it's intriguing to look at. We balanced out the artwork with a cluster of accents, built on a riser of antique books.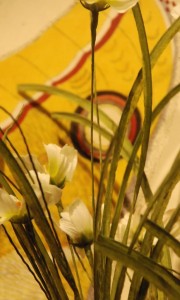 The faux spring blooms in these versatile glass vases add texture and movement to the mantel. Pick vases with small mouths if you don't like floral arranging. Just tuck in a stem or two and go.
Gardens of Vines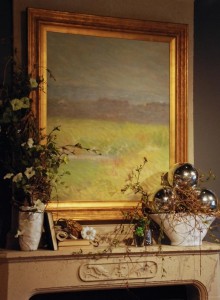 When I pick out faux foliage for Nell Hill's, I'm always scouting for unique vines that freeze frame nature in all her seasonal stages. In the spring, I adore vines that feature leaves and flowers just budding out, not in full bloom, because they capture the anticipation of what is to come. This asymmetrical mantel display gave us a chance to mix early spring vines, held nicely in a simple white bowl mixed up with mini gazing balls.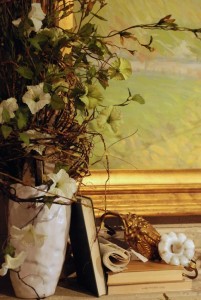 When you place strong items on each side of the mantel, as we did here, you have freedom in how you treat the center of the display. You could spotlight just a few larger objects or cluster a few smaller curiosities, like we did here. Have pieces of a collection you want to display? This is the perfect chance.
Spring Blooms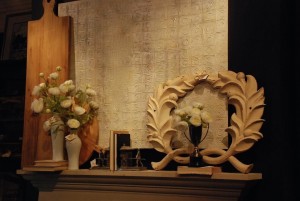 Spring mantel displays don't need to be loaded with color. Our monochromatic display is a poem of white, made beguiling by lots of texture and shapes. The large piece of artwork set the stage for a mantel filled with lots and lots of intriguing layers. Start by finding objects you can showcase on one side or both that bring in lots of dramatic height. Our wooden paddles did just the trick while also adding unexpected rustic charm to our motif. Vanilla books brought more texture, used as risers and a library between our unique bookends.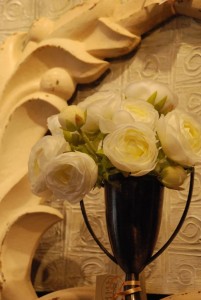 When you use spring blooms on your mantel, explore unique vase treatments, like these trophy cups.
Next Week … You don't always have to shout to make a big statement with color. White and cream can command attention with just a whisper. I'll have ideas on how you can use these sensational tones in your decor.