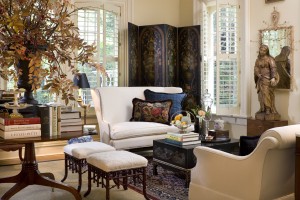 During these last days of August, Kansas is blistering hot. Despite the heat, I have nothing but the cool, crisp days of autumn on my mind because I've been decorating my home for my annual fall open house. The Nell Hill's team and I are having a blast filling my house with the bounty of the season, adding a lavish display here, a tiny tweak there. (I hope I'll see you in Atchison on Sept. 10 and 11 to tour my historic home—you'll leave with lots of fresh ideas you can use to make your own home beautiful for fall. For more information on the open house, see www.nellhills.com.)
Decorating your home for fall can sound like a daunting job. But it's a lot of fun and really easy to do when you have the right tools. Through the years, I've come up with a short list of must-have decorating building blocks I use over and over again to create memorable fall displays. Here are a few of my favorites …
Wooden dough bowls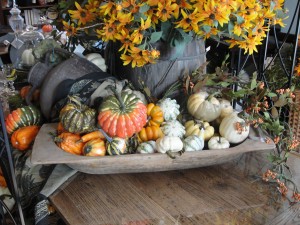 While wooden dough bowls make great year-round decorating tools, I think they look their very best in fall displays. The aged wood brings in a wonderful soft brown color and the subtle grain lends interesting texture.
These rugged, scooped-out bowls are ideal for holding a cornucopia of fall décor, like branches bearing autumn leaves, twists of fall vines and berries, mounds of gourds, hedge apples and fall fruits. We sometimes place lanterns, gardens statues or urns in the center of the bowls, then fill in around them with fall foliage.
The dough bowl's long, thin, oval shape makes it an ideal tool to place at the center of your fall dining table, on a hutch or on top of a high bookcase. I keep a wooden dough bowl on top of the bibliotheca in my study. In the fall I place a few gooseneck gourds in the bowl, insert some branches to hang down the side of the bibliotheca and mix in faux foliage for a simple but stunning display in what otherwise would be dead space.
Honeysuckle vine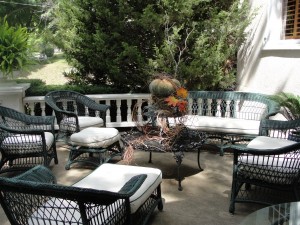 Twisting, turning honeysuckle vine is one of the most cost-effective yet innovative ways to add a subtle fall feel to any display. The vine comes in big rolls that look like wreaths. All you have to do is pull it apart and weave this loopy vine into any indoor and outdoor décor.
One reason honeysuckle vine has stolen my heart is because it is so incredibly easy to decorate with. You absolutely cannot make a mistake with this stuff. For instance, I can't arrange floral displays to save my life, but I can make a fall display look cool with honeysuckle vine – it's that forgiving!
Here are a few ideas to get your creative juices flowing. Place groupings of pumpkins and gourds on your front steps, then weave tendrils of honeysuckle vine around them. In an instant, your ho-hum display looks more rustic and natural. Or put a gourd atop a small urn and twist some honeysuckle vine around it. You can try the same trick with a tall, thick candlestick.  Suddenly you have a fun display for a side table or your kitchen island.
Tree branches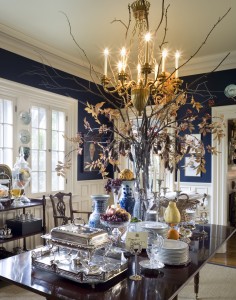 I love to bring the outside in when I decorate, celebrating the natural world in my décor. And one of the most intriguing ways I've found to do this is to work tree branches into my seasonal displays. Scour your yard for great fallen branches, the more twisted and gnarled the better. For a wild bouquet in your entry, place some sticks in a large garden urn, filling in with faux foliage. Or, let an interesting branch twist across your fireplace mantel, hang down over the side of a tall bookcase or teeter on the top of a window or doorway.
Lanterns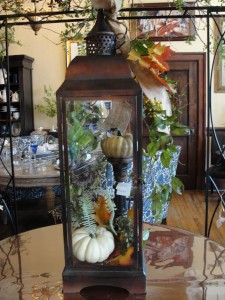 Every year I wonder if I'll ever get sick of lanterns. Then, each season the home accent designers reinvent these classic tools once again, keeping them fun, fresh and at the top of my list of must-have decorating tools. Like dough bowls, lanterns make great additions to displays all year long, but they are especially wonderful in the fall and winter. There is something irresistible about the warmth of a lantern when the days are shorter and the weather colder.
I like to use lanterns two different ways in my fall decorating. First, with a nod to tradition, I fill them with simple battery operated pillar or votive candles. I often cluster groups of glowing lanterns on the steps in front of my home when I entertain in the fall. They also look wonderful perched in a birdbath, surrounded by gourds or hedge apples. In addition, lanterns look lovely hung over exterior tables or from tall tree branches for alfresco fall dinner parties.
But I also like to shake things up a bit when I decorate with lanterns, using them in unusual ways. Sometimes I treat lanterns like mini display cases, filling them with interesting pieces that tell a story. For instance, I might hang a lantern on my front door, then insert a small piece of artwork that depicts a bird, resting it against the lantern's back. In front of the artwork, I might position a twig and some fall berries, perching a bird figurine on one of the branches. It's also fun to treat lanterns like hurricane lamps or apothecary jars, filling them full of small gourds, apples or nuts.
Majolica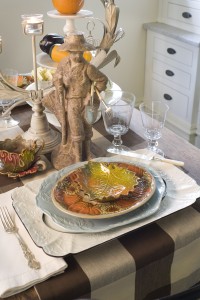 I can't do fall at my home without adding a touch of majolica somewhere. You may find a majolica salad plate shaped like a leaf or gourd on my dining table when I entertain. Or you'll see a majolica pitcher worked into an autumnal display on the hutch on my screened porch. But you'll spot majolica somewhere in my home this time of year because the nature-inspired shapes and colors that define the majolica style just scream fall.
If you want to give your everyday tabletop a decidedly fall look, pick up some inexpensive majolica soup tureens, salad plates or chargers. When you decorate your mantel for fall, include an interesting majolica plate, pitcher or figurine. Or, build a fall display on a side table atop a majolica tray. Little touches like these will subtly transform your home for fall.
Pillar candles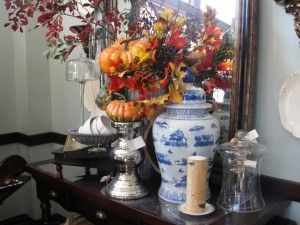 While I enjoy all sorts of candles, classic cream colored pillar candles are my favorites for fall because they look fabulous in displays. Try this simple look: Take a medium sized urn and top it with a plate. Then place three pillar candles on the plate. Finish off by twisting in some tendrils of honeysuckle vine. Super easy and super cute!
Another perennial favorite of mine are pillar candles wrapped in faux birch bark. These wonderful candles bring a natural, woodsy feel to displays. I frequently use them in the displays on my dining room table, especially if I'm doing a woodland or hunt club theme. The crisp look of the birch bark stands out against the fall colors and adds interesting texture all its own.
Willow chargers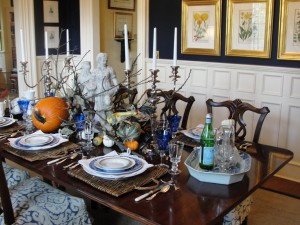 I would be lost without willow chargers. If you don't have a set of these incredibly inexpensive essentials, it's time you took the plunge. Like so many of my key decorating tools, willow chargers will look fabulous on your table any time of the year. But the twiggy weave makes them especially well suited for fall tables.
Right now I'm particularly fond of the simple square and round chargers we're selling at Nell Hill's and at Nell Hill's Online. Made of birch twigs, the chargers are casual and natural looking, which makes them especially wonderful to pair with fine china, silver and crystal, giving your table that distinctive Nell Hill's look. The handles on each side make the perfect spot to insert a napkin so you don't need to bother with a napkin ring. Check them out at Nell Hill's Online right now, but hurry – they sell out quickly, especially this time of year.
Tablecloths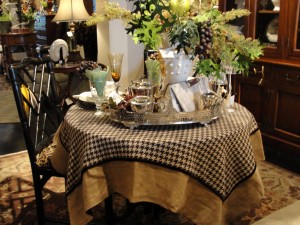 You'd be amazed by how a yard and a half of fabric can transform your dining table for fall. One of my favorite tricks is to make a quick table topper out of gorgeous fabric that accentuates the look I'm going for on my dining table. I hit the fabric room at Nell Hill's Briarcliff and find a luscious paisley in chestnut brown, amber, sage or cranberry. Or a traditional plaid in camel, black, cream and red. Or, one of my favorites, a hound's tooth check in camel and black. If you like to sew, stitch a quick hem in your table topper. Or if you're decidedly non-crafty, like me, just iron a crease to conceal the raw side of the fabric.  Then lay the topper on the diagonal at the center of your table so the beautiful wood underneath shows through.
We also sell the most wonderful fall tablecloths at Nell Hill's. One of my favorites is made of natural burlap (my new must-have fabric for fall decorating) edged in an irresistible chocolate brown velvet. It comes in a 96 inch round shape and a square table topper. You can find it at Nell Hill's Online right now. And this holiday season I'm adding a few new tablecloths to my signature line, the Mary Carol Home Collection – a black and white plaid and a red and black tartan plaid. Look for them soon!
Pumpkins and gourds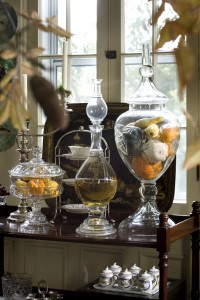 It just isn't fall without a heaping helping of gourds and pumpkins. I like to hit the farmer's market to scout for gourds in strange shapes and interesting colors. I use these little cuties to add just a touch of fall to my year round displays. I might include a mini pumpkin in a display on a three-tiered dessert server, tuck a gourd into a grouping of family photos, pour an assortment of gourds into an apothecary jar or hurricane lamp, or mound them into a cachepot, footbath or wooden dough bowl.
If you're feeling crafty, trick up your pumpkins a bit. Dust them with glitter. Or mist them with silver or gold spray paint.
While I will always use real pumpkins and gourds in my fall decorating, I like to supplement them with fakes. The faux pumpkins and gourds we carry at Nell Hill's and Garrity's are unbelievably realistic. And, best yet, you can use them year after year.
Urns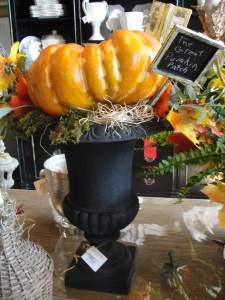 In fall, I like to fill my big garden urns full of rustic displays made of fallen branches, fall foliage and berries. I might rest a bird's nest on one of the branches or work in a stuffed pheasant. For a different look, make a nest out of honeysuckle vine, place it at the mouth of a garden urn, then plop a fat pumpkin on top.
For a quick table centerpiece, fill a smaller urn with gourds, red pears, artichokes or red apples. Or use an urn as a riser for your fall food displays. Just rest a tray or platter on top of the urn to give your food service more drama. I also use petite urns to hold small bouquets of fall flowers to dress up my kitchen windowsill or a bookcase.
Next Week … Areas rugs are a key component of a well designed room, and sometimes one of the hardest pieces to pick out.  Not only do you need to find an area rug that's well made, you need it to perfectly anchor the room's furnishings and add just the right pattern and color. To further complicate things, area rugs aren't cheap, so you've got to pick a rug you'll love for years to come. Next week, I'll give you some pointers for how to pick the perfect rug for your space. See you soon!