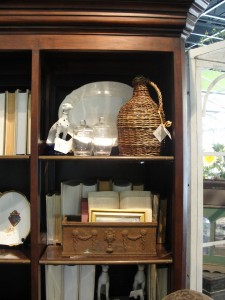 I still remember the glee I felt when I moved into my very first apartment. After years of decorating and redecorating my childhood bedroom (and every other room Mom would let me get my hands on), I finally had a place of my own to trick up. To stretch my decorating dollars, I liked to hunt for finds at flea markets and antique malls. It was in these dusty gold mines that I fell hard for furnishings and accents made of wicker and bamboo.
Today I'm still just as smitten by the organic lines, rustic texture and romantic grace of wicker and bamboo. And through the years, these natural wonders have become an integral part of the Nell Hill's look. Here are some tips for incorporating these beautiful and Earth-friendly pieces into your home.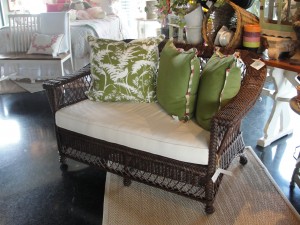 Pull Up a Chair
When customers come to Nell Hill's looking for seating, you won't believe how many roll their eyes when I suggest chairs and sofas made from wicker or bamboo. They are convinced all wicker furniture is rickety and uncomfortable. But when they see the beauties at Nell Hill's, they fall in love. Today's wicker furnishings have come a long way from that crazy, creaky chair you had in your college dorm room.  Now, wicker is not only sturdy, it's incredibly chic. In fact, today's wicker is so stylish it will be at home in every room of your house.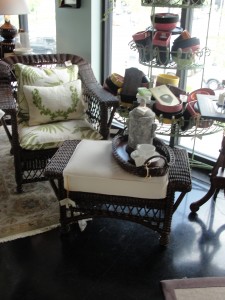 We have lots of fun at Nell Hill's creating interesting assortments of accent pillows to give our wicker sofas and chairs even more charm. Wicker is so neutral you can pick pillows in just about any style or hue and it looks great. My favorite color combination right now is cream and brown jazzed up with an infusion of green, gold or orange. I like to pick a mix of fabrics that weave in a variety of patterns, such as buffalo checks, geometric shapes and images of nature, like palm leaves.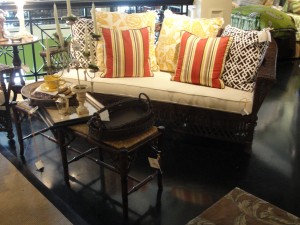 If you've contained your wicker furniture to your back porch or patio up until now, why not invite it in when the weather gets cooler? Instead of storing your wicker chaise, sofa, chairs and ottoman in the garage or basement, work them into your interior décor. If the seat cushions are a bit weather worn, freshen them up with new slipcovers. Or, for a super easy and inexpensive alternative, slip them into a king-sized pillowcase, tucking the open end underneath the cushion.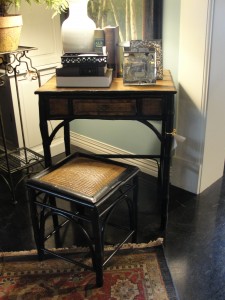 Turn the Tables
Furniture made from sustainable materials like bamboo, rattan and wicker is hotter than ever right now. When I went to the huge High Point furniture market this year, it was clear that designers and furniture makers are hearing our cry for home furnishings that are stylish and Earth friendly. I was so impressed by the range of beautiful pieces, I ordered hutches, dressers, accent tables, desks and chairs made from bamboo and wicker. They have been flying out the door, going home with customers who are as mesmerized by the affordability and versatility of these beautiful pieces as I am.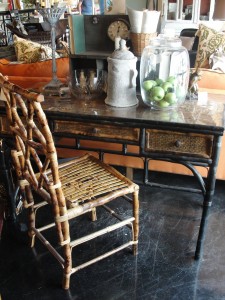 If you'd like to experiment with including bamboo or wicker in your decor, start by adding just a piece or two. Put a bamboo end table in your living room. Ring your dining room table with rattan chairs. Spice up your bedroom with a wicker chest of drawers. Store your china in a bamboo china hutch. Or tuck a wicker bench at the foot of your bed.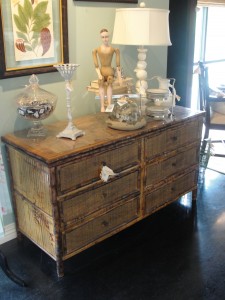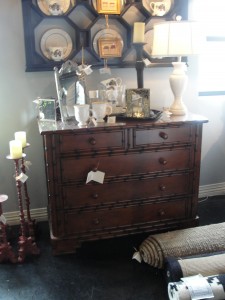 You can even put bamboo and wicker in unusual places. For instance, I bought a cute bamboo vanity for my downstairs powder room 20 years ago.  I still love it today — it hasn't lost its beauty and  it is so neutral, I can put anything with it.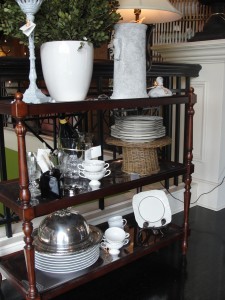 Add an Accent
If you'd like to add rich texture to the displays in your home, work in some accents made of natural materials like wicker, bamboo and rattan. You'll find all sorts of interesting items made of these wonderful, eco-friendly materials, from rattan baskets to willow cake plates. For example, I like to put vintage-looking bottles that come in willow baskets on the shelves of my hutch because they look great with my seasonal decorating (check them out at Nell Hill's Online).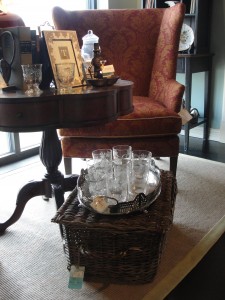 I also adore willow baskets. I keep a huge trunk basket under the console table in my foyer at home. Natural and unique, the basket is both fetching and hard working. It fills in the dead space under the leggy table and provides much-needed storage. Right now at Nell Hill's Online, we have a set of three brown willow trunk baskets that are a great price.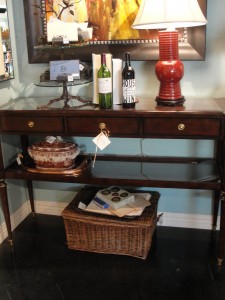 Weather they are made from willow, wicker or bamboo, eco-friendly baskets are wonderful because they earn their keep. Stack a few on top of your armoire, bookcase or secretary to create an interesting display. Place one on the floor by a chair, top it with a tray, and you have an instant table. Put one by your back door to hold mittens. Place one on your hearth to collect kindling for your winter fires.
Next Week …Fall is just around the corner, and I can't wait! I adore this season, when the trees are blazing with brilliant colors and the air is crisp and clean. I'm starting to get ready for my annual Fall Open House, Sept. 10-11, when I'll hold my historic Atchison home open for public tour (I hope to see you there!). Next week, I'll share some of my favorite picks for fall decorating and show you inventive ways to use them in your home this year.