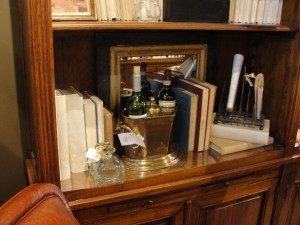 Mirrors make fabulous decorating tools, adding style, brilliance and glamor to myriad spots in your home. These twinkling treasures became especially dear to me when I moved into my historic home and learned that years ago, when houses were built to protect against the weather, people relied on mirrors to brighten their interiors. I tried this trick in my home and was thrilled with the results. Since then, I've been calling on the power of mirrors to add sparkle throughout my home.
You don't have to live in an old or dark home to be wowed by mirrors. Here are just a few ways you can use mirrors to add some flash and dash to your home's interior.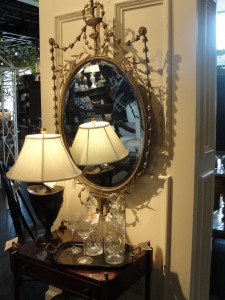 Mirror, Mirror on the Wall
Mirrors work wonderfully as artwork because they are available in every style and price range and are incredibly versatile. You'll find everything from funky modern mirrors in cool shapes to antique mirrors with a rich history. If you can't find a framed mirror you like, you can make your own. Just hunt for a picture frame at a frame shop or garage sale then have it fit with a new mirror.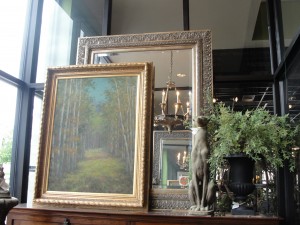 Mirrors are like chameleons in the decorating world – they take on the look of whatever you put with them. That's why I like to hang them over a fireplace mantel. They are so neutral they allow you to revamp your mantel display over and again without clashing. If you decide to place a mirror above your mantel, position it to reflect down, not up. One of the biggest mistakes I see people make when working with mirrors is to tilt it so that it reflects the ceiling, not the lovely things in the room below. Once your mirror is properly positioned, if you want to, you can break up the cool expanse by leaning a piece of artwork against it to add some color and movement.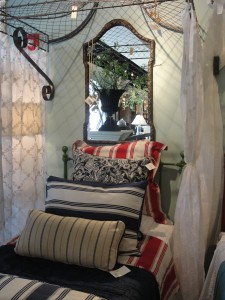 Hang mirrors in unusual spots for added panache. When our daughter was married at our home, I hung a gorgeous antique mirror from the molding between the windows in my foyer, where the ceremony took place. I was so taken by how the mirror looked in this unexpected spot that I've kept it there. For a variation on this idea, hang a set of small mirrors down the wood molding between two windows. They also look great hung above beds.
Show off a Collection
Years ago I collected mirrored vanity trays, so when I was redoing our daughter's bedroom, I decided to give these vintage jewels a place in the spotlight. I hung a grouping on the wall above the headboard for an eye-catching display. Similarly, I have a friend who has covered the walls of her tiny powder room with her collection of old hand mirrors. Each one is a work of art, but amassed together, they are breathtaking.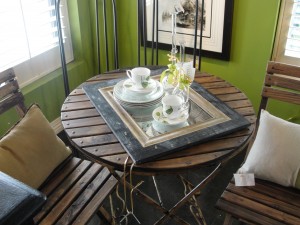 Invite Mirrors to Dinner
If you want to add loads of drama to your dinner table, mirrors will do the trick. I've used mirrors as chargers for dinner parties and have used framed mirrors as trays. For added opulence, top a mirrored tray with accents that catch the light, like votives, silver serving pieces and crystal vases.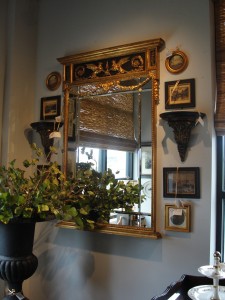 Create Some Drama
If you want to bring a sophisticated air to your foyer, bedroom or living room, try a large regency mirror. These over-sized mirrors look amazing placed on a floor, leaning against the wall or hung over furniture, like a buffet or sofa.  If you have a large foyer, try this simple but dramatic look: Place a large sofa table against the wall, then hang a regency mirror above it. Finish by putting a large clay olive vessel filled with fallen limbs on top of the table so the limbs reflect in the mirror.
Another great way to get a lot of drama with mirrors is to create an eye-catching grid on a blank wall. Find 12 to 16 inexpensive square frames and fit them with mirrors. If you want a contemporary feel, use black, silver or brightly colored frames. For a more traditional look, go with gold or natural wood. For an added romantic touch, you could hang each mirror from a ribbon. Or, purchase a set of mirrors with unusual and captivating frames. For instance, we have a darling mirror available through Nell Hill's Online that features a round mirror surrounded by metal flowers, which hangs from a rustic metal chain.
When you hang the grid, position the mirrors just an inch or two apart so the individual pieces come together to work as one unit. Depending on the height and width of your wall, you could make the grid stretch vertically or horizontally.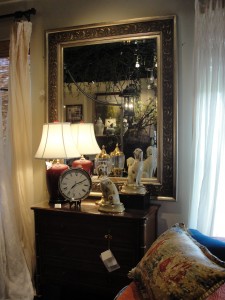 Brighten a Dark Corner
I frequently use floor screens to brighten dark corners in my home, so what could be better than a screen made of mirrors? I found a wonderful floor screen made of distressed mirrors, which add all the luster of a mirror without the clear reflection. It's been the perfect addition to my stairwell landing. Mirrored wall sconces, outfitted with taper candles, also lend sparkle to dark spots. Check out the metal wall sconce at Nell Hill's Online – it's rustic yet regal and is a great price.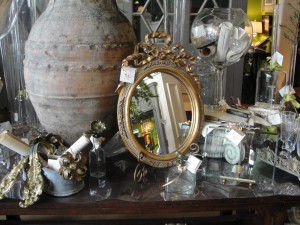 Perk up a Display
Mirrors look great tucked into tabletop displays. In your living room, use a mirror as a tray to anchor a tableau, giving the scene a bit of luster. Or, try the same trick in your bathroom, placing a set of attractive jars holding bath salts or cotton balls on top of your mirrored tray. To brighten up a display in a bookcase, hutch or secretary, tuck in a mirror propped up in an easel.
Another inventive way to add the flash of mirrors to your décor is to incorporate a few accents made of mirrors into your displays. I adore old boxes and frequently decorate with them in my home and stores. So when I saw the boxes pictured above, which are made out of vintage looking mirrors, I couldn't resist. You could also get the same effect with picture frames made from mirrors, mercury glass candlesticks or gazing balls.
It seems like a day doesn't go by when our team at Nell Hill's isn't helping a customer who is on a quest for the perfect mirror. No wonder. We have a huge variety of beautiful mirrors in all three stores and available through Nell Hill's Online – come check them out!
Next Week … Would you like to decorate with furnishings and accents that are Earth-friendly and beautiful? Then you're going to love bamboo and wicker. Whether your style is British colonial or contemporary, furniture and accents made from natural, sustainable materials will give you the look you adore. Next week, I'll show you some of my favorite sustainable pieces and give you tips for working wicker and bamboo into your interior design.
See you soon!