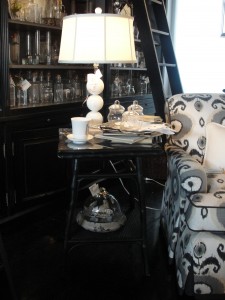 I have a deep and abiding respect for lamps. How could you not admire these workhorses, which not only brighten up our lives, but look like a million bucks while doing so? Like fine pieces of art, lamps bring character to our homes and help finish a room. And, like art, high-quality lamps can be pricey, so it's important to pick lamps that look perfect in your home and that will capture your heart for years to come.
If you'd like to brighten your home with a new lamp, read on for some illuminating advice from Nell Hill's designers Rich and Beth and myself. Then, join us for the Barbara Cosgrove Lamps Trunk Show at Nell Hill's Briarcliff on Sept. 24, from 1-4 p.m. Barbara's amazing lamps have been featured in publications like Elle Decor, House Beautiful, In Style and Metropolitan Home. Come meet Barbara and check out her new lighting lineup during this special engagement. 
First, Pinpoint the Purpose
Most rooms in your home will call on the power of three different types of lighting: task, accent and overhead. Start by surveying your space to see what's missing.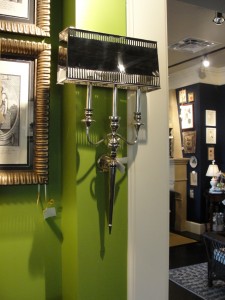 I have to come clean and confess that I'm not a huge fan of overhead lights because they tend to cast a harsh, unforgiving light. In fact, Rich cautions, "No one under the age of 30 should be sitting in overhead light." So I tend to illuminate the rooms in my home with task and accent lights whenever I can. Wall sconces make a great alternative – they brighten up your space without a harsh flood of light. But in rooms where overhead lighting is a must, such as your dining room, Beth urges installing dimmer switches so you can soften the light.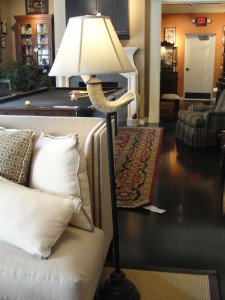 The job of task lighting is to give you the proper amount of light to accomplish whatever job you need to get done, from paying the bills to reading that best-selling novel you can't put down.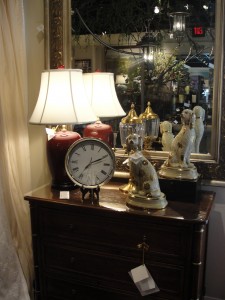 When you need a pop of light to brighten a dark corner or give your room a warm glow, look to accent lights to save the day. In addition to positioning accent lights in prominent places, like on a buffet or side table, I also like to tuck them into unusual spots, like on the kitchen counter, in a bookcase or on the vanity in the powder room.
Pick a Style that Brightens Your Day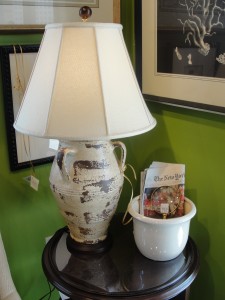 I think the lamps we pick for our homes should do a lot more than bring light into our rooms. They should also reflect our style and personality. When you go looking for lamps, think of it as a treasure hunt. Scout for a lamp that will blend with the style of your home and match the scale of your room and furnishings. Then, refuse to settle for anything that does not steal your heart.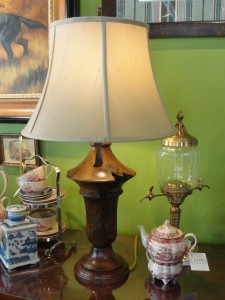 I'm thankful that the days when we were expected to buy a set of four matching brass lamps are long gone because I'm a big fan of using a wide variety of dissimilar lamps in my home. Why not try mixing it up a bit in your room? For instance, you could pair a chunky lamp made from a weathered urn or an old wooden finial with a lamp made from a fine porcelain vase.  I have two really fun lamps available at Nell Hill's Online right now. One features a fun rooster base and is a steal at only $39. The other, the Verdi urn table lamp, is a timeless classic that will work in just about any room and with any décor. It's also a great price. (Just click the "shop online" button at the top of the Nell Hill's Web site home page to access Nell Hill's Online.)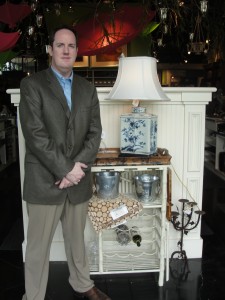 Here's Rich with one of his favorite lamps at Nell Hill's Briarcliff. This classic piece will never go out of style, with its subtle Asian design and blue and white color palette.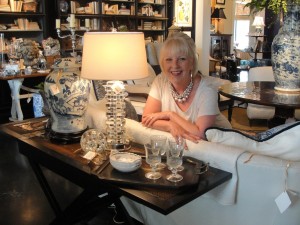 Beth is crazy about this fun and funky lamp that resembles a stack of crystal blocks. "It's crisp and clean and really adds to a room, yet doesn't compete with the rest of the objects in the room," she explains.
Dwell on the Details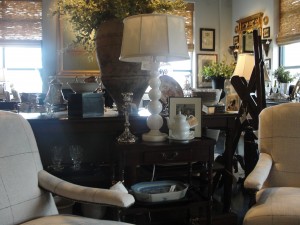 Part of the fun of picking a lamp is finding one that is perfect, right down to the last detail. Carefully consider the shape of the lamp. Do you want one with straight lines or curves? Do you prefer a thinner lamp base or one that's hefty? Which will work better for the space – a short or tall lamp? (If you fall in love with a lamp that's a bit too short, you can elevate it with a riser, like a stack of books.)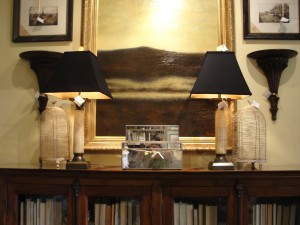 Pay close attention to the color of the lamp's shade. If you want to use the lamp for task lighting, get one with a light color shade because it will give off more light. If you're looking for mood lighting, you can't beat a lamp with a black shade. Colored lamp shades, like red or gold, are also a great choice for accent lights.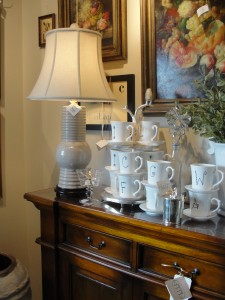 Note the kind of fabric used to cover the shade. Rich points out that different kinds of fabric provides different quality of light and will dress up or dress down a lamp base. For instance, a linen lamp shade will give a more casual look than one made of silk.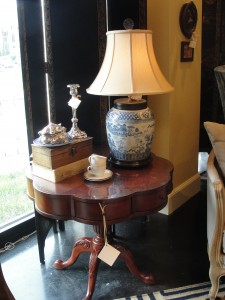 I also like lamps that have unique features, like unusual finials. It's hard to see in this picture, but the lamp pictured here has a delightful blue and white china finial that compliments the Asian motif of the lamp base.
Ready to begin your hunt for fabulous lamps? Be sure to start at Nell Hill's. All three of our stores are loaded with a huge variety of great lamps, from tiny accent lights to floor lamps, wall sconces and even unusual chandeliers. We'd love to help you light up your life!
Next Week … Want to add some sparkle and flash to your rooms? All you need is a simple mirror or two. Next week I'll share some tip for perking up your walls, displays and table settings with mirrors. Can't wait to talk to you then!
See you soon,