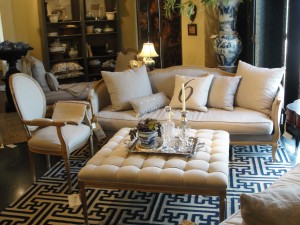 Coffee tables are on my mind this summer because I just got one of the new coffee table ottomans we're carrying at Nell Hill's, which are upholstered with antique rugs. I'm smitten with mine because the rug covering my ottoman has tiny snags in it that I imagine came from someone's kitty, generations ago. Dan can't imagine why on earth I would buy a piece of furniture with cat scratches on it when we already have several in our home, thanks to our ornery kittens. Call me crazy, but the thought of some lazy cat snoozing on this vintage rug makes the piece all the more special.
Now I have to decide how to accessorize my new coffee table. These little islands perched in the middle of our living rooms can be challenging to decorate, can't they? They need to walk the line between form and function, sporting displays that are interesting but not obtrusive. If you'd like a new look on your coffee table, here are a few ideas to inspire you.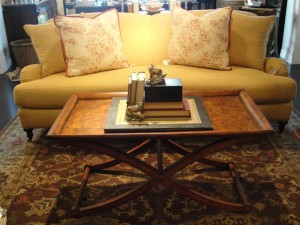 Stylishly Studious
One of the biggest mistakes I see people make when they design their coffee table displays is to use too many small or low-profile pieces. You know what I mean – you see this look at the doctor's office, where the coffee table is covered in a sea of outdated magazines or a few coffee table books.
For a display that really works, first determine what look you're going for. Do you want something casual or formal? Be sure your display matches the style of your room and is functionally sound.  For instance, you don't want an overly tall, dramatic display on the coffee table in front of your TV. Instead, save that arresting look for a little-used formal living room and go for something simple in your family room.
Next, collect some intriguing accents you can showcase that will bring in a mix of textures, sizes and shapes. Don't be afraid to include beefier objects because accents with some heft will add width and height to your tableau.
To build your display, start with an interesting base, like a tray. I'm a big believer in putting displays on trays because trays pull the pieces together and give the grouping a unified look. Plus, when you build a display on a tray, you can easily move it if you want to clear the coffee table for another use.
Next, find a focal point for your display, like a vase of flowers, a stack of boxes or a candlestick. I like to use pieces that have sentimental value, like a china soup tureen you inherited from your grandmother or an old trophy of your granddad's.
Finally, consider including a few items you will use on a daily basis, such as a book or a bowl of candy. Why not add a wooden box to hold your TV remotes or a silver vase to store your reading glasses?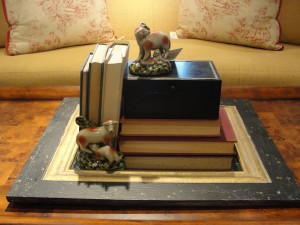 To create this wonderful look, we used a framed mirror as our base. Next, we added layer upon layer of texture using books. Another tip for making your coffee table creations look wonderful is to replicate a few key pieces, like we did with the books. We added to these visual elements by topping our stack of books with a wooden box. It mirrors the shape of the books but adds a bit of shine.
We finished off the tableau with two porcelain figurines. I adore figurines and frequently tuck them into displays to bring in some whimsy. The pieces we selected for this example carry on the subtle earth tones reflected in the books and box.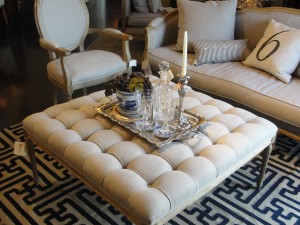 Refined Elegance
While I love traditional coffee tables, I'm also a huge fan of coffee table ottomans and recommend them all the time to families with young kids. Not only do they remove the safety hazards of sharp corners and hard surfaces, they also look lovely without a display on top of them.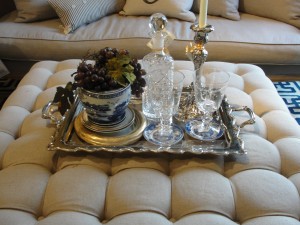 For today's example, we decided to dress up this regal upholstered ottoman with a working centerpiece, one you could use when entertaining friends.       Our anchor for this bar service is a lovely silver tray. I couldn't imagine decorating without silver trays – they have become a bedrock of the Nell Hill's look. If you don't have a silver tray yet, consider adding one (or more) to your arsenal of accents. You will be blown away by how often you use it when you entertain and in your year-round decorating. We have a wonderful selection of trays at both Nell Hill's stores, so come check them out.
Next, we added a few party essentials, from a classic crystal decanter and glasses to appetizer plates with gold detailing. (I had this timeless set reproduced from my own china pattern for my Mary Carol Home Collection line, which is available at Nell Hill's Online or at the stores). We filled the blue and white china bowl with fruit, but you could easily replace it with a dessert server holding canapés or tarts. To bring in some visual height, we finished off the look with a silver candlestick.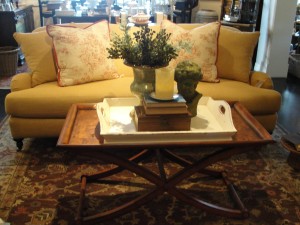 Something Old, Something New
For our last example, we used one of my favorite trays as the base. I adore these painted wooden trays because they are incredibly versatile and affordable. We sell a million of them at the stores because you just can't go wrong with them.
We wanted a strong vertical look for this display, so we stacked a few books on top of a wooden box. We topped the tower off with a battery operated pillar candle. I'm a big fan of fake candles because you can leave them "burning" all evening without any fire risk.  Check out the selection at Nell Hill's Online.
Next we added color, texture and more height by placing a vase filled with faux greens behind our focal-point. For balance, we used a garden statue on the other side. We purposely picked pieces that reflected an earthy color palette to create visual harmony. But we made sure our three visual elements were different enough to make the display interesting.
Next Week … Ready to brighten your life? The right accent lighting can really perk up the look of a room. Next week, our design experts will share tips on how to pick the right lamps for your home, plus share their absolute favorite styles. Come back and see us!