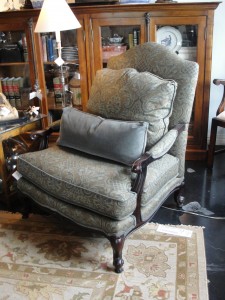 Each morning, while it's still dark outside, I pour a cup of strong coffee, snuggle into my favorite chair and mentally prepare for the day. No matter how haywire things may go, the day always starts out right, thanks to my comfy chair.
I asked Beth and Rich, two of the talented interior designers on the Nell Hill's team, to join me in sharing secrets you can use to pick the perfect chair, so you can start your days out right, too.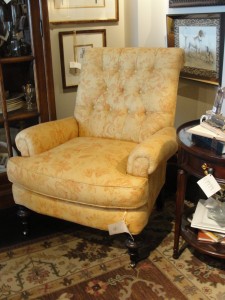 Pick the Purpose
In order to pick the right chair, you have to determine what roll it will play in your home and in your life. Where will the chair be located and how will it be used? For instance, will this chair be a statement piece in your formal living room or will it be in your casual family room, hosting popcorn-eating TV watchers?
"If the chair is mostly to be looked at, then your selection should be style driven," Rich suggests. "But if it's in a family room, you want comfort and function."
Who will be sitting in it on a regular basis? Rarely do I find a chair that fits both a man, woman and child perfectly, so my advice is to choose the person who gets dibs on the chair and select one that fits him or her just right.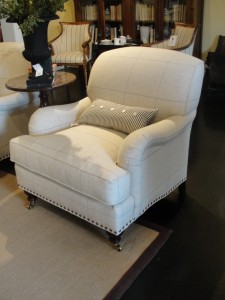 Don't Blow Things Out of Proportion
Another key factor in picking the right chair is paying attention to scale. Beth stresses that it's essential for your new chair to be proportionate to the other furnishings in the room. We love to mix styles, fabrics and finishes when we furnish rooms at Nell Hill's, but the scale of all the pieces has to match or the room just won't work.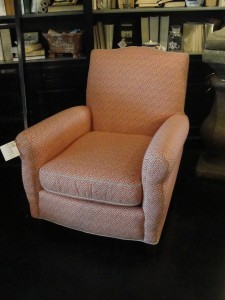 Go for Quality
Don't settle for anything less than a high-quality piece. Poorly made furnishings may look great on the showroom floor, flashing their seductively low price tags, but after going 10 rounds with your family, pets and guests, their beauty will quickly fade and you'll be left with a "bargain" that creeks and sags, is split and warped.
But when you invest in a high-quality piece, your chair will look brand new for years to come. Before you buy, make sure the chair seat deck has eight-way, hand-tied steel coils that are supported by polypropylene and steel strapping. Double check to see that the frames are made of kiln-dried hardwoods and that the joints are double-doweled, with every corner blocked, screwed and glued.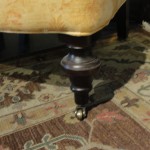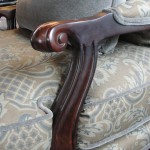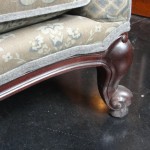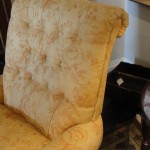 Be Finicky About Features
The chances of finding the chair of your dreams dramatically increase if you know exactly what features you want. Here are a few questions to consider that will help you focus your search:
*What type of cushions do you want? Seat cushions are a lot like mattresses – some people like them firm and others want them sink-into soft.
*Do you want a chair with a tight back or cushion back?
*How high do you want the back of the chair to reach? High enough to rest your head against or low enough to see over?
*How wide and deep should the seat be? Some people like wider chairs so they can tuck their legs up next to them.
*How high do you want the arms to be? A lot of folks love English club chairs with arms perfectly positioned to allow you to read the newspaper.
*Skirt or exposed legs? Unless you're just crazy about skirts, I recommend getting a chair without one because fabric skirts get dirty very easily. For variety, I like to fill my rooms with chairs that have a wide assortment of leg styles and finishes.
Test Drive
Say goodbye to your inhibitions and take the chair you're considering for a test drive. How do you sit in your chair at home? Assume the same position at the furniture store. Throw your legs over the arm, tuck them under you or snuggle into your favorite nap position. If you don't feel so comfortable that you hate to get up, the chair is probably not the one for you.
Rich and Beth's Personal Picks for the Perfect Chair
For Beth and Rich, picking the perfect chair is a passion. Here are their current favorites …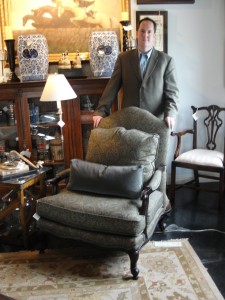 Rich is Crazy about the Stanton
"This timeless French Bergere chair will never go out of style and looks good in just about every setting," he states. "It works equally well in a downtown loft, a historic home or a modern suburban home."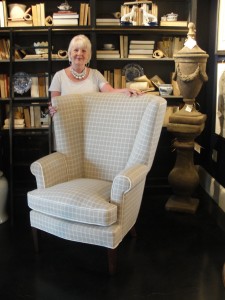 Beth Is in Love with the Dautry
Beth likes this unique winged back chair because it is both attractive and versatile. "It has a barrel shape that takes up dead air space in the room," she points out. "Yet, its dimensions aren't too big. It has great presence but it doesn't eat up a lot of space in a room."
Beth recommends using a pair of Dautry chairs as host and hostess chairs for a rectangular dining room table or flanking the fireplace in a living room. Or, pull four around a table or coffee table for an intimate club seating arrangement.
Next Week …Have you ever been stumped by how to decorate your coffee table? If you'd like to refresh or reinvent your coffee table décor, be sure to come back next week. I'll show you three different looks you can use as inspiration when styling this challenging spot. See you soon!