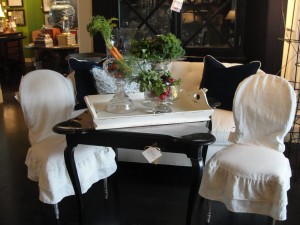 Dan is on a healthy eating crusade, which means now I have to watch everything I put in my mouth, too. Don't get me wrong – it's not that I'm against eating healthy. Far from it. It's just that in the mad rush of the day, I usually grab what I can on the go.
But now that Dan's filling our home with fresh, organic produce, I'm enjoying the benefits. My skirts are fitting looser … and I have access to the most amazing decorating tools created by Mother Nature herself!  When most people see a bundle of carrots, a stack of tomatoes and a head of lettuce, they probably don't have an overwhelming compulsion to arrange them into a centerpiece, like I do. But when you really look at this harvest of colors, textures and shapes, they are perfect pieces of art just screaming to be showcased in your decor.
Got veggies? If so, here's how to turn them into fun, inventive displays.
A Beautiful, Edible Centerpiece
I've decorated with fresh flowers for year. And I've been a long-time fan of using fresh and faux fruit in my décor. But I'm a newcomer to the world of decorating with vegetables.
Whether you want to create an interesting display for your kitchen island or an unusual centerpiece for your next backyard barbecue, give veggies a try.
To style sensational looking veggie arrangements, all you need is an assortment of containers, like footed glass bowls, compotes, hurricanes and apothecary jars. Then, visit the farmer's market to pick up awesome produce. Look for a mix of shapes, from those with long stalks like celery and carrots, to those that are round and plump, like tomatoes and eggplants.
For today's examples, we hit the aisles of Green Acres, an organic food store by Nell Hill's Briarcliff, and scored an amazing assortment of natural art. Back at Nell Hill's, we found a simple painted wooden tray to serve as the base of our display, then hunted around the store for a trio of different sized clear glass containers to hold the veggies.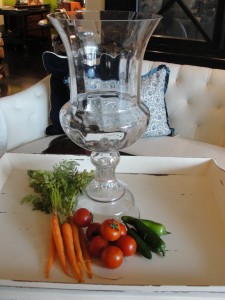 We picked a tall, thin apothecary jar to hold this lovely bunch of baby carrots with greens.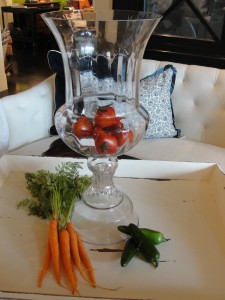 First we added the small, ripe tomatoes to serve as a base for the arrangement.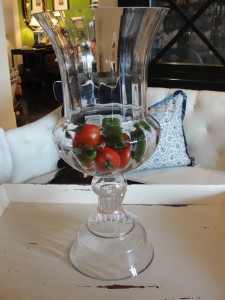 Next, we mixed in some jalapeño peppers to add some contrast in color and shape.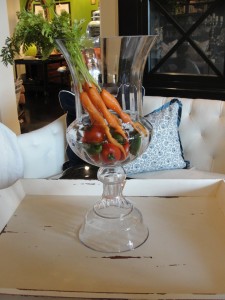 We finished off by tucking in the carrots, letting the greens flow down the side of the jar.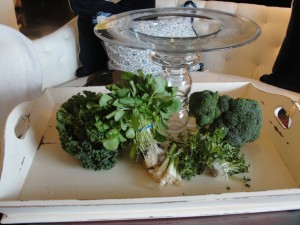 For our second container, we decided to stay with a monochromatic color scheme. Because the veggies we wanted to feature in this grouping were short and mounded, we opted for a shallow, footed bowl that acted more like a pedestal.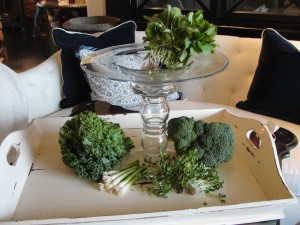 First to go in is the bunch of spring lettuce.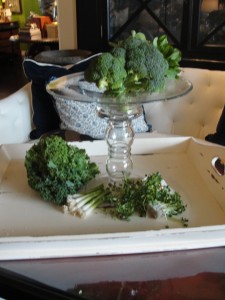 Next, we added the head of broccoli.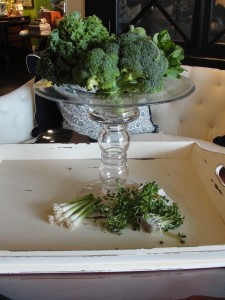 The kale lends more dark, rich color and texture.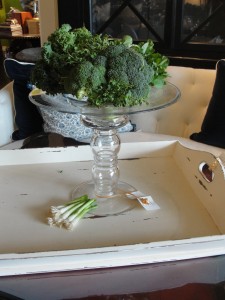 I love the petite leaves of these radish greens, which bring a soft playfulness to our arrangement.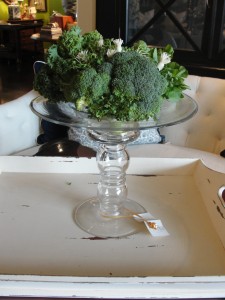 For a bit of fun, we finished off the arrangement by tucking in some green onions, bulb and root side out, because they look like curious little flowers.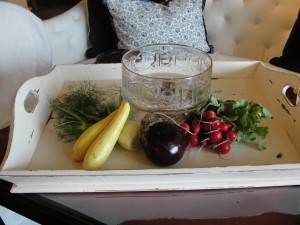 For our final container, we picked a short, footed crystal bowl to hold this colorful grouping of rotund veggies.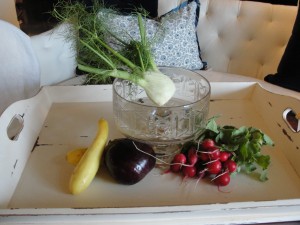 We started with a stalk of fennel to give the arrangement some height and movement.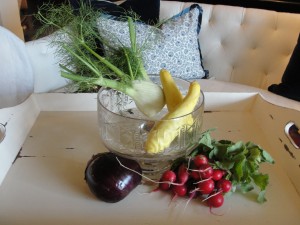 Next we tucked in a few yellow squash for a pop of color.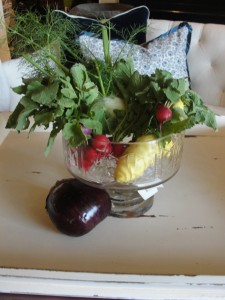 I adore the look of radishes, especially when they have the greens still attached.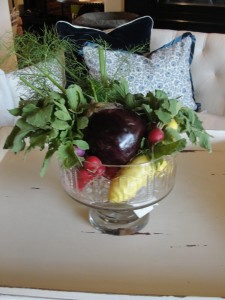 A portly eggplant is the perfect finish for this grouping.
A Few Variations…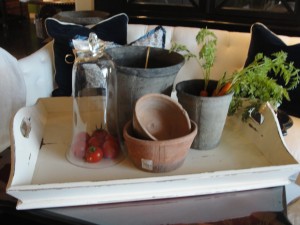 For our garden-themed veggie centerpiece, we again started our display atop this versatile painted wooden tray, which is a perennial favorite of Nell Hill's staff and customers.  We then found some gritty pots and saucers at Nell Hill's. I love these little cuties because they are incredibly inexpensive yet look like vintage pots.
Once the decorative elements were in place, all we added was the bunch of carrots, tucked into a pot, and a handful of tomatoes, displayed under a clear glass cloche. I can just picture this display on the table of my screened porch.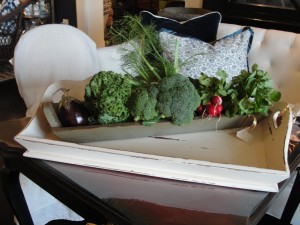 It only took a second to pull together this fresh, fun look. We layered a thin, rectangular painted wooden tray atop our white wooden tray and turned it on the diagonal for interest.  Then we simply filled the top tray with a line of veggies, using the feathery fennel in the background to add some much-needed height.
For trays and holders to use in your veggie displays, or any other displays in your home, check out the wide assortment we're featuring right now at Nell Hill's Online and at all three of our stores. And, be sure to plan a visit to the stores for more ideas on how to style veggies in your home this summer.
Next week … I firmly believe that life is a little brighter when you start each morning enjoying a cup of coffee in your perfect chair. Like your favorite pair of jeans, that perfect chair is a treasured old friend. Next week, I'll pass on important tips you'll want to know as you begin a quest for a perfect chair for your home.
See you soon,