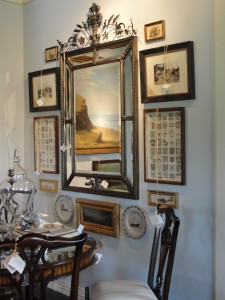 I love it when customers bring in photos of their biggest decorating dilemmas. Sometimes, they just don't like a room but they don't know why. As I look through their snapshots, it's easy to see what's bugging them. Even though they have filled the rooms with beautiful furniture and nice accents, they are usually missing one important element: artwork.
In my opinion, nothing makes a room feel warmer, infuses it with personality or makes it feel "finished" like artwork. If you'd like to fill your walls with arrangements of art that look stunning, here are some tips to get you started.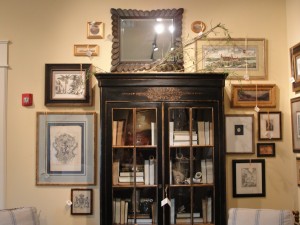 Art Makes All the Difference
Most people like to move their furniture around to keep their spaces feeling fresh. I move my artwork. When I get the urge to mix things up a bit, I wait until Dan has left the house (he dies a thousand deaths every time he sees me drive yet another nail into the walls), and I go on a picture hanging spree. I experiment with new groupings, moving pieces around, pairing them with unexpected partners and rotating in new artwork to replace pieces that have grown tired.
The longer I work in the decorating industry, the more convinced I've become that artwork makes the biggest difference when you're trying to make a house into a home. For instance, not long after my friend Melanie moved into her condo that overlooks the Country Club Plaza in Kansas City, I asked her how she liked her new place. Her response was tepid. It just didn't feel like home, she sighed. So I asked Dillon, the art hanging guru of Nell Hill's, to go over and help Melanie perk up her place with artwork. All it took were some carefully constructed montages and Melanie fell in love with her new space. It's amazing how powerful art is!
Today I've asked Dillon to give us some pointers on how to warm up those wide open walls in our homes. He let his hammer do the talking and created some magnificent montages on the blank walls at Nell Hill's Briarcliff to show us how he creates his masterpieces and how we can do the same in our homes.
Great Groupings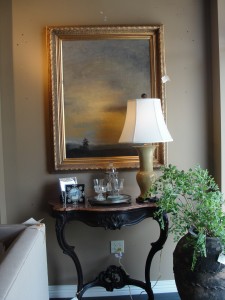 Before he pulls together an arrangement of art, Dillon picks one key piece of artwork that will serve as a focal point. For today's example, he selected a large, lovely landscape framed with a classic gold wooden frame. (Note that he's hung the piece several inches above the furniture so we can accessorize the top of the furniture without covering up the artwork.) He's letting the gold tone of the frame and the darker colors in the painting determine the color palette for the grouping: gold and black.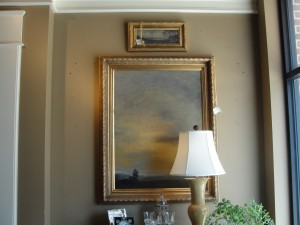 Dillon never has a set plan when he starts to create an art grouping. But before he hammers in a nail, he does have an idea of what he wants the finished product to look like and uses that as his guide as he experiments with the pieces he selects and where they are placed.
For our example, he's decided he wants to create a symmetrical look using traditional artwork in a black and gold color palette. So he's picked a variety of art pieces that vary in shape, size and medium. First to go up is a horizontal landscape in an ornate gold frame. Dillon centers this fetching piece above the large painting like a crown. Note how similar these two piece are, from the colors to the subject matter.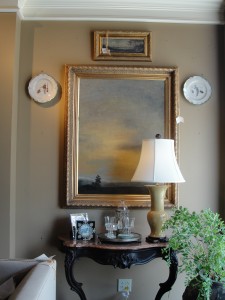 Now Dillon starts to mix things up by hanging a pair of decorative plates that sport an Asian motif. The plates add interest to our growing grouping by introducing a new shape, subject and medium. At Nell Hill's we use lots of plates, platters and trays as artwork, either showcasing them in their own groupings or mixing them into montages with paintings.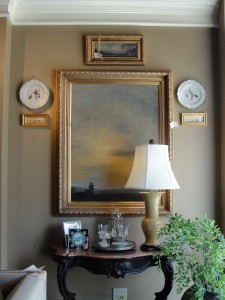 I really like art collections that feature pieces in a wide range of sizes. So does Dillon. That's why he frequently adds tiny treasures to the montages he creates at Nell Hill's. Here, he's picked a pair of line drawings whose long, thin, rectangular shape and gold frames mirror the landscape he hung on top of the key painting. When you pull together artwork to create a display, try mixing your mediums like he's done here, pairing line drawings, architectural sketches and paintings together.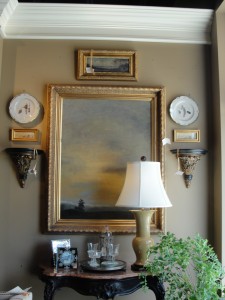 Next Dillon makes the display 3D by adding plaster wall shelves. I adore this set because each wall shelf is a piece of art in and of itself, plus the shelves give you a platform upon which to place other artwork. Try propping a small piece of art in an easel atop the shelf or putting a candlestick or some other accent there.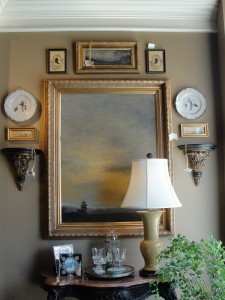 Silhouettes, a wonderful historic art form, are as hot as ever today. I'm so crazy about them that I had a series of whimsical silhouettes custom designed for my Mary Carol Home Collection (they are available now at Nell Hill's Online). Dillon added a pair of silhouette busts, one of a lady and the other of a gentleman, to lend charm to this attractive grouping. He nestled them into the dead space above the focal point art, centered on either side of the top piece. The black tone reinforces the black and gold palette.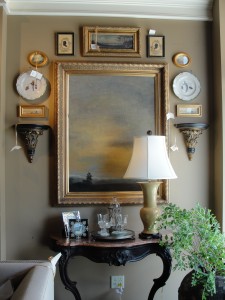 Dillon finishes out the grouping by tucking in two gold-framed oval landscapes. These tiny paintings introduce yet another frame shape and harmonize with the other gold-framed pieces in the grouping.
The finished montage is magnificent! I love how Dillon spotlighted a wonderful piece of artwork by framing it with an arch of interesting piece that are dissimilar yet so compatible they create visual harmony.
Some More Wonderful Walls of Art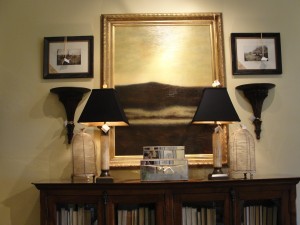 This simple, symmetrical display also revolves around a gold and black palette and would be easy to reproduce over your buffet, console table or fireplace mantel.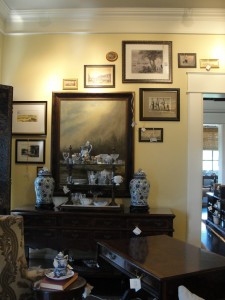 I really like to hang art in unexpected places, like up and over the top of a door frame. When you create loose compositions like this one, where the artwork is fluid and feels almost as if it's moving, you can easily add in new pieces over time.
When you pull together artwork for your wall, weave in a few unusual pieces, like the coat hook wall shelf that anchors this inventive display.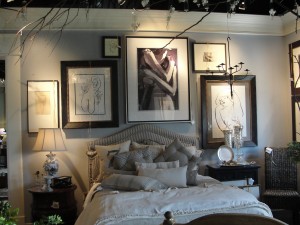 People often ask me how to decorate above their beds, and my answer is always: add artwork!
This sleek but strong display features a single theme and style. Dillon grouped contemporary drawings of nudes in a crisp black and white palette.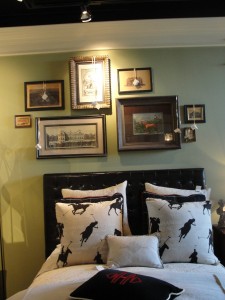 Here's another example of a collection that's grouped by subject matter. Dillon used a hunting/outdoor theme that was inspired by the hunt club look of the bedding.
Are you ready to grab your hammer and nails and go make some magic on your walls? If you need any help selecting or configuring your artwork, just give us a yell at Nell Hill's. We love to look at people's snapshots and make suggestions. Or, our designers (including Dillon) can visit your home and arrange your art for you. If you're looking for new pieces for your collection, Nell Hill's Online and all three of our stores feature gorgeous pieces in a variety of price ranges.
Next Week …Most people go to their local farmer's market looking for fresh fruits and veggies to eat. I go there to look for decorating tools designed by Mother Nature herself. Next week I'll share tips for how you can use nature's bounty to add beauty to your décor this summer.
See you soon!