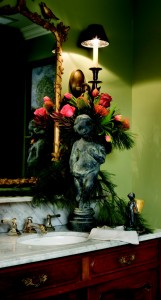 Once the pariah of the decorating world, garden statuary is now super chic. If you haven't yet, invite your statuary inside, featuring it front and center in your displays year round.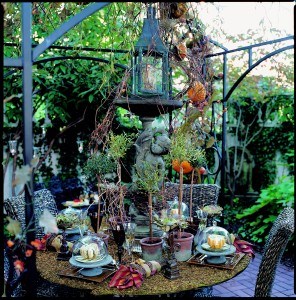 Through the years, the Nell Hill's look has evolved and changed. And so have the building blocks I rely on to create our distinctive displays. Some of the accents I was crazy about years ago, I no longer use in my decorating (remember tassels?) Others, like glass cloches, are still as key to creating the Nell Hill's look as they ever were. And, during the past 25 years I've operated Nell Hill's, I've added some new decorating tools to my list of all-time favorites. One of the newcomers that has stolen my heart? Garden statuary.
It all started several years ago when a friend warned me to never leave statuary outside during the brutal Midwestern winters. I dutifully dragged my garden statues, urns and birdbaths into my house. Then, I wasn't sure where to put these chunky treasures until spring. So out of desperation, I worked them into my winter displays.
I started experimenting with different looks, placing them in unusual places like on my dining room table and buffet, in my foyer, on a coffee table in my living room or on my mantel. I was surprised by how much I loved these aged, worn and crumbling pieces of statuary paired with some of my most refined pieces like silver trays, crystal compotes and china vases.
What started as a crush has now ripened into a lifelong love that shows no signs of fading.  The garden statues are in my house to stay.
If you share my weakness for these rustic beauties but aren't quite sure how to weave garden statues into your interior displays, try these ideas:
Birdbaths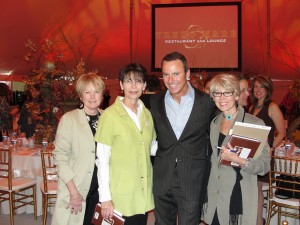 Last fall, I faced a decorating challenge extraordinaire. Colin Cowie, designer and party planner for the stars, was coming to Nell Hill's Briarcliff for a special Tabletops with a Twist benefit luncheon. For the event, we needed 60 table centerpieces that were elegant and interesting, yet packed enough punch to hold their own in the massive lunch venue. What could be more perfect than garden statuary? On each table we featured distinctive statuary tricked up with honeysuckle vines, pumpkins and gourds. The effect was stunning.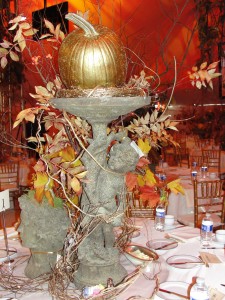 While we used a mixture of statuary on each table, I have to say, the ones featuring birdbaths were among my favorites.
I know it's unconventional, but I like to use tall, thin cement birdbaths as table centerpieces because they really grab guests' attention. Before you plunk a birdbath down on your table, make sure it's not too heavy. For years, I loaded my dining room table down with massive statues and almost made the legs give out. You'll also want to put a piece of cardboard under the birdbath (or any statuary) to protect your table's finish.
Situate the birdbath at your table's center then fill in around it with interesting accents like a pair of candlesticks or urns holding seasonal greens. Rest a wreath on the basin and insert a gazing ball in the center. Or place a compote holding fruit in the basin. How about a vase filled with faux vines that hang down over the bath's sides? Or put a large lantern on top that has a birch bark candle tucked inside.
If you have a short birdbath, use it as the focal point of an arrangement on your coffee table. Put it atop a stack of books or on a silver tray. Fill it with pine cones or green apples. For an interesting twist, cover the arrangement with a glass cloche.
A friend of mine just gave me a tour of her new home and of all the lovely things she had on display, the one that grabbed my attention the most was a concrete birdbath filled with seashells and coral. That was it. Simple. And so, so dramatic. I could picture her nestling in glass votive holders when she entertained, giving it yet more elegance.
Figurines
I really enjoy decorating with garden figurines like busts or full figure statues. While antique concrete statues are fabulous, I often use reproductions made from a lightweight material like terracotta because they are inexpensive and easier to lift.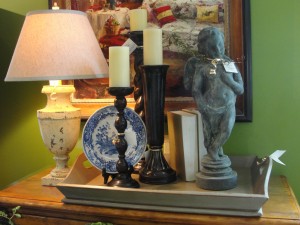 Figurines look wonderful in any tabletop tableau. Place them on your kitchen island, powder room vanity, mantel, console table or in a bookcase. For added fun, ring them with a seasonal wreath or encircle their heads with greens.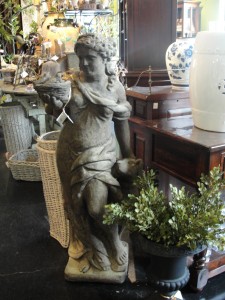 I have somebody new hanging out in my garden this summer: The Huntress (pictured above). When we got this dramatic statue in at Nell Hill's, I knew she had to be mine. I'm infatuated by the idea of this feminine yet strong woman keeping watch over my courtyard while I'm away at work.
Urns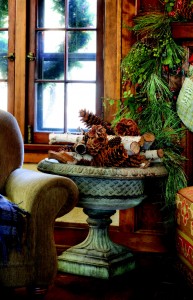 I've already blogged about how much I like to use iron garden urns to hold arrangements of seasonal greens and fallen branches. But don't stop there. Urns are great for so many things. Place a concrete urn by your fireplace to hold wood for your winter fire. Top one with a round piece of glass to make a unique table.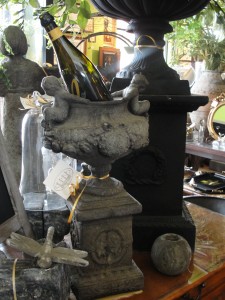 When you entertain, ask your urns to help serve. Line an urn with a plastic liner or bowl, then fill it with ice to chill drinks, appetizers like shrimp or simply as an ice bucket.
Planters
Add a bit of whimsy to a display by including a quirky garden planter. My friend Cynthia has a very elegant Tudor home that's decorated magnificently. When we shot some pictures for my book Nell Hill's: Feather Your Nest there, I just had to include a shot of her very elegant bar, which is anything but  stuffy, thanks to the inclusion of a curious garden planter featuring a woman's head with a plant as her "hair."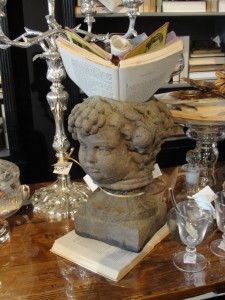 We carry a lot of these lighthearted head-shaped concrete planters at Nell Hill's. Here, our visual team had some fun inserting a book into the "head" of a cherub, as if cramming it full of knowledge. (In another spot in the store, they rested a pair of reading glasses on the face of a garden bust – I laugh every time I pass by it!)
Capitals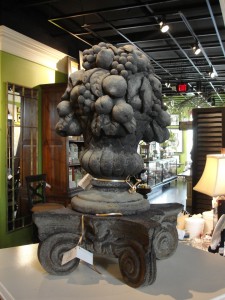 A surefire way to make your displays more dramatic is to give them a lift with a garden capital. In the snapshot above, we've placed a statue of a bowl of fruit atop a capital, giving it a bit more grandeur.
You could also cluster a few glass jars or decanters on top of a capital and place it on your coffee table. Use it as a riser for a display on your mantel. When you entertain, let a capital hold a silver serving tray.  For my holiday open house last fall, we topped a faux concrete capital with a Tudor urn for a timeless architectural tableau.
Right now Nell Hill's has an amazing assortment of garden statues, big and little. Come visit us at our Briarcliff or Atchison locations to check them out!
Next Week … Nothing warms up a room or gives it more personality than artwork. Yet, some people avoid arranging artwork because they find it intimidating. So I've asked Dillon, the king of picture hanging at Nell Hill's, to share his secrets for creating art montages that take your breath away. Be sure and come back!