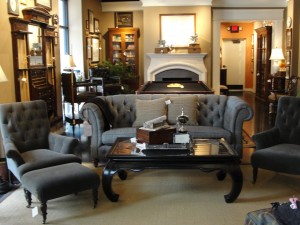 Does the guy in your life have a "man cave"? You know, that sacred spot he's carved out for himself in your home, the one outfitted with the ugly recliner he can't live without and the other dubious furnishings you've banned from the rest of the house? He may ardently declare his love for this sanctuary of masculinity, but chances are, if you could help him make this space more attractive, comfortable and functional, he'd be over the moon. So in honor of Father's Day, why not celebrate your guy by making his man cave one of the best rooms in the house? Here's how …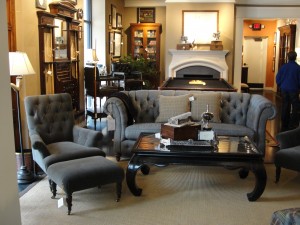 An Ode to the Man Cave
Like most men I know, my husband, Dan, has a man cave. It's sort of like a clubhouse with a "No Girls Allowed" sign hung from the door. I call this small upstairs office Command Central because it's filled with computers, stacks of papers and piles of books.
I am not allowed in the man cave, not even to clean it. In fact, the only family members welcomed there are the kittens, probably because they're males. But whenever Dan is out of town, I break the rules and barge in with a broom and dust rag. Once, I found a dust bunny that was so huge, it could have served as a science fair project for a high school student. When Dan gets back in town and discovers that the trash can has been emptied, the furniture dusted and the floor swept, he's mad at me for an entire day.  But it's worth his ire because without this intervention, our house would likely be condemned by the health department.
All of us like to have a special spot in our home we can call our own, where we can let our hair down and relax, surround by things we love. Even if you're not into home decorating, the fact is, you will enjoy this space more if it is well appointed, filled with comfortable furnishings and outfitted with stuff you love.
A man cave is no different. For too long, the men in our lives have been relegated to the least desirable spots in our home – a corner of the basement or even in the garage. Now it's time to make their man caves every bit as appealing as the rest of your home. Here are some ideas to get you started.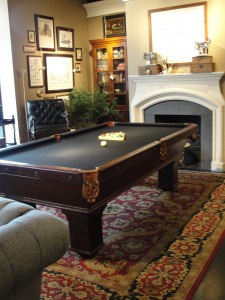 Game Room
If your guy loves pool, poker or any other sort of guy game, why not make his cave into a smart looking game room? I'm a lover of the English men's club look, with its dark woods, rich leather furniture, menswear fabric details and masculine artwork. This is the perfect place to bring that look into your home.
Dan about flipped when he saw this pool table we'd gotten in at Nell Hill's Briarcliff. To make this antique gaming table a bit more sophisticated, we replaced the standard green felt top with black felt. I can't believe what a difference that one change made in the overall appearance of the room. We've also carried marvelous leather topped poker tables that help elevate the game room from cheesy to sophisticated.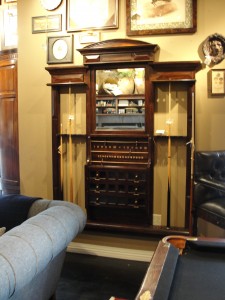 Hunt for attractive furnishings to hold game accessories. I like this replica of an antique pool cue holder because it adds loads of old world style while it corrals all those cues that would otherwise be tossed on the floor or leaning against the walls.
Study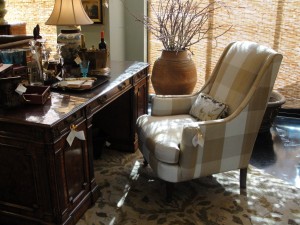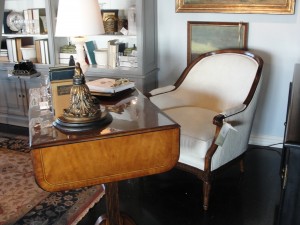 How about making your guy's man cave into a study where he can work from home? A friend of mine recently transformed a little-used formal living room into a study for her husband that turned out so wonderfully, I wanted to move in. First she outfitted the room with a marvelous desk and comfortable chair. Then she added much-needed weight to the space by filling one wall with cabinets that would keep his papers out of sight. She finished off by softening things up a bit with winged back chairs and curtain panels.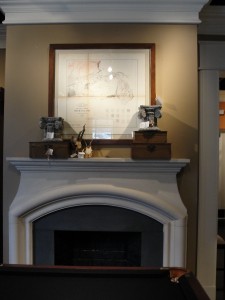 If your study has a fireplace, consider replacing the mantel with something decidedly masculine, like this cast stone surround. Then, style it with guy-friendly accents, like hunting trophies or antlers.
Media Room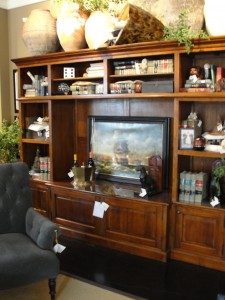 For most guys, paradise is a comfy sofa and a big screened plasma TV. If your man would flip over a TV room that's his alone, start by housing his flat screen and other high tech gear in a beautiful bookcase that's also got plenty of room for storage and displays. This is a great place to tastefully showcase accents that celebrate the things he loves, like golf, hunting or sports memorabilia.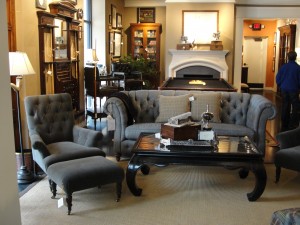 Pick out a sofa that's sizable enough to fit him comfortably. I love sofas that have high backs and arms because you can easily prop yourself up to watch TV or read a book. And, there is no better place to nap than on a deep, soft sofa. Make it more manly by adding a few accent pillows in menswear fabrics like hound's tooth check, paisley and tartan plaid.
Neighborhood Pub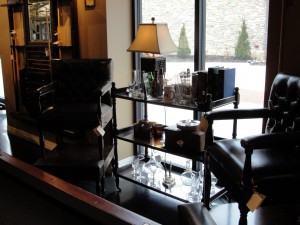 If your guy wants a bar in his man cave where he and his friends can gather for a drink, make it as fetching as it is functional. How about getting a great looking butler's cart, then filling it with bar supplies? I'm partial to these attractive carts because you can wheel them wherever you want and they aren't so large that they dominate the room, like built-in bars do.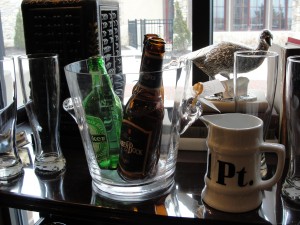 Outfit the bar with great gear, like traditional beer glasses and a simple but attractive ice bucket. Think outside the box when you're picking ice buckets. I've used English footbaths, Asian blue and white cachepots and even wooden dough bowls to ice down wine and beer. Store your bar supplies and extra glasses on silver trays on the lower two shelves of the cart.
For seating, consider adding a high top table and chairs. It will make the room feel more like a pub and take up less room that a traditional table and chairs.
At first, your man may resist you meddling with his man cave. But if you can convince him that your upgrades will make his getaway room even more comfortable and functional, you're sure to score big points and make this eyesore one of the most attractive spots in your home.
Next Week … Garden statues are one of my all-time favorite decorating tools. Next week, I'll share some secrets for using these rugged but refined beauties to add style to your home all year long. Come back and learn how.