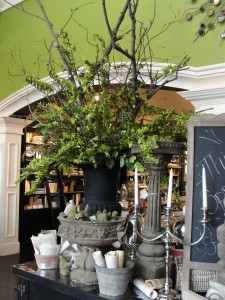 I don't know about you, but this time of year, I'm starved for anything green. So one way I welcome spring into my home is with bouquets of faux greenery, the wilder and more natural looking the better. We've filled our stores with these marvelous creations – everywhere you turn, you'll see urns, ginger jars and pottery vases holding lush, natural arrangements that look like they were snipped from the garden that morning.
So many people ask how we pull together these dramatic displays, and they're always surprised to discover how easy it is to create this memorable look when you have the right tools and follow a few simple steps.  I've asked Theresa, the landscape architect and interior designer who does the arrangements at Nell Hill's Briarcliff, to share her secrets for creating these wonderful bouquets and show us how she works her magic, step by step. Here's what she says: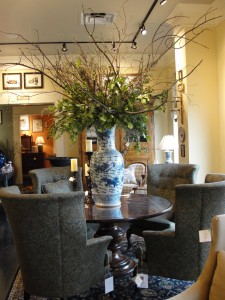 Settle on a Style
Before you begin, decide what style of bouquet you want. At the stores, I asked Theresa to create an English garden look using only greenery, no flowers. I wanted the arrangements to be wild and natural, not fussy and fixed.
Determine the Size
The size of your arrangement will be dictated by the space you want it to fill. In the stores, we have lofty ceilings so we go for mega-bouquets. But in your home, you'll probably want something a bit more scaled back.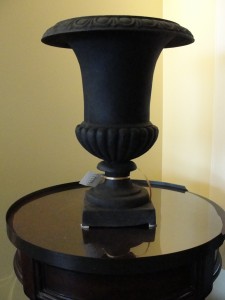 Pick the Perfect Container
Your container should match the style and size of your arrangement. For our example today, we picked a simple black iron urn that's about 18 inches high. (If you don't yet have one of these urns, you've just got to get one. These must-have decorating tools are amazingly versatile and can serve as a cornerstone of your year-round decorating. We just received a huge shipment, so come check them out at Nell Hill's today!) In addition to garden urns, we build lots of our displays at the stores in blue and white Asian ginger jars, clay olive oil vessels, white ceramic vases and tall glass cylinder vases.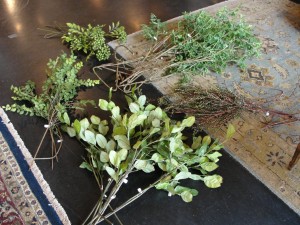 Use Superlative Fakes
I used to hate fake flowers and avoided them like the plague. But today's faux foliage is so realistic and affordable, now I won't use anything else. The key to making your arrangements lifelike is to position the branches so they look just like they would grow in nature. For our arrangement today, Theresa selected five of her favorite stems. Notice how she bends the bottoms of the stems to get them to fit better in the container instead of snipping them off. That way she can reuse them in different sized bouquets in the future.
Let Your Inner Floral Artist Free
Like any artist, Theresa likes to play around with different looks, seeing which ones grab her fancy. Today, she's going to show us two different approaches to creating killer displays in urns.
Look One: Structured Bouquet with a Focal Point
Since we're gaga over lanterns at Nell Hill's, Theresa has picked a lantern as the focal point of this display. All she's done is rest the lantern on the mouth of the urn, then filled in with six stems of boxwood greens, making sure the stems twist and turn about to give the arrangement movement and direction. You can leave the lantern empty or add a battery operated candle, a small garden statue or a stick holding a bird's nest. This beautiful arrangement would look fabulous on your front porch, in your entry or on a buffet, surrounded by a few more accents.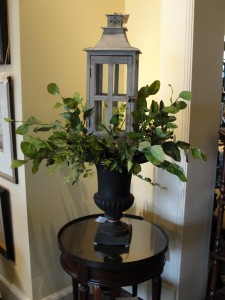 For a variation of our lantern look, Theresa substituted with a taller, more dramatic lantern and added a second layer of greens – four stems of lemon leaves, whose broad, shiny leaves provide a nice contrast to the tinier leaves of the boxwood greens.
Look Two: Natural Bouquet of Greens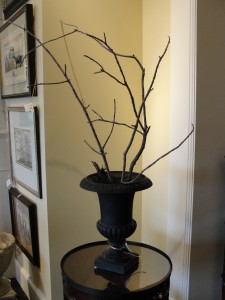 To recreate one of the natural displays you see in our stores, start with an odd number of fallen branches, stripped of their leaves. Look for sticks with lots of twists, knots and knobs to add movement and intrigue to your finished display. (I have been known to make Dan pull off the road when we're driving and snatch a particularly fantastic stick I've spotted. He thinks I'm crazy!) For proper proportion, be sure the sticks are no more than twice the height and width of your container.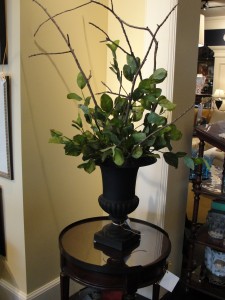 The first layer of greens builds the structure of the display and determines where the viewer's eye will travel. Theresa picked six stems of lemon leaves for her base layer. Typically, she creates floral arrangements in oval or triangle shapes. But her goal today is to make this bouquet look wild and natural, so as she adds each layer, she'll be sure they look haphazard, not staged and styled.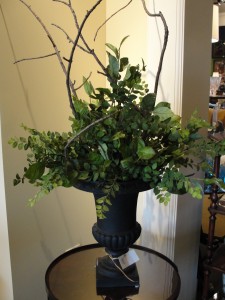 Next, Theresa adds eight stems of faux boxwood to create the second layer of greens. If you want a light, airy look for your bouquet, you could stop here. It looks wonderful. Or, you could use this display as the base for a year-round arrangement, adding seasonal flowers like tulips for spring, hydrangeas for summer and sunflowers for fall.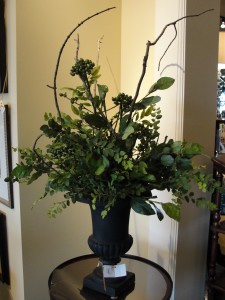 Since we're not adding flowers to our arrangement, Theresa next adds some berries for a bit of visual interest and texture. She uses just four stems, but places them in highly visible spots, like the top of the bouquet, where they don't compete with the other greens.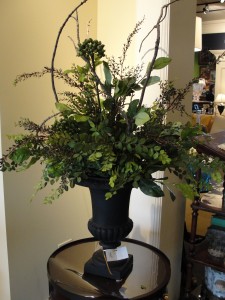 To add just a hint of color to our otherwise all-green look, Theresa has picked five stems of faux heather for the last layer. The touch of coral gives the display more depth, and the feathery leaves bring visual movement.
We're done! Doesn't it look fantastic? And so, so easy to reproduce!
Find a highly visible spot to display your wonderful creation, like on a side table in your living room, at the center of your dining room table, on a hutch or an entry table.
Looking for the right tools to create a great bouquet? Plan a trip to Nell Hill's or call Kathleen at 877-367-1086 if you live too far to stop by soon. Plus, we're always open at Nell Hill's Online – just click the "shop online" button on my Web site home page. I just added a wonderful cachepot that's screaming for a summer arrangement – check it out.
Coming Next Week …
Next week, I'll blog about how you can make your bed beautiful for summer. I've asked the design team at Nell Hill's Briarcliff to share their secrets for styling an irresistible bed – you'll be surprised by some of their simple tricks for making your bed luxurious. Come see me!
Celebrate Your Style,