Raise your hand if you've ever had a "closed door" bedroom – you keep the door closed so no one will see the worn bedding, tired paint and make-do furnishings. I have. It's not that we don't want our bedrooms to be beautiful; it's just that we've focused our decorating energy on the more public rooms in our homes.
This summer, why not finally make your bedroom into the oasis you deserve? A fun and simple place to start is with your bedding. I've asked Kathy, Marla and Macy from our talented textiles visual team at Nell Hill's Briarcliff to divulge how they make the beds at the stores so beautiful and share how you can make yours every bit as fabulous.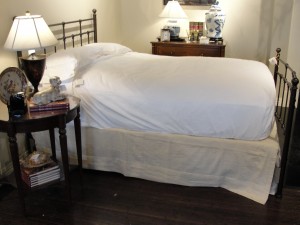 Step One: Start with the Best Base
First, make sure you are still in love with your bed. Is it in good condition? Does it fit the scale of your room? Does it match your decorating style? If not, maybe it's time to shop for one that steals your heart. At Nell Hill's our all-time best sellers are metal framed beds because they are sturdy, timeless and so versatile they fit with just about any décor. Our customers are also crazy about our upholstered headboards right now.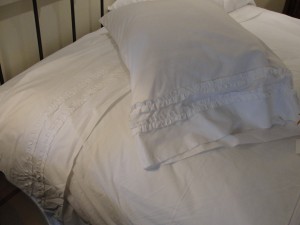 Before you dress your bed, outfit it in the nicest sheets your budget will allow. For me, there's nothing better than crisp white sheets tricked up with lovely trim because they look clean and fresh and go with every bedding ensemble.
Step Two: Select Your Inspiration Piece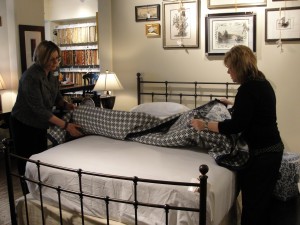 When our visual team sets out to create a bedding ensemble, they pick one piece that inspires the entire look of the bed. It could be a wonderful pillow or blanket. Whatever you pick will determine the kinds of fabrics, patterns and colors you'll use in the rest of your bedding.
For our demonstration today, the designers wanted to create a soft, romantic summer look, so Marla and Kathy picked this reversible matelasse quilt in navy and white as the inspiration piece. We've been using matelasse quilts on our beds for years because they are attractive, affordable and durable. The more you wash them, the softer they become, which makes them ideal for young families and others who need easy care linens.
For our sample bed, we paired our quilt with a tailored bed skirt made out of cream linen. A white eyelet lace or navy bed skirt would also look wonderful with the ensemble.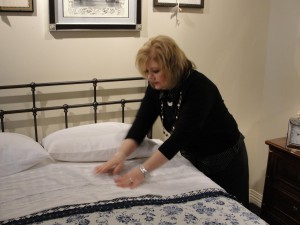 One of the Nell Hill's tricks for creating a beautiful bed is to fold down the quilt and sheet. Here, Kathy folds the quilt down about 12 inches. Then, she folds about 3 or 4 inches of the top sheet over the quilt. Having a bit of the blanket and sheet show makes the bed feel more inviting.
Step Three: Bring on the Pillows
Dan used to call our bed "pillow hell" because I covered it with so many accent pillows. These days, I like a simpler, more edited look on my bed. The overall effect is every bit as dramatic if you pick pillows that sport an interesting mix of fabrics and trims. Here's one of our favorite pillow combinations at Nell Hill's: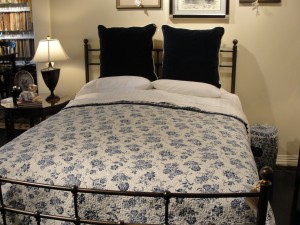 We like to use euro shams for our first and second layers of pillows. For a queen sized bed, these 27-inch squares are great to rest against when you're reading and provide a lovely base for your pillow ensemble. We use down inserts in our pillows at the store because they give the pillows heft and shape, yet are soft and luxurious. For the back layer of our sample bed, the visual team used a pair of custom euros that featured navy blue velveteen fabric on one side, eggshell silk cording and white cotton quilting on the back. Just flip them over and you have an entirely different look.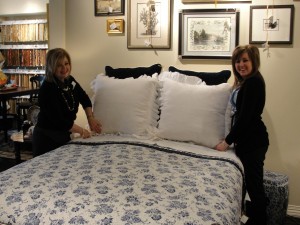 To carry on the soft, romantic summer look we want on our sample bed, Kathy and Macy added these to-die-for white linen pillows with a large eyelet lace ruffle–a wonderful contrast to the navy pillows right behind them. I like how this double layer of euros gives the bedding depth and allows you to introduce another fabulous combination of fabrics and trims. Be sure to pick four or five different fabrics for your accent pillows, each one from a different group, like menswear plaids, toile, ticking, solids, florals, checks or stripes. Then, mix up the finishes on the pillows. Some of our favorite treatments are cording, flat flanges with pleated or mitered corners, knife pleats and gathered ruffles. I also love to put button holes in the end of pillows or duvets, then dress them up with buttons covered in an accent fabric.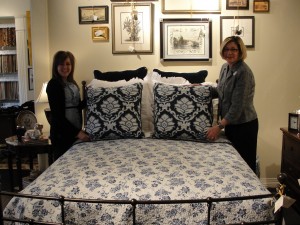 Your third layer of pillows should be the show-stealer of the bedding ensemble. For our example, the team used two custom made 24-inch square pillows in a navy and white damask, finished in navy cording. These stunning pillows incorporate both colors in our palette and, thanks to their bold pattern, really pop out from the solid colored base pillows below.
Finish off with a fun or funky pillow, like this 16-inch by 30-inch white lace pillow that has "Be Our Guest" embroidered on it in cream thread—perfect for a guest room. I love to put monograms on bedding, and this last pillow is a great place to do it.
Step Four: Toss on a Blanket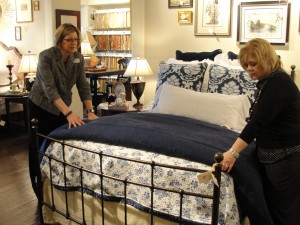 We always add a quilt or duvet at the bottom of our beds to give the ensemble one more interesting layer and to break up the expanse of the base blanket. Normally, we don't use two matelasse quilts on one bed, opting instead to use a quilt and duvet combo. But for today's example, we couldn't resist this solid navy matelasse quilt because it looked so fabulous at the foot of our two-toned bed.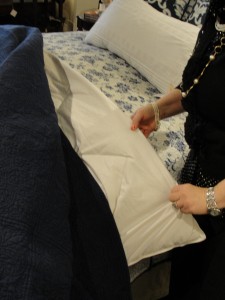 To make the quilts look plump and perfect, one of our tricks is to fold them over a down comforter.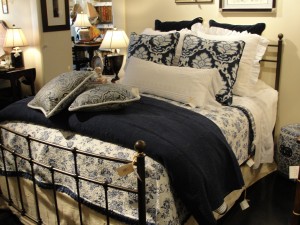 Since all of us at Nell Hill's have a soft spot for adorable pillows, we toss a few extra accents at the foot of the bed, just for fun. They are perfect for a quick cat nap and, best of all, they give you a final chance to add in a few more fabrics. Our sample bed features two blue and white paisley pillows corded in ticking.
I think you'll be blown away by how much a lovely bedding ensemble transforms the look of your entire bedroom. So this summer, give yourself the gift of a beautiful night's rest. Design the bed of your dreams. Need help? Come see us, and we'll help you pull together the perfect bedding for you. Until then, here are some more snapshots of a few Nell Hill's beds to get your creative juices flowing.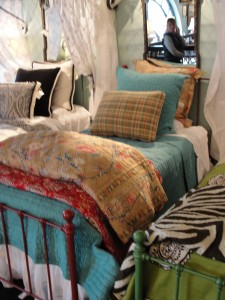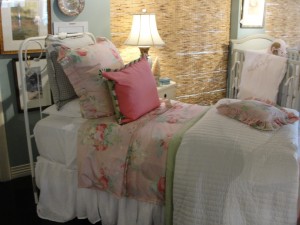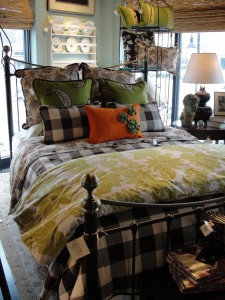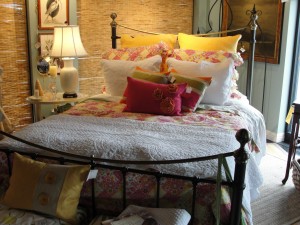 Next week …
If you're like most of us, you have a list of wedding showers and graduations to attend this spring and summer. And, like most of us, you're probably rushed for time and can't spend hours hunting for that elusive perfect gift. Never fear! Next week I'll share my list of top gift suggestions for the bride and graduate to help make your shopping expeditions short and successful.