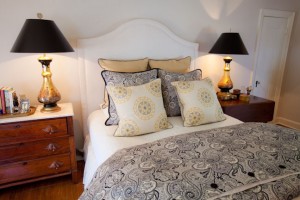 In the summer, I like my bed lightly dressed. But when the weather cools off, I love a bed that's layered in rich colors, fetching patterns and gobs of touchable textures. The Queens of the Bedroom at Nell Hill's Briarcliff have outdone themselves this season, creating irresistible bedding ensembles that celebrate the year's hottest color combinations, brought to life through timeless yet freshly interpreted patterns. Come see!
Black and White and Chic All Over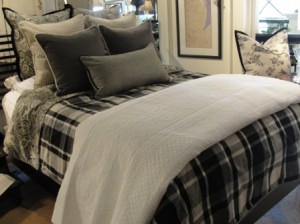 This bed creates a DMZ in the battle of the sexes. The strong yet simple color palette of black and white appeals to the guys, as does the combination of traditional menswear fabrics, like the bold plaid and hound's tooth check.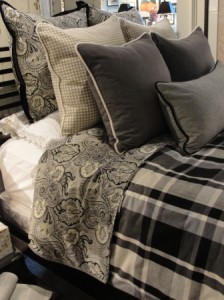 Yet, we made this sharp looking bed female friendly by including a paisley that's so romantic, it grabs a girl's heart, as do the kitten-soft gray velvet pillows.
Pea Green with Envy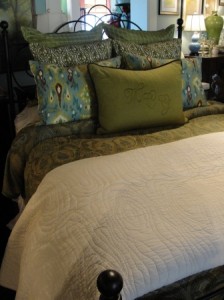 Earthy yet luxurious, this bedding ensemble mixes different shades of green with wild abandon. If you are a big fan of green, don't fall for the old myth that you have to pick just one tone and stay with it in your décor. Mother Nature tosses all manner of greens together, and so can you.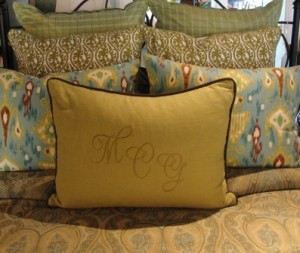 I really like to weave classic and contemporary fabrics together in custom bedding ensembles because it grounds the group with timeless favorites yet gives it a fresh new feel.
Isn't this dust ruffle to die for? It's soft and romantic and the perfect finish for this delightful bed.
Plumb Perfect Purple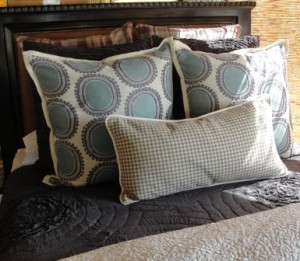 Color trends in interior design always follow closely behind those in the world of fashion. So it's no surprise that purple is coming on strong this season. We've crafted an invigorating blend of colors and patterns that shows off a sublime palette of plumb and blue.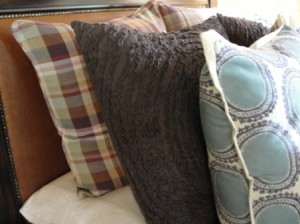 Using some ready-made bedding, like the purple quilt and shams shown on this bed, allows you to stretch your decorating dollar farther, so you will have enough left in your budget to invest in a few show-stealing pieces, like luxury sheets, reversible duvets or custom pillows finished with unique details.
Sugar and Spice and Everything Nice
This bed features a feather soft color palette of winter blue and soft brown, but thanks to the bold patterns, it's anything but boring.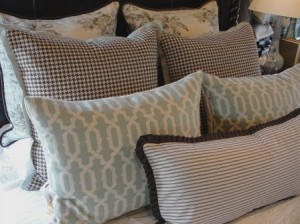 The traditional French toile, hound's tooth check and ticking stripe are hurtled into the 21st century thanks to the addition of this peppy geometric pattern.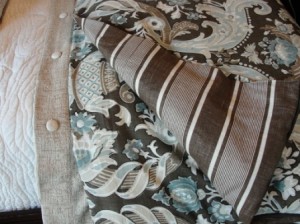 We layered two reversible custom duvets on this snugly bed. With a flip of the blankets, you can get several different looks so you won't ever get tired of this ensemble.
Marigold and Gray Greet the Day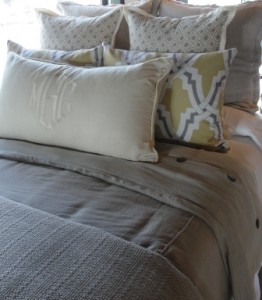 This contemporary bed celebrates one of today's most popular color combos: marigold and gray. We went with a toned down interpretation of this duo, as easy on the eye as a field covered in fresh snow. But you could go with bright yellow and deep gray and get a completely different effect.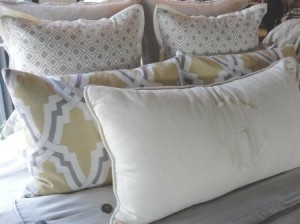 We blended two complimentary graphic patterns in the pillows then shook it up a bit by tucking in a very traditional monogrammed pillow to finish off the look.
Autumn Bliss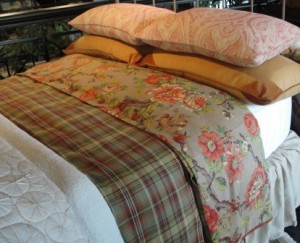 This bedding ensembles pulls in autumn's most riotous colors, like rust, brown and amber. The blend of plaid and floral fabrics makes it a good compromise for him and her. Do you like how we arranged the pillows on this bed, stacking one on top of another instead of layered out? I frequently arrange the pillows on my own bed this way, sandwiching my sleeping pillow between the two shams.
A Study in Blue and Brown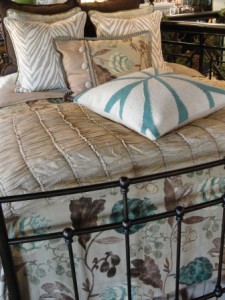 This ensemble's muted fall and winter color palette of brown and blue allowed us to get funky with the fabric. We pulled together a crazy assortment of patterns: an animal print, a chain, a herringbone, a floral and a solid.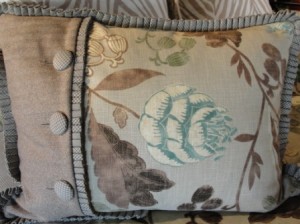 If you have a limited budget to spend on bedding, save money by using some ready-made pieces. Then invest in a few killer custom accent pillows, like this one. The detailing on this pillow, like the knife pleat trim and covered buttons, makes this little guy the star of the show.
Royal Chambers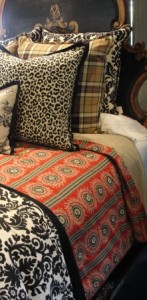 Ever want to be queen for the day? Create a bedding ensemble like this one, and you'll feel like royalty every single day. We pulled together the richest colors of the season—deep red, black, camel and cream—and brought them to life through patterns so bold they demand your respect.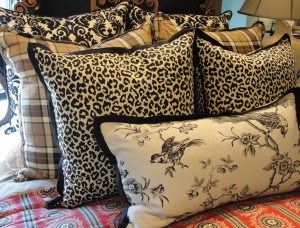 Once again, we had fun weaving together the traditional and the contemporary in this set of custom pillows. The combination of the traditional toile, animal print, plaid and damask print in these irrepressibly bold colors really works.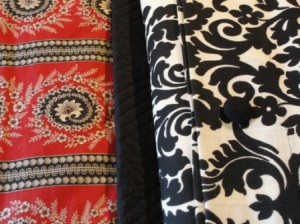 These two duvets work harmoniously together thanks to the separation we get from this black quilt folded up and tucked between them.
Coral and Black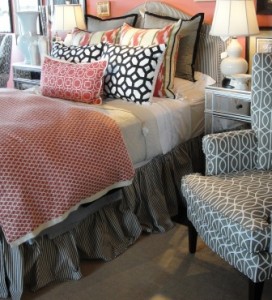 Contemporary yet romantic, this bed interprets this season's hot coral hue in a brand new way, giving it more lush layers for the cold winter months.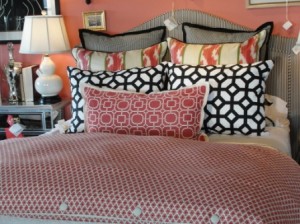 Mixing the bold contemporary patterns with a simple, unassuming ticking ensures the overall ensemble will have some punch but not be overwhelming.
Cozy Cabin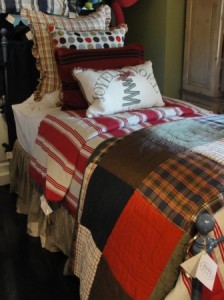 Celebrate the season by dressing your winter bed in a charming assortment of country textiles. We repeated the well-loved colors of red, white and blue, but did so through a host of dissimilar fabrics and patterns – contemporary dots, simple plaids, a horse blanket stripe. The cuddle-up quilt at the foot of the bed almost begs you to take a nap after spending your afternoon frolicking in the snow. During the Christmas season, finish your pillow presentation with a seasonal pillow. Then, after Dec. 25, take the top pillow off and enjoy this winter ensemble until the ice starts to melt in the spring.
Next Week … November marks the 30th birthday of Nell Hill's. (Where did the time go???) I've learned a lot about decorating, retailing and life in the three decades I've had the privilege of running this remarkable store. I'll share some insights next week.