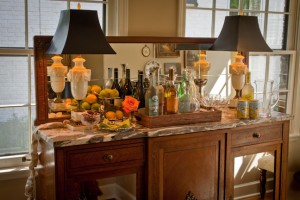 When you entertain this holiday season, whether you're having a few friends over for a casual dinner or a houseful of guests for a formal party, make sure your drinks table is worth toasting. Here are a few tips for creating a bar or coffee service that is as stunning as it is serviceable.
A Feast for the Eyes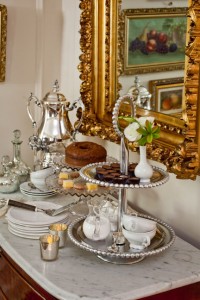 Make your drinks table as wonderful to look at as it is to visit. The secret to making a drinks station lovely is the same as any other killer display. Pick a fabulous focal point, use a variety of heights and textures and add luscious layers. But unlike other displays, your drinks table has to be as functional as it is beautiful. So, you'll need to pick your accents with great care – pretty pieces that also know how to carry their weight when there's work to be done. Here are a few of my favorites: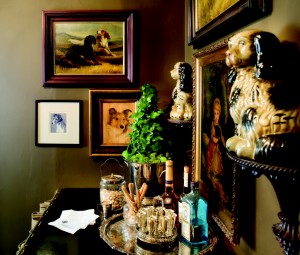 *If you want to hold glasses or supplies in style, a beautiful tray is a must. A tray will make the overall display look more cohesive and aesthetically pleasing.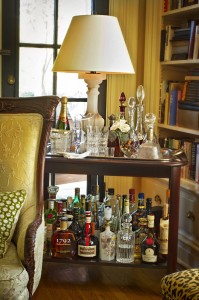 *Chill out with a lovely ice bucket, whether you need it for ice service or to cool drinks. The photo above is of the drinks table in my living room. The glass ice bucket on the top shelf complements the bottles and decanters. I'm also a huge fan of silver and aluminum ice buckets. Want one too? Click here to see the variety we have on Nell Hill's Online!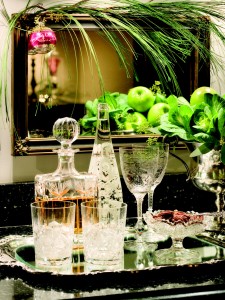 *Beautiful decanters and pitchers give your drinks station a touch of class. Whether it's authentic crystal or great fakes, be sure to work in lovely glassware that will add sparkle and flash to your drinks table. Use decanters to hold liquor if you're setting up a bar. Or, use them to hold flavored coffee syrup on a coffee bar. I just added a great group of decanters to my online store. Click here to see!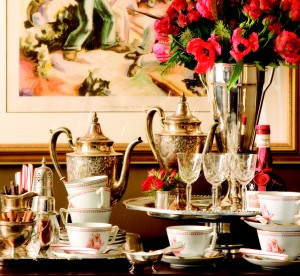 *Stately risers add drama. I think everything looks regal when placed on a riser. Cake plates, books, capitals and even plant stands make wonderful risers for drinks tables.
Formal or Casual? Dress the Table Accordingly
Will your event be formal or casual? Make sure your drink table matches the mood. If you're throwing an elegant soiree, bring out your most beautiful pieces, including crystal and silver, polished to its highest luster. Even if your event is casual, you can still use your best pieces. I do all the time because I use any excuse to pull out the serving piece that are much to wonderful to leave locked away in a china hutch. If you want a more festive and less elegant feel for your drinks table, consider getting fun seasonal barware. Maybe some mugs emblazoned with holiday artwork? Or holiday cocktail napkins with a humorous message? Or whimsical hand towels?
Concoct a Signature Drink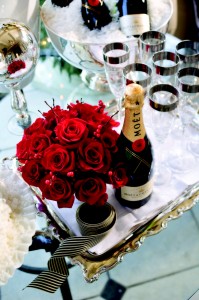 Instead of trying to make your drinks table as well stocked as the corner bar, why not come up with a signature drink you can serve? It will give guests a chance to try something new and streamline your shopping list and prep time.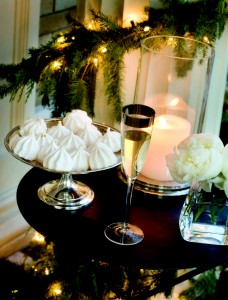 I'm a huge fan of sparkling wine and if I was on the Forbes list of the world's richest people, I would serve the best Champagne at all my events. But I'm not, so I've found a fabulous alternative: Prosecco. The popularity of this Italian sparkling white wine has skyrocketed in the past 10 years because it offers the fun of Champagne without the high price tag. To make your glass of Prosecco even more special for a holiday event, simply drop a fresh cranberry in the bottom of each glass. It will turn the drink light pink!
Make a List and Check it Twice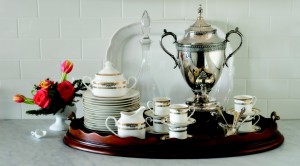 It doesn't matter how lovely your drink table is, if it's not properly stocked, it's not doing its job. You don't want to have to keep running to the kitchen to restock it. So make a list of everything you'll need to create your featured drink or for your bartender to mix up guests' custom orders. Are there plenty of fresh cups or glasses? Spoons or stirrers? Mixers and ice?
Mix in Some Munchies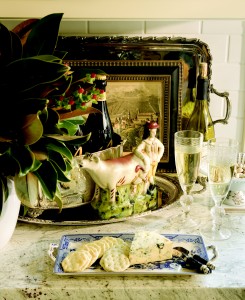 It's no fun to drink on an empty stomach, so consider putting some munchies on your drink table. If it's a bar, I might include a bowl filled with nuts, a three-tiered server loaded with fresh fruit or even a platter of delicious cheeses and artisan breads. If you're setting up a hot drinks bar for coffee or cocoa, how about using a silver vase to hold candy canes? Or a dessert server filled with chocolates or fancy cookies?
Next Week … Come preview this season's hottest colors, textures and patterns for bedding and accent pillows.