It's Time for a Round-Up of Our Designer Bedding Collection.
I've always been inspired by the possibilities of fabric. From one bolt and a little imagination can emerge curtains, an ottoman, pillows, and a duvet! Every month, we feature bedding designs brought to life by the Nell Hill's design team. It isn't magic though – some real work goes into making those design dreams a reality.
From the moment our designer or bedding team member makes a fabric selection for a bedding design, a member of the Nell Hill's fabric team steps in to measure and cut fabrics and trims. The next stop is the Nell Hill's workroom where the duvet and pillows are cut and stitched and detailed by one of our experienced sewists. After they're finished, it's back to the shop and upstairs to the bedding department, where it is steamed, fluffed, and added to a bed. Additional furniture and finishings are brought in to complete the look. As with any artisan process, the results aren't immediate. It typically takes a few months from concept to completed look, but after the big reveal, it's always worth the wait.
We have some beautiful beds on the floor right now, it felt like the perfect time to do a bedding roundup!
New Castle Dreams
This beautiful bed was dreamed up by Nell Hill's designer, Liz, who was inspired by the beautiful New Castle fabric when creating a bedding design for an out-of-state client. She realized how many different fabrics there are that pair well with it, and decided she wanted to pull out some of the blues with this design. Her design hit the floor in March and felt like the perfect design to bridge the gap between winter and spring.
One of my favorite details that ties it all together is the front boxed pillow with a fun pleated edge. It's a new size and shape of pillow for us – Liz dreamed it up! And with the darker side of the pillow and the decorative pleating, it's the perfect balance of girly and polished.
Looking to create a similar look at home? Sometimes a bed you see on the shop floor might be almost what you're looking for, but maybe the pillows aren't exactly right. My advice here is to be like Liz! When there wasn't the right proportion of pillow for her design, she decided to try something totally new. Don't be afraid to mix it up, and choose a different option to complete your look.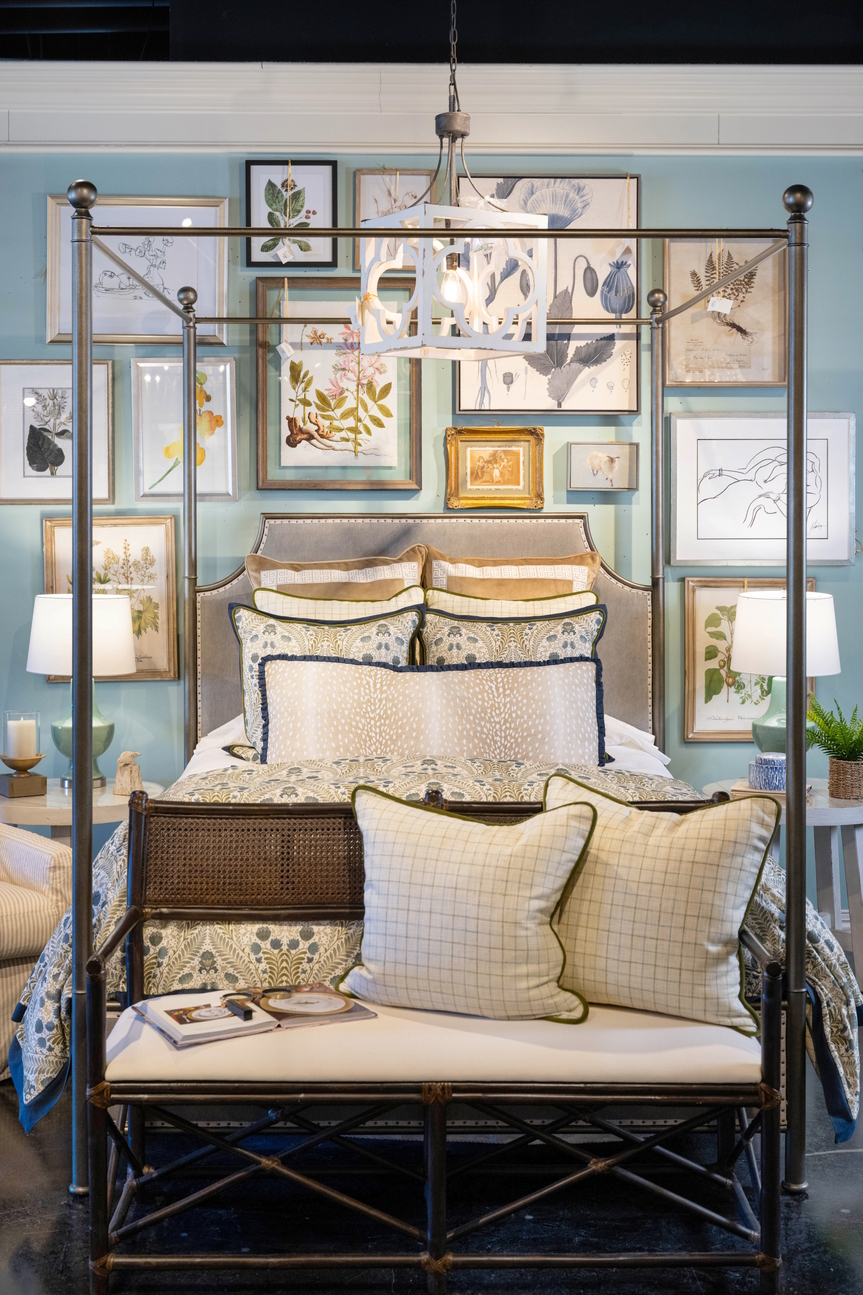 New Castle Dreams is a designer bedscape that features soothing blues greens and taupes.
This bedscape, created by Nell Hill's designer Liz, is a lovely new traditional design.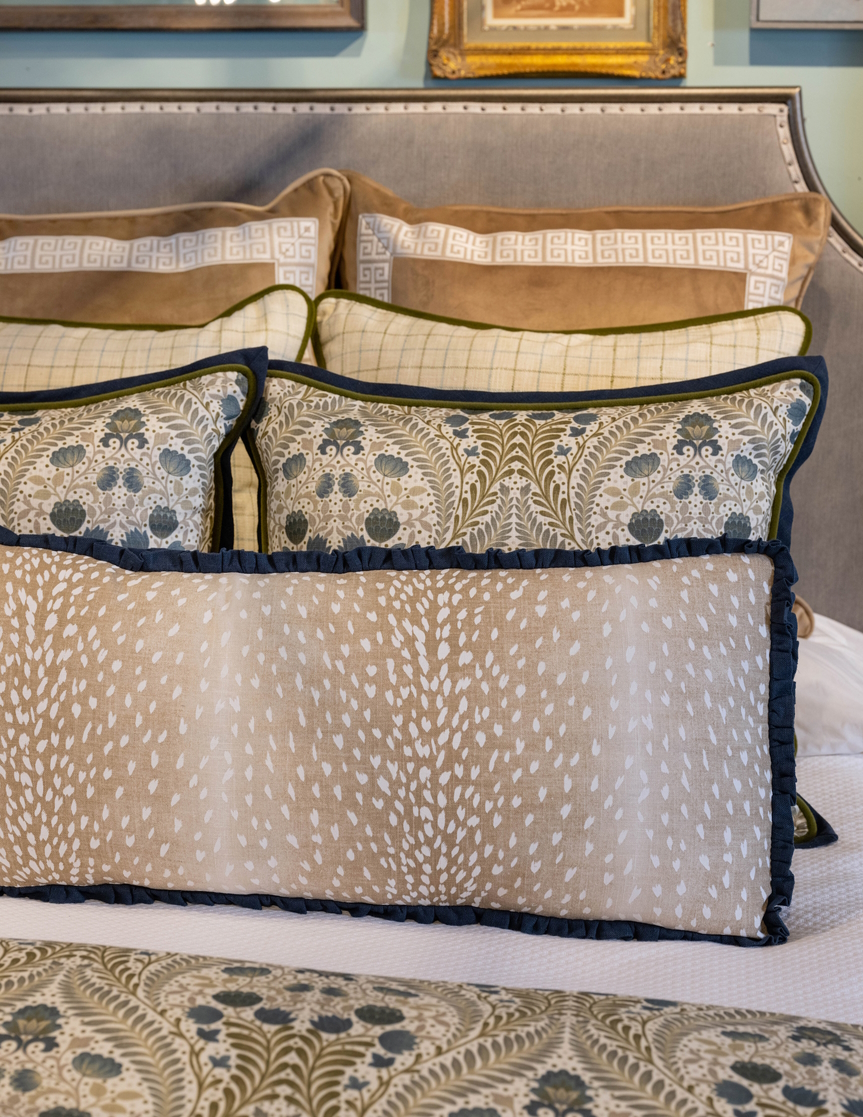 A new size of lumbar pillow was created specifically for this bed.
A Chinoiserie Masterpiece
This bedscape by Nell Hill's designer, Anne, is a beautiful blend of masculine and feminine. Anne's original fabric inspiration for this design was the chinoise toile of the front pillows, and the bed was built around them. By repeating the tape trim on the duvet and lumbar pillow, Anne brought some continuity between the pillows and the bedding design and successfully tied in the aquamarine colors found in the lovely inspiration fabric.
The flaxen duvet with turquoise tape trim is a fantastic option for a minimalist or someone who wants to create a foundation for playing up interesting pillows. It's the perfect example of fine details done well to create a polished and refined look.
Pillows of additional masculine patterns and textures accompany a soft and feminine chinoise fabric.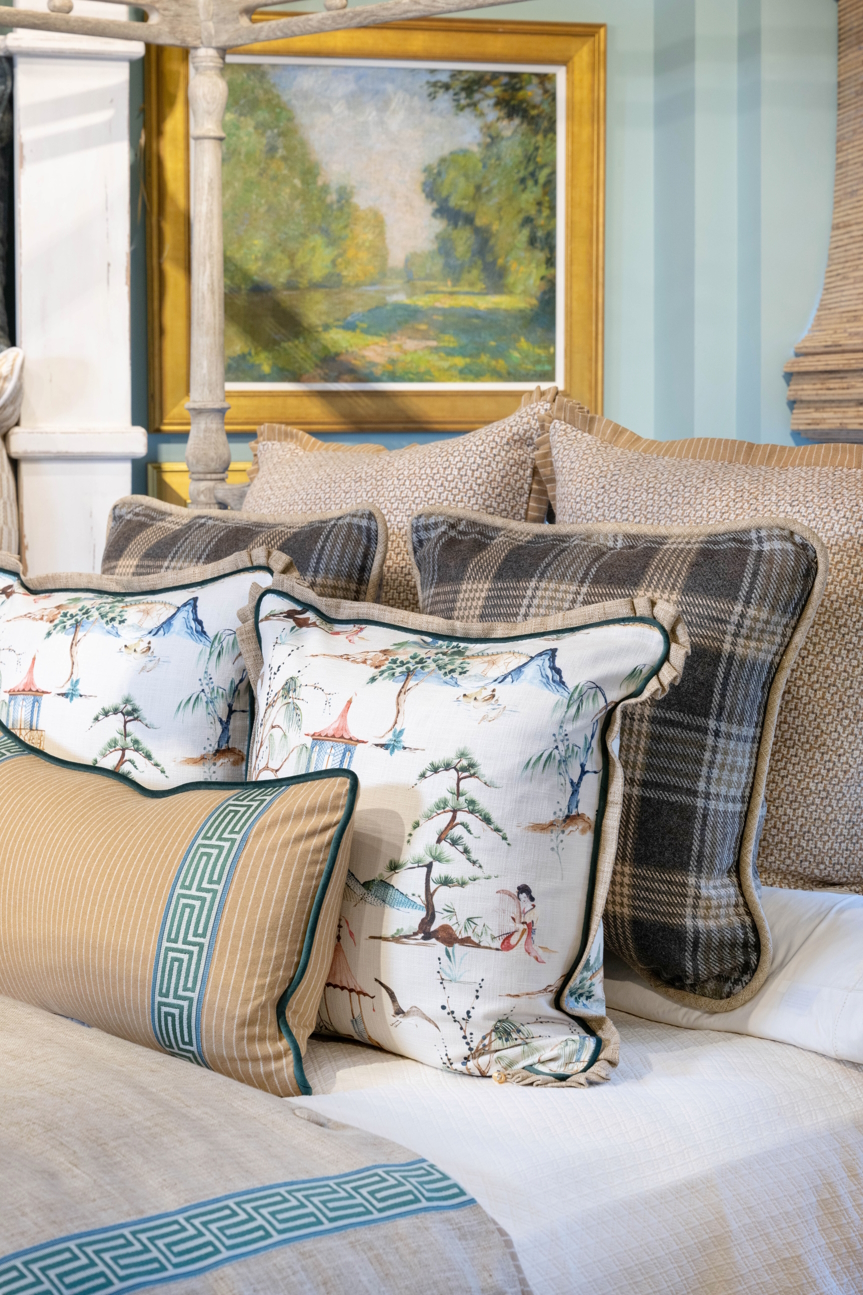 Four rows of pillows are used; two rows of euros, a row of 24X24, and a lumbar pillow in front.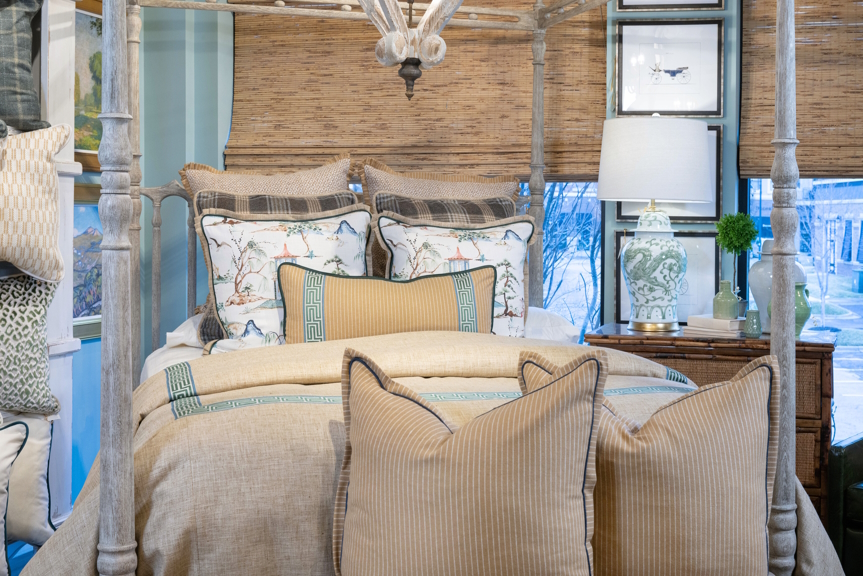 A Chinoise Masterpiece, a Nell Hill's designer bed.
A Field of Wildflowers
This bright, beautiful bed was brought to life by our bedding team, its darling floral fabric just singing Spring! We love our blue and white in the shop, and the addition of greens and yellows make for a fresh interpretation of the pairing for the warmer months ahead.
Delightful yellows and sweet blues accented with spring greens pop off clean white backgrounds in all of these featured textiles. Butter yellow buffalo check pillows bring out the yellow found in the wildflower fabric of the duvet. The front lumbar pillow is a crisp white with a Greek key design, bringing a more tailored feel to the otherwise organic fabric selection.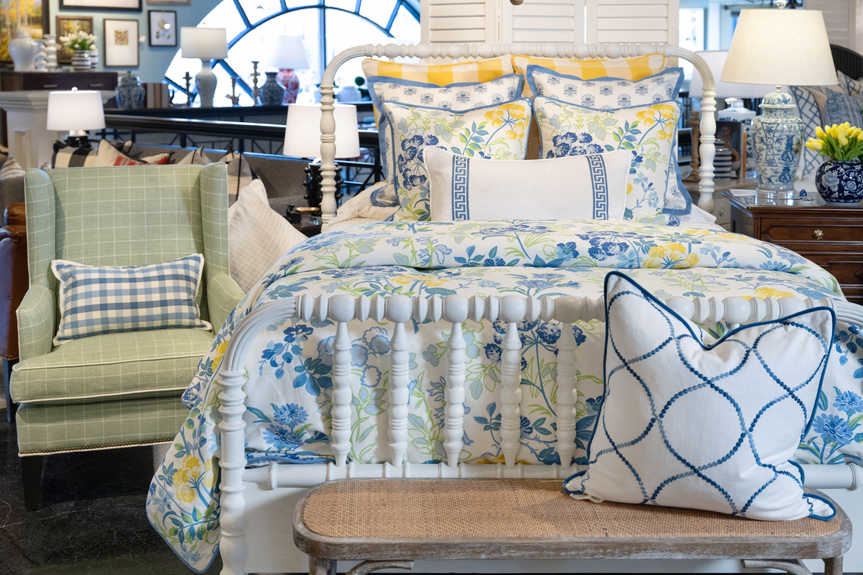 Blues and yellows brighten up this Springtime bedscape.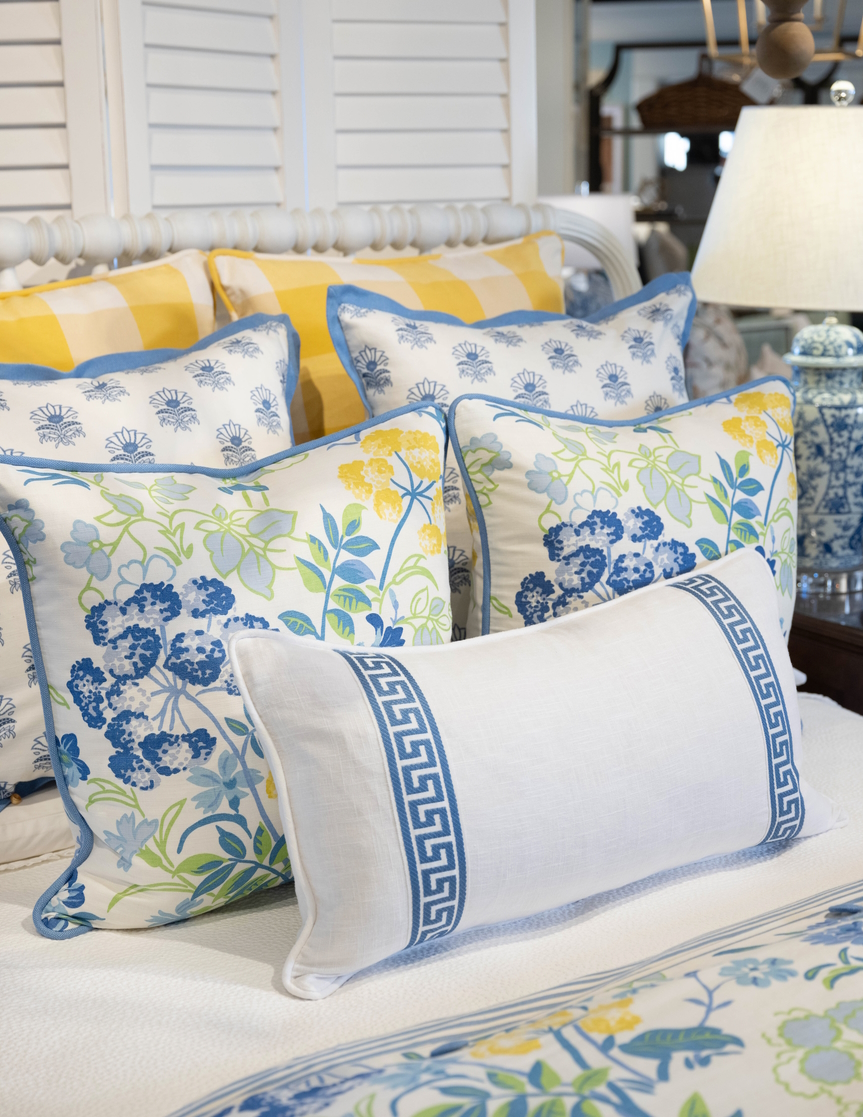 Soft fabric pairings keep this design feeling light, bright, and fresh.
Bright Botanicals
This bedding design is all about the big and bold details! This bright botanical print featuring peonies and hydrangeas is the obvious inspiration, utilized in not only the pillows, but as the foundation for the cane-detailed bed itself. This fabric has so many color options to pull from when selecting accompanying details, finding pairings is a spring breeze. We felt inspired by the navy tones throughout, and found a few preppy fabrics with minimal pattern to allow the botanical to really shine. For this finished look we combined custom bedding components with a green-trimmed ready-made duvet.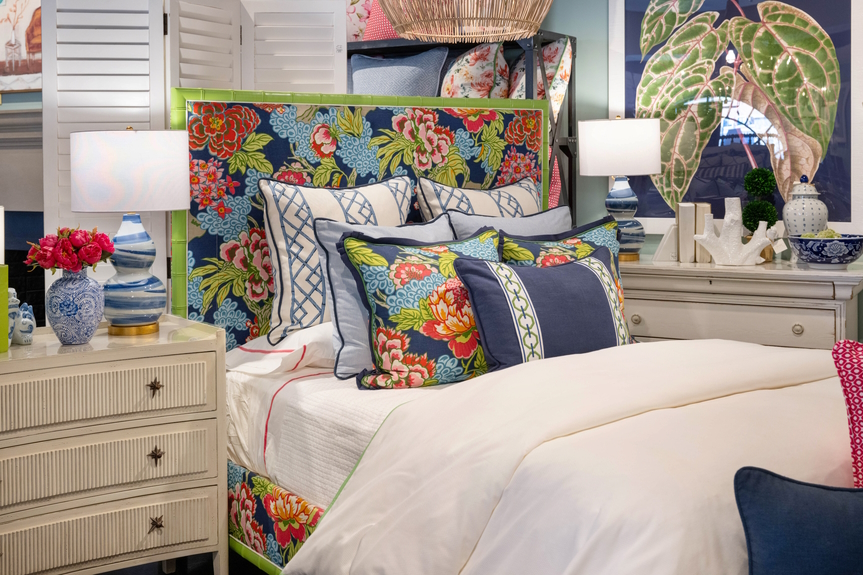 An understated duvet balances the heavy pattern of the bedframe and pillows.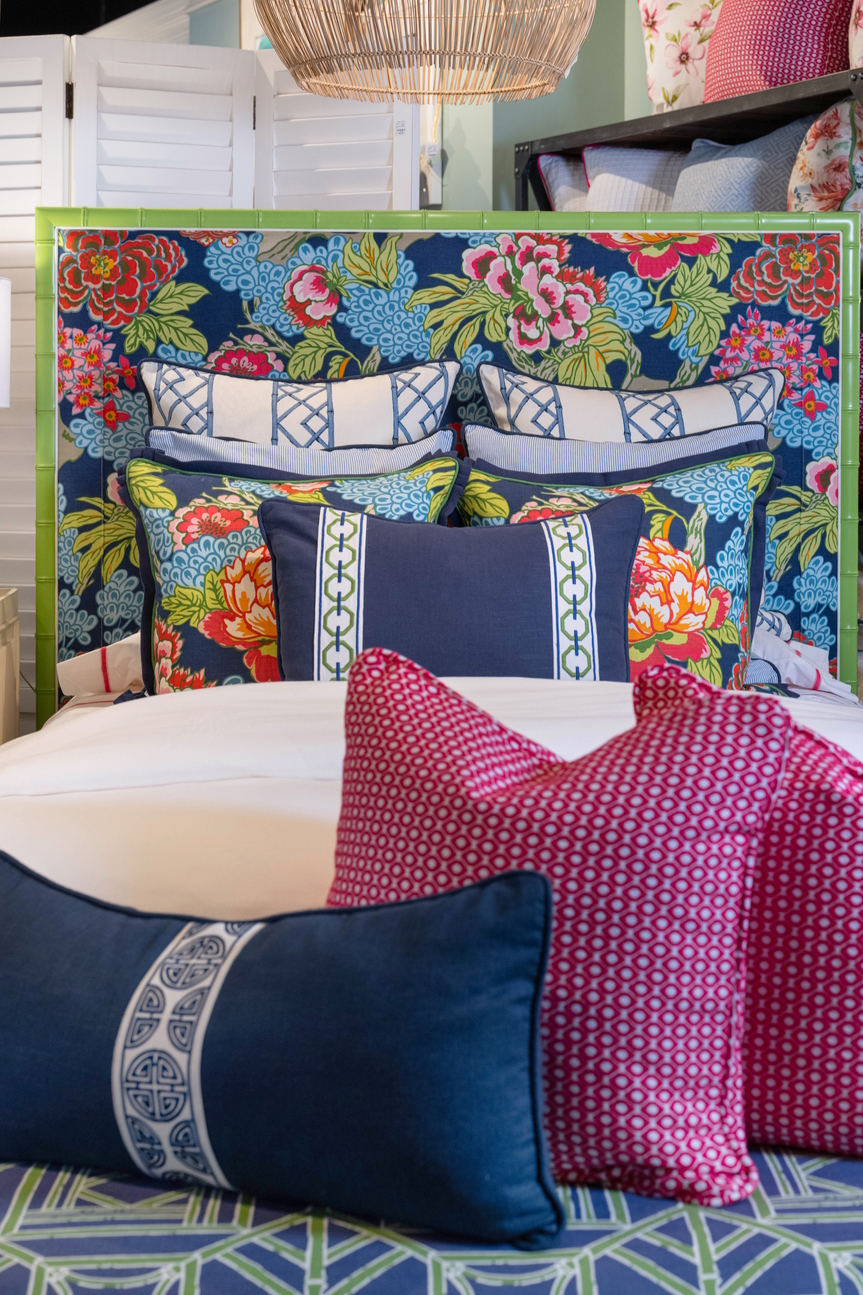 This bed design features a bold inspiration fabric on the frame and is paired with matching pillows for a sophisticated look.
With every bedding feature, I want to recreate my bed at home all over again! Playing with patterns and pillows always gets me inspired. Please excuse a little shameless self-promotion, but if this sparks the desire to create your own dream bed, I hope you'll give us a call at the shop! Our team work with clients all over the country. We take a process that can be overwhelming and make it easy and fun! I can't wait to see what you'll create! Until next time – happy decorating!