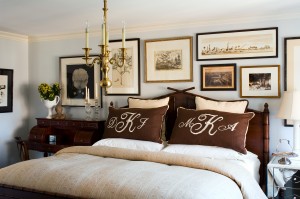 If you're like me, your bed is one of your favorite places in the world, and when you peel yourself out of bed in the morning, you may already be dreaming about crawling back in that evening. Yet, as much as we love this comfy place, we usually overlook our beds when it comes to decorating, tolerating worn and faded linens that are well past their prime. This summer, why not treat your bed to a makeover?
Today's summer bedding is so yummy, you may never get out of bed again. I asked the Nell Hill's team to pull together three sensational summer looks to inspire you. Come see! Romance in Blue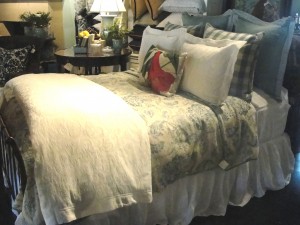 This wonderful bedding ensemble is as whisper soft as a summer dream. Inspired by this lovely blue and cream duvet, it folds together shades of light blue, white and cream.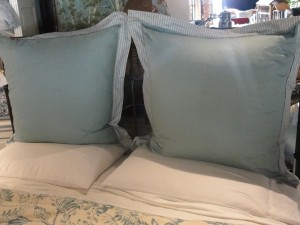 The back row of pillows, two plump Euro shams, sets the tone with its light chambray look. These readymade shams are an inexpensive way to make your bedding more luxurious.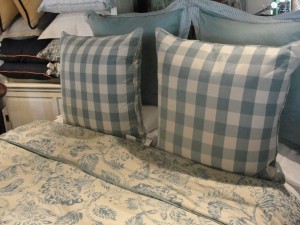 For the second row of pillows, we've used two matching blue and white check pillows, which are also readymade. They not only tie in both our colors, they introduce some pattern.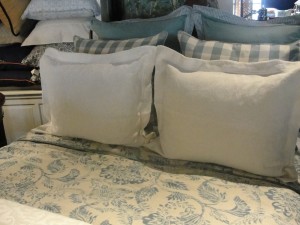 The top shams, in this romantic white-on-white pattern, make the display restful and serene. The fabric is also repeated in the duvet folded at the bottom of the bed.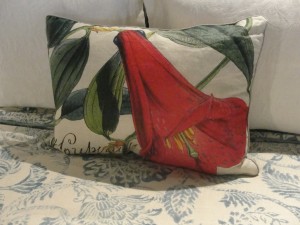 For fun, we finished off our pile of pillows with this plucky accent pillow featuring a fiery red flower. If you wanted to keep the peaceful pace of this bed throughout, you could easily use a neck roll or other smaller accent pillow in a blue or white fabric.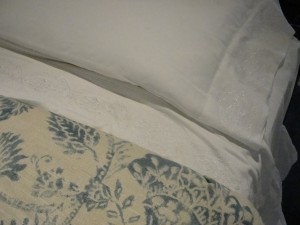 In the summer, there is nothing like sleeping on soft, cool, pure Egyptian cotton sheets. This set is so romantic, with its embroidered trim.
Flower Garden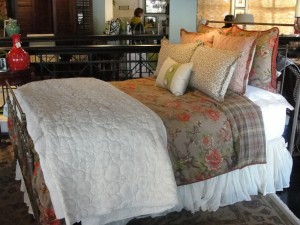 What is summer without flowers? This wonderful ensemble not only highlights summer's most romantic flower, the rose, it also weaves in lots of other interesting patterns in unusual color-ways.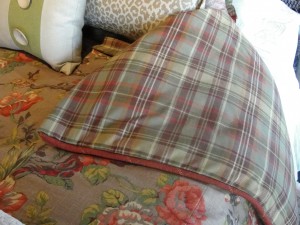 Thanks to a custom duvet, which features a summer-themed fabric on one side and a winter- themed fabric on the other, this bed will look great during all four seasons. Just flip it over when the weather starts to cool down and your bed looks completely different.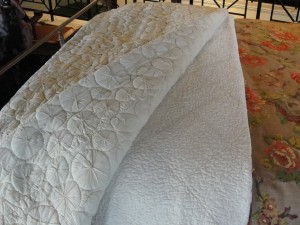 At Nell Hill's, we're known for our fluffy, luxurious, sink-into-soft beds. This one is no exception with two white quilts folded at the foot of the bed. Each one is made out of a different fabric, but the tone-on-tone pattern is repeated in both.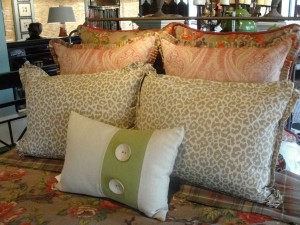 Get a load of all the different patterns in this arresting pillow display! Each layer of pillows is unique and adds punch to the overall look. But, they also harmonize perfectly because they repeat the same three colors: sage, rust and cream. I think the addition of the animal print in sage green is especially cleaver.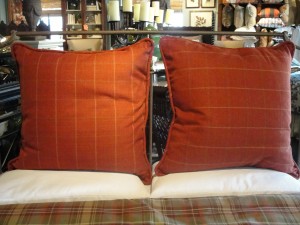 When you design a bed, make sure that at least one set of pillows is two sided, with one side suited for the warm weather months and the other for the cool. In this ensemble, it's the back row of shams, which feature the same plaid used in the trim on the duvet.
Summer Sun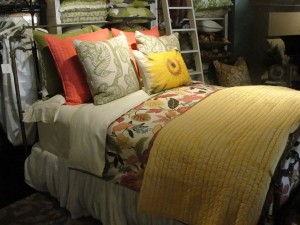 This colorful bedding ensemble features some of this season's most popular colors: marigold yellow, coral and green. The inspiration for this grouping comes from this custom duvet, made from a peppy botanical that makes me smile every time I look at it.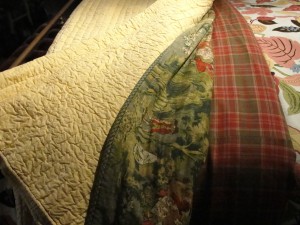 We want this summer-loving bed to go all four seasons, so at the bottom, under the yellow quilt, is another duvet in decidedly fall/winter fabrics featuring our same color palette. When the season changes, just switch the duvets, and you've got an entirely new bed.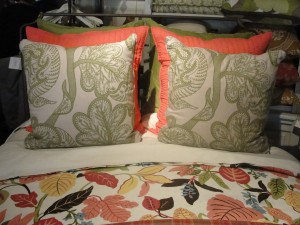 If you're on a budget, group some unique readymade shams to give your ensemble more of a custom feel, like the Nell Hill's team did on this bed.
Like a cherry on top of an ice cream sundae, this enthusiastic sunflower pillow is the perfect finish for this happy bed.
Next Week … Not too long ago, we didn't have a choice when it came to picking dining chairs because they came in matching sets. Now we have total freedom to mix it up. Next week, I'll share some tips for picking dining chairs that add their own flair to your dining room.