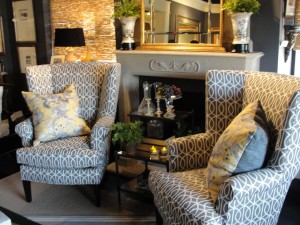 In the winter, your fireplace is the cheeriest spot in your home, with the mantel decked out with a lavish display and the hearth crackling with a fire. But during the warm summer months, it can seem like a dark, dank cave. So when the weather warms up, and fire season is finished, I like to completely remake the look of my fireplace. I go for a minimalist treatment on the mantel then create a light, layered display for the hearth.  Here are three quick and easy looks you can use to dress up your hearth this summer.
Look One: Garden Spot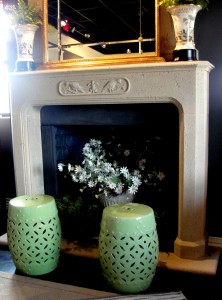 Clean out that soot-filled fireplace and turn it into a garden oasis!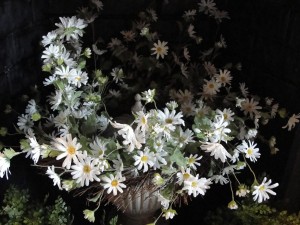 For this simple display, we placed a concrete garden urn in the center of the empty hearth. Then, we ringed the top with a daisy wreath – one of our hottest sellers this spring at Nell Hill's. I love how the bright white, cheery flowers contrast with the dark, harsh hearth, but you could use any sort of flowered wreath or even one made of ferns.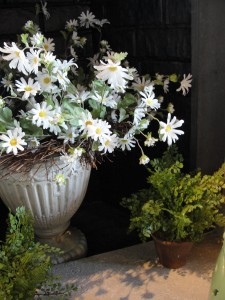 Next, we placed an assortment of faux potted ferns in small groupings just in front of the fireplace.  They barely show, but provide spring color and a light, lacy texture. If you have more success than I do with live plants, they would look lovely here, too.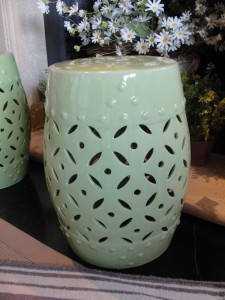 We finished off the look by placing two spunky green garden stools just in front of our display. They are such a fun focal point – perky and playful. And, the ferns and daisy wreath in the background give the feeling of actually being in a garden.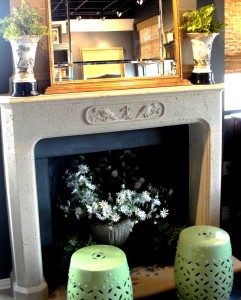 When our display is finished, this dingy black hole now looks like the Secret Garden.
Look Two: Fern Fresh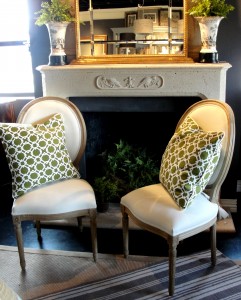 What could be easier than pulling together this plucky display? In seconds, this hearth went from ho-hum to head-turning attractive.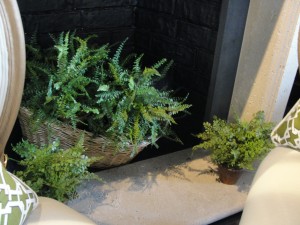 We started by finding a cute basket and filling it with an assortment of faux ferns. You could also use a wooden or metal box, or even a wooden dough bowl.  We placed the basket at an angle to give the display more movement and make it feel less stiff and formal. Then, we positioned a few more ferns in clusters in front of the basket, much as we did in the fireplace look above.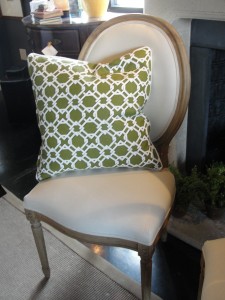 Finally, we found two painted side chairs upholstered in cream linen and pulled them in front of the hearth in a nice seating arrangement. We're crazy about the bright, bold pillows that are so hot this season, so we added two to dress up our formal chairs, making them a bit more inviting. These dining room chairs come in three different styles and are so affordable and so versatile, they are selling like hot cakes. If you have extra chairs around your dining room table, try using them in front of your hearth this summer, just like we did here. Or, pull in some wicker chairs from your porch to create an even more relaxed feel.
Look Three: Sunny Spot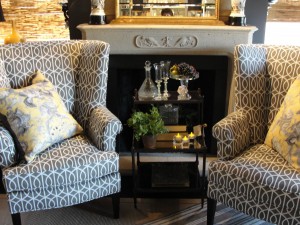 This grouping is one of my all-time favorite hearth displays, and one I mimic every year in my own home. I have some sensational antique chairs that Dan's mother gave us that I like to place on either side of the hearth, separated by a pretty side table. Don't you just love these modern winged back chairs, covered in a spunky gray graphic fabric? It's a whole new take on the fireside hearth chairs of old. Gray and marigold yellow are a hot color combination right now, so we paired these matching chairs with yellow pillows featuring a traditional toile pattern. I think the contrast between the modern upholstery fabric on the chairs and the age-old toile is striking, don't you?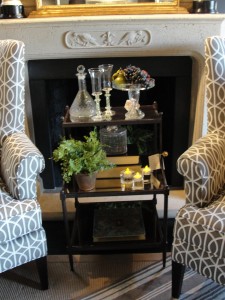 I am captivated by this sweet little side table and think it looks ideal here, nestled between these two larger chairs. The three graduated shelves give plenty of room to display doo-dads, and, if that wasn't good enough, the shelves are topped by mirrors so they give a luminescent shine.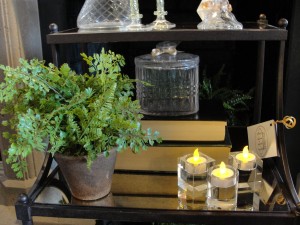 We styled the table with some fabulous accessories that would look great year round, like a crystal jar, antique books and votive candles. Then, we added a faux fern to bring in a hint of summer.
Next Week … Want to dress your bed for summer? We've got some great looks to inspire you, from fiery floral to light and breezy.