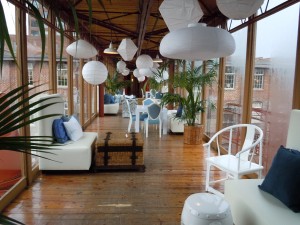 Twice a year, I and 80,000 other retailers make the pilgrimage to High Point, N.C., for the High Point Market, which, in my opinion, is the best in the world. This Mecca of the home furnishings industry, with its 10 million square feet of showroom space and 2,000 exhibitors, is one of the best sources for inspiration in interior decorating. And this spring, I was blown away by what I saw at High Point. The styles, colors and trends were the most exciting in a decade. I couldn't wait to get back and share with you all my "best of show" – the emerging trends and hottest looks of the season. …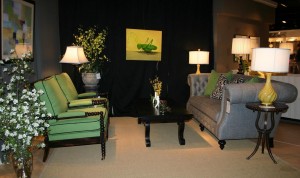 For the past few years, it seemed like everything they showed at market was brown, brown and more brown. Don't get me wrong – I love brown, but enough is enough. This year I went to High Point craving color and was dazzled by what I saw. Everywhere you turned, you were drenched in vibrant hues that sent a jolt of joy through your whole body, like marigold yellow, Clementine orange, parrot green and fuchsia.
But it wasn't just the color scheme that was exciting this year. It was also the fresh take on traditional designs that also sent my spirits soaring. For instance, one of our favorite furniture makers, C.R. Laine, showed a furniture grouping (pictured above) that knocked the ball out of the park: a Chesterfield sofa covered in black menswear herringbone fabric paired with spool side chairs, the seat cushions done in parrot green with black piping. I was breathless!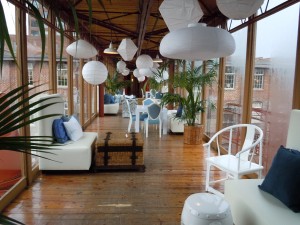 The showroom pictured in the snapshot above seemed to encapsulate market this year: fresh, clean, inviting, invigorating. When we walked past this furniture-filled breezeway, I was instantly sucked into the gravitational orbit of blue and white, one of my favorite color combos. I loved how my old friends were reinvented through this crisp transitional furniture and playful paper lanterns.  I wanted to throw a party in this space!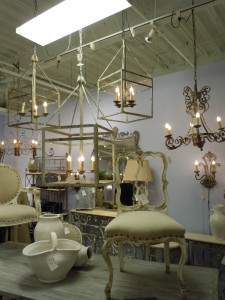 I am a bargain shopper from the word go, and one of the things I enjoy most at Nell Hill's is seeing shoppers do a double take when they look at one of our price tags because they can't believe how inexpensive some of our merchandise is. So these inventive light fixtures made me snap to attention. The creative exhibitors took the same lanterns we carry at Nell Hill's and outfitted them with simple bulbs on electric cords, the kind you can pick up at the hardware store. We're going to copy their idea and show our customers how they can do the same in their homes, turning these inexpensive lanterns into unique chandeliers to put over their dining room tables (three hanging in a row would look sensational), on their screened porch or over a kitchen island.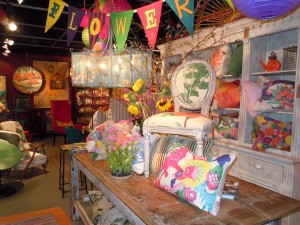 Our ongoing quest for color repeatedly drew Becky, Marsee and me into showrooms like the once pictured here, filled with vibrant tones and fun shapes. Of course, we went pillow crazy! But, how could you not when you have choices like these? If you'd like to perk up your sofa or side chairs this summer, just add a few accent pillows loaded with color. You will find a garden of them at Nell Hill's in the next few weeks, as our shipments start coming in.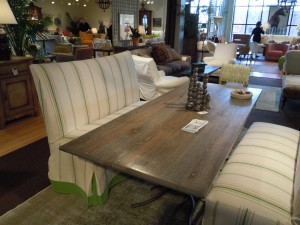 I'm also a big fan of furniture made by Lee Industries. I really liked their new take on traditional dining room groupings. Instead of chairs, why not pair your rustic table with a pair of booths, covered in a washable slipcover fabric like these? We thought this combination was perfect for young families!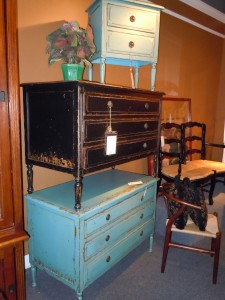 Painted furniture is still huge. And we fell for these distressed painted console tables because they are loaded with style and incredibly inexpensive — perfect cheater pieces you can use for a bed stand or buffet, or even as a cabinet to hold a bathroom sink.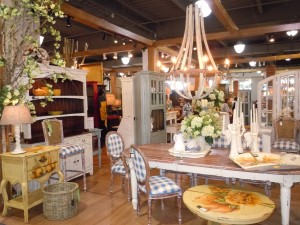 I couldn't pass up this super cute dining room set, made by the same company as above and every bit as affordable. With the dining room chairs covered in blue buffalo check, the grouping feels like it's straight from Sweden.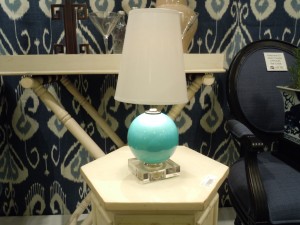 I continue to get turned on by what designers are doing with lamps these days. This ceramic lamp in today's hot, hot, hot turquoise color is just a sample of the fun accent lighting we gobbled up at market.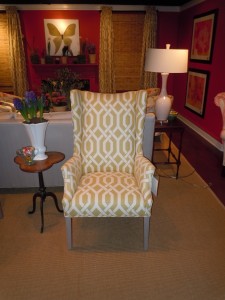 I am a sucker for tradition, but I really like what designers are doing today to give classic pieces a fresh new feel. Wing back chairs, like the one pictured here, are a perfect example. Today's wing backs have smaller wings, lower arms and less girth, which makes them easier to use in conversation groupings. Covered in hip fabrics like this geometric pattern in marigold yellow, these pieces fit in well with décor that ranges from modern to classic.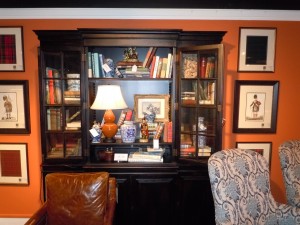 At Nell Hill's, we have a hard time keeping wonderful bookcases in stock, they are so popular with our customers. And no wonder, because you can't beat them when it comes to defining a space. Thankfully, we found loads of fabulous bookcases like the one above, so all three of our stores will be full of great selections.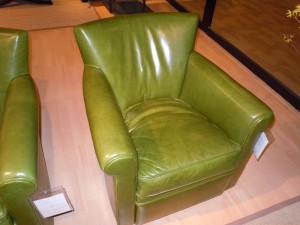 Anyone else out there a fan of the TV show Mad Men? These funky green leather chairs (which are not only comfy but also swivel!) would look ideal in Don Draper's office, wouldn't they? And, they would look amazing in yours too! The mid-century look is really big right now in furniture, accessories and lamps.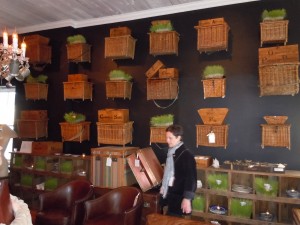 Check out these fabulous baskets! You could hang one on your front door or on a wall. Prop one in an empty, lonely corner. I've even had customers use great baskets like these as mailboxes. The wood boxes in this snapshot are also divine. They are attractive storage units that also add visual interest to a room. Stack two together and use them as an end table, place one on top of a cabinet to fill this unused space, slide one under a leggy end table to give it more visual weight or put one onto the shelf of a cabinet.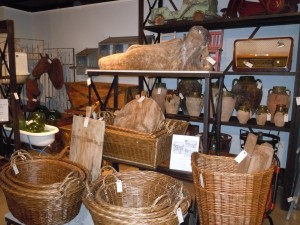 Marsee, Becky and I all adore garden accents, so we got into lots of trouble in this showroom, ordering garden statues, urns and baskets with wild abandon. I couldn't resist all the texture and that aged patina.
This was the market of the magic carpets – each one had the mystic ability to steal our hearts. This fall, Nell Hill's will be filled with a huge selection of area rugs because we are expanding our selection exponentially. You'll find everything from classics patterns to more contemporary pieces.
A Few More Finds …
*Contemporary Artwork.  I found a great selection of artwork, including more contemporary pieces I know my customers will love. I ordered a number of nudes, which are copies of lovely sketches.
*Animal Prints.  "You still can't go wrong with animal prints," Becky shares. "It's just a classic staple in design and seems to be so transitional. We ordered a zebra sofa. I can't wait!!"
Trucks toting all our treasures will begin arriving soon and will continue to bring in the new merchandise from High Point well into the fall. Come check it out soon!
Next Week … Don't let your hearth be a big, dark hole during the summer months, when your fireplace isn't in use. Next week, I'll share a few fabulous looks you can steal to make your hearth shine.