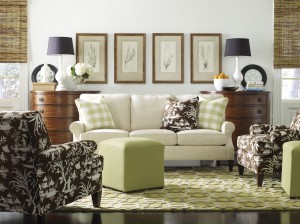 Take a long, hard look at your home's main living spaces. Are they looking a bit stale? Do they really reflect you, your passions, interests and style? If your answer is no, it's time to make some changes. Thankfully, upgrading the look of a room doesn't mean you have to completely redecorate. In fact, it's surprisingly easy when you use these six simple tricks.
1. Rearrange Your Furniture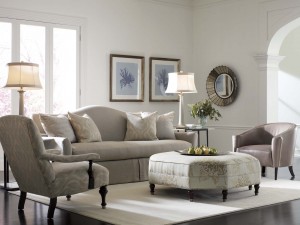 Sometimes all your room needs is a little reimagining. Start by rethinking the current arrangement of your furniture. Some of my friends move their furniture around all the time because it gives the room a fresh look over and again, and they don't have to spend a penny!  In contrast, once I have my furniture where I like it, I almost never rearrange it – I have a theory that there is one best arrangement for every room, and once you've achieved it, let it be.
To gain a fresh perspective on your room, take every stick of furniture out and start over. Best yet, have some friends help you, or hire a designer who specializes in reconfiguring spaces (We have designers at  Nell Hill's who do this, so give us a call if you would like some help.). Their fresh eye will do wonders when it comes to revamping your room, putting pieces in spots you never would have considered, but then love once you see them there.
2. Freshen the Paint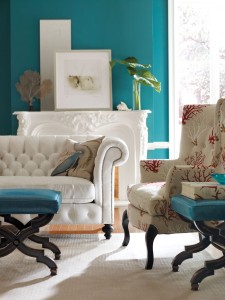 A coat of fresh paint is the least expensive and most dramatic way to redecorate a room. Pop open a can and go to town. Dare to experiment because what's the worst thing that can happen? You hate it. Easy enough. Just pop open a different can of paint and cover up the offending color with something new.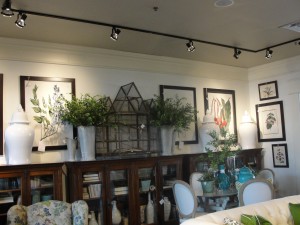 When you're repainting, don't forget your ceilings. Gone are the days when our ceilings had to be painted white. Now, your ceiling is another spot where you can express yourself with color. When we were repainting Nell Hill's Briarcliff this winter, I painted the front gallery our bright, clean Farm House White. Then, I warmed up the ceiling a bit by painting it our soft taupe color, Winter Wheat.
Or, you could paint the ceiling the same color as your walls. I've done that in a couple of the bathrooms in my home, and I love how it wraps you in a colorful cocoon. If you dare, be bold and paint your ceiling a strong, contrasting color. A friend of mine just paired the khaki green walls in her large living room with a ceiling painted in our bright coral pink color: Peony. She tied the two colors together with her linens and upholstered fabrics. For instance, she had a huge coffee table ottoman covered in a delicious fabric that featured lost of choral hues.
3. Amp up Your Art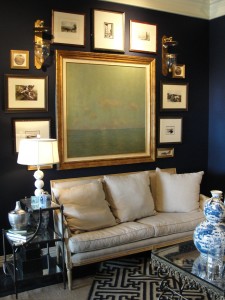 I often see people pick out beautiful furnishings for a room, then style the space impeccably, yet still feel like something's missing. Almost always, all their space needs is great art.  Take a critical look at the wall space in your room. Is your existing art dwarfed by big, open walls? Are your pieces faded and outdated? Do you have blank walls with nothing on them at all? If so, my advice is to start here, with art. Instead of spending your decorating dollars on accessories, start investing in art. Get a mix of large and small pieces, an array of mediums and subject matters. Then, fill your walls with arresting pieces hung in intriguing montages. You'll be shocked by how much this one touch will transform your room.
A note to parents of young children: If you are at the stage where your little ones are exploring their surroundings and tabletop accessories just aren't practical, it's your season to invest in art. Brighten up your walls, and no one will notice those empty side tables.
4. Update Your Lamps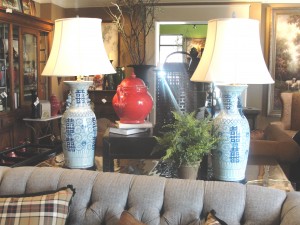 Tired out lamps completely date the look of a room. So if your lamps are from an era gone by, let them go and get some new. Or, update them with a new lampshade. Sometimes just changing out the shade can work magic.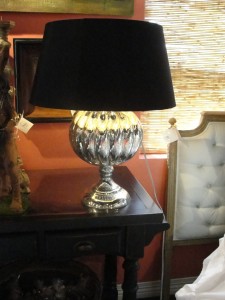 One thing we notice when we work with customers at Nell Hill's is that people often don't get lamps that are beefy enough for their room.  Too often, we see skinny buffet lamps used on end tables. It's not that these lamps aren't lovely, it's just that they don't match the scale of the other pieces in the room. Instead, pick out a hefty lamp that has a sizable base so it can hold its own in a room filled with large pieces, like sofas and bookcases.
5. Invest in a Chest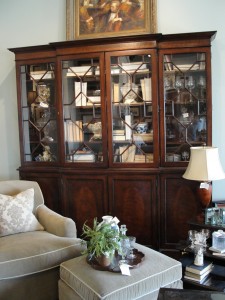 If your room currently feels busy and cluttered, you may need to bring in one larger piece of furniture, like a tall bookcase or hutch, to ground the space. You'll be amazed by how adding a big chest against a wall gives the room oomph.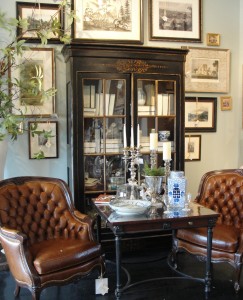 Believe it or not, the same principle applies to smaller rooms. Sometimes we think we need to furnish our smaller spaces with small furnishings. The end result can be a visually cluttered room. Instead, pick fewer, larger scaled pieces for the space. That's what I've done in my small guest bedroom at my home. At first, I struggled with the room's layout, filling it full of little pieces I thought were essentials. It didn't work.  So I cleared the room and brought in a large antique armoire, a double bed and a desk that doubled as a night stand. Success at last!
6. Rethink Your Area Rugs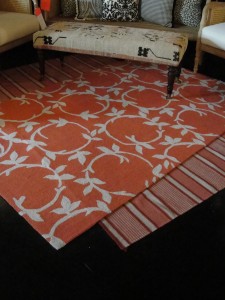 Area rugs do a lot to lend character to a room. And, because they can be expensive, it's important to make sure you pick the right ones so you can keep them forever. One detail to pay attention to is the size of the rug. A common mistake people make is to pick a rug that is too small for their space, and it ends up looking like a postage stamp. The challenge is, big rugs can cost big bucks. So we've found a way to get around this at Nell Hill's. We're big fans of layering rugs on top of each other. We place a larger, less expensive neutral rug on the bottom, like a sisal, then top it with a smaller, higher quality rug, turned at an angle so it appears to be larger than it is. In my living room, I have a huge sisal rug that spans the room. Then, to define my conversation areas, I've layered smaller, patterned or colorful rugs on top.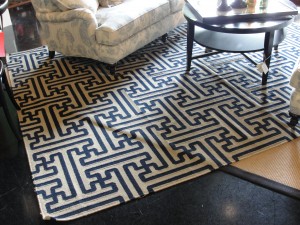 If you're in the market for a new rug, consider one that features a fun geometric pattern. These peppy rugs are all the rage right now in the design world, and we are loving them at Nell Hill's. We're doing lots of geometric rugs and pillows now in very traditional homes, which gives them a fresher feel. We just got in a shipment of hand-tufted, 100 percent wool rugs in great colors like apple green and choral. They come in a huge variety of sizes and are well priced. You'll love them!
Next Week … I just got back from the huge furniture market in High Point, and I can't wait to tell you about this season's hottest trends and my favorite finds.